Well I just realized that I haven't shown you my craft room in awhile. I think the last thing you saw was my stenciled yellow wall back in November and a couple of minor projects here and there.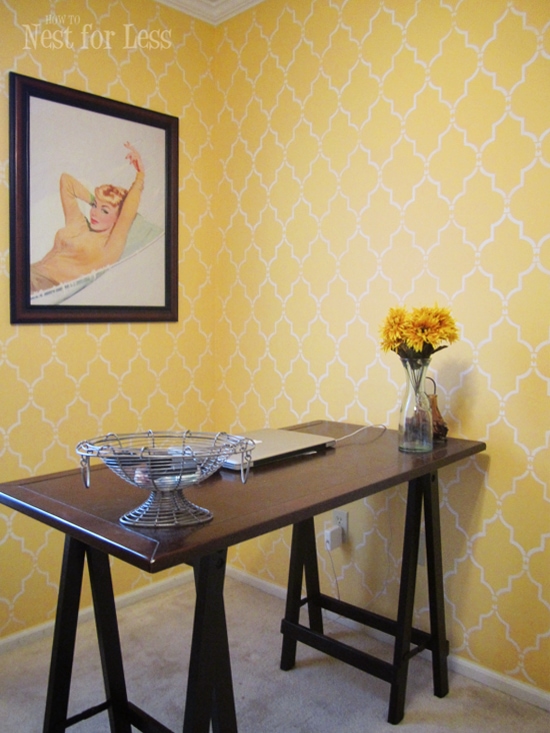 So, why haven't you seen much from this room? Probably cause I hate it. Ok, ok… hate is a strong word. More like disappointed. Let me show you some (ok, a lot of) pics and then I'll do some explaining.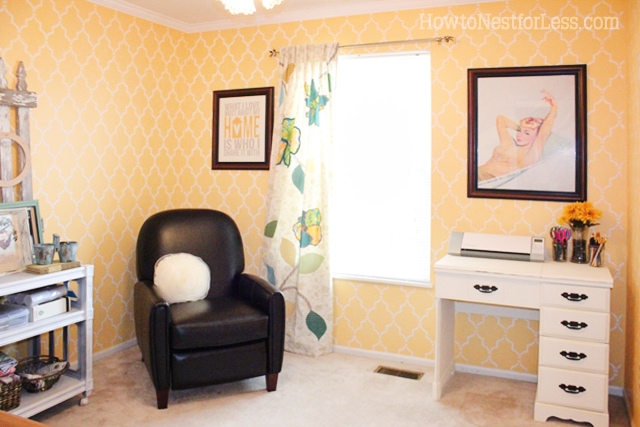 I really wish I had a wide angle lens to show you more at once (or a cool video pan of the room). Although this room is only 10×10 feet so there's not too much to show!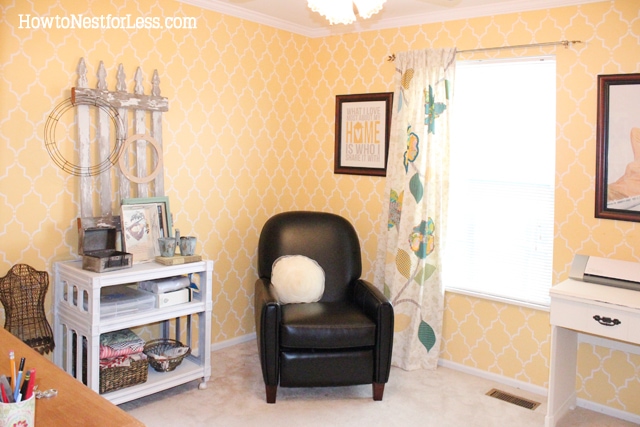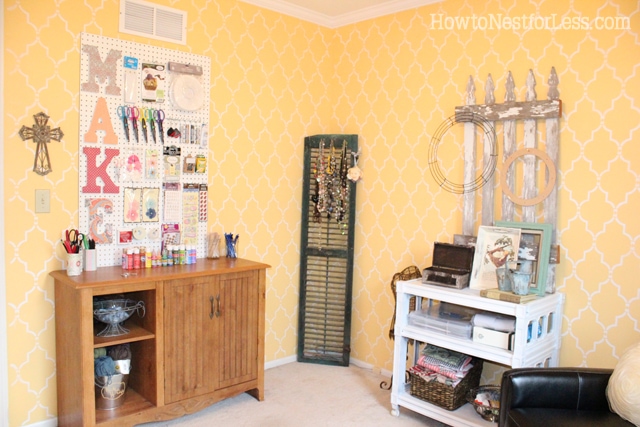 Again, don't judge me on the current state. I have given up on this room…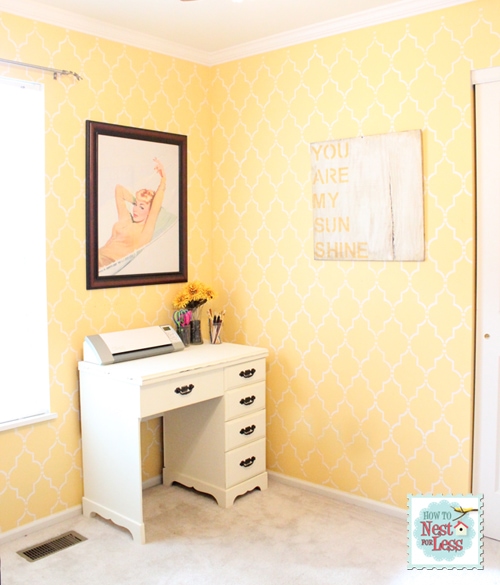 OK, so here's my sewing table corner of the room.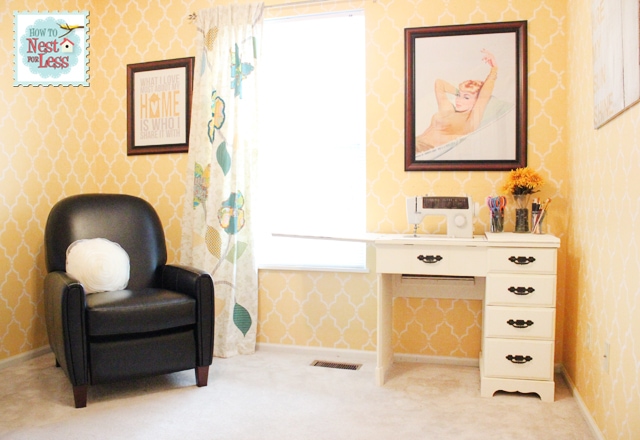 I painted this desk last month with Annie Sloan Chalk Paint and I really am in love with this piece. One main problem though is where to place it in the room. Since it opens up to unveil the sewing machine, I need to have the wall space to open the large left hand board. I don't sew though (yet), so isn't this table pointless for now?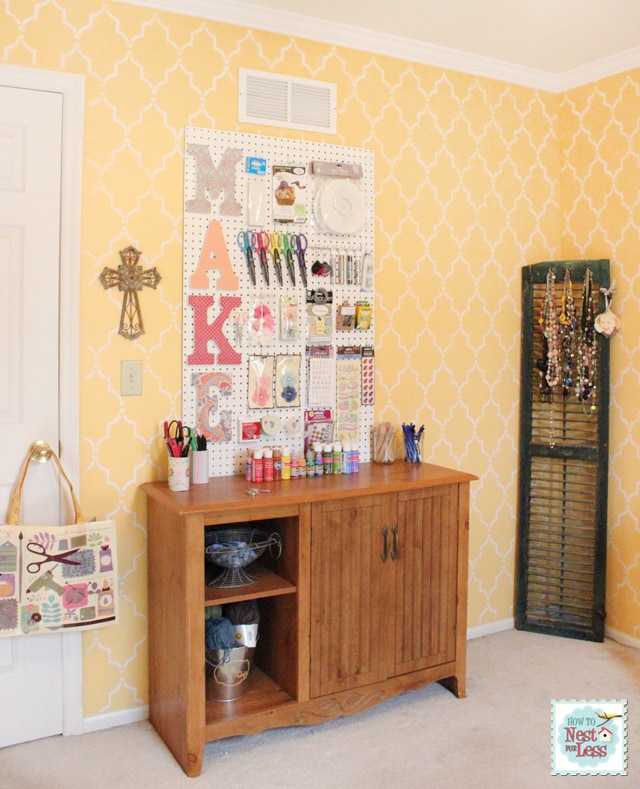 One thing I was missing in this room was storage space. There is a large closet, but that is out of the question as my hubby needs a place to park his clothes (yep, I have taken over the entire master bedroom closet). So last week I pulled up this old kitchen buffet from my basement. It needs some love, but I need some inspiration first.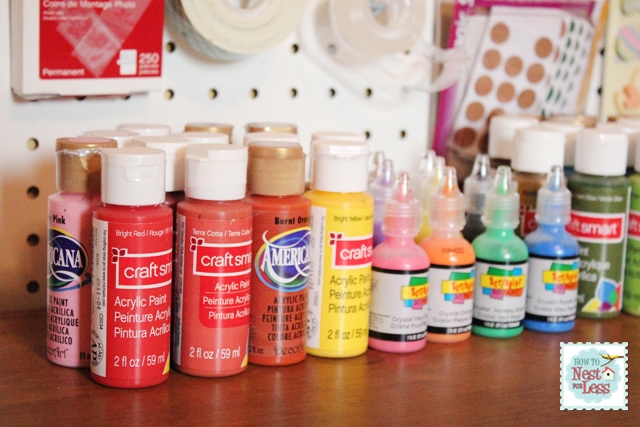 For now I just have some paints and my pencil cups hanging out on top of the old buffet.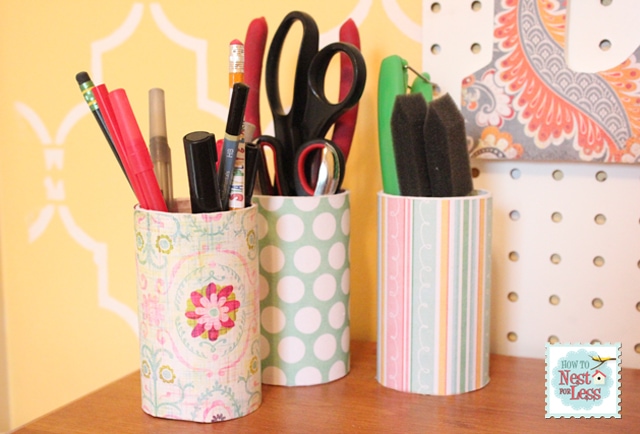 I also purchased the new little shelving cart below from Goodwill. It was a dark brown but I primed it last weekend. It's not staying in this room; I just needed a place to store some supplies for now.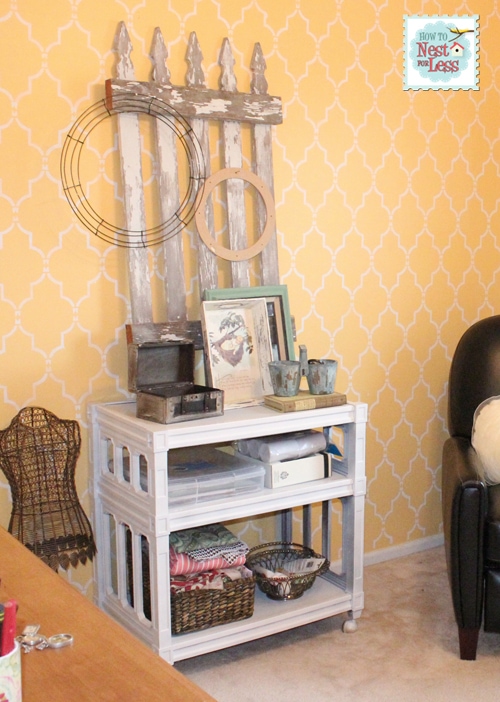 I really love this old chippy fence that I purchased from an antique store last fall. It adds a little bit of texture and eye candy.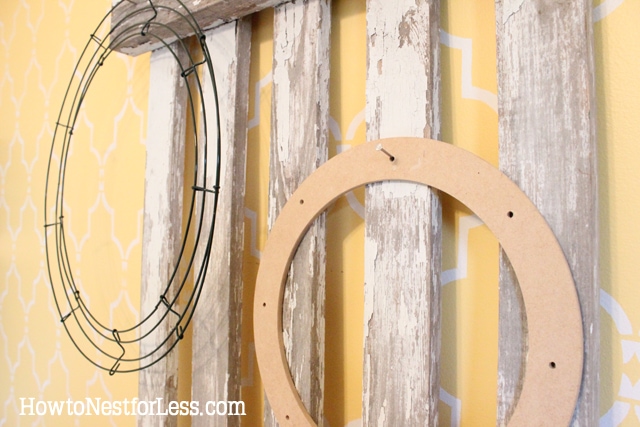 So see… distressed antiques and a glam stenciled wall. Doesn't seem to go together! And it's hard to pick complimentary colors to bright yellow (especially when the color of this room changes every hour with the sunlight, too!).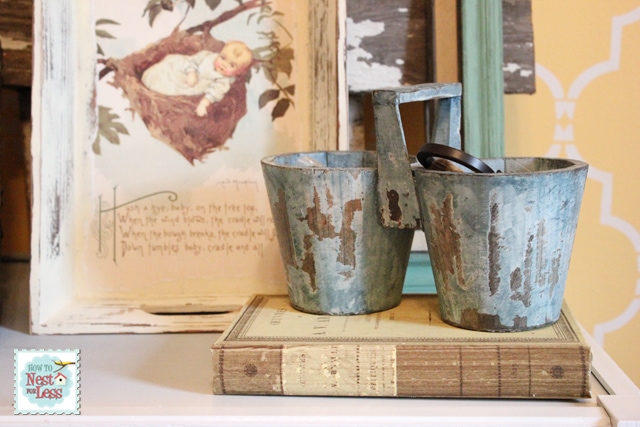 Now for a recap…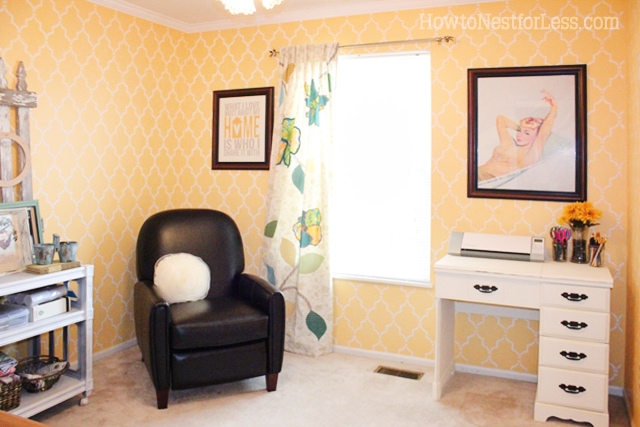 OK, I'm the first person in the world that will admit I have no clue what I'm doing when it comes to interior design. I have glorious ideas in my head, but then things get mushed. I see something I like and want to incorporate it into my design, but then things get too eclectic.
MY BIGGEST PROBLEM WITH THIS ROOM?
Um… did you notice there's no real workspace?!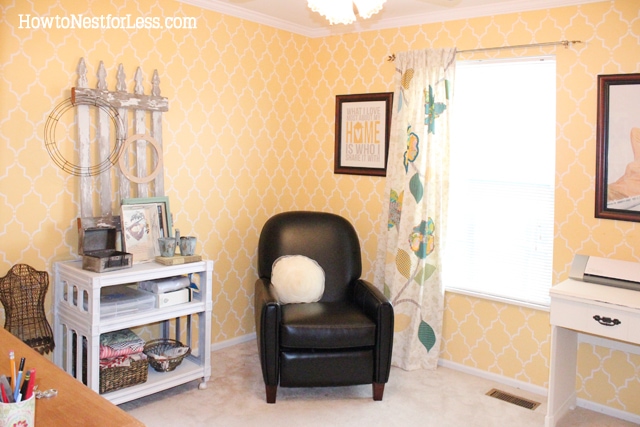 If I'm going to have an entire room dedicated to crafts and my blog, it BETTER BE FUNCTIONAL! As of now, every time I get on my computer to write a post or need to create a new project, I move into the dining room. URGH. I really need a large surface to spread out and create! Plus it's impossible to photograph anything in the current craft room. The yellow bounces off the walls like CRAZY! 
And I first put that black leather chair in this room since I wanted my hubby or little girl to hang out in there with me while I'm working. If I take it out of this room, I really have nowhere else to put it (and I'd hate to see it go!).
Well, here's some ideas I have running through my head…
Paint the walls a soothing color (something that will help photograph my projects better)
Choose a color palette before I start the redesign
Make a mood board with my paint, textiles and furniture ideas to see if they all fit together
Maybe move the old beat-up dining room table to the craft room (if it will fit)?
Get the new dining room table I've been dreaming of from World Market (hee hee)
Pick a design style and stick to it!
So, what are YOUR thoughts on the space? Do you have any ideas??
I COULD SURE USE SOME HELP!!