Ready to be creeped out?
I know I certainly was when I learned about this…
It was brought to my attention yesterday that someone is using my daughter's picture on their Facebook profile and saying that my child is their daughter.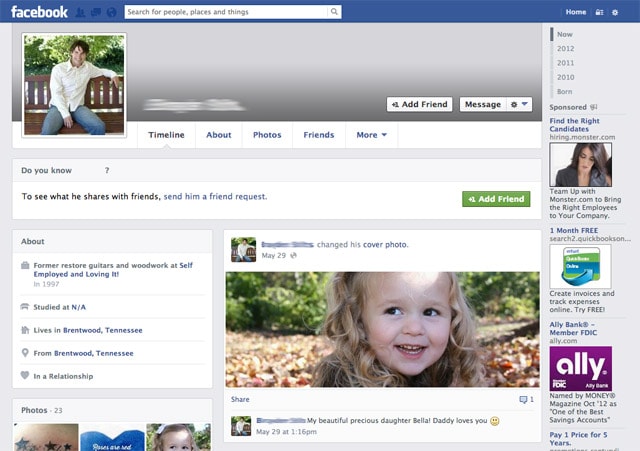 Yep, some creepo is using my daughter's photo (stolen from my blog with my watermark) as his Facebook cover photo.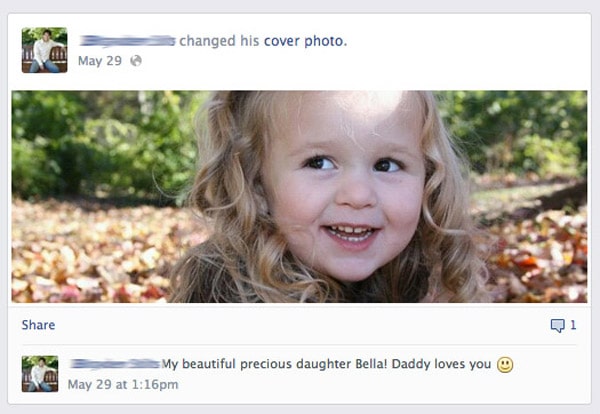 And do you see the comment he left on the photo?
This might not be a real person but something created to produce spam on social media sites, but it still creeps me out beyond belief. And I still notified Facebook and am trying to track down the source to the best of my ability.
Urgh, this makes me so mad. I don't write about my child that often here on the blog. I used this photo when I wrote a post about her 5th birthday, over 6 months ago. I don't think besides that I've had a story where I just flat out talked about my family with no project behind it (except for a vacation post).
And just to think a couple weeks ago I was considering putting more personal stories into the rotation here (especially after the reader poll I held last month with many of you saying you'd love to hear more about my little girl). Yeah, guess that plan is out the window.
It seriously aggravates me.
I know I'm the one who put the photo out there so of course I'm to blame, but c'mon… I created this blog to be my online diary of DIY adventures and anything else I wanted to write about along the way. Now I hate that I have to filter my life and worry about my child's photo being used around the internet without my permission.
As I said, I have reported this to Facebook and hopefully will hear back soon. This will forever change the way I feel about my blog, social media and how my family plays a roll in both of those things.
The only reason I'm posting about this today is to inform my readers. I know sharing a photo of your kids on Facebook or Instagram seems harmless, but this just might make you think twice…
So, will this change the way YOU post photos
on social media or your blog?
UPDATE: I just checked again and the Facebook account has been disabled!
While I'm so relieved that this creeper's page is no longer active, I did a Google Image Search and found that my daughter's photo is used on other sites across the web. Guess it's on to the next bad guy…