This is a sponsored post by Wilsonart. See full disclosure statement below.
As I mentioned a couple days ago, my family is embarking on the exciting journey of building a new home! We are extremely excited, but so many important decisions lie ahead. So, what's the most important part of my new home? In my honest opinion, THE KITCHEN!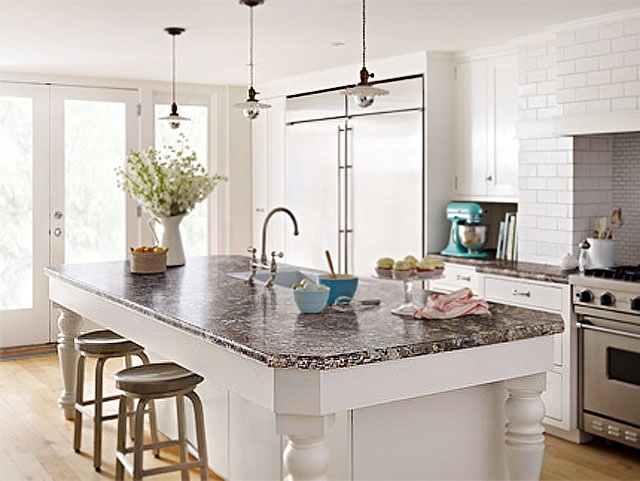 I've been dreaming of a crisp, white kitchen for a couple years now. There's just something about the lightness and brightness of white cabinets and the perfect complementary countertops.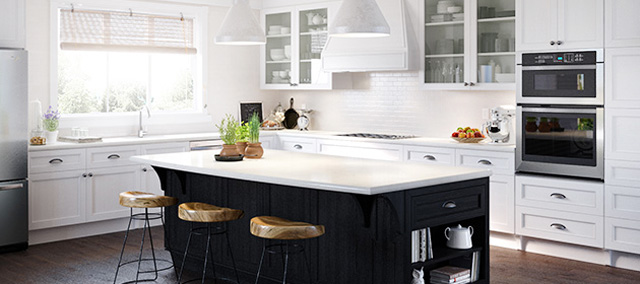 Now we can't have all of the high end appointments in our dream kitchen… I mean, c'mon. I'm still a thrifter here that has a real budget. So when shopping around for alternatives to granite countertops, I stumbled upon a simply awesome option that I had to share with you guys…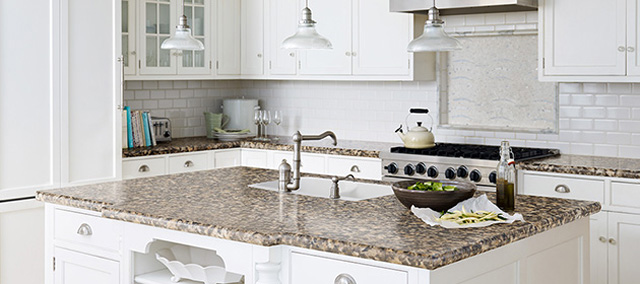 Wilsonart makes laminate countertops that are seriously AMAZING! For homeowners this is the dream of combining the beauty and durability of real stone with an affordable price. Inspired by actual granite with all of the cool veins and markings, the Wilsonart® HD® High Definition® Laminate countertops have never looked more realistic with natural flow patterns and mineral details.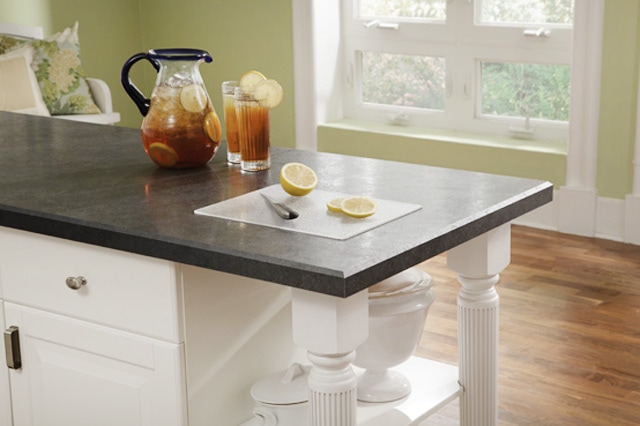 And kitchens should be designed for real life, right? I have some friends that just bought a new house and are scared of putting bar stools up against their granite in fear of it chipping. And they have special coasters and cleaners for their counters. Ummm… no thank you! I live a hectic life and know that kitchens are meant to be used on a daily basis. I want my countertops to be the center of my kitchen and not have to worry about each little chip or ring mark. Wouldn't you agree?
Plus the AEON™ Enhanced Performance Technology from Wilsonart means countertops are durable‑up to five times more scuff resistant than traditional laminate. Yep, perfect for my family!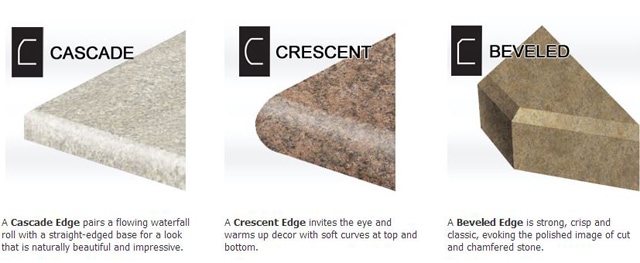 Another cool part of the Wilsonart countertops is that you can choose a decorative edge to really set it apart from other laminate countertops. The Beveled, Cascade, and Crescent edges are three of the most popular edges and definitely are the perfect finishing touch (plus an affordable way to achieve the granite look without the visible seams).
You can also get a Wilsonart® HD® Integrated Sink that gives the countertop an upscale, clean look. There's no lip, no seam.
Oh, how I want this in my new home! Do you know how easy it would be to clean up a mess off your countertops and wipe it straight into your sink? Sheesh, and not have the crumbs and grime stick around the lip of your sink? Yes please! Sign me up! I NEED THIS.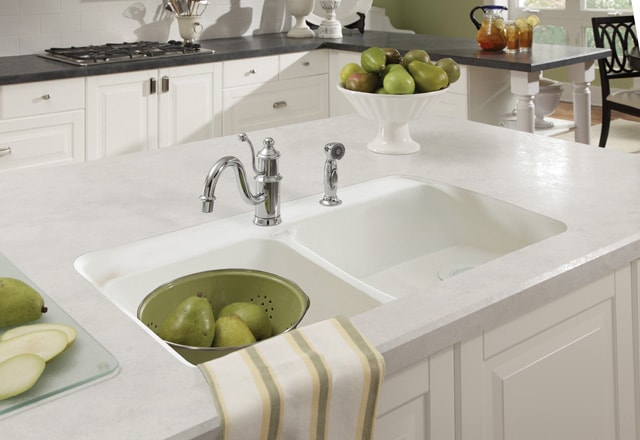 The best part is that Wilsonart's Integrated Sinks are thermal-formed acrylic sinks which means they're resistant to both stains and heat. Seriously, this addition makes the Wilsonart® HD® High Definition® Laminate countertops look even more like real granite.
I'm also considering using these countertops in my laundry room and bathrooms. I mean, why not? They're durable and affordable so why not start off my new house as my dream home with all the luxury finishes.
I can see it now.
MY DREAM KITCHEN ON A REAL BUDGET.
Yep, dreams really do come true.

If you want some more information on this product, check out:
www.wilsonart.com/dreamkitchens
or you can find them on Pinterest for more kitchen makeover ideas!