Well, it's official. We started our IVF journey this past week. Looks like we're are geared up for a June IVF cycle. I still can't believe this is actually happening.
Oh… if you have no idea what I'm talking about,
you can find the whole story here.
After months – make that YEARS – of testing and 9 failed IUI's after Ellie's birth, we're finally moving forward.
Earlier this week I picked up 10 different medications including 4 different types of shots. Yeah… loads of fun. Cause doesn't everyone like to stick themselves in the stomach with needles on a daily basis? For anyone that has diabetes, I don't know how you do it. Major props to you.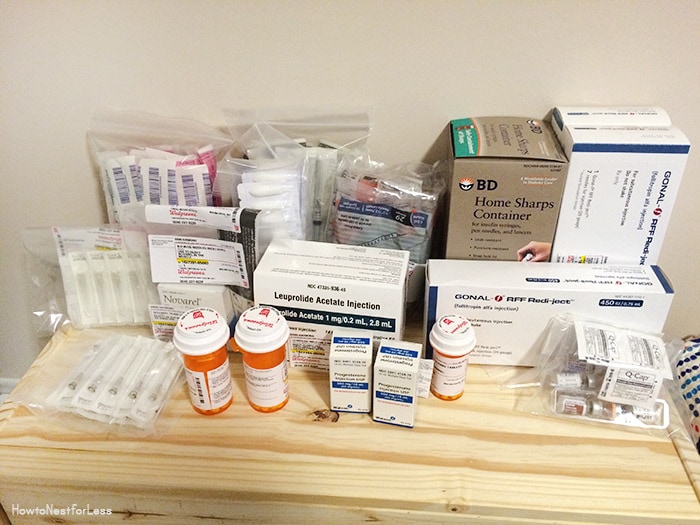 I've actually been making Ben give me the shots. I just can't get past having to stab myself in the stomach with a long needle. I know, weird… right?
I started the medications this past Tuesday with no real side effects as of yet to report about (thank goodness), but I've really only just begun. The major stuff comes in about 2 weeks.
So egg retrieval is set for around June 11th (just 3 weeks away, crazy!). Then the doctor will transfer them back the following week, about 5 days after the retrieval. Then 8 days after the transfer we will take our blood beta test to see if we're pregnant! So definitely by the end of June if everything goes according to plan.
At least everything looks promising so far. All tests have come back normal and all procedures leading up to this point have shown that I have a healthy uterus and tons of healthy eggs eagerly waiting for the big day.
And we're hoping and praying that this month works out for us. I ended up switching to Ben's insurance since they have a one time $10,000 IVF coverage, plus they pay for some of the medications. Definitely nice when this whole thing would have cost us $15,000-$16,000. But if this month doesn't work, we'll be paying for the next round completely out of pocket. — please let this first round work—
So I'll keep you updated as I continue this journey. I truly appreciate all of the kind words and comments thus far.
I'm trying to get a bunch of projects & makeovers stuffed in these next few weeks before I go on "light activity" for a couple weeks and bedrest for a day or two since I've had a miscarriage before, but other than that life will be back to normal… well, besides the whole 10 medications pumping through my body thing.