THIS GIVEAWAY HAS ENDED.
I've been running around like a chicken with my head cut off recently. I got a cool promotion at work at it's been extremely hectic (yet fun) learning my new role.
But of course this all means it's been hard to fit in house projects in my free time. I have some cool things in the works (painted my moldings, almost finished my family room, and working on some shelves for my sister-in-law's nursery), and I'll get back to that stuff next week. Right now I just want to say I really appreciate all of my loyal readers coming back every week to check in.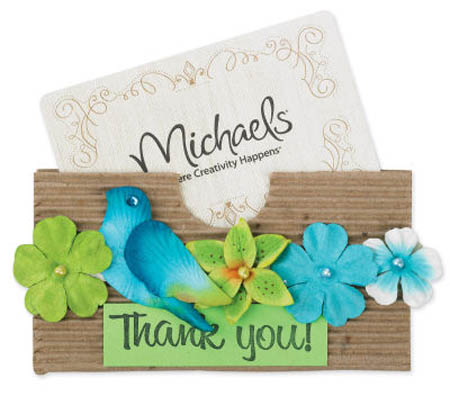 So to show my gratitude I've decided to have a little giveaway for a $100 GIFT CARD TO MICHAEL'S. This isn't a gift card Michael's offered for me to raffle off; I just wanted to find a little to say THANK YOU for supporting my little 'ol blog and making me smile with your sweet comments and emails each day!

SO HOW DO YOU WIN THIS COOL PRIZE?
Just leave a comment telling me which
one of my craft projects you'd like to recreate using this
$100 GIFT CARD FROM MICHAELS!
Winner will be announced next Friday.
GOOD LUCK, and thanks again!