If you follow me on Instagram you may have noticed that there was a video crew in my house last week. Yeah, no big whoop. Just your normal day-to-day blogging stuff going on around here, right?
OK, not really. Nope, not even a little.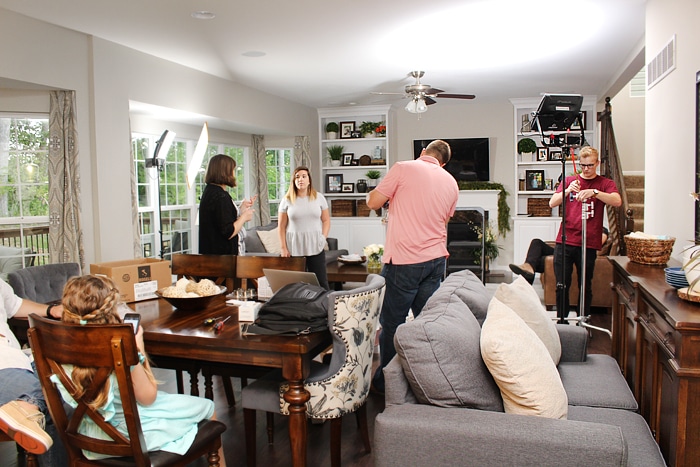 I totally had to pinch myself a couple times throughout the day to see if it was a dream
So what was all of this chaos about?
A couple weeks ago Emerson contacted me and asked if I wanted star in some product demonstration videos for their ceiling fan division. Now I've been to a bunch of video shoots for my "normal day job" (mostly starring the oh-so-handsome STL Cardinals baseball manager, Mike Matheny) but I've never been on the other side of the camera.
And that part terrified me.
Yeah I've done a couple segments for local TV stations but those are so quick you barely have time to blink and it's over. Emerson wanted to do a full day shoot at our house from 8am to about 3pm. Yikes. That's a lot of footage.
So I really was too nervous to say yes at first, but after chatting with Ben about the opportunity he finally talked me into doing it. And before I knew it some reps from Emerson and a production crew from Pounds Media were in my family room ready to roll the cameras.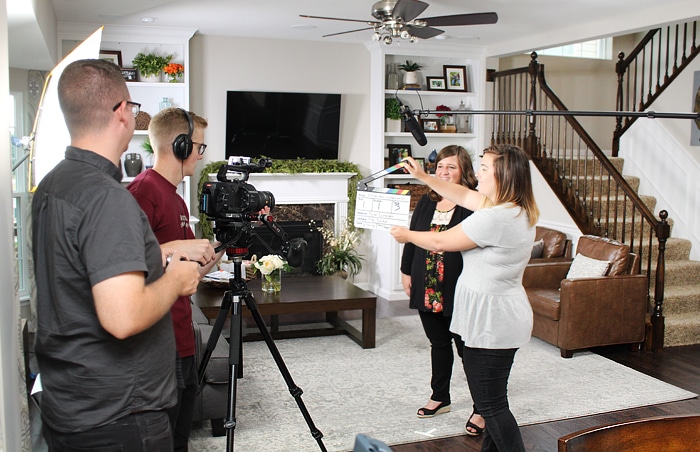 I have to admit, it was a crazy fun (yet intimidating) experience. They wanted the video script to be in my own words, something natural, flowing, and off the cuff. That meant no teleprompter. Cue the nerves.
Luckily it went pretty smoothly and it didn't take me too long to nail the talking parts.
Two big thumbs up from me!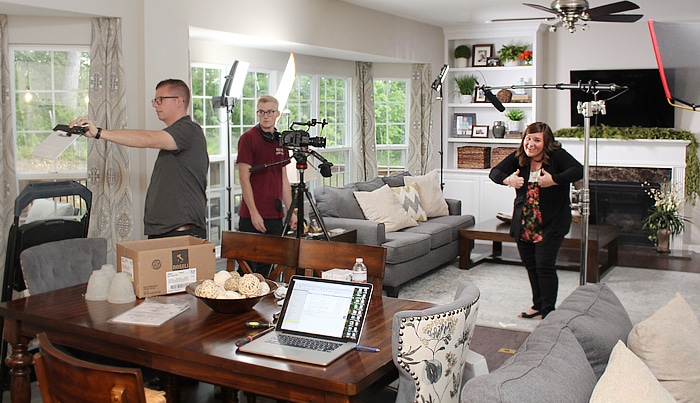 Next it was time to do the "hand modeling" portion of the video. Basically it involved me installing the Emerson lighting adapter in my family room, bathroom, etc. This part didn't take too long but I really wish I had beautiful, long fingers like Bob Barker's Beauties for this type of job instead of my short, stubby hands. Oh well, at least I remembered to get a nice gel manicure the night before, right?
Overall it was an exciting 1-day shoot and I promise I absolutely LOVE the product that I got to demonstrate. Pounds Media, the production/video crew, is finishing up the video now and I hope to share it with you guys soon.
Until then though I can show you my new family room lighting…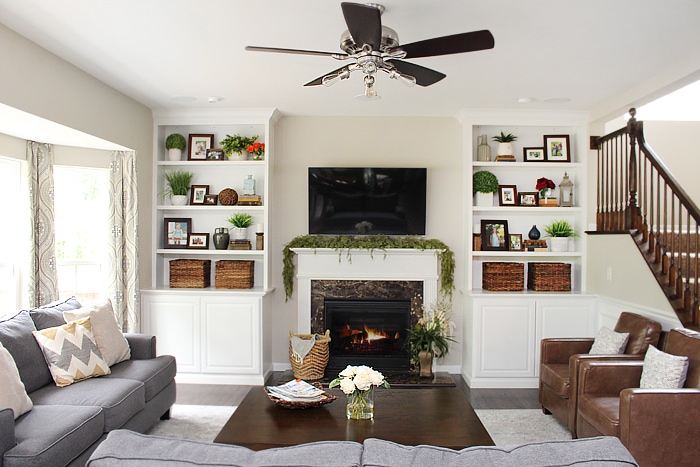 So what is this cool new product?
It's the Emerson Vintage Light Bulb Adapter.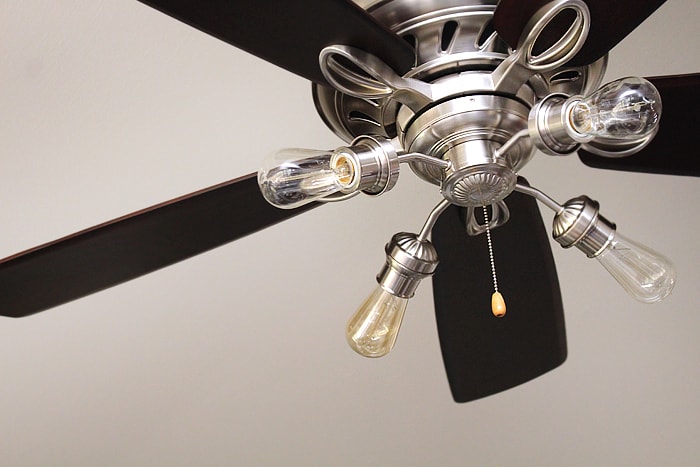 Perfect for farmhouse, vintage, industrial style…
or just if you want something new!
The best part is this is an update for the current lighting in your home.
Yep, you don't have to replace your entire fixture!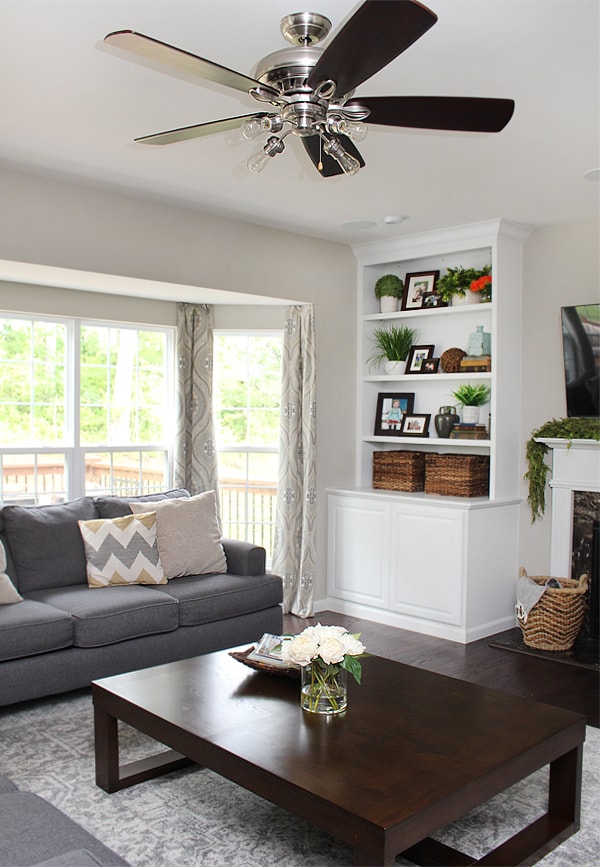 And in case you can't remember, here's my family room with the old lighting fixture.
Bye, bye ugly glass globes!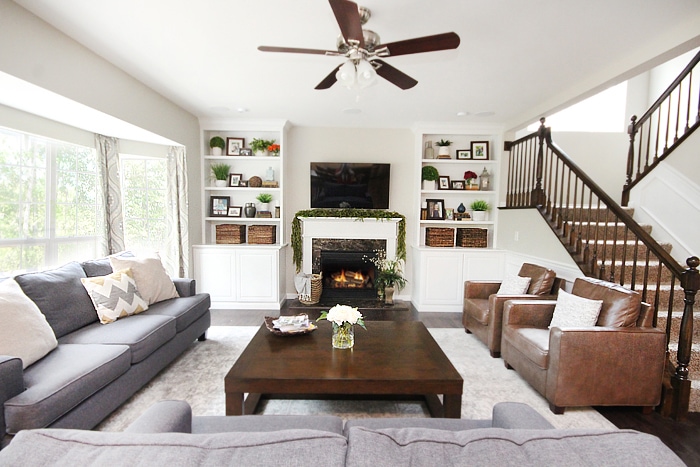 So much better, right?
It looks so fresh, clean and crisp. Love the difference it makes in my home.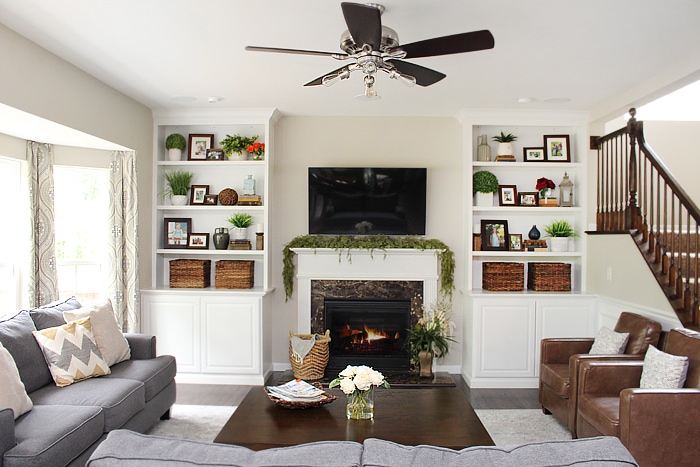 I'll share more details about the Emerson Vintage Bulb Adapter when the video is ready.
Can't wait to show you guys!!
Until then you can swoon over my new family room lighting fixture with me ;)