Make sure you follow me on Instagram and Pinterest for a sneak peek into my recent projects!
This week we're celebrating the 1 year anniversary of moving into our new home! It's hard to believe it's been 12 months already… I barely feel settled sometimes, like I'm still trying to get things organized and find a "home" for key items.
But I'm slowly getting rooms painted and decorated in the new place. Today I thought I would show you guys the progress throughout the house and even give you guys a little video tour at the end! So let's get started….
In case you can't remember the flow of our house,
you can see the floorplan here: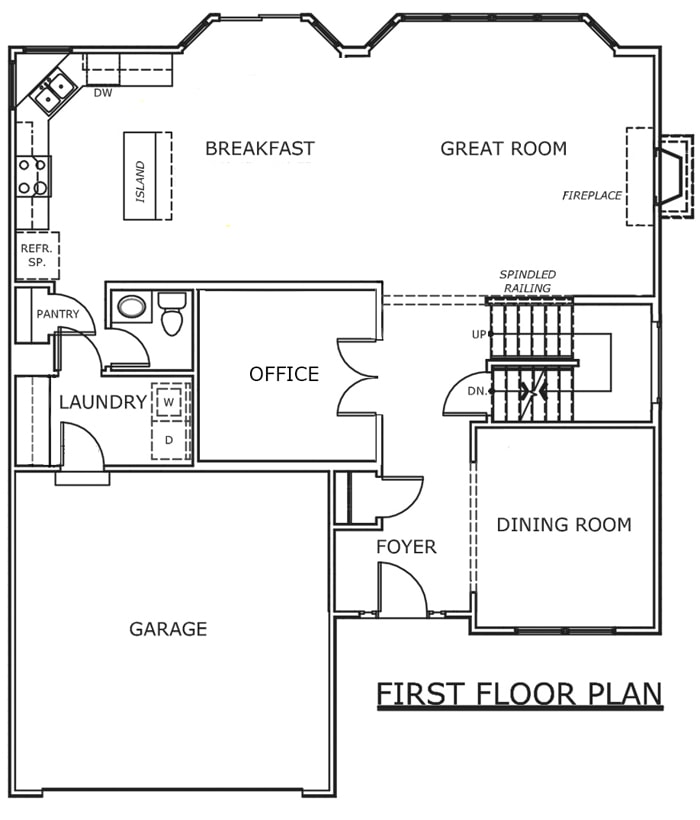 So just so you can remember how far we've come over the last year.
Here's the kitchen and family room the first week we moved in…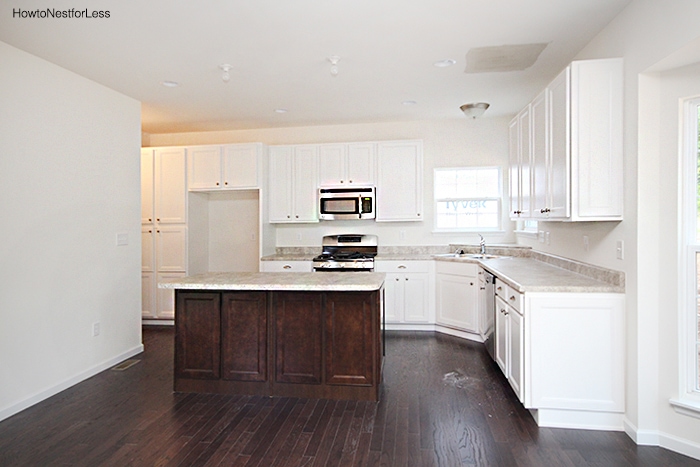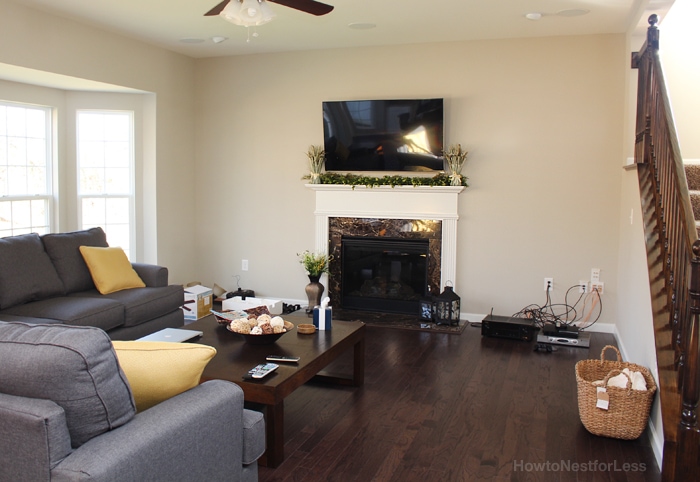 And here's what the KITCHEN looks like today: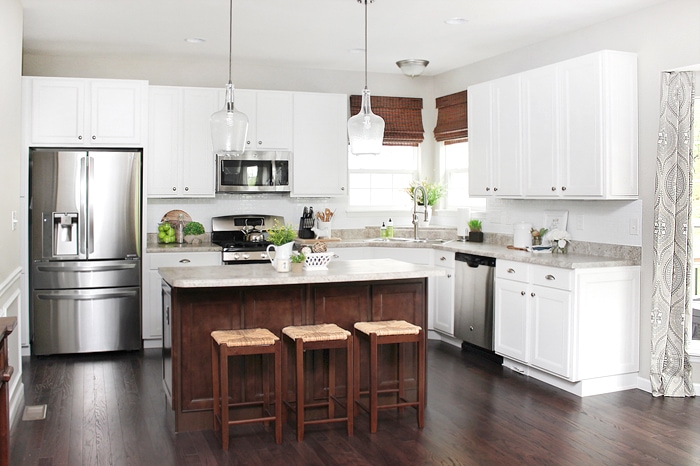 You can see we picked out new lighting and window shades from Lowe's, stools from Amazon, and curtains from Joss & Main. We also put up the self-adhesive white subway tiles in May.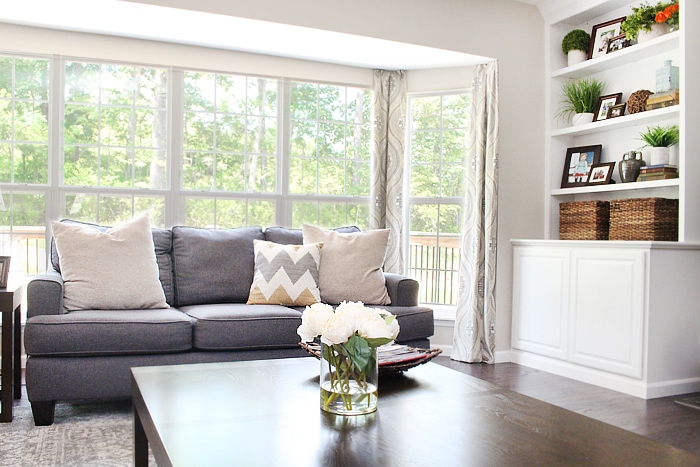 FAMILY ROOM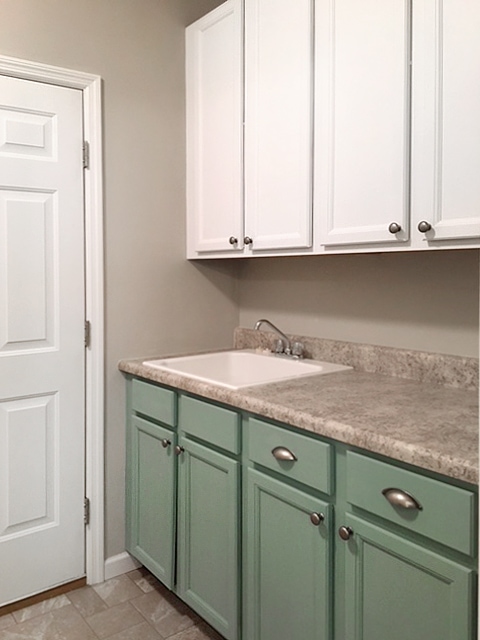 And of course you guys saw my LAUNDRY ROOM updates a couple weeks ago. I hope to finish the shelves this coming weekend and give you guys a big reveal soon.
We also have the playroom, dining room, powder room and foyer on the main floor
but that stuff still needs some major love.
OK, now onto the second floor….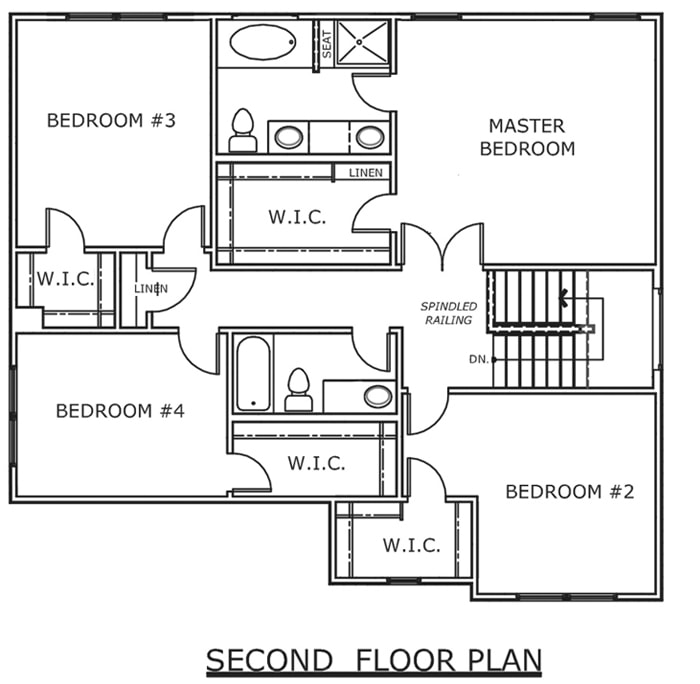 So a little bit on the master bedroom we decided to recycle the same bedding & décor from our last home. I'm really not happy with this makeover and already want to redo it. Crazy, I know. But this room is so dark and it backs to trees and the gray paint with black furniture doesn't help. Kinda kicking myself for this one but I didn't want to buy all new stuff for the new house. Pretty much my biggest DIY regret ever. Oh well, someday I'll redo it…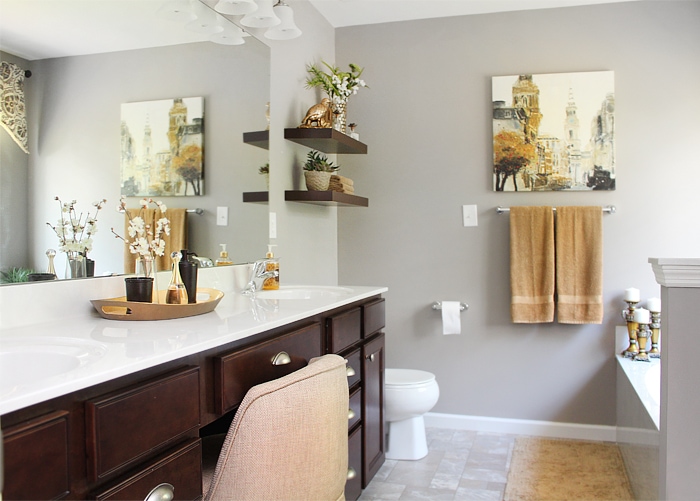 MASTER BATHROOM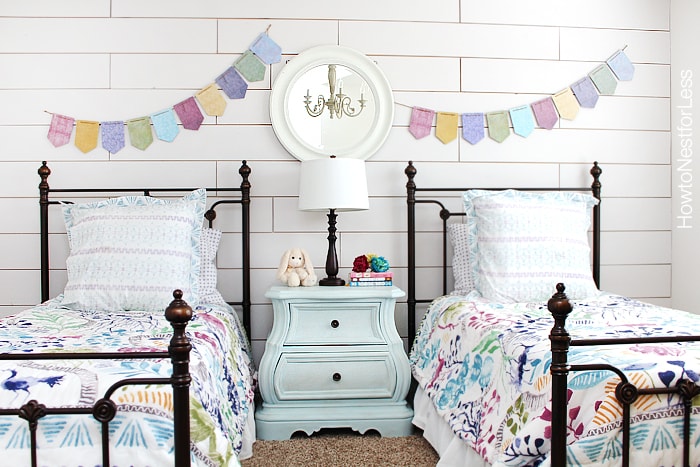 ELLIE'S BEDROOM and WALK IN CLOSET
Upstairs we still have 2 bedrooms that are basically empty at this point
and Ellie's hall bath that still needs a big makeover.
We made a couple exterior updates to our home but nothing major thus far.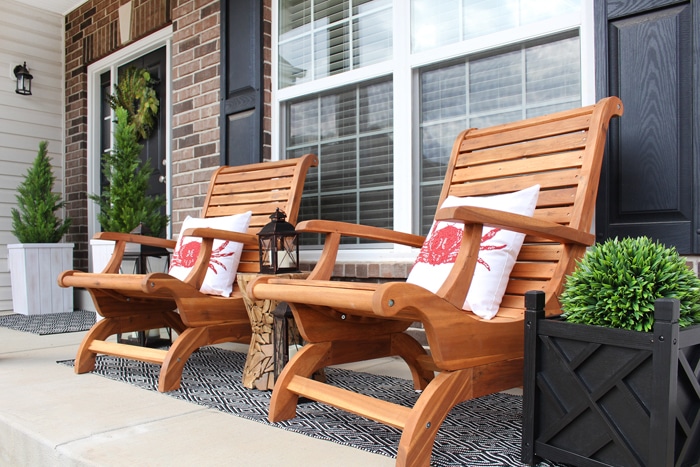 FRONT PORCH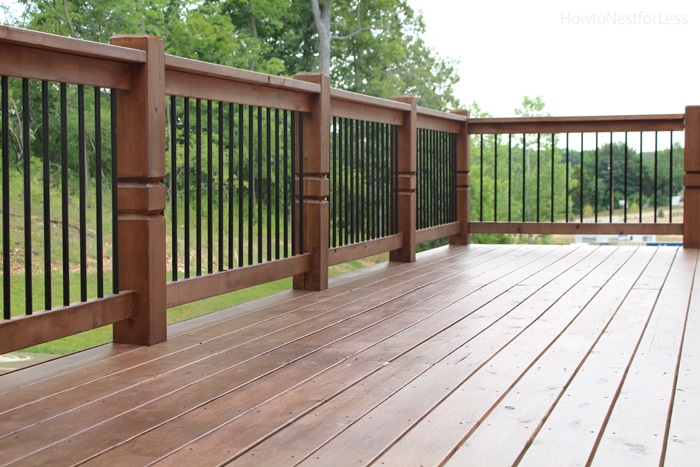 DECK
Next year I want to work on a deck makeover and add more plants on the hill in our backyard.
It will be awhile before I get to those so don't hold your breath ;)
OK, now here's a video tour of our home.
Pardon the wobbly and dark camera work.
Overall I'm really happy with the improvements we've made on our home. I really need to finish the laundry room and then I hope to move onto the playroom/homework room. This is the room that gives me the most anxiety in the house and it will be so nice to have it organized!
Hope you guys enjoyed the 1 year update!
We only stayed in the last house for 16 months before we moved.
Hard to believe that's only 4 months from now. Crazy, right?
I promise we'll stay in this one a little while longer ;)