Hello everyone! I know, I know… I promised an update about a month ago on Ben's hospital stay but as you can probably guess, things got crazy around here for us.
Want to catch up?
Read part 1 here | Read part 2 here
So I left you guys off on Tuesday afternoon (just to recap we got into the hospital on Saturday afternoon). We just found out after the last EEG that Ben was having between 14-15 mini seizures at night and some other ones throughout the day so they decided to move him to the neurology floor on Wednesday morning.
We also found out Ben was going to need another surgery. Since he was laid up in a hospital bed and not moving around much, Ben was put on blood thinners to reduce his chances of getting blood clots in his legs. Well that ended up with him bleeding everywhere and 4 nurses and a doctor rushing into his hospital room. It was chaotic and scary to say the least. But luckily they got the bleeding under control and the extra surgery was called off. But let me tell you… things were never boring in the hospital with Ben!
So the next day (Wednesday) they moved us into a new room on the neurology floor that was SMALL. I could almost stand in the middle, outstretch my arms, and touch both walls. It basically just fit his hospital bed and a chair by his feet. Yeah, a little claustrophobic. That first full day on the neurology floor they did absolutely nothing. We spoke with 1 doctor and that was it… just waited patiently for any news or information.
On Thursday they decided to move him into a bigger room across the hall, one that was equipped with cameras so they could monitor him 24/7. They decided to run another EEG on Ben, this time for 48 hours. For this test they wanted to sleep deprive Ben to see if they could induce seizures. The doctor instructed him to stay up almost the entire night until 4am, then sleep for 3 hours, then up again at 7am and stay up all day long. Sounds like torture, right?! Or maybe just parents with a newborn ;)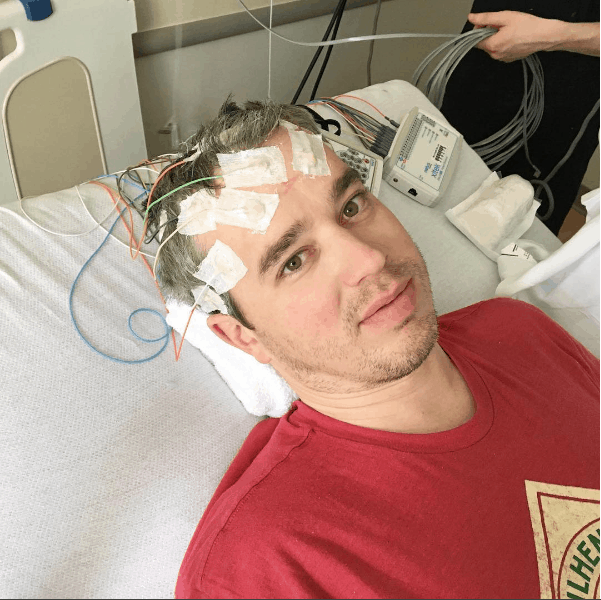 Over the course of the next 48 hours, Ben had some mini seizures but nothing major. Again they were able to tell that most of the activity was coming from the left side of the brain and from the front, which is uncommon since you mostly see seizures in the temporal lobe.
Saturday finally rolled around, a full week in the hospital thus far. The doctors decided Ben should stay in the entire weekend in the hospital just to be safe and continue the EEG so yes, we spent Easter Sunday in the hospital. At least Ellie and I got to spend a couple hours at my parents' house in between hospital visits!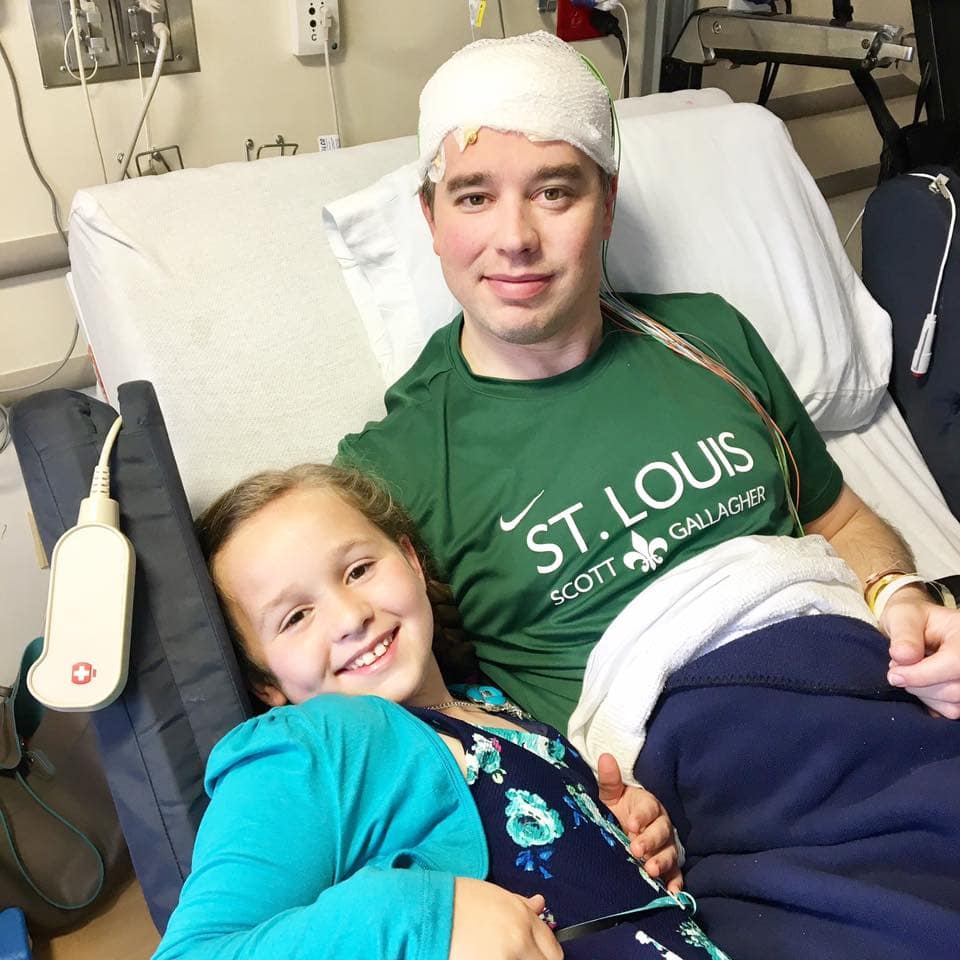 By Monday April 10th Ben was actually gaining a lot of strength back in his arms and legs, although he still had a lot of numbness from the pinched nerves and bulging discs.
While he still wasn't 100% seizure free at that point, the doctors felt that Ben's new medications would eventually kick in and help control the seizures. If they didn't? His new neurologist said one option is to come back later this year for additional testing. Basically Ben would have a week long EEG so they could accurately pinpoint the areas in his brain that are causing the seizures, then drill tiny holes in his skull and resect those parts of the brain. Scary, right?! So yeah… we're hoping the medications will work!
Then we got the best news ever… Ben was finally getting discharged! After 9 long days at Mercy in St. Louis, Ben was finally going home since he wasn't having any grand mal seizures and his smaller ones were stabilizing. And since he gained so much strength back, Ben would be able to go home instead of the rehabilitation hospital that was originally planned (he was going to stay there for a couple weeks until his spinal cord surgery).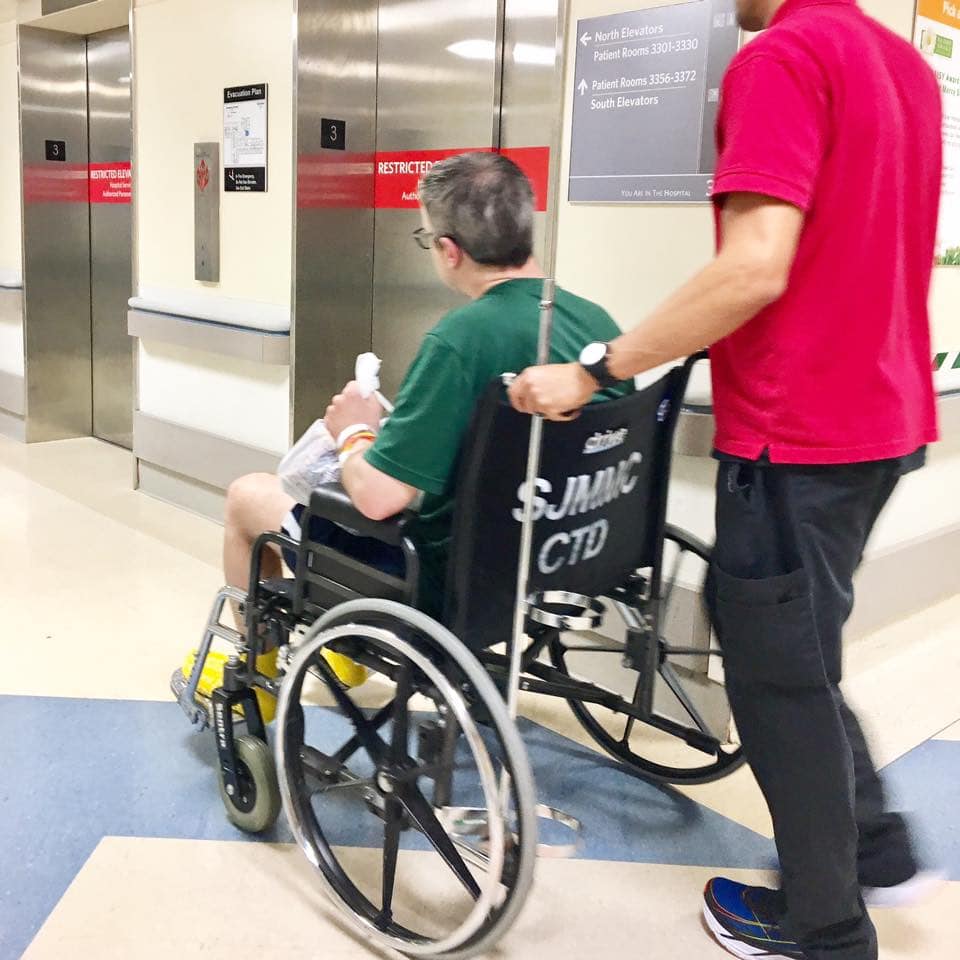 Ben did really well at home during those first few weeks. He was instructed to go down the stairs once in the morning, up the stairs and night, and just chill on the couch in between in the family room. Ben also had to be with someone 24/7 until his surgery to make sure he wouldn't fall an injure his spinal cord and cause more damage.
A little over 3 weeks after he returned home (Wednesday, May 10th) Ben had his spinal cord surgery for the injury that first landed him into the hospital… having a grand mal seizure, falling out of bed, landing wrong and staying in that position throughout the seizure, and severely injuring C5-C7 in his spinal cord. We were happy to get this surgery scheduled and out of the way so Ben could finally get rid of the pain and numbness in his hands and legs. His new medications were also helping control the grand mal seizures so we were confident that he could actually undergo the surgery without too many risks.
I'll update you guys on the actual surgery and his recovery process on Friday. Hope everyone had a nice Memorial Day weekend and is looking forward to a beautiful summer!