Happy Cyber Monday everyone! Yes, it's the day where internet goes crazy over the hottest Christmas gifts and holiday toys with the hopes to save some big bucks. And in my honest opinion it's so much better than waiting outside in the cold at 5am on Black Friday. Today is my kind of day because you know I'm shopping on Amazon all day long in my yoga pants and last night's sleep shirt… c'mon, don't judge.
So I thought today I'd give you guys some good tips and tricks while shopping the biggest online sales event of the year. Hopefully these tips will help you get the absolute best deals and save you even bigger bucks!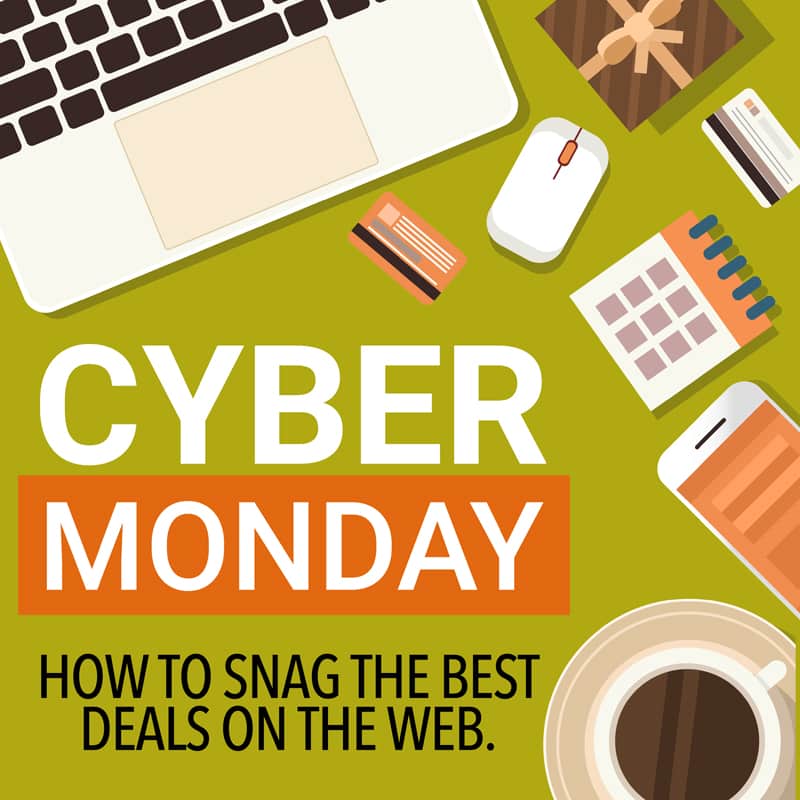 MAKE A LIST AND STICK TO IT.
The biggest mistake you can make on Cyber Monday is seeing these amazing deals all over the place on kitchen appliances, electronics, TV's and tools, and adding them to your cart one by one. Please… RESTRAIN YOURSELF and ask "do I really need this?". Don't get roped in by the "Deals of the Day" or that countdown clock that's ticking away. Just tackle Cyber Monday with a budget and a plan, and try to stick to it!
LOOK FOR THE DEEP DISCOUNTS.
If you're shopping on Amazon it's pretty easy to see what kind of discount you're getting since they show the percentages. If the store doesn't clearly show 25% off or 40% off, make sure you're actually doing the math so you know the percentage you're saving. You may think that saving $10 on a Lego set from Target is a good buy, but if that set is $100, that's only a 10% discount. Is that really a good deal? Which leads me to my next point…

LOOK AT ONLINE REVIEWS.
No matter which website you're purchasing from, read the reviews to make sure other customers have been happy with the product. Reviews and ratings are your best friends. Also make sure you're buying from a reputable seller if you're purchasing on Amazon. Check customer reviews and see how many reviews the product has (the more the better), then read the good and the bad to really get an opinion on the product. Also check out the seller's page and see what people are saying about their customer service. Oftentimes if a seller has bad reviews, they'll close that shop and open a new one selling the exact same products. I try to only buy from sellers that have a lot of reviews and I try to stay above 4 star ratings.
LOOK FOR COUPONS.
Yep, sometimes you can also use a coupon on top of your Cyber Monday savings! One of my favorite websites is Retail Me Not. They apparently have over 500,000+ coupons to over 50,000+ stores for Cyber Monday. Double check before you buy!! Might save you a couple extra bucks, or even earn you free shipping!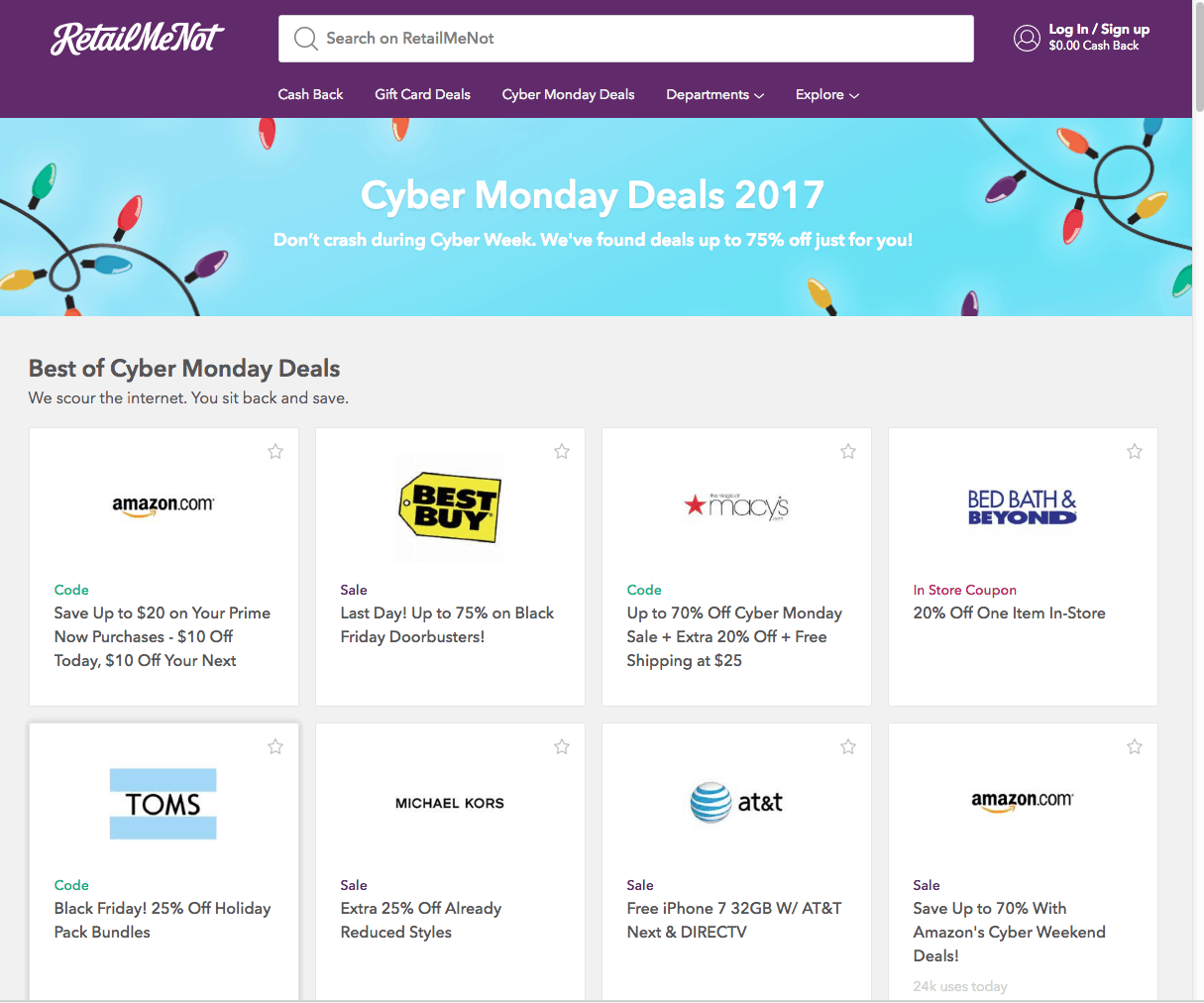 SHOP AROUND.
Compare prices across the web. If you're looking for a new Chromebook for your teenager, quickly skim a couple online stores like Amazon, Target, and Best Buy to see who is having the best deal. Trust me, it will be worth the extra 5 minutes. And compare the total price, including taxes and shipping.
BE WARY OF SHIPPING AND RETURN POLICIES.
This is especially true if you're purchasing from Amazon. My advice is to always go with Prime shipping if you can. Two days and it's at your front door! And this way if you don't like something, you still have plenty of time to return it before the holidays. One great tip though is to see if an item is "Fulfilled by Amazon". This means that it's shipped from an Amazon fulfillment center and it might be easier to return/exchange or get your refund. And if you don't have Amazon Prime yet, you can Try Amazon Prime 30-Day Free Trial
.
IT'S NOT JUST ONE DAY ANYMORE.
Yep, it's true. They duped us. It's really no longer Cyber Monday, it's Cyber Week. Both Amazon and Target have it advertised as a week long sale. Target said they will ramp up their sales through December 2nd. So just be aware that prices might dip even lower later in the week!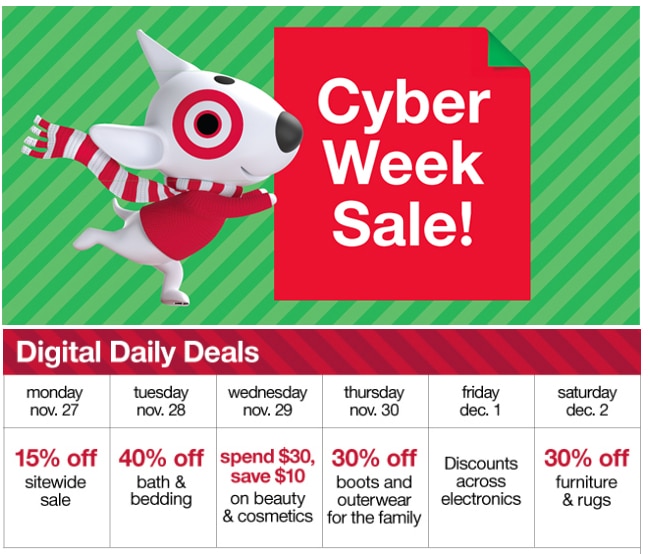 OK, now get out there and shop til you drop!!!
And do YOU have any tips?
Would love to hear them!