This week I'm hosting a Valentine's Day Series with 8 different guest bloggers ready to share creative crafts, home decor and recipes! New posts will be at 5am and 3pm Monday through Thursday, with a wonderful round up of my favorite Valentine's Day projects on Friday. HOPE YOU ENJOY! Next up:

Megan Brooke Handmade

! Take it away Megan!!
Hello fellow How To Nest For Less followers! I'm Megan and I blog over at
Megan Brooke Handmade
. I'm honored that Erin asked me to be a part of her Valentine's Day craft series.
Being a single gal, Valentine's Day isn't always my favorite holiday. But, Valentine's Day isn't just about that significant other in your life. It's a holiday intended to tell those you love in your life how much they mean to you. These people can be parents, siblings, grandparents or friends. Valentine's Day is also a good excuse for adding or creating some new decor. :)For my project, I decided to make some V-day decor with some yarn wrapped letters.
Instead of using traditional Valentine's Day colors (red & pink)  I went with a fun yellow & blue, with a touch of gray.Here's what you need to make your own.Yarn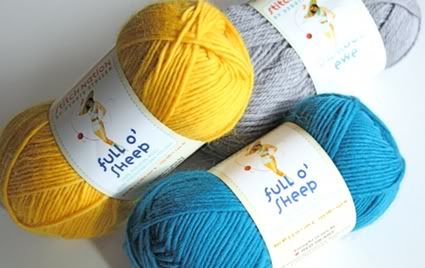 Cardboard Letters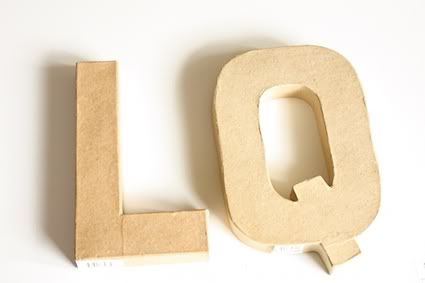 I decided I wanted to spell out LOVE. You could actually do this for a lot of holidays. Like 'JOY' for Christmas, 'BOO' for Halloween…you get the point.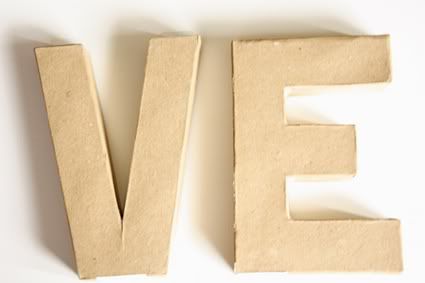 Wait. Did you notice something wrong with my letters? Yes, you are seeing things correctly. That is a 'Q' and not an 'O.' The one snag was that my local craft store didn't have the letter 'O.' But, I had set my mind on this project, so I found a way to make it work.
I bought a 'Q' and cut off the tail outside..

and inside.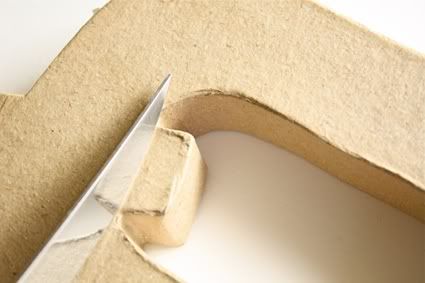 Voila! Now you have an 'O.'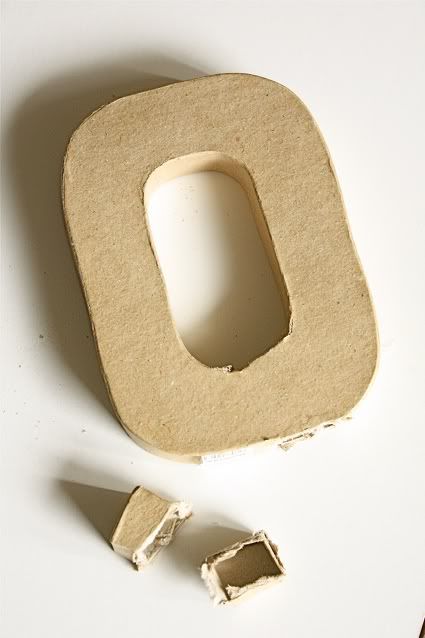 The next step was to start wrapping.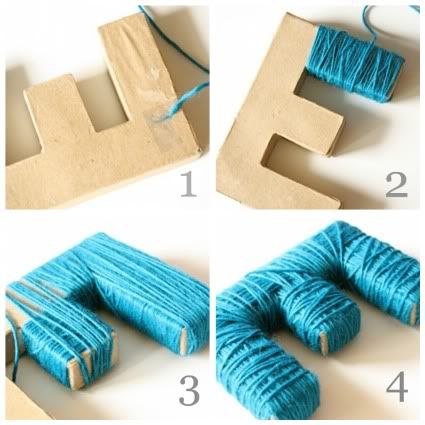 I just wrapped the entire letter in one direction, then went back and wrapped in the opposite direction.
The 'O' was the tricky letter to wrap. Since there was an opening, I had to push the wad of yarn through the opening and continue wrapping all the way around.
Instead of just leaving the letters yellow and blue, I decided to wrap a little gray around each letter as well.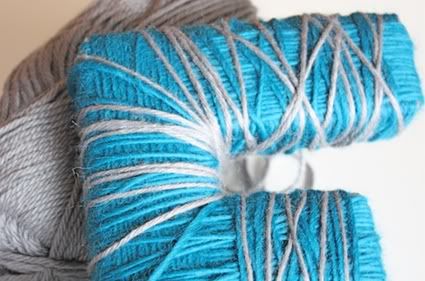 I just think it gives it a fun texture.
Here's what the L and V looked like before wrapping them with the gray yarn.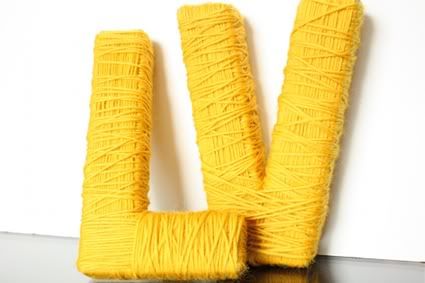 And here's the final result again.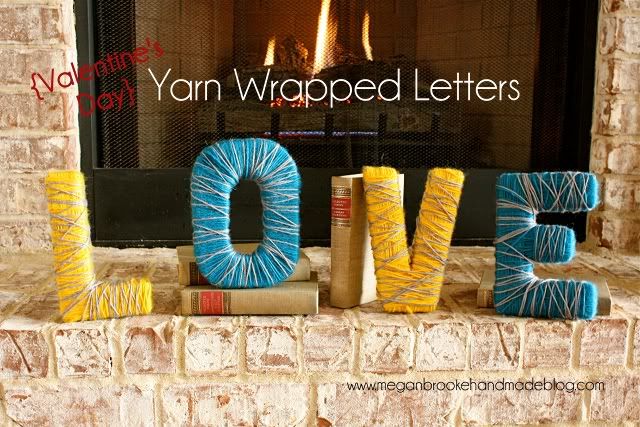 Here's a close up of some of the letters.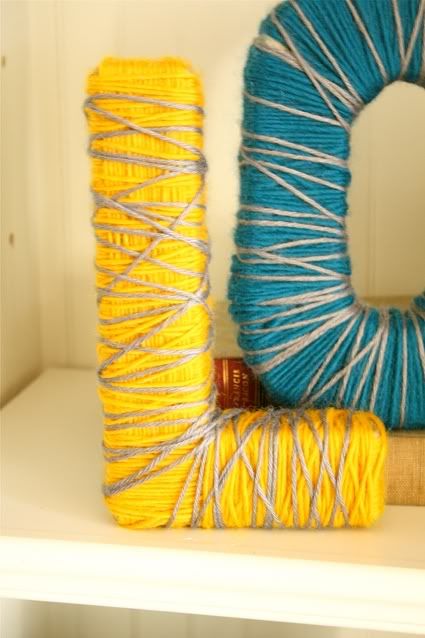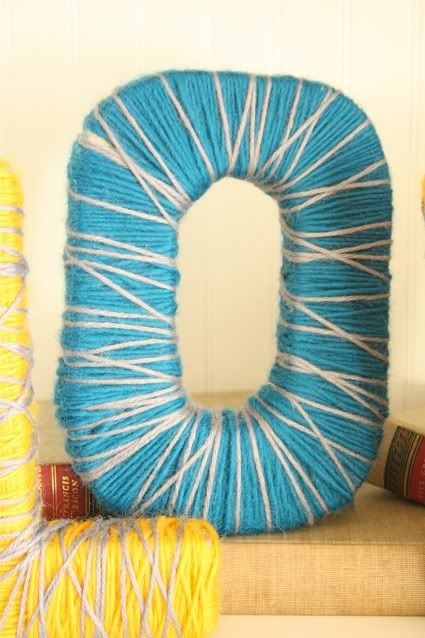 This project was super simple and only took a few hours. It's a great project to work on while watching mindless TV ;)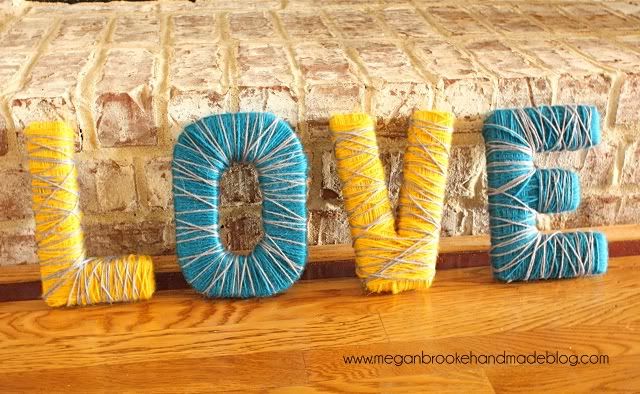 I hope you all have a wonderful Valentine's Day. Thanks again, Erin, for having me!
Thank you SO MUCH Megan for sharing these fantastic yard wrapped letters! I appreciate you being a part of my series. You can find Megan on Facebook or Twitter or on her blog daily at Megan Brooke Handmade.