This is a sponsored post written by me on behalf of AirStone. All opinions are 100% mine.
IF YOU WANT TO SEE THE FINAL REVEAL, CLICK HERE!
Over the years we haven't shown much of the front of our new home. While we've given you a tour of our new front porch and basically a redo for each season, I have to admit that I'm slightly embarrassed by the concrete mess. I hate that we have a huge chunk of our foundation showing. So we've been doing a lot of research and are finally ready to tackle the project this Fall with an AirStone concrete foundation wall idea… yep, fake stone veneer.
To remind you of what our front porch looked like before, here's a photo of it from April 2016.
And here's another photo from just a week ago. You can see the bushes are getting bigger (and need to be trimmed) but you can also see the exposed concrete foundation mess.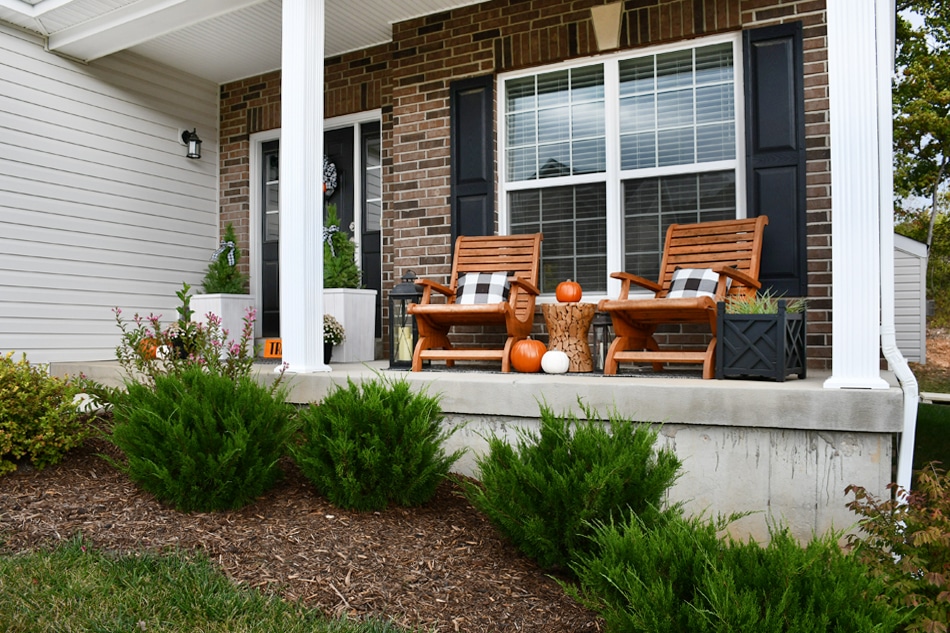 Here's an even closer look. Now do you see why we want to cover it up? Yeah…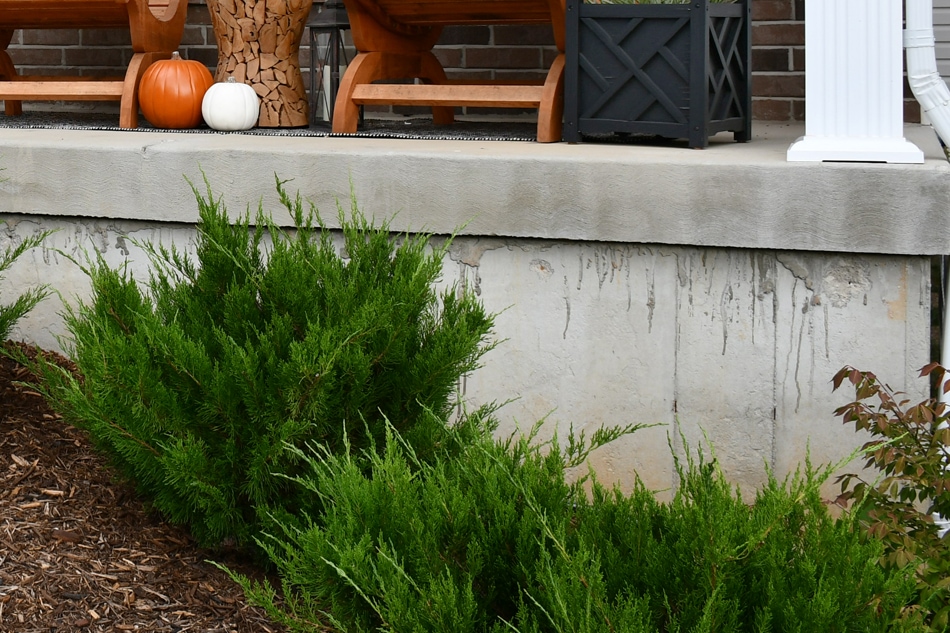 So we had some friends DIY AirStone on the backside of their kitchen island and we totally loved the look. After a little research, we found that AirStone is suitable for outdoor use. Compared to stone, it's the same look, feel and durability, but weighs 75% less. This allows easy installation of a beautiful stone veneer using only pre-mixed adhesive, a putty knife and a hack saw. No special tools or mixing are needed.
Simply apply adhesive to the back of each stone (think icing a cupcake, not buttering toast), and press to a wall.
AirStone is available in three color blends: Autumn Mountain, Spring Creek, and the new Birch Bluff. It's also available at most Lowe's (1165 stores).

We chose the Autumn Mountain color since our brick has warm colors in it and our siding is a really light creamy color. We almost went with Birch Bluff, but I think the Autumn Mountain will contrast nicely with our front porch concrete.
So with the help of my best friend (Photoshop), I put together a little gif of a before and after concept for the AirStone concrete foundation wall. Pretty cool, right?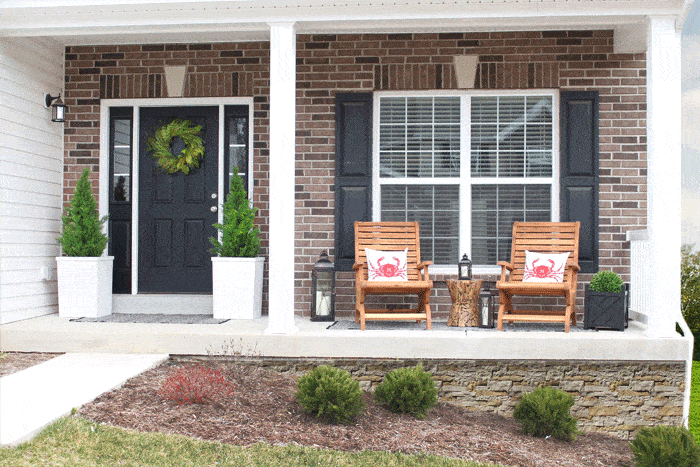 So in the next few weeks we'll be finding an afternoon to complete this project… around our busy Fall schedule of soccer games, volleyball games, birthday parties, and whatever else is thrown our way.
If you've used Airstone before, let me know your thoughts and the project you completed! Would love to hear your experience before we start on our AirStone concrete foundation wall. And if you're thinking about using the product, check out the AirStone Inspiration page.
IF YOU WANT TO SEE THE FINAL REVEAL, CLICK HERE!