Last month, I shared with you my Craft Room Makeover. One of the items that got the most attention and questions was the 10ft long craft room desk that my hubby and I built. So today I thought I'd share with you the tutorial on how to create this DIY craft room desk!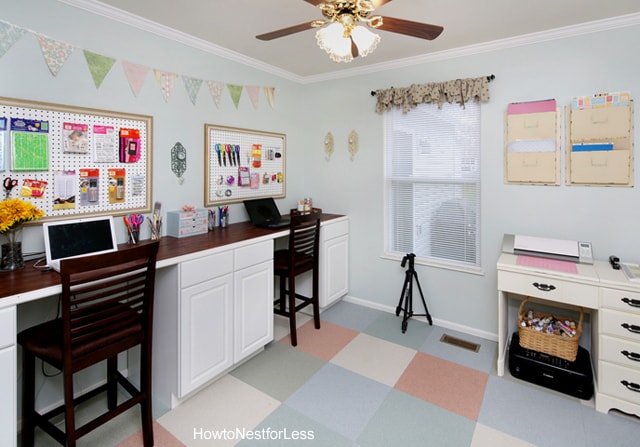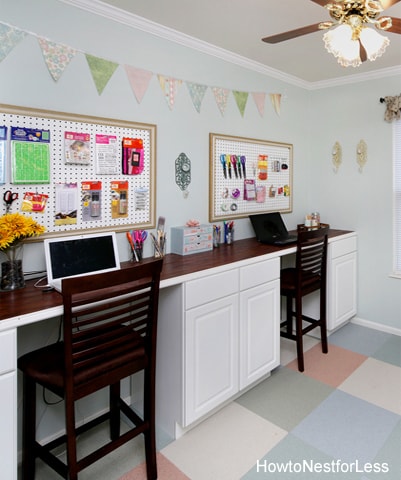 My craft room is extremely small… only 10 x 10ft. I need a good workspace that was functional, plus lots of storage. After looking at local stores and online for the perfect desk, I finally came to realization that I would have to build my own (or spend over $1,000 for something similar to what I wanted).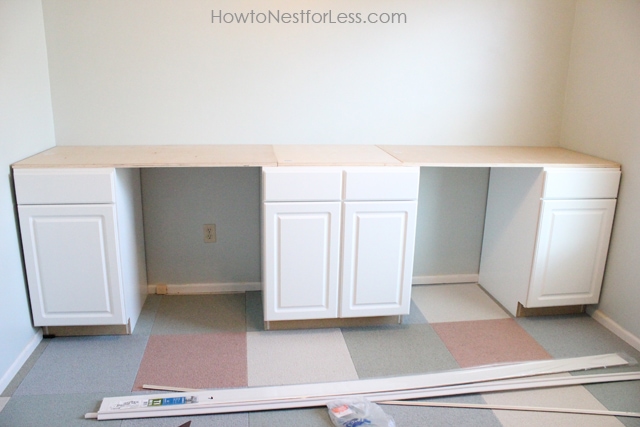 It all started with these white kitchen base cabinets we purchased from Lowe's. The middle one is a 30 inch wide with two drawers that we purchased for $169. The end cabinets are each 18 inches. Cost was $112 each.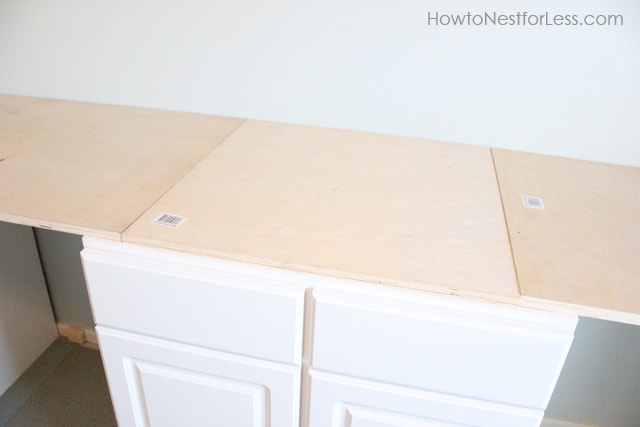 For the top of the desk we used 3/4 inch plywood. Make sure your pieces are flush going across the entire 10 foot desk. We laid out first at Lowe's so we wouldn't have any surprise ridges when we got home!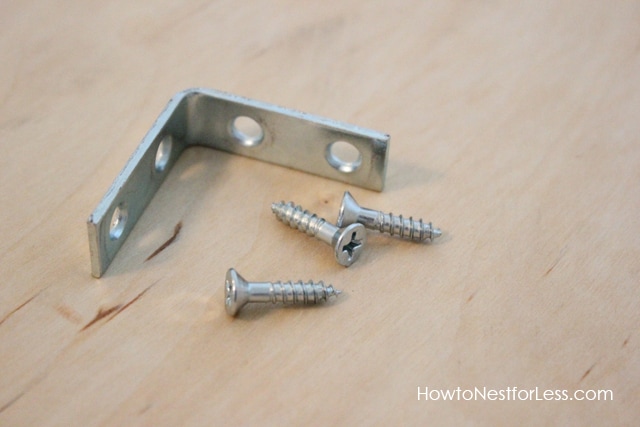 To attach the plywood to the cabinets, we used L brackets on the underside of the wood so it can't be seen.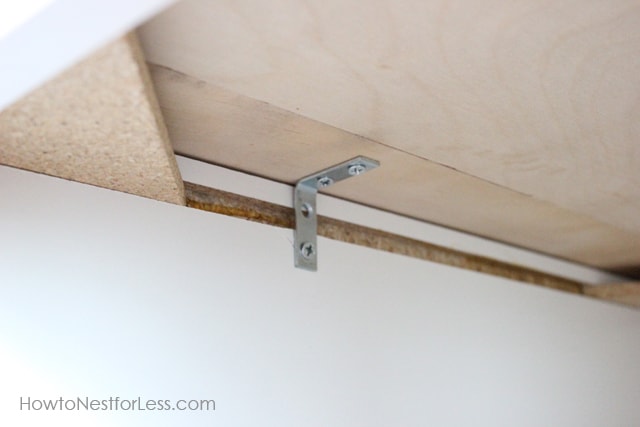 Next it was time to add the top to the desk. At first I was going to use oak and stain it, but after talking it over with my hubby, I realized that I wanted something that could easily be replaced when I mark it up with my exacto knife, hot glue gun or anything other type of scratch or ding.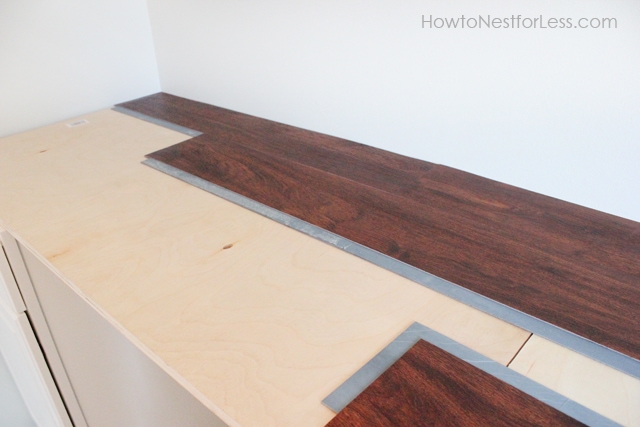 So we used laminate flooring! Yep, I found some Allure laminate flooring on clearance and paid $12 for a box that covered the entire desk… with plenty to spare! I just followed the interlocking edge design to install. To cut where I needed, I just scored with a utility knife and snapped off the excess pieces. No need to glue down, those gray edges above are super sticky.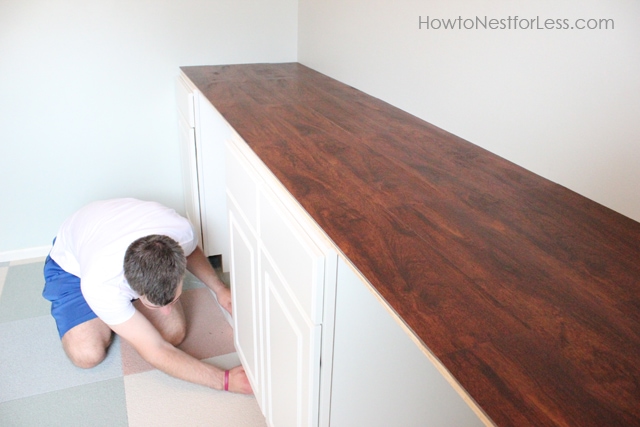 Lookin' pretty, right? Only took about 10 minutes to install the laminate.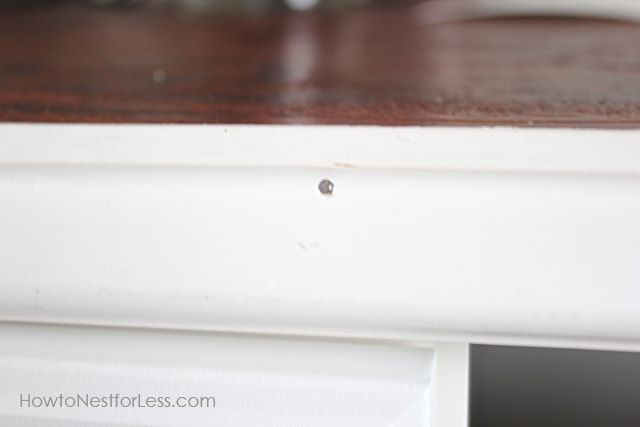 Next we added some white trim to the front. Just nailed it into place with finishing nails, filled in the holes and gave it a quick coat of flat white.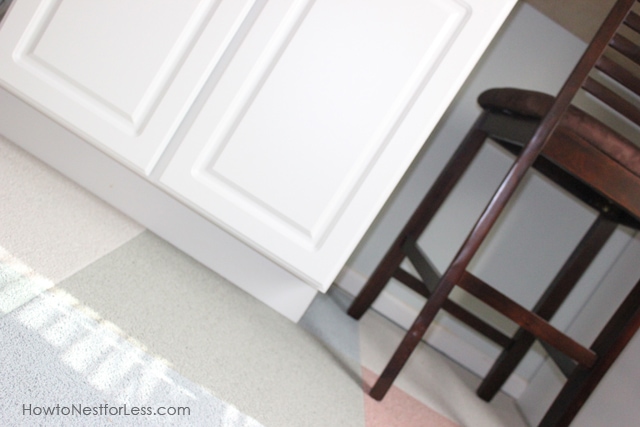 Did you notice before that the bottom of the cabinets were bare? We added some white toe kicks to give it a finished look!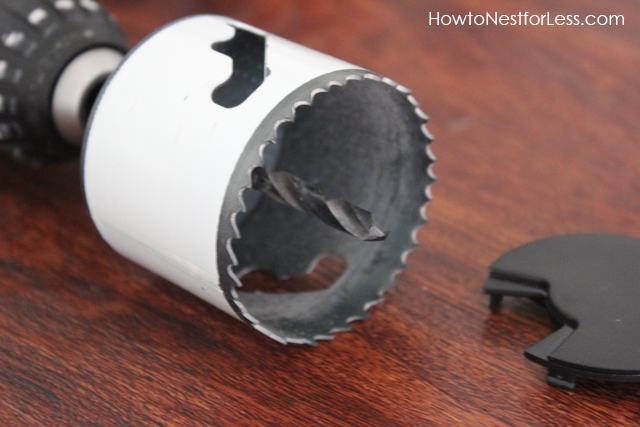 Now to make a hole in the top of the desk for all of our computer cords to go through. We used this special drill bit (above).
OK, now I have to admit, this is where a major project FAIL came in. Yep, we screwed up the first one. Not because of the drill bit, but because the circle drill bit was the wrong size! So, am I super happy that I used a laminate top that's easily replaceable? You betcha!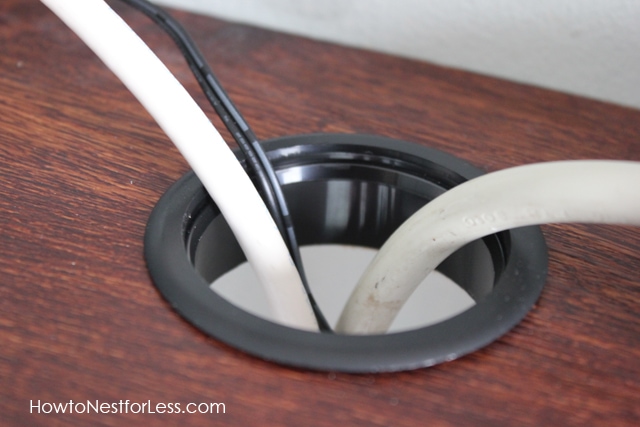 Here's the replaced section of the desk and the perfectly drilled hole for all my cords. And that's it. Here's some after shots!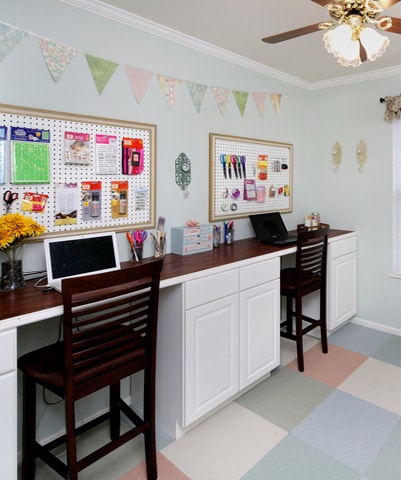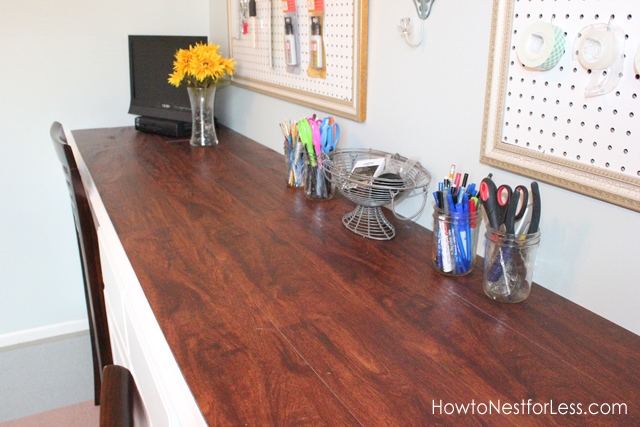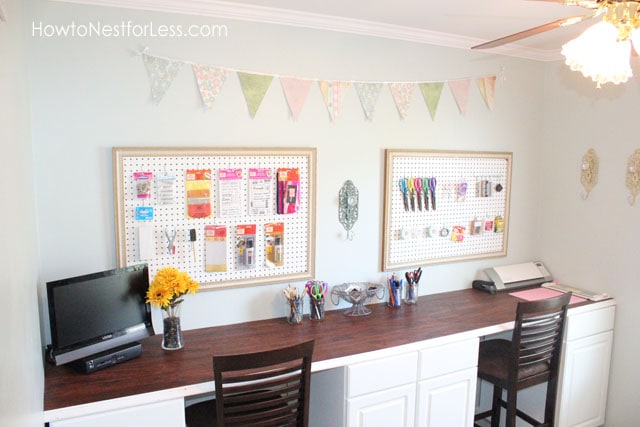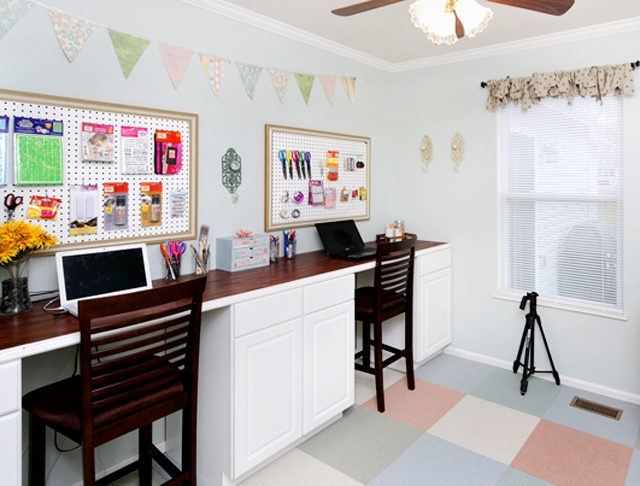 If you want to see the rest of the Craft Room, click here!