Do you ever see something in a store and think to yourself:
I could totally make that… for a lot less than it costs.
Well that was me a couple weeks ago. I saw this simple wooden tray and instead of shilling out the $50 for it, I decided to make it on my own. And I have to say, I'm in love with the outcome… and it was a super fast project. Yep, even better.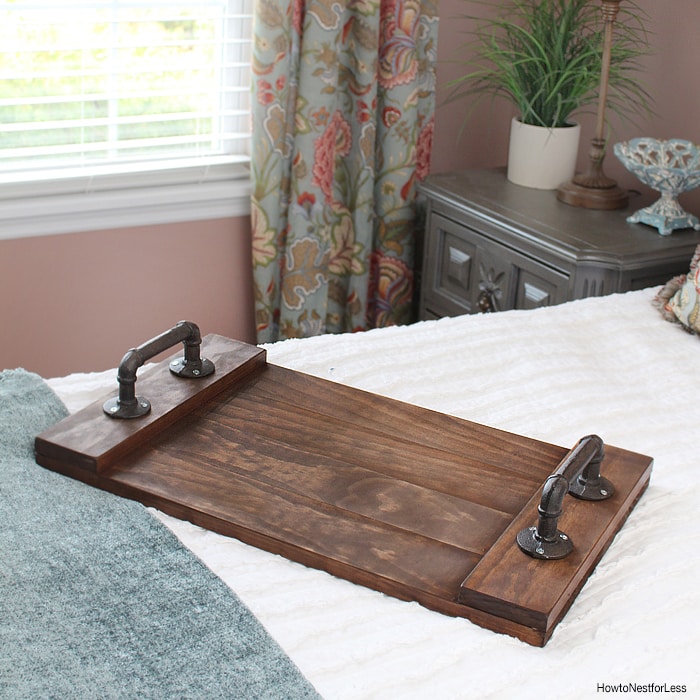 SUPPLIES:
(4) 2ft 1×4 boards
(2) 14″ 1×4 boards
(2) handles
1 1/2 inch wood screws
Stain
Paint brush or rag
Drill
Saw
Tape measurer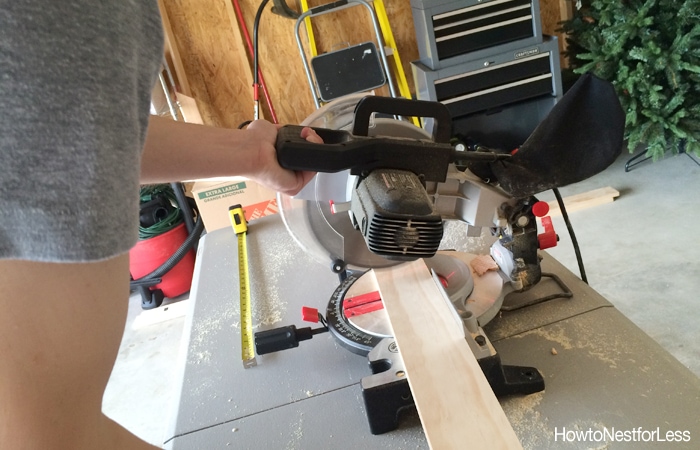 I was lucky that I had the scrap wood in my garage and the wood screws on hand. The only thing I had to buy were the handles. Check out Hobby Lobby for a wide range, but wait until they're 50% off to really save big on this project.
Start by cutting your (4) 2ft boards. I chose 2ft for the tray but you can revise as needed.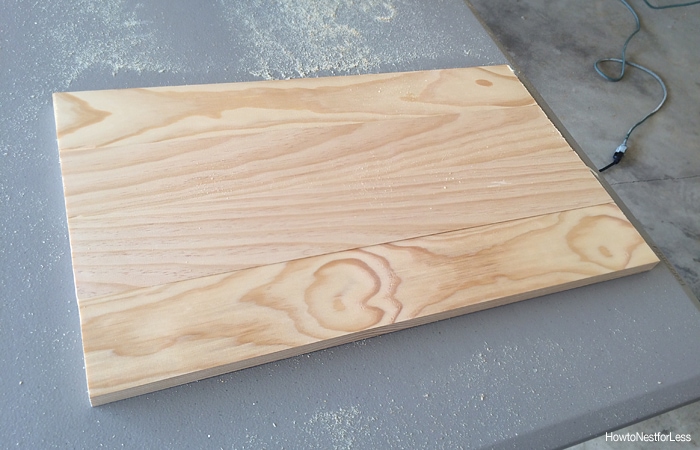 Next measure across the 4 boards for your cross section pieces. Mine was just at 14 inches but wood may vary slightly so make sure you measure before cutting your 2 cross section pieces!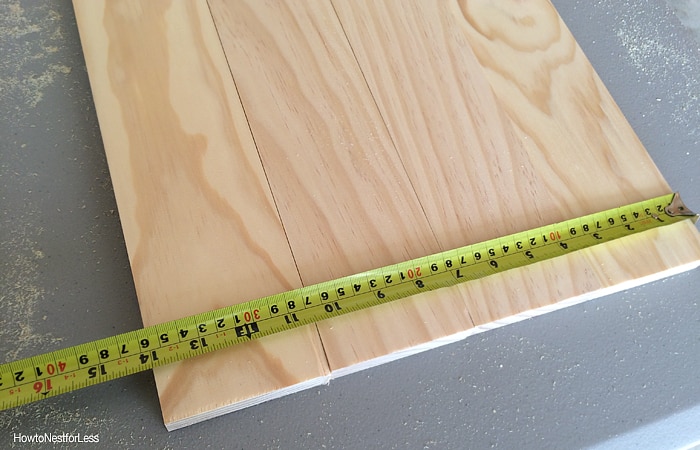 Then you're ready to start construction. Place the cross section pieces down first, then lay your 4 longer boards across the top. You'll want to basically screw upside down so the screws are on the bottom of the finished tray. I recommend making pilot holes first with your drill.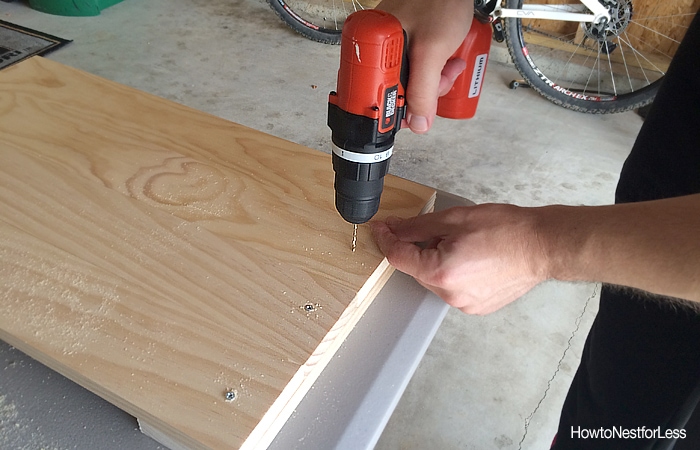 You'll only need 1 screw in each board for each cross section piece.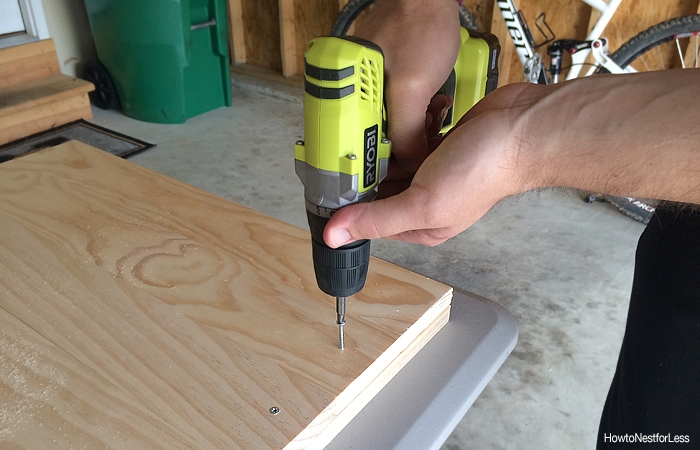 Next flip it over and start sanding away. You'll want nice smooth edges and rounded corners so you don't slice open your hand while handling the tray 😉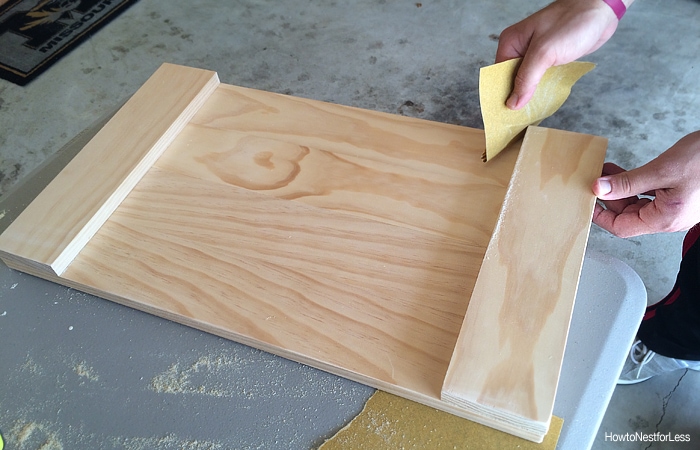 I used Rustoleum's Ultimate Wood Stain in Dark Walnut for the finish. Love this stuff. Dries super fast and you only need 1 coat. I used a brush to apply but you can also use a rag or foam brush.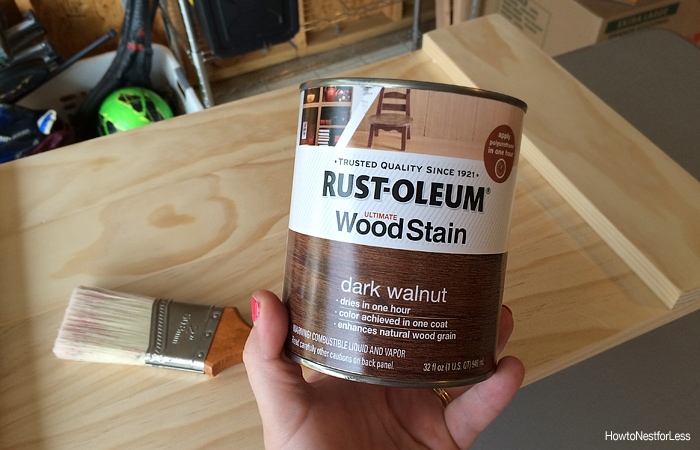 Then I used a Terry Applicator to wipe away the excess stain. BTW, these terry pads are my new best friend for stain and glazes. You can find them on Amazon here (not an affiliate link).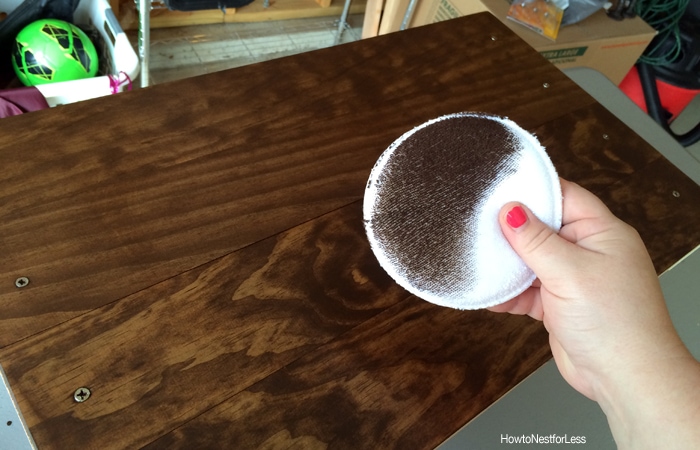 Once dried you're ready to apply the hardware.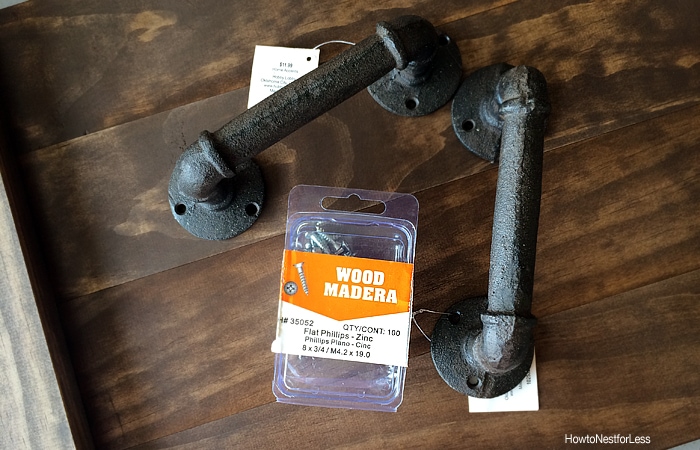 And your DIY stained wood tray is complete!
Really pretty easy, right?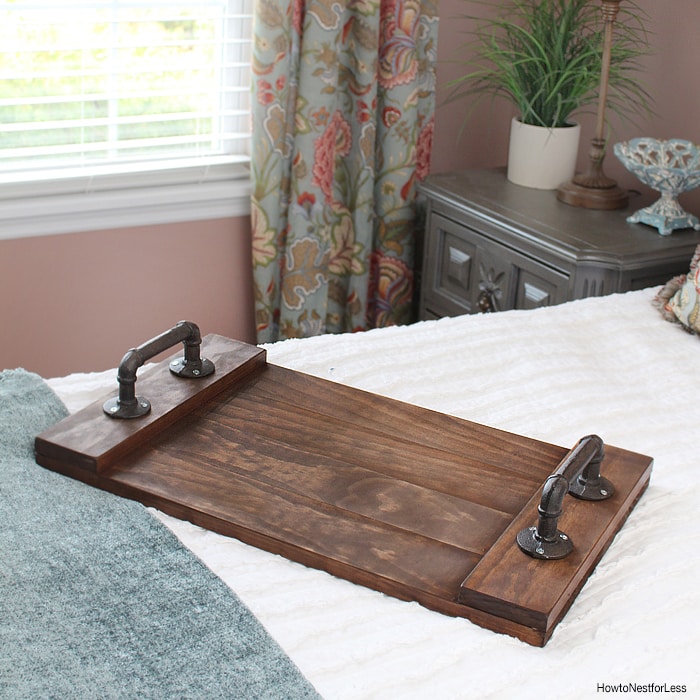 By the way, I always said I would never make anything with the industrial pipe look (like the shelving that you saw everywhere this past winter) but I couldn't help myself when I saw these handles at Hobby Lobby. I know… moment of weakness.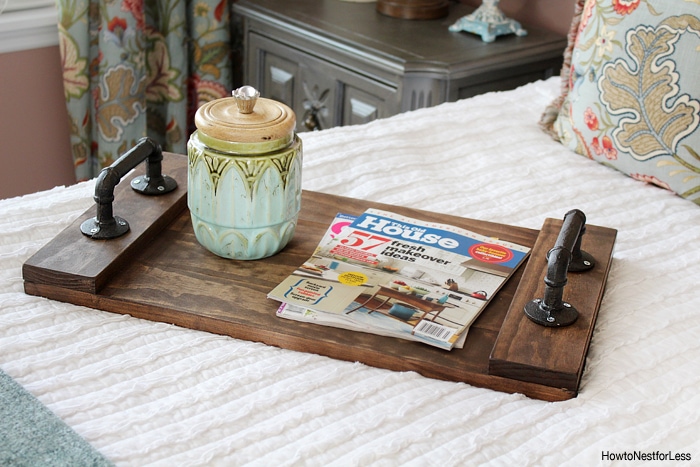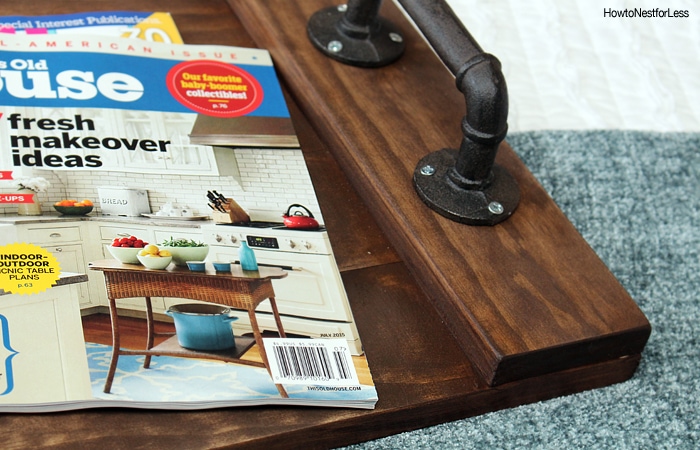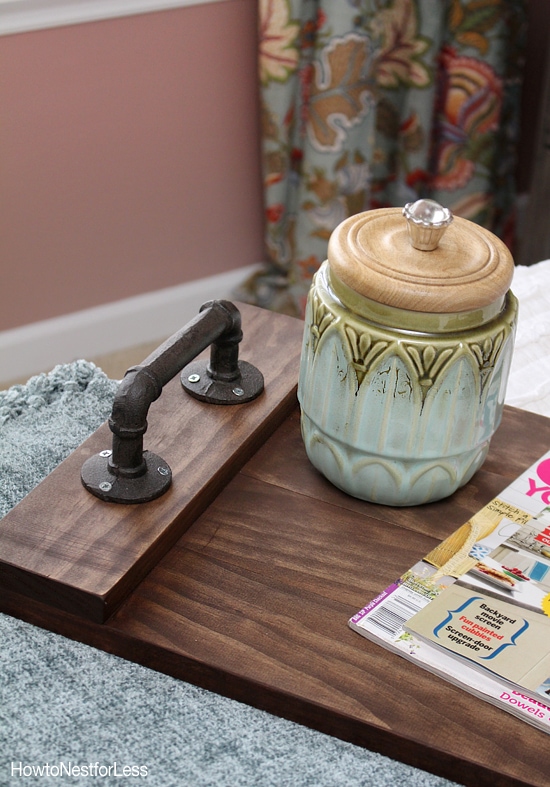 I wish I would have used black screws for the handles. Complete oversight. Ah, oh well… I'm still in love with this tray. And isn't that stain just dreamy? Nice change of scenery from painted pieces.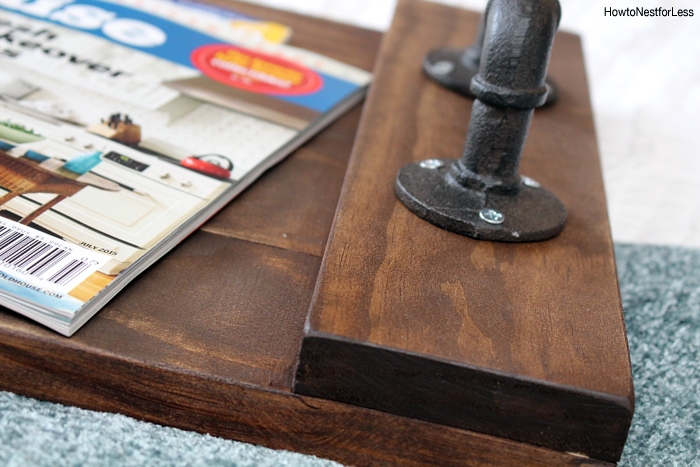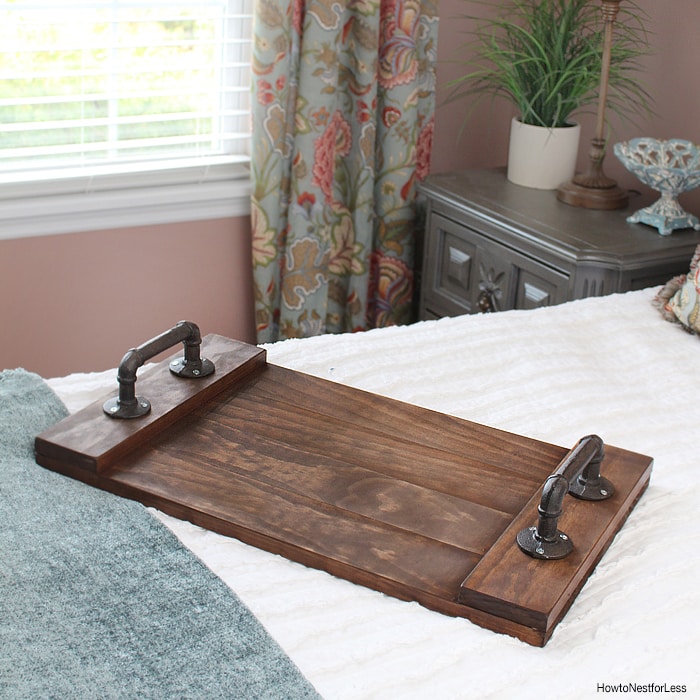 And you got to see a lot of peeks in to the guest bedroom makeover.
Big reveal for this room coming next week!