Well the Valentine's Day Series with 8 different guest bloggers has come to an end! We've had WONDERFUL crafts, recipes and home decor projects this past week. Please take time to look over all the amazing posts. BUT ONE MORE REMAINS! Our last guest blogger for this series: Design, Dining + Diapers. Take it away Taryn!
Hi everyone! I'm Taryn from Design, Dining + Diapers, a place where I blog about DIY projects, crafts, gluten-free recipes and just being a mom! I'm so excited to be participating in Erin's Valentine's Day series and having a chance to get to mingle with some of you.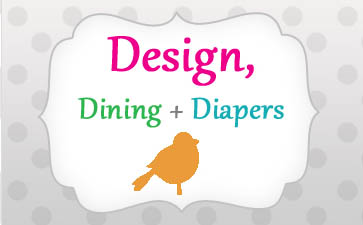 When I sat down to write this post, I started to think about the many (not telling you how many) Valentine's Days I've celebrated. I would have to say that my favorite time to celebrate this holiday is between the ages of 5-8. Young enough to still think that boys have cooties and old enough to know how important it was to have the most creative Valentine's Day box in the class! I'm only kidding well, kind of. I doubt my box was ever the most creative, but I definitely had the most glitter! As you might have guessed, crafts have always been a hobby of mine. My mom tells me that when I first learned how to crawl, I headed straight for the cupboard filled with fabric, sequins and lace, and not much has changed since!
I'm here today to share an easy and inexpensive DIY Valentine's Day decoration! Would you have guessed that these beautiful doily vases only cost $4 to make? And what's even better is that you can still use them after Valentine's Day is over.
So let's dive in!
What you need:
3 cylinder vases (you can find them at the dollar store)
3 doilies ( I bought a pack of 36 of $1 at the dollar store)
Mod Podge/paint brush
Decorative filler for vases
Step 1- Cut a doily in half.
Step 2- Gently place a thin layer of Mod Podge on the back on the doily. Be careful not to apply too much, the doilies are very fragile and can tear easily.
Step 3- Place one half of the doily around the edge of the vase so the edges align.
Step 4- Place the second half on the lower part of the vase opposite the first one.
See so easy!
Here are my completed vases.
Since it's Valentine's Day we are talking about here, I put votive candles inside each vase to create a really soft and romantic look. Perfect way to 'set the mood' for a date night-in!
Or if you are hosting a Valentine's Day party , fill them with some red licorice for a more festive look! Who doesn't love edible decor? :)
What I love about this look is that it can be so versatile. You can dress these vases up for Valentine's Day and then style them differently for the rest of the year. They would make great center pieces for an outdoor tablescape or pair them with some burlap and twine for another great look. There are so many options and what's great is that they only cost $4!
A big thank you to Erin for having me over for the day. I would love for you to stop by and say 'hi' sometime. You can find me here, or on Facebook, Twitter, and what would we do without Pinterest!
~Taryn