As mentioned on Monday's post, we're in the process of converting a small room on our main floor to a "homework room". This is pretty much what the room looked like the day we moved in… just hardwood floors, a single light bulb, and French doors. Since then all we've really done is replace the lighting until we had the idea to add built ins!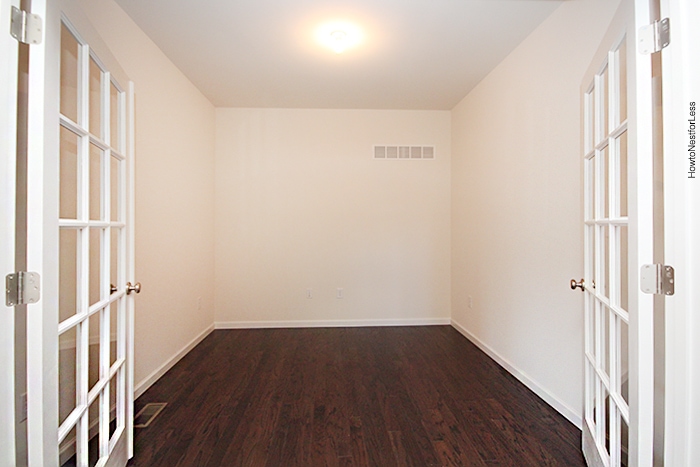 We got our built ins (and new lighting!)!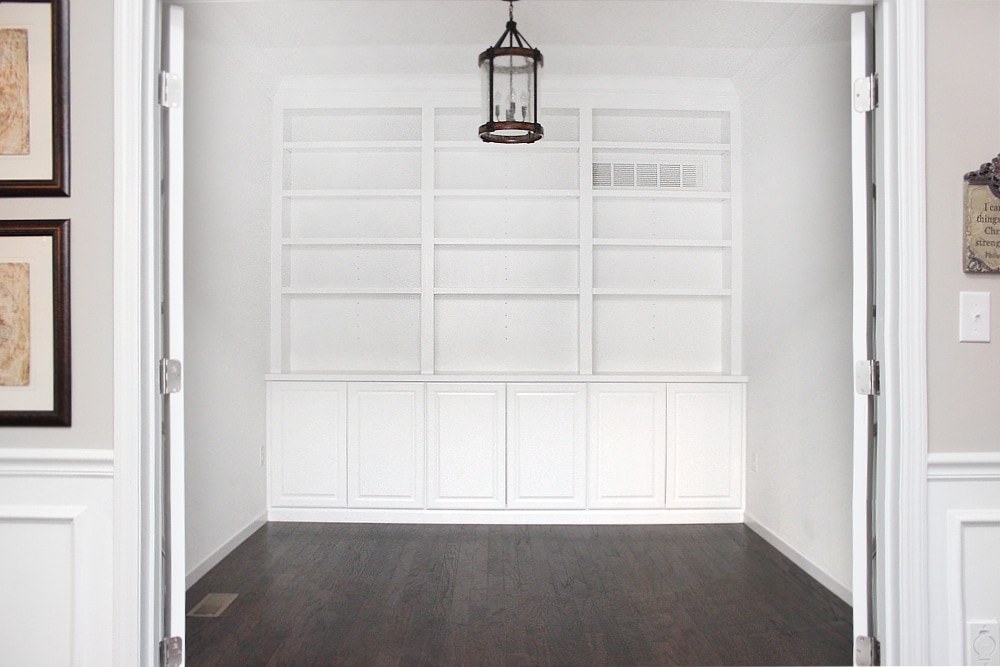 Why is it that white built ins make me so happy?
We decided to hire out for these since the past couple of months have been crazy for us. We actually used the same company that did our family room built ins. Here were the plans we drew up …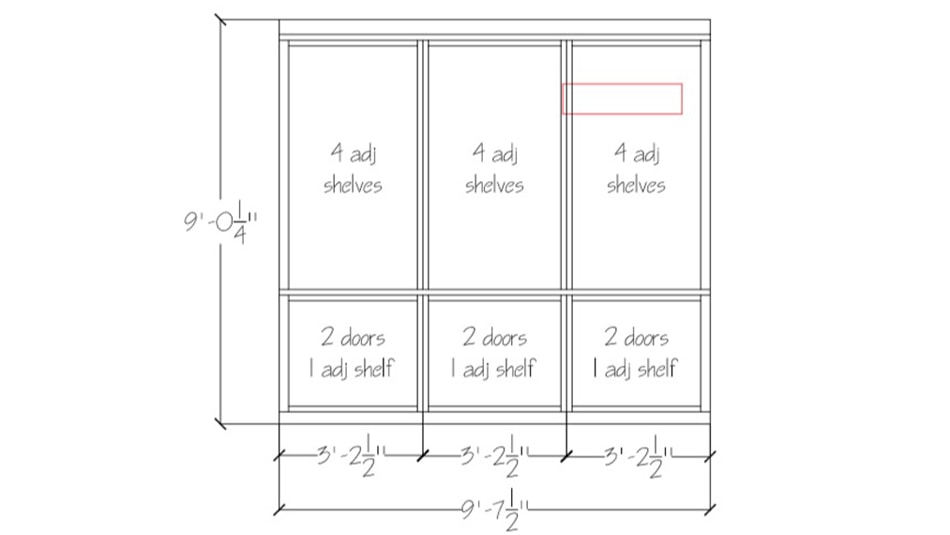 The trickiest part was working around the vent in the upper right corner of the room. That's why we just did three columns of shelving and cabinets. Our biggest issue now is spacing the rows of shelves. We either have to do a really small shelf at the top or a really big one. We opted for small up top, but luckily these are adjustable so we can change them any time. Can't even tell you how stoked I am to fill these babies up!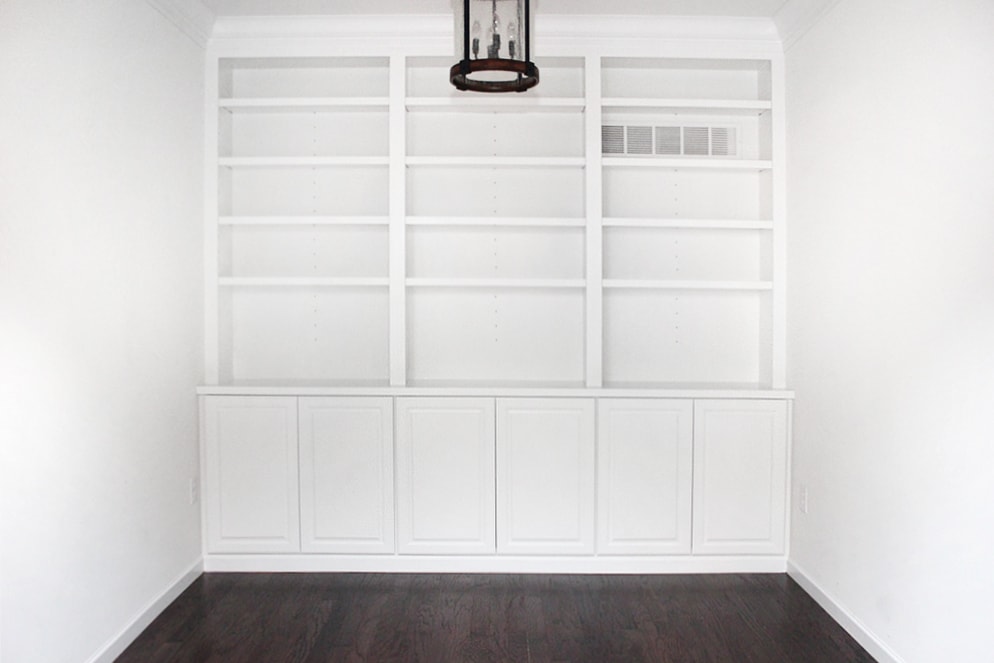 The next project in the room was paint. We opted with Storm Cloud by Sherwin Williams. It's a beautiful dark blue with lots of gray tones in it. Pretty much goes with everything in my house… my family room couches, my breakfast room chairs, my dining room settee, etc.
So once the room was painted we decided it was actually a little too blue in there (no windows made it a little dark for my taste but I still loved carrying the color throughout the house) so we decided to add some board and batten on the walls flanking the built ins.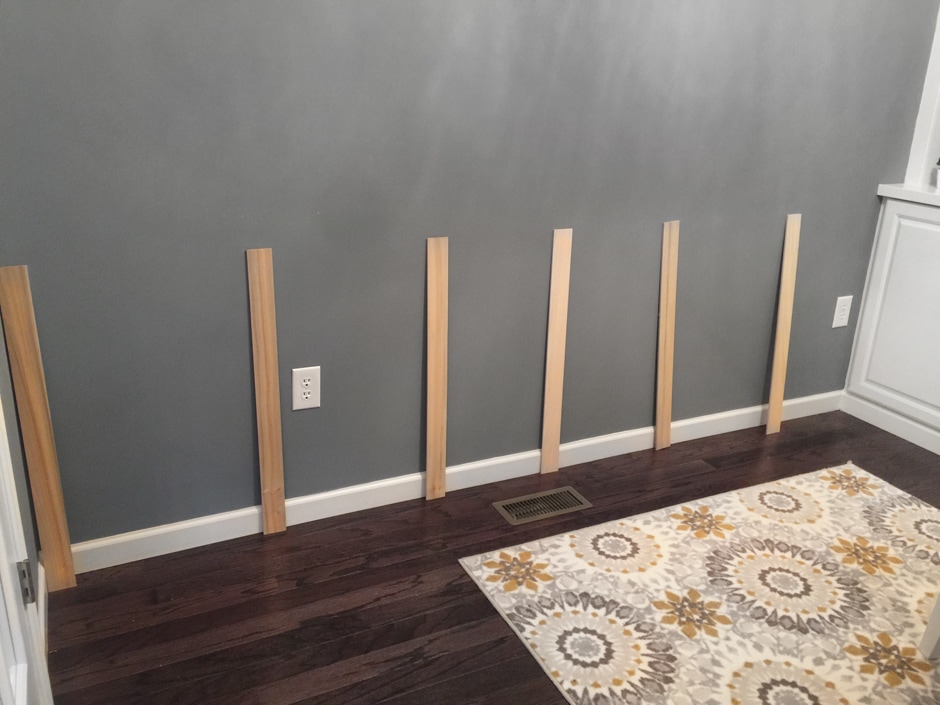 We'll show you that tutorial soon and some after pics, but for us decorating is the next step! It's crazy that we're almost done with this room since it's small with minimal design so the final reveal will come on Monday. Can't wait to show you how this turned out!
If you need a little reminder of the room design, check out our mood board!