I have put together 10 ideas for inexpensive fall decor to inspire you!
via All Things G&D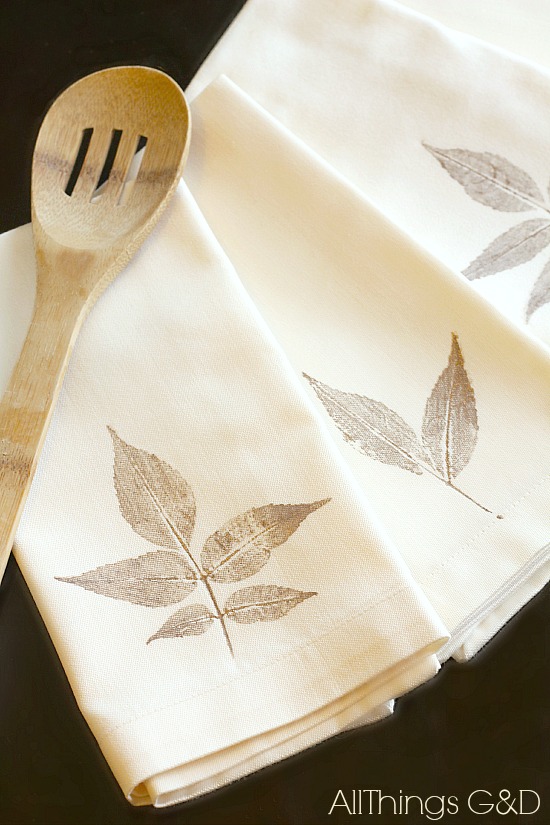 DIY  Stamping
I just love this idea for all season and home decor!  This is an easy and very inexpensive DIY for your home or would be a perfect hostess gift. Find napkins or fabric at any store (I love a vintage look) and take your favorite shapes and texture leaves to paint and hand stamp.  These are stamped with a gold paint, but any color that matches your home decor would be great! What are ways that you could utilize these in your home?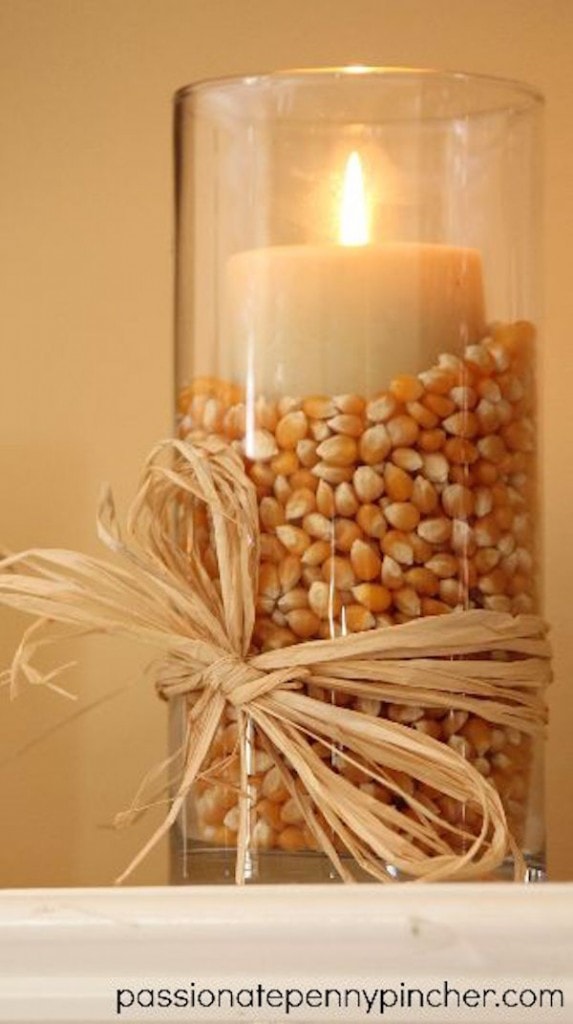 Use household items with a fall flare
An easy way to add instant at home fall decor is using an existing glass candle holder and filling it with corn kernels.  You can pick up corn kernels anywhere for a few dollars and add a smaller candle in the middle of the kernels.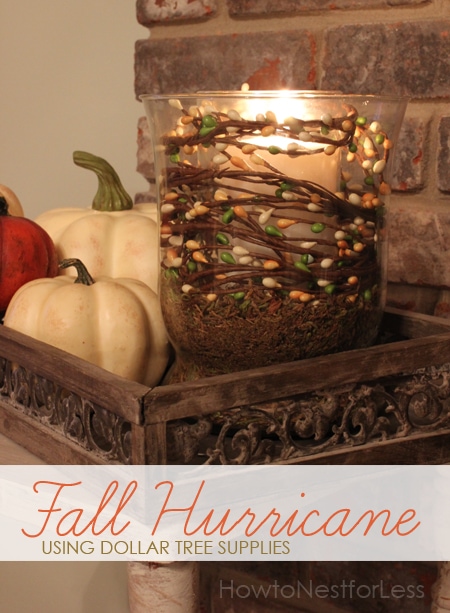 From this post
Lavish look for less
Make upscale looking autumn decor from dollar items! This vase is filled with a inexpensive moss and used in the bottom of a glass hurricane that you can pick up at the Dollar Tree.  Fill with any items that you can find in nature or around your home and easy fall decor!
via Confessions of a Plate Addict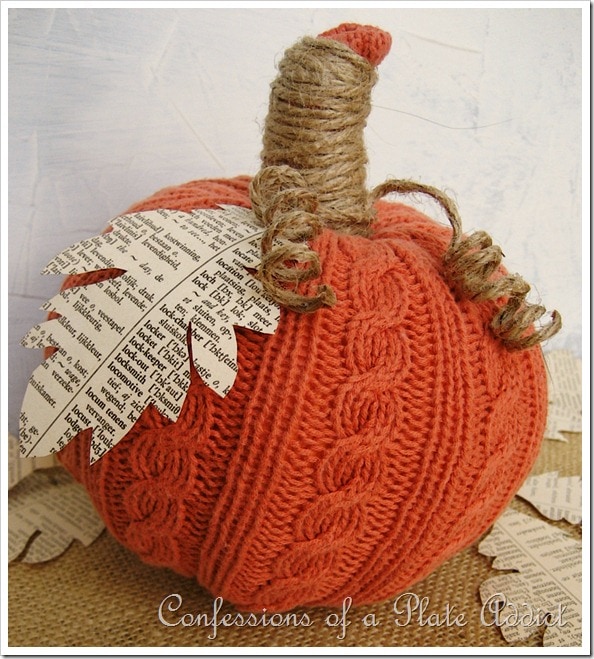 This easy DIY pumpkin is made from an old sweater and cut leaves from an old book.  Turn cast off items into cute DIY fall decor for a super easy budget friendly options.
via Anderson and Grant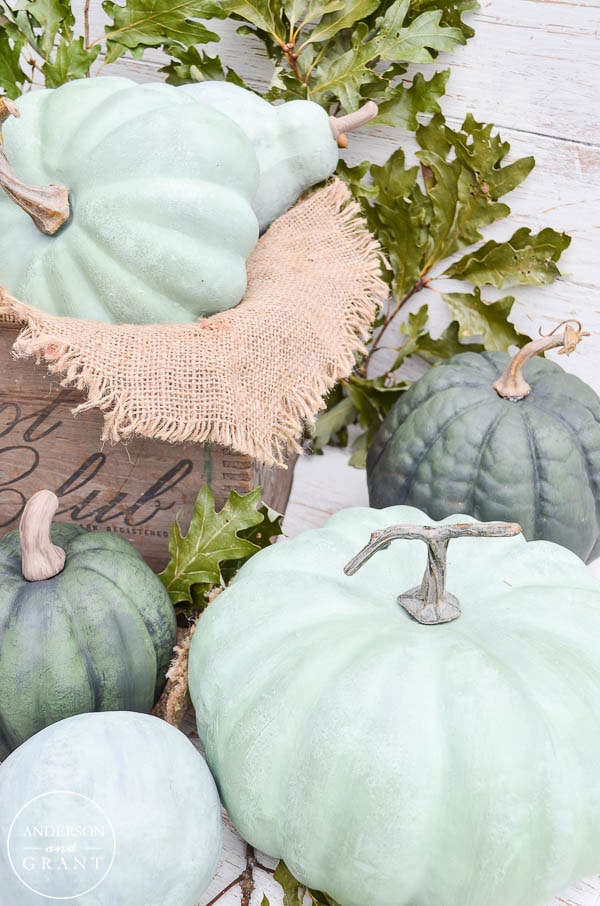 Make it pretty with paint
Take a look at these gorgeous painted pumpkins!  The colors are just dreamy and it is a result of an easy paint project.  You can grab orange pumpkins at any dollar store and easily paint them with your favorite colors for fall.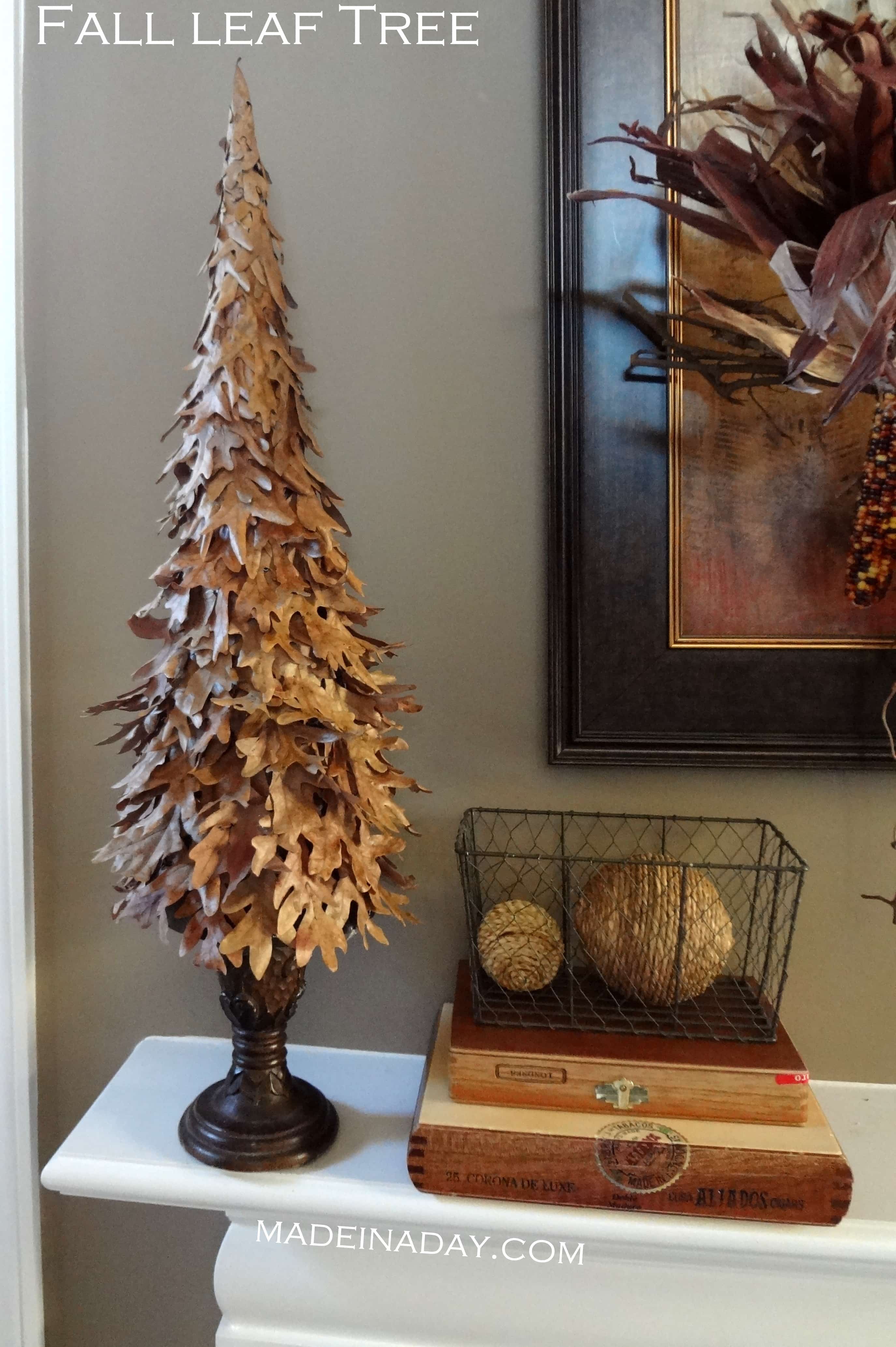 via Made In a Day
The texture is this leaf tree is gorgeous and the entire project is from outside! This fall decor is completely FREE! How fun would it be to make with your kids or grand kids.  Go on an outside expedition for colorful fall leaves and make a tree together.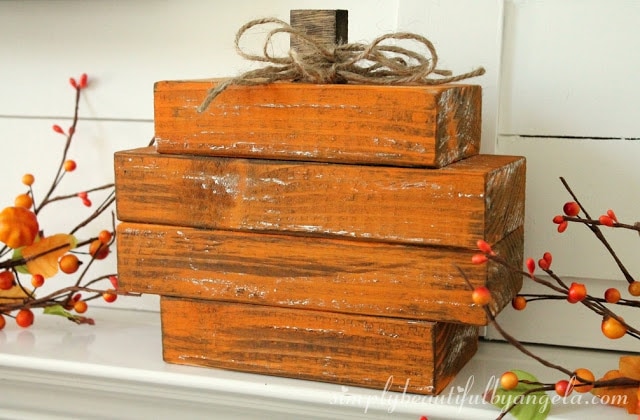 via Simply Beautiful by Angela
A little paint and glue can make an absolutely adorable pumpkin, would you agree?  Simply take scrap pieces in like size and paint or stain until you are happy with the color and glue the pieces together with wood glue.  These would also be so cute in a neutral color!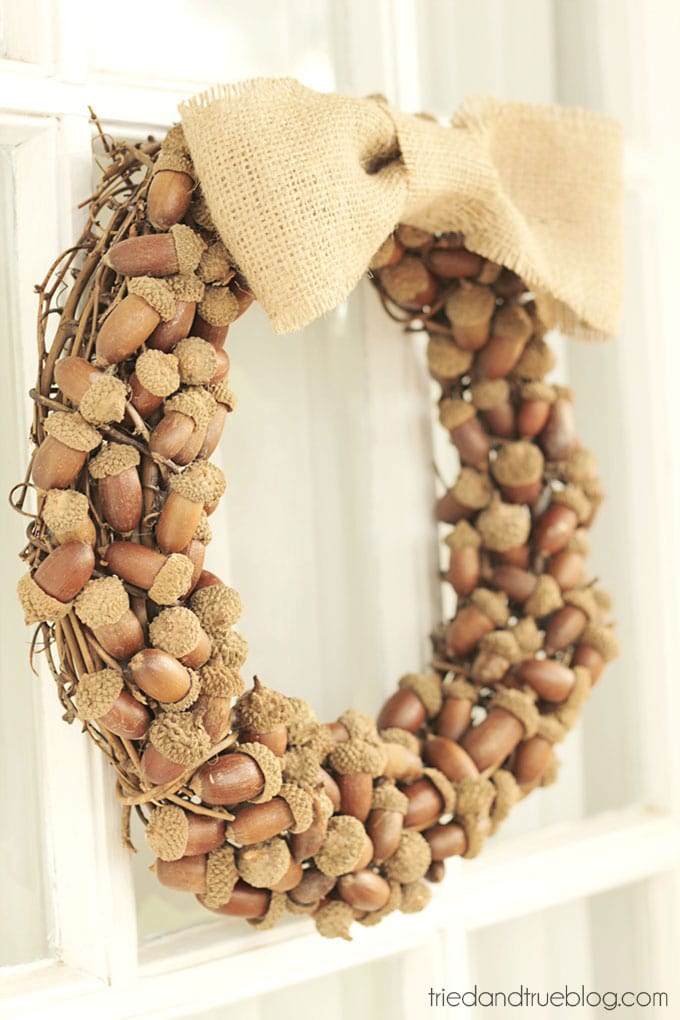 Style doorways with natural objects
Making a wreath is an easy inexpensive way to decorate your home and don't limit them to your front door only! Use nature as your inspiration and a little hot glue and you have your fall decor in no time at all.  Hang wreaths on a cabinet, or in the center of a mirror or window inside your house.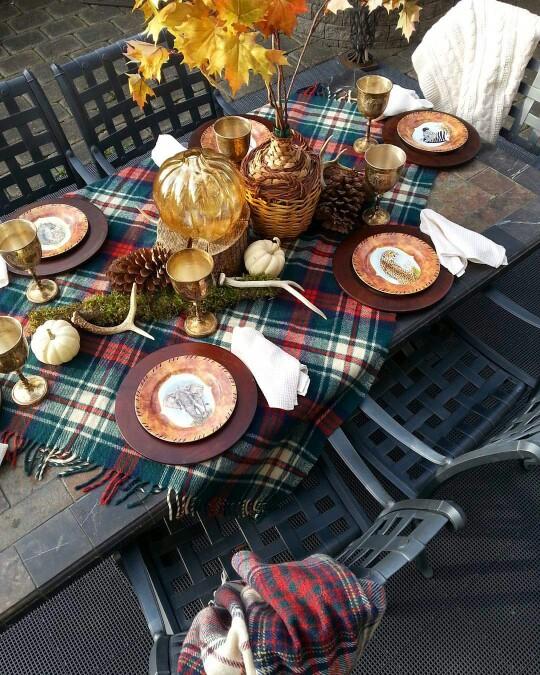 via Canadian Living
Look around your house for items
One of the best, and FREE, ways to decorate for a season is to use items from around your own home.  Take a plaid scarf and turn in into a table runner.  Using scarfs to add color to your tablescape or add color to your living spaces is an easy creative way to get all the fall feels for FREE!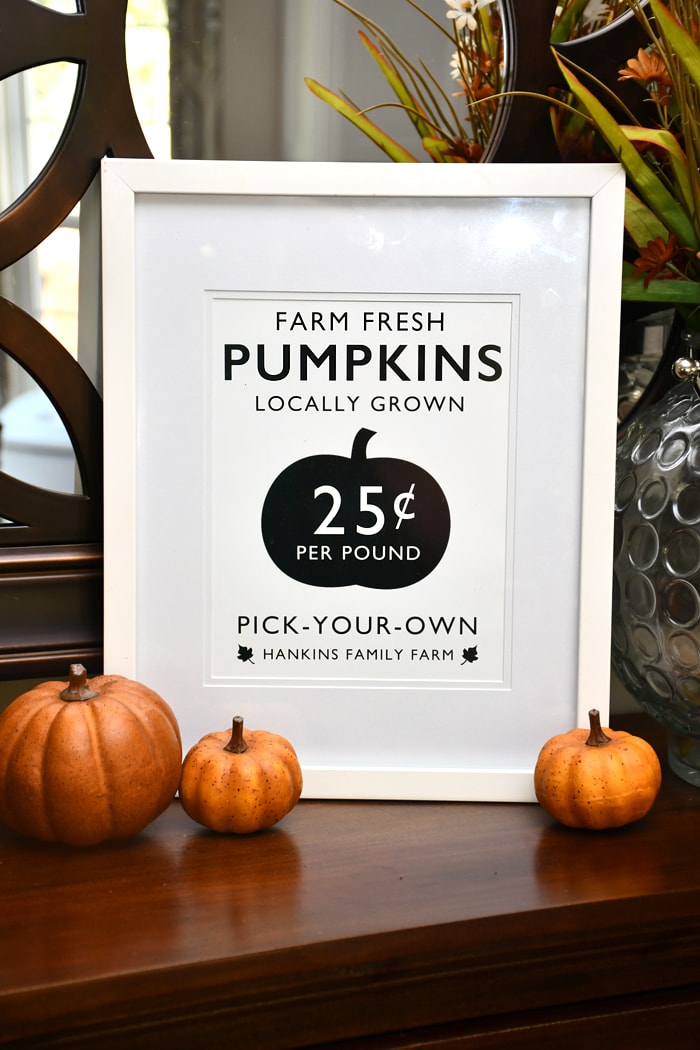 Use Printables for seasonal decor
If you have read my blog for long you know that I always use interchangeable printables to transition between seasons.  Last year I shared a free printable that you can personalize with your families name and frame or hang in your home.  I used the same printable for a fall bucket here.  Using Printables just got you the ink most of the time and can change for seasons instantly.
Fall decor doesn't have to cost of fortune or take a lot of time.  Hope these ideas can get you started on your own fall decor DIY!