I absolutely love a challenge, so when Better Homes and Gardens asked me if I wanted to refresh my living room for $250 with their line sold exclusively at Walmart, of course I had to say YES!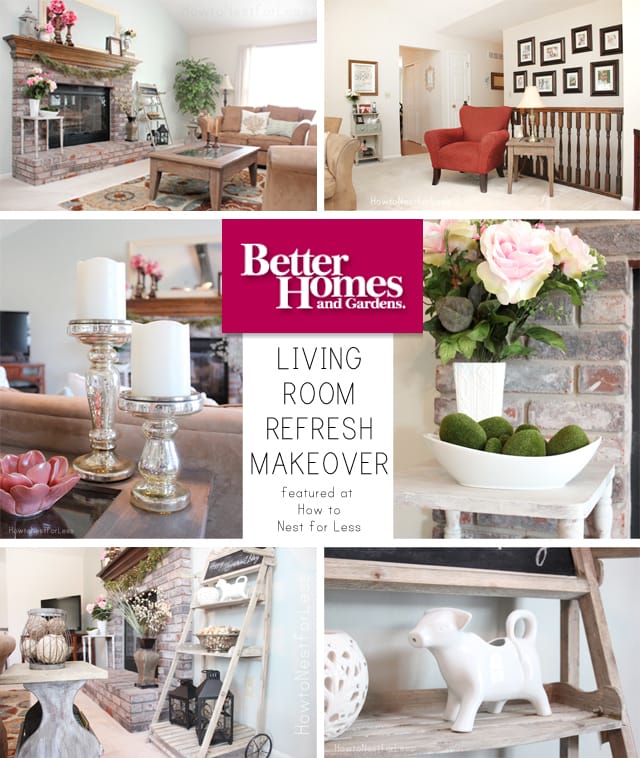 This room has been the only space in my home that I haven't fully revealed on my blog. There were just a couple key pieces I needed to make this room feel complete… a photo gallery wall in the stairwell, a new area rug, and some little finishing touches throughout the room.
Let's just say this room needed to be refreshed.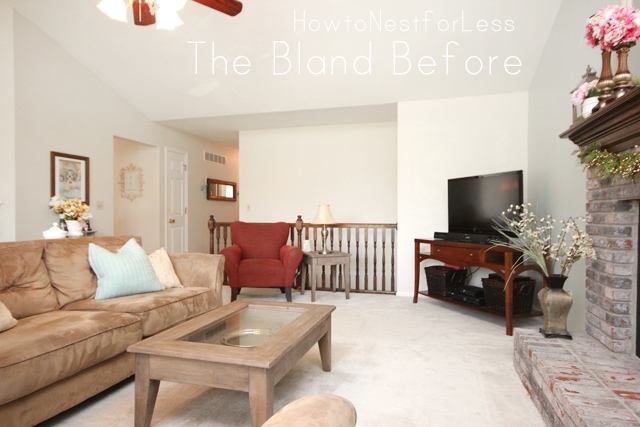 So first on my list was a gallery wall. I spotted some antique bronze frames from Better Homes and Gardens at Walmart (bonus: they already came with matting).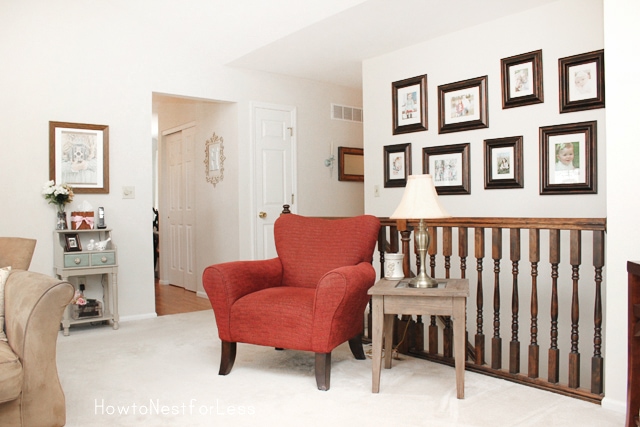 Under $100 for all the frames and it completely filled up my large empty wall.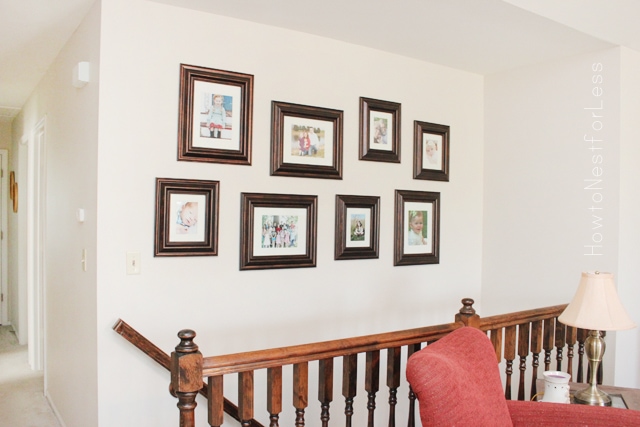 I also found a gorgeous 5x7ft suzani medallion rug for only $69. It had all of the colors I was looking for, including the sea salt paint color that is on my fireplace wall.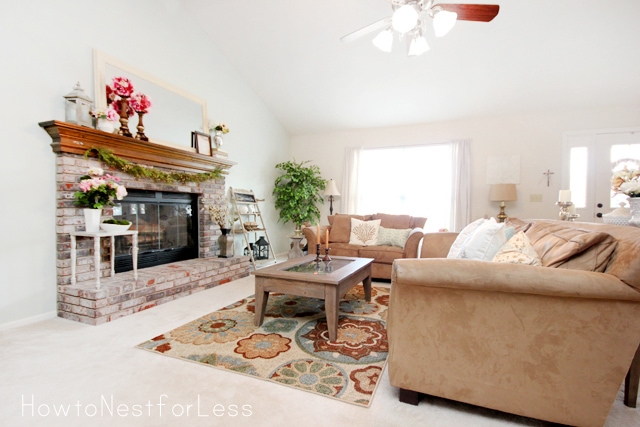 Next up was spicing up the area around my fireplace.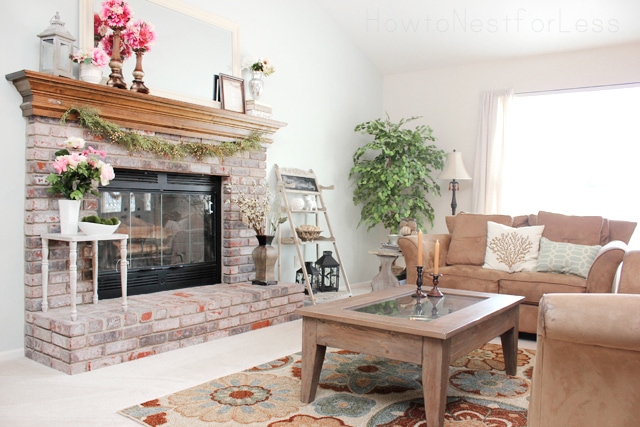 I added a little table to the left side of my brick hearth and bought a little white BHG kitchen serving bowl for $4.48 for the top. I filled it with some moss rock vase fillers ($3.50 per bag).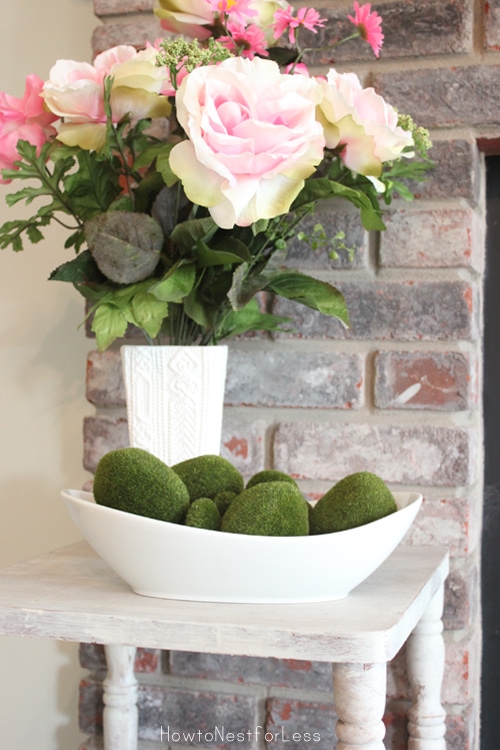 And I needed to fill a little shelf I had on the right side of my fireplace.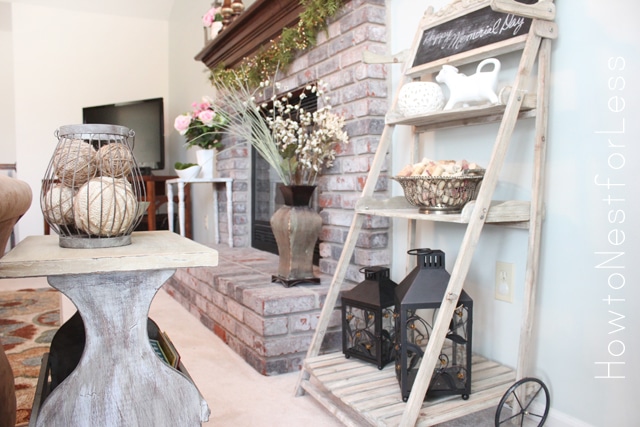 So what else did I spy in the Better Homes and Gardens kitchen aisle? A little cow creamer. So cute that I had to put this on display… yep, in the living room. No one will no that it's a creamer… or that I snagged it for only $5.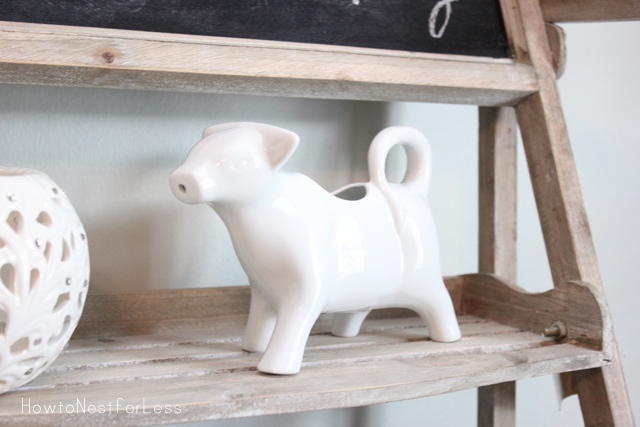 And these lanterns I instantly fell in love with. Under $30 for the both of them. Aren't they just gorgeous?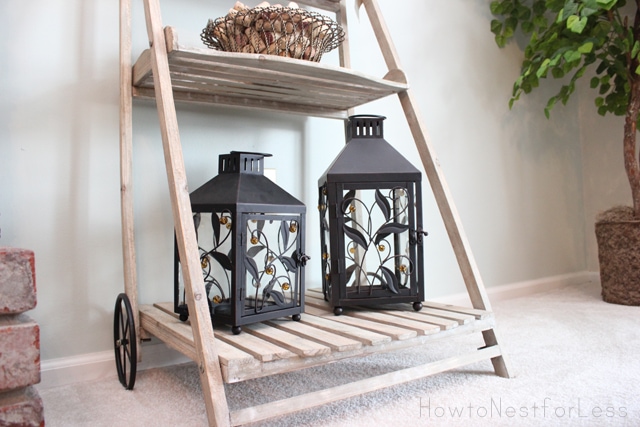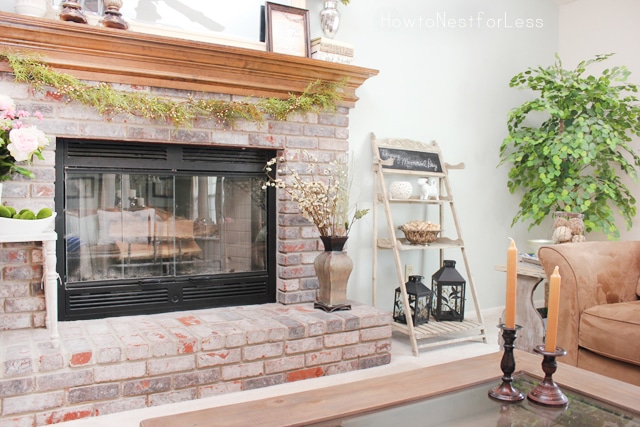 My sofa table behind our couch was looking a little bare…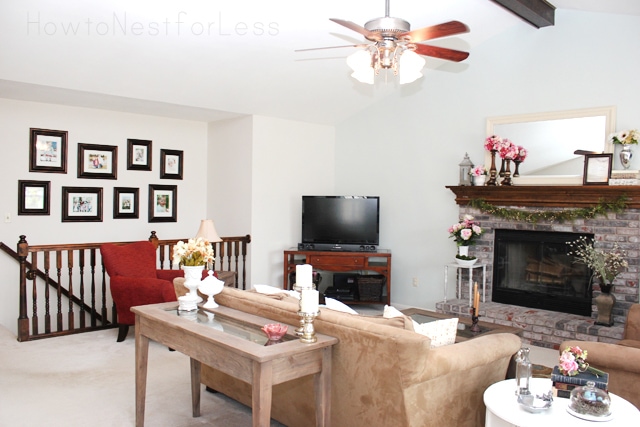 …so I found some amazing speckled candlesticks for under $18 total. And of course I had to pick up the LED candles for only $3 each. With a little kid in the house, these are a mom's best friend.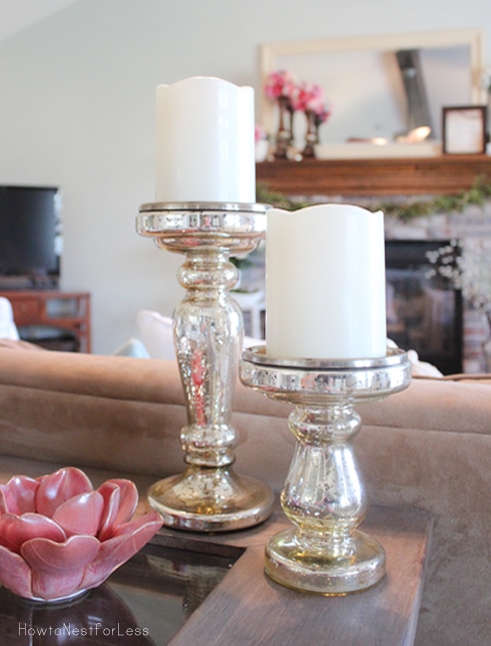 So if you're adding up the costs in your head, that's only $240 for all the new statement items I added to my living room (including a brand new gallery wall and an area rug!).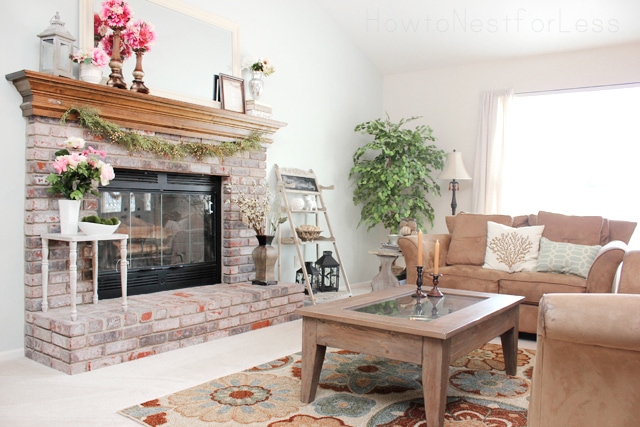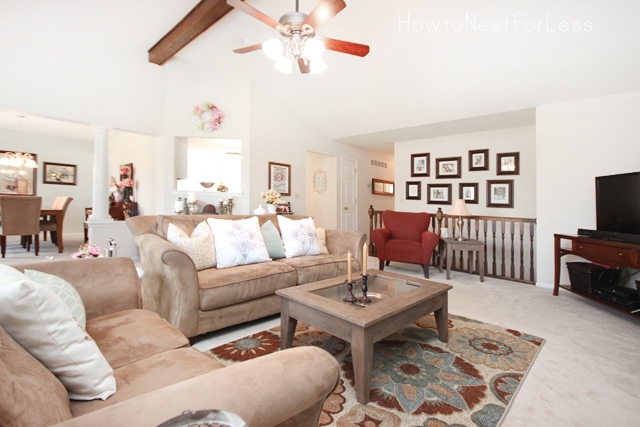 Yeah, I'd still like to switch out that red chair for something else. Oh well, I guess that's for another day (or makeover).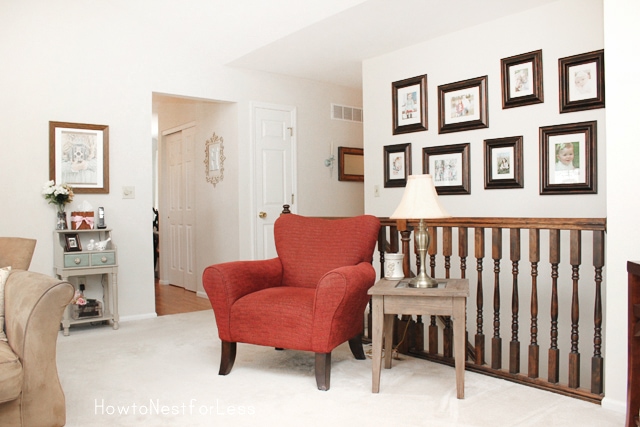 Well if you want to dream up your own living room makeover, enter the Room Refresh Sweepstakes from Better Homes and Gardens at Walmart. One lucky winner is going to receive a $1,000 Room Makeover.
Uh, you saw what I did with only $250. Imagine what you could do with $1,000!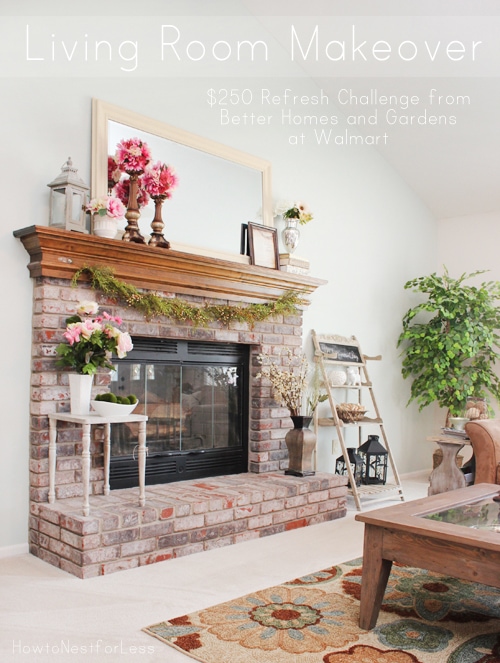 Tomorrow I'll share a couple additional insights on the overall room makeover, including some hidden areas you didn't see in today's post. Stay tuned!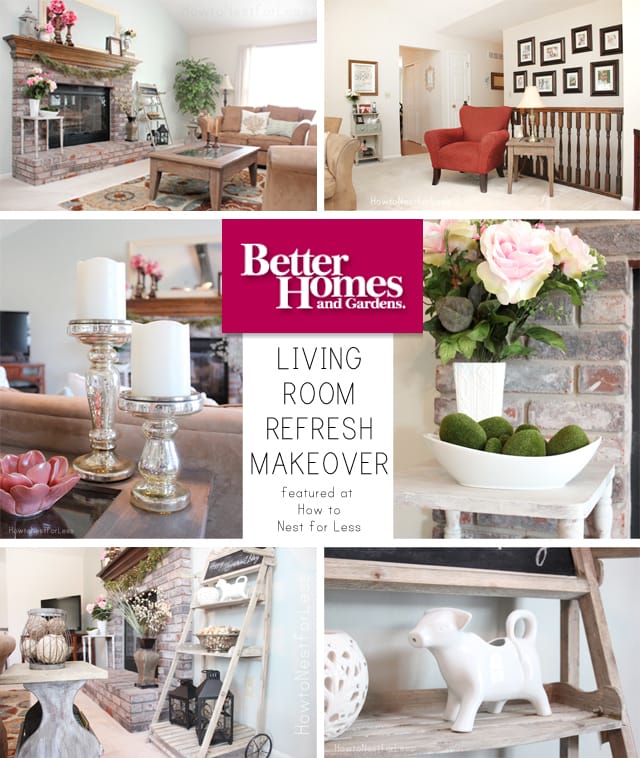 In accordance with the FTC Guidelines, I am disclosing that I received compensation from Better Homes & Garden for my time and participation in the Better Homes & Garden Refresh Challenge. Although we have a material connection, any publicly stated opinions of Better Homes & Garden and their products remain our own