I've been working on finishing up my Laundry Room makeover and didn't have a new project to share with you today. So instead, I though I would to give you a fun little tour of my parent's living room to hold you over until I'm ready for the big reveal.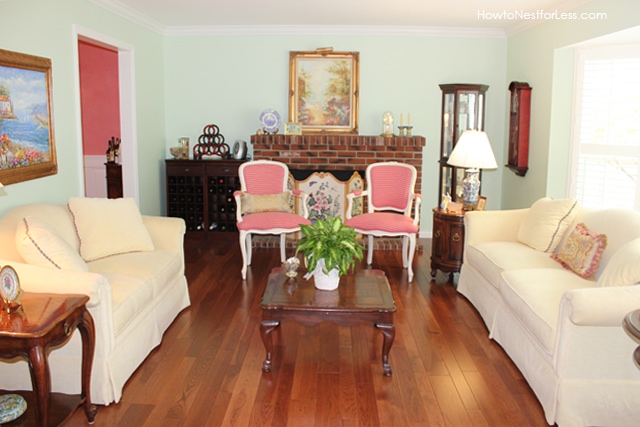 OK, I have to admit… I used to hate this room. I thought it looked like an Easter egg threw up in here. And for the longest time my personal preference was dark jewel tone colors like red and sage green. But now my tastes are changing and I'm looking at this living room with fresh set of eyes and seeing all the things I really do love about this space.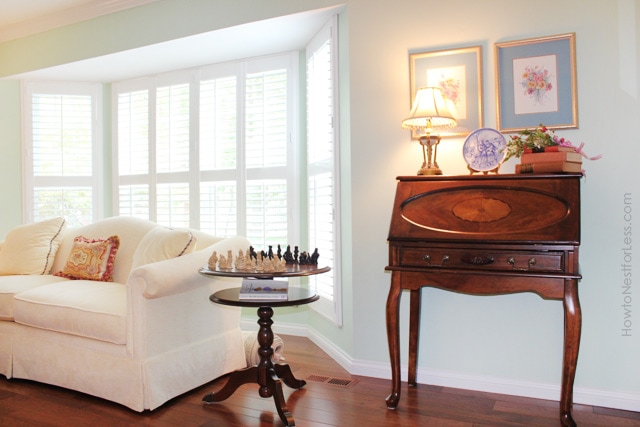 One of my favorite pieces of furniture in this room is my mom's secretary.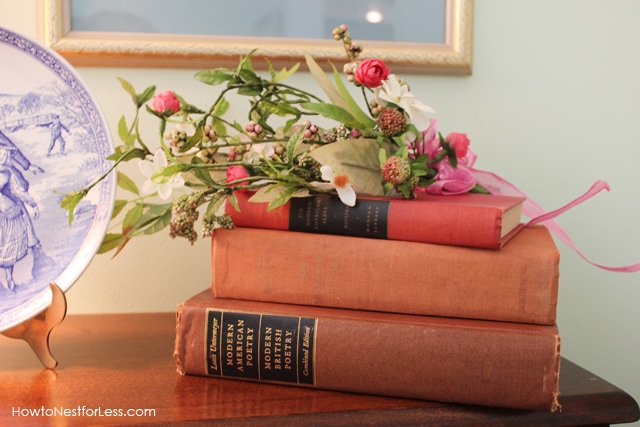 The woman even knows how to style her space, including the top of the secretary. No help from me here with the old hardcover books, bouquet of wild flowers and porcelain plate.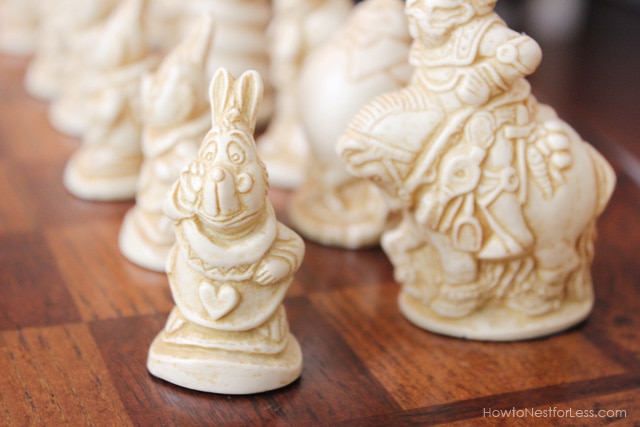 Next to the secretary is small round chess end table. My brothers love to play, and are even trying to teach my four year old daughter. I think the Alice in Wonderland chess pieces grab her attention more than the actual game though.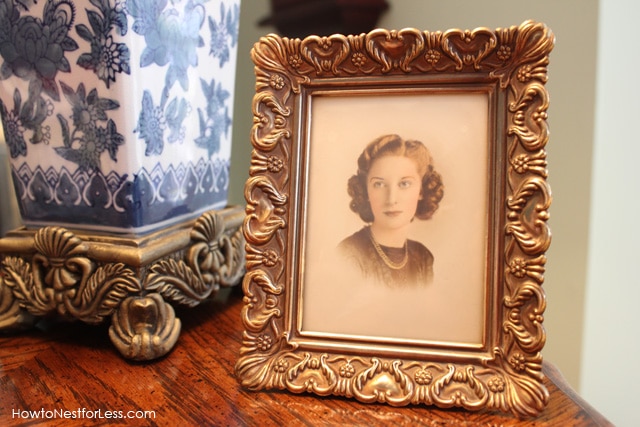 I adore the mix of old and new photographs around this room. Adds a personal touch to the space. And this frame next to the base of her blue lamp is just delicious.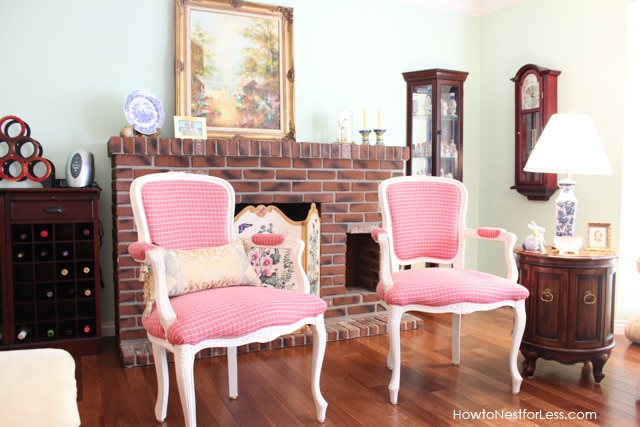 If I could steal one thing from this room, it would probably be her French arm chairs (ok… make that two things I guess).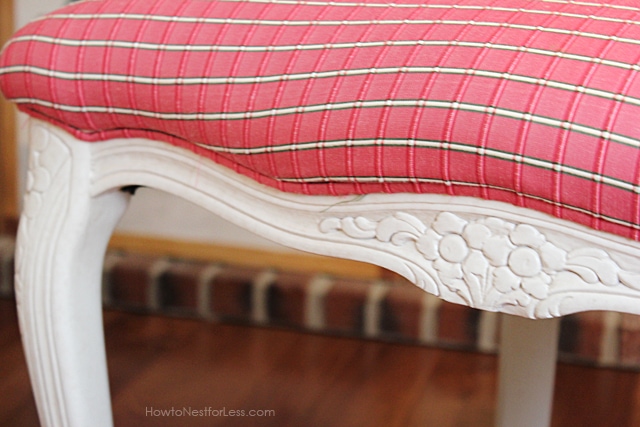 My mom had these chairs custom made. I remember helping her pick out the fabric back when I was in college and a little apprehensive about pink. But I have to admit it looks fabulous against the white chair frames. Also love the details in the arms and and legs of these chairs.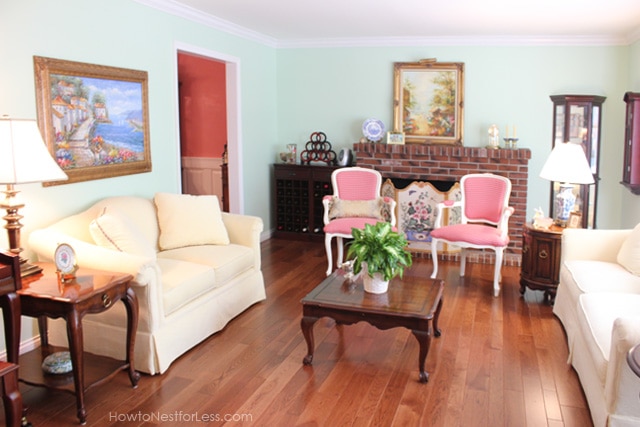 This is a great gathering room since the natural light seems to pour in through her large bay window decked out with beautiful white plantation shutters. I'm kinda obsessed with these shutters. I'm already saving up to have these in my next home!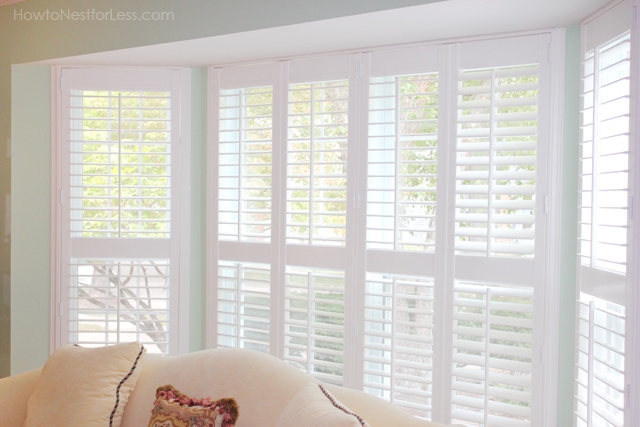 Near the entrance to the room and hallway is our family piano.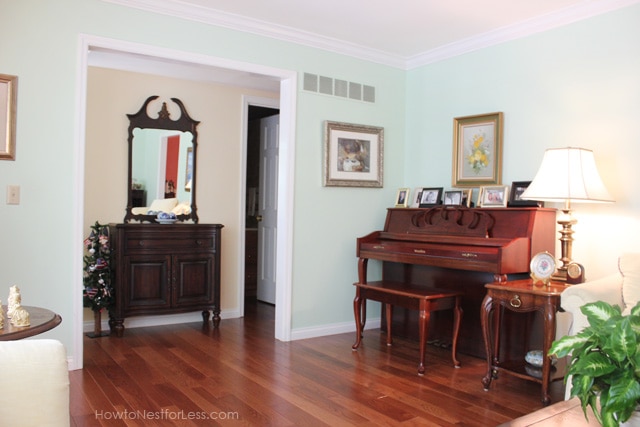 Yep, this is the house I grew up in. Green walls, yellow couches, pink chairs… yet it all seems to work together and puts a smile on my face.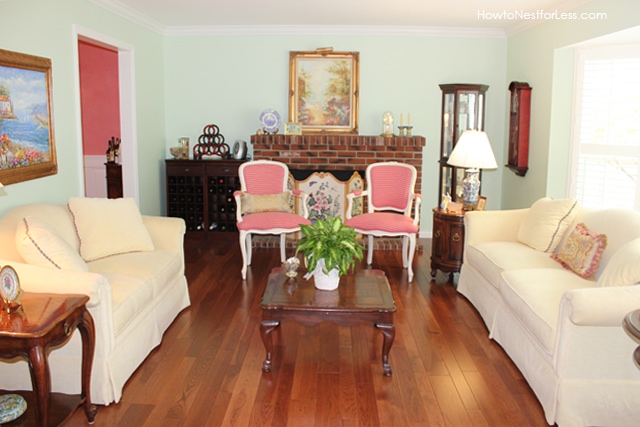 So, is there any spot in your house or your parents' house that puts a smile on your face? Just cheers you up with the colors or décor?