Look at this gorgeous Valentine's Day wreath!
I promise you, this is a 20 minute project. If that. My husband left the house to pick up our child from school down the street and by the time he was back, this was finished. A stunning 20 minute Valentine's Day wreath!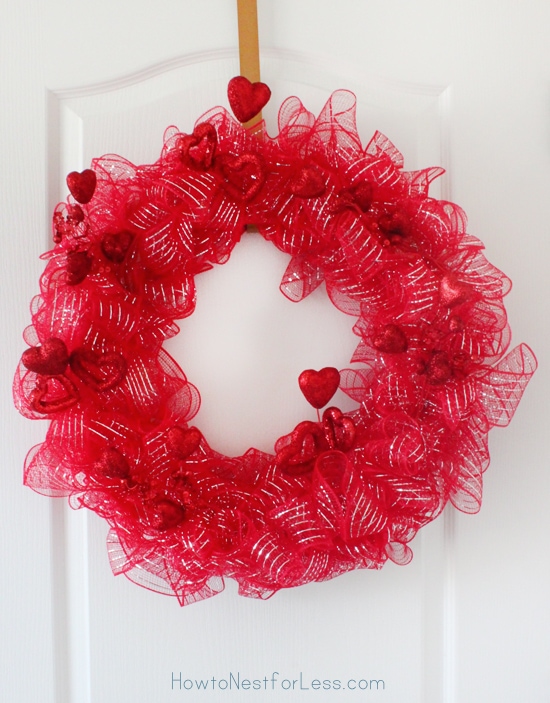 Now I must preface this by saying I've never made a mesh wreath before. I have no clue how to "really" make one. So if you want to call this cheating… by all means.
OH, and did I mention that the red mesh was on clearance? Yeah, Christmas ribbon at 80% off from Michael's. Cheap and fast… just my style.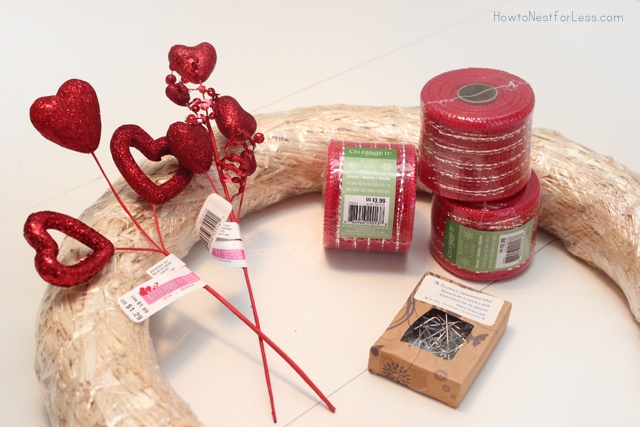 The supplies:
• Straw wreath form still in its plastic
• 7 stems of Valentine's Day spray ($1.29 each)
• 4 rolls of Christmas mesh ($4 marked down to 80¢ each)
• Greenery pins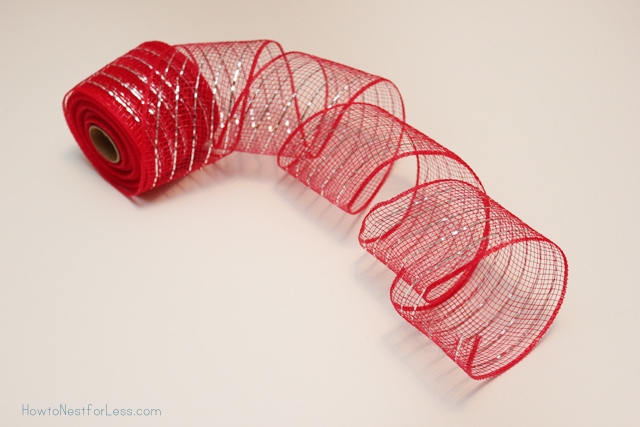 Now let me tell you why this only took 20 minutes at most to complete: I basically let the ribbon mesh fall off the roll (as seen above)…
Then grabbed it a couple loops and pinched it together.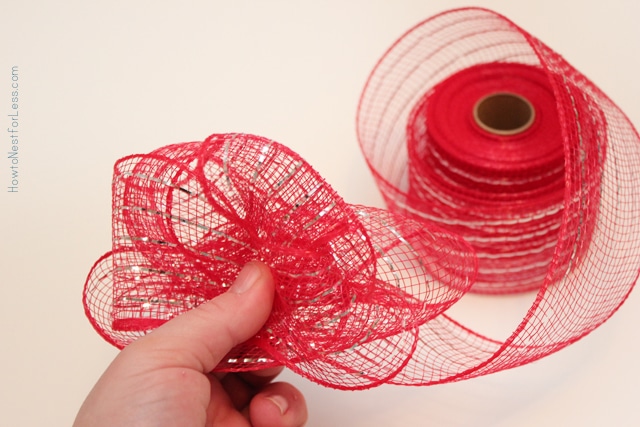 Then I pinned it to the straw wreath using a greenery pin.
I did NOT cut the mesh before the next pin. Just keep pulling loops and pinning.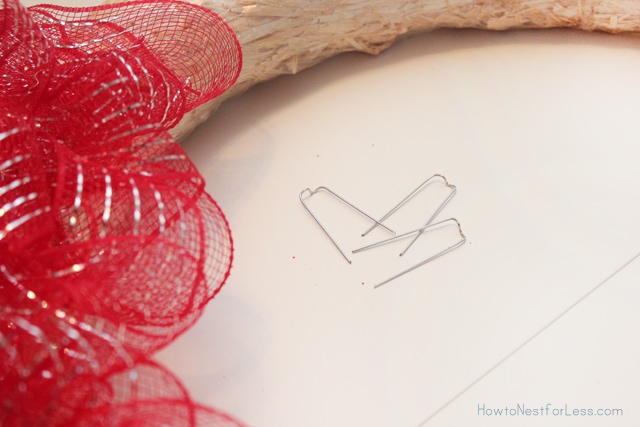 Now since the mesh is a little see through, I did three different layers around the straw wreath form. One in the center, one along the outside of the wreath, and one along the inside of the wreath.
And pretty soon (like less than 15 minutes) your Valentine's Day wreath will look like this…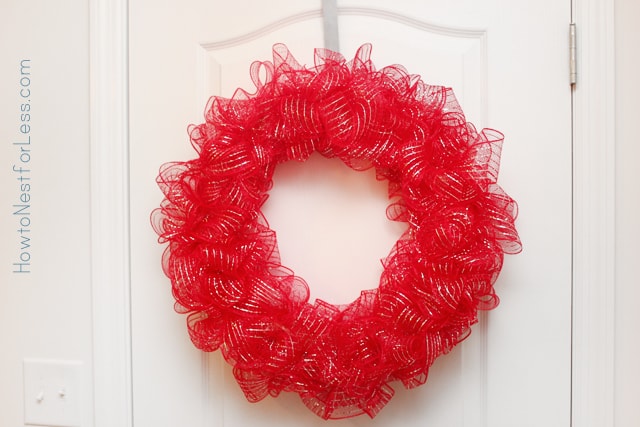 To add just a little bit of Valentine's Day bling, I attached the spray with greenery pins as well.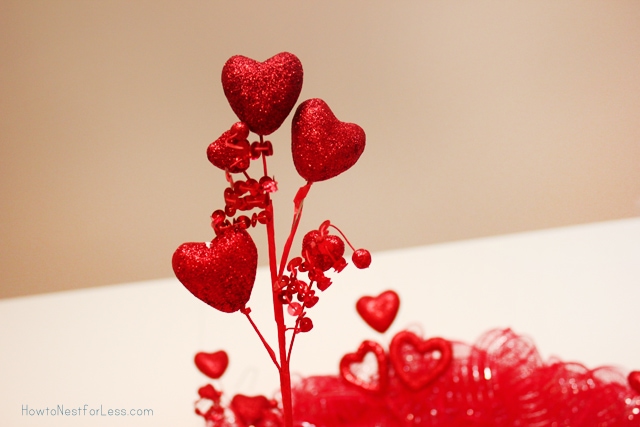 And BAM! A new Valentine's Day wreath in less than 20 minutes.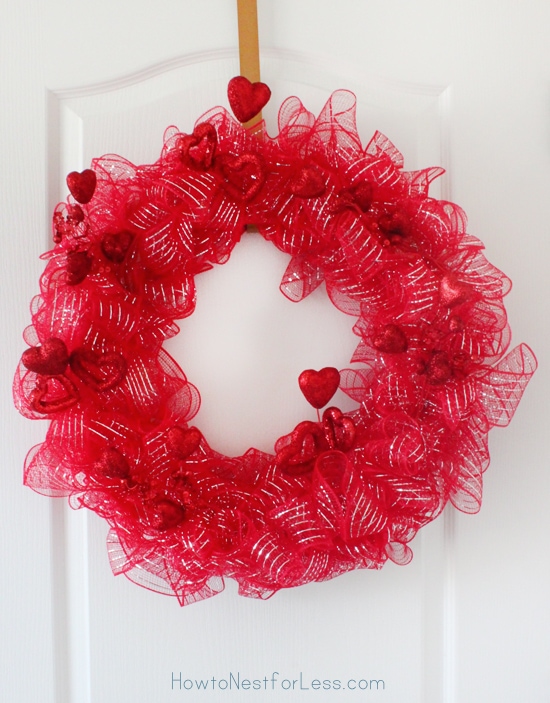 And try to run out and get some of this red Christmas mesh on clearance for 80% off. Seriously. Now if I can go back and find some green for St. Patty's Day…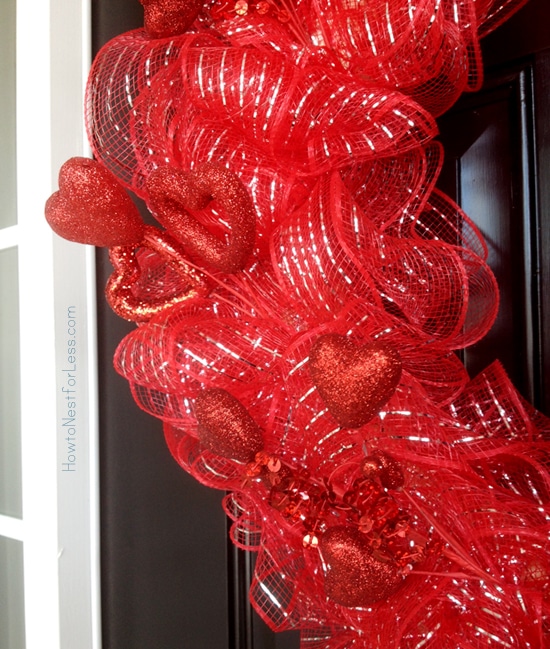 For more amazing Valentine's Day ideas check out Get Inspired: 10 Valentine's Day Craft Projects