I know most people are still cranking out Christmas and holiday projects, but here I am trying to settle into our new home. So while in the hustle and bustle of unpacking, I decided to snap a few quick pics of our new kitchen and give you the grand tour!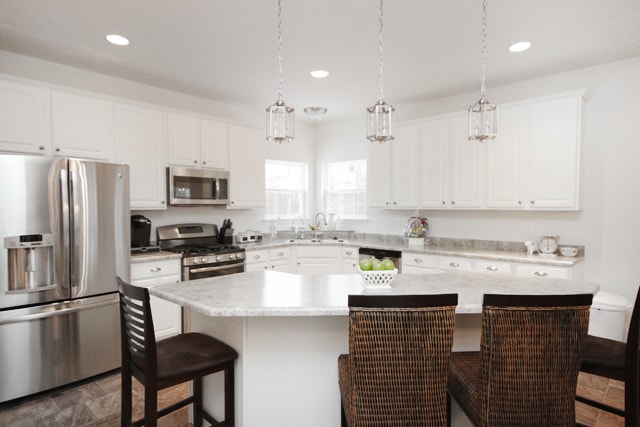 When building my new kitchen I had my eyes set on one thing… white cabinets. Ever since I painted the ones in my old house and painted my mom's kitchen cabinets white, I knew it was what I wanted in the new place. We ended up with 42 inch wall cabinets and 9ft ceilings. LOTS of storage space! 21 drawers in total alone.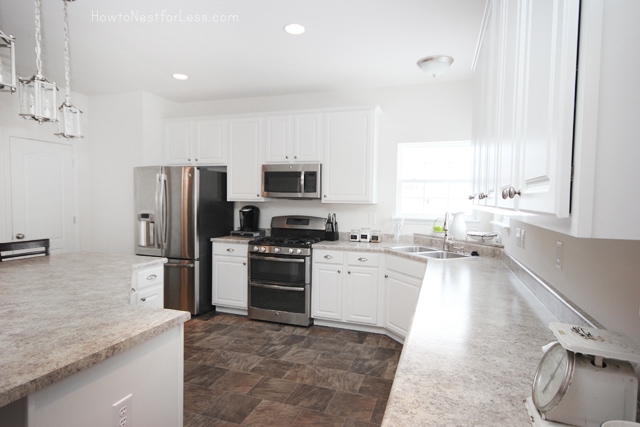 The white cabinets set the tone for the rest of the kitchen. Light and bright. Stainless steel and satin nickel. And these amazing lantern pendants.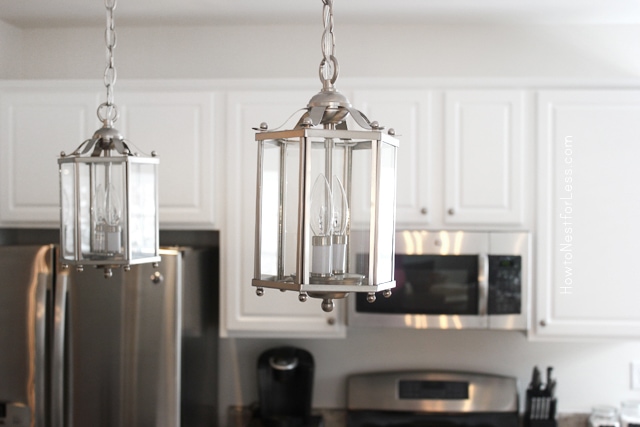 I second guessed myself about 50 times on these babies, but am oh-so-happy with them in the end. They seriously set the tone for the rest of the room.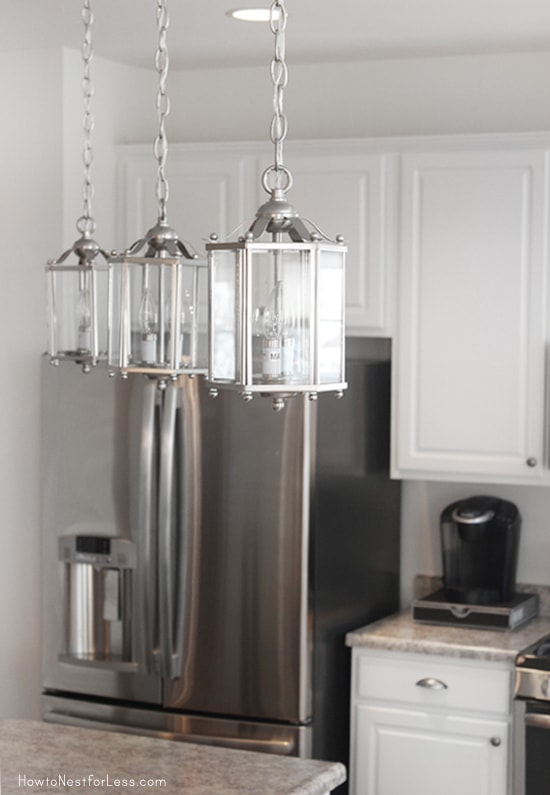 I chose satin nickel cup pulls for the cabinet drawers…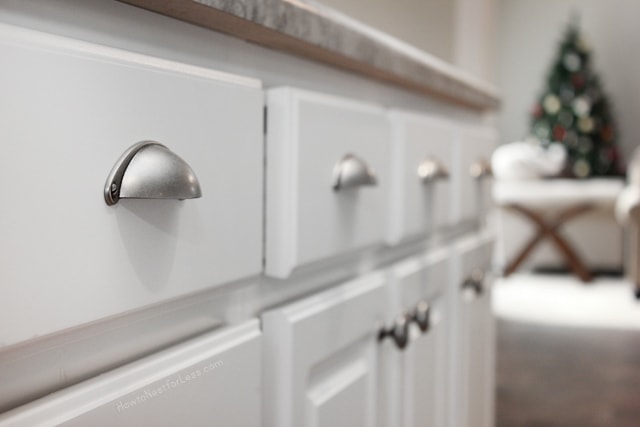 And stainless steel appliances including a french door fridge.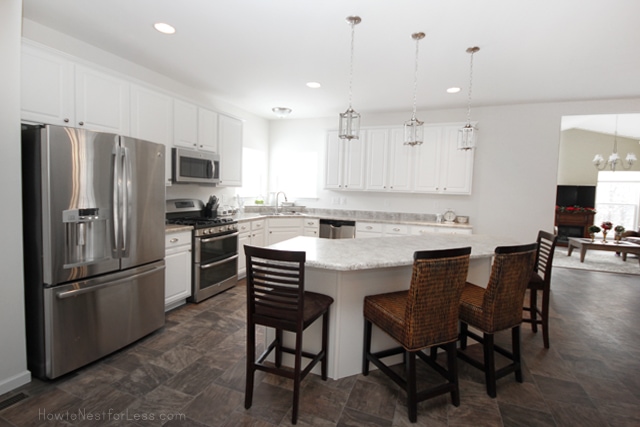 And since I love to cook, a nice double oven with gas stovetop.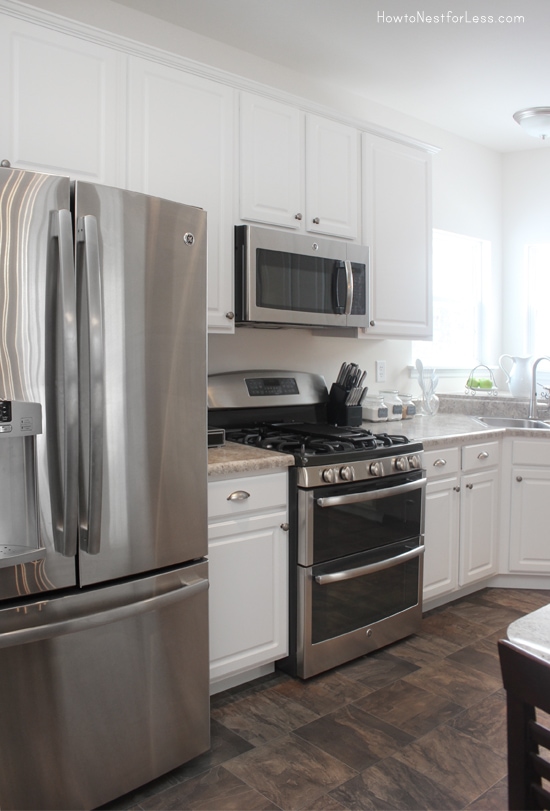 The gas cooktop came with a huge oblong center burner and even a griddle/grill plate for it. I'm excited to get cooking on this thing.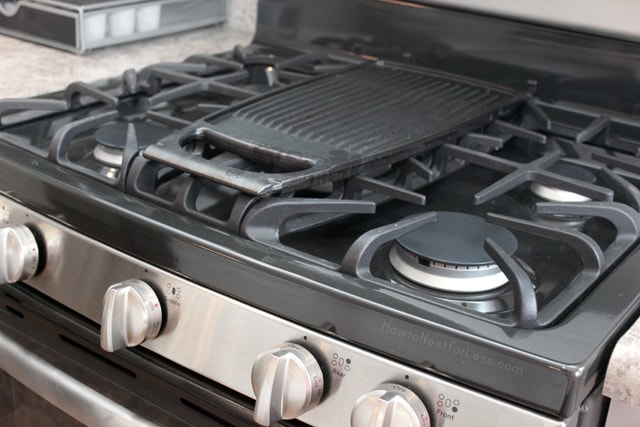 And my absolute favorite part of my new kitchen… MY FAUCET!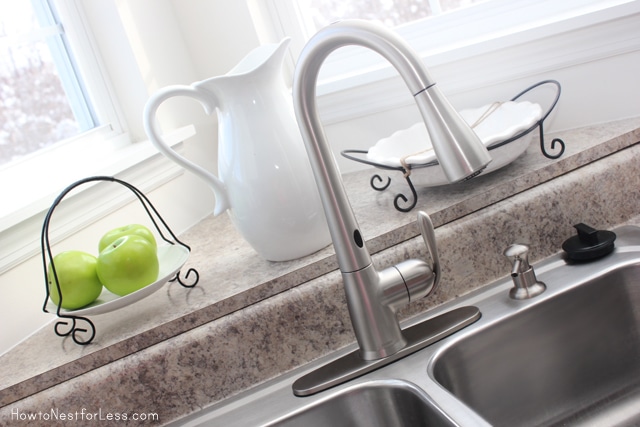 We picked out the Haysfield MotionSense faucet from Moen and I'm head over heels for it. Honestly… best purchase ever.
If you wave your hand above the top of the faucet spout, it will stay on until you wave your hand over it again to stop the water. OR there's a little sensor near the handle (see below) that turns on the water as long as you have something in front of it (like to rinse a dish or wash your hands). It's battery powered and seriously the coolest little gadget we added to our kitchen!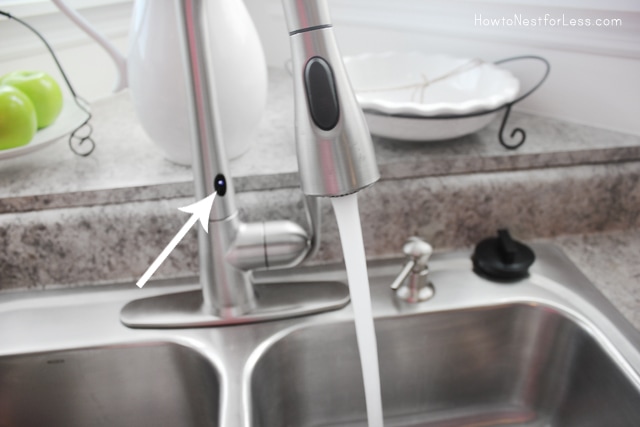 A couple things we saved on in our dream kitchen…
The kitchen floors? VINYL.
The countertops? LAMINATE.
And I couldn't be happier with our decision.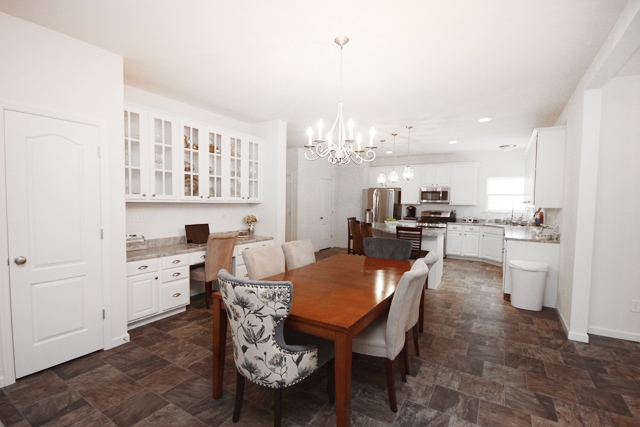 And our breakfast room and butler's pantry?
We'll get more into that later…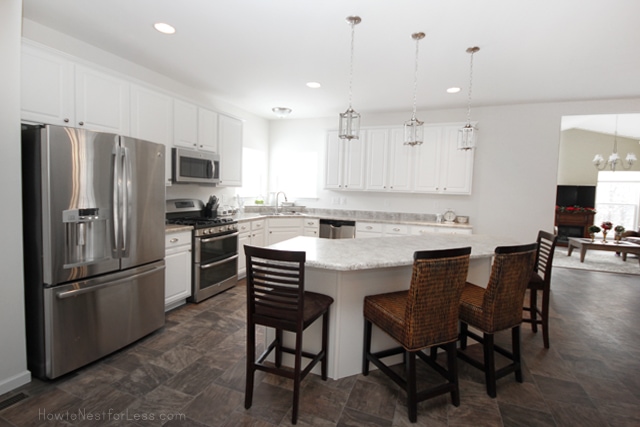 So what's on my to do list for this room?
• Find matching stools
(I'm waiting for Pier 1 to get the middle stools back in stock so I can order 3 more)
• Backsplash
• Paint the walls
• Find window treatments
• Trim the center island
• Build a wine cabinet near entry to hearth room