So when we first moved into our home, I really wanted some rattan counter height stools for the kitchen island. I found some I absolutely loved from Pier 1 Imports, but they didn't have four in stock. So that's why I had mismatched chairs in my kitchen for the first few months…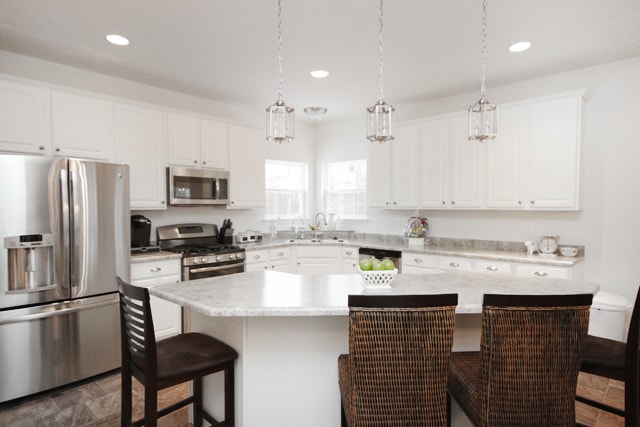 Well after trying out the two rattan stools that we were able to purchase, we realized that while they looked beautiful, they weren't the most comfortable chairs on earth. I mean… we sit on these chairs every night for dinner (yes, we have a breakfast room table but have only had dinner there twice since we moved in 7 months ago). Plus little crumbs got into the crevices of the rattan and it drove me bonkers. But I LOVE the look.
So then I starting toying around with the idea of using my parents old counter stools. I grew up in a house that didn't have a kitchen table, just a large peninsula that held 6 chairs (that's probably why sitting at the counter for dinner each night feels like home to me). Well my mom was replacing her old blue leather counter stools and I decided to snag them before they hit the trashcan.
And from far away they look ok…
They even match my window cornices.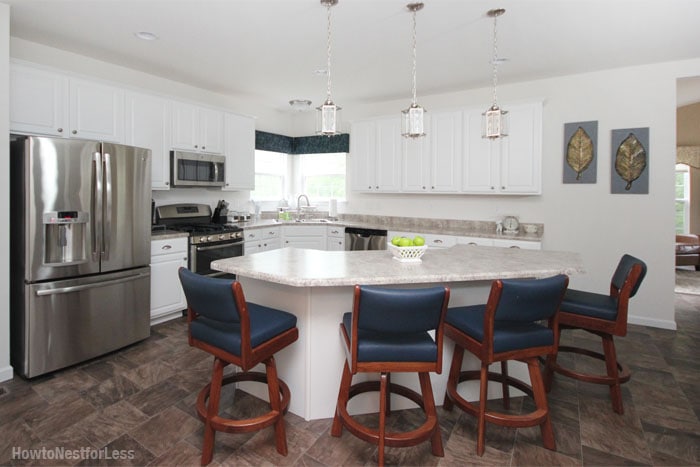 Up close? A little rough.
The leather needs some help in a few spots.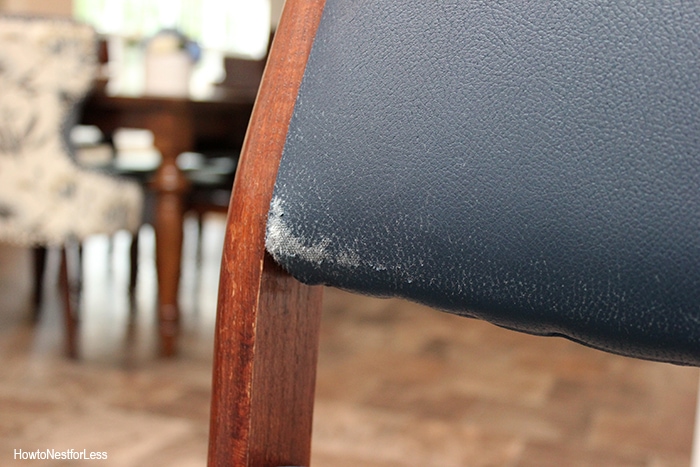 And the wood has some knicks and scratches.
Again, nothing noticeable from far away, just up close it's a hot mess.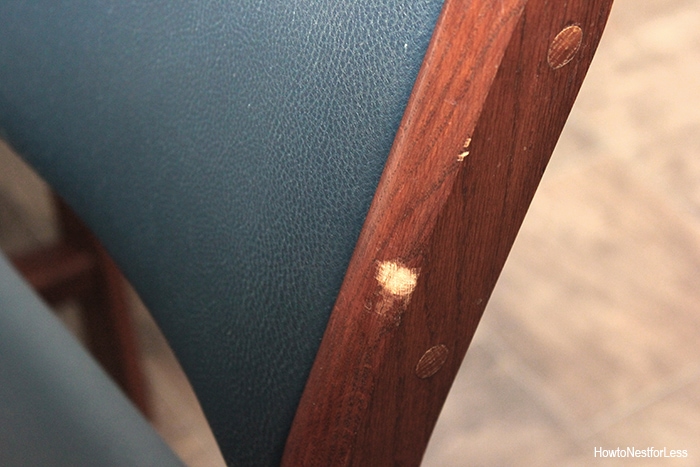 So, what to do? I've never reupholstered anything in my life. I don't even know how to sew. Don't really think I could tackle a reupholstering project on my own. I looked up these chairs online to just buy replacements. Uh… $500 each! Yeah, ain't gonna happen.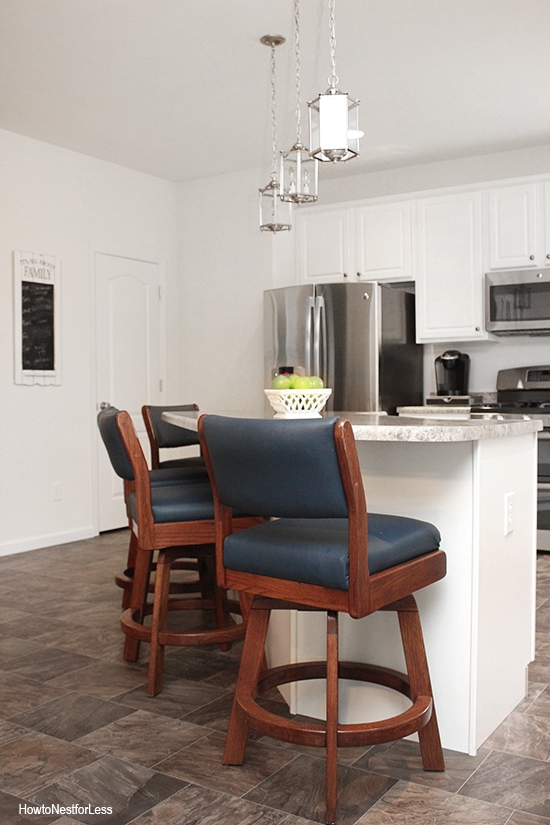 And Pier 1 Imports does have the other rattan counter stools in stock now. I LOVE how they looked, but again the comfort and crumbs might annoy me to no end.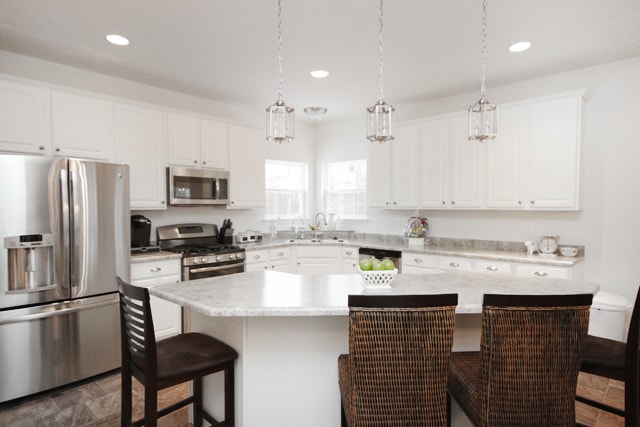 So… Blue leather or rattan?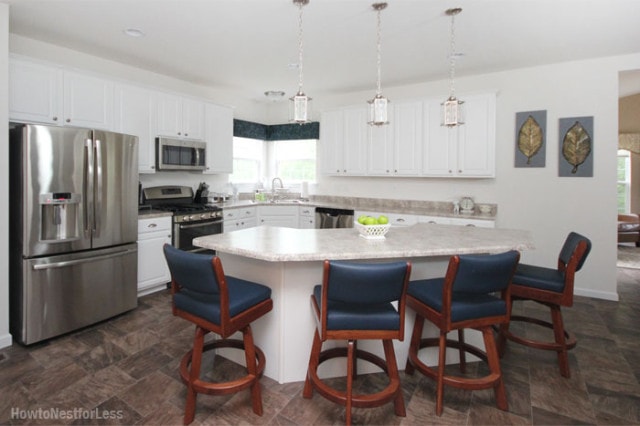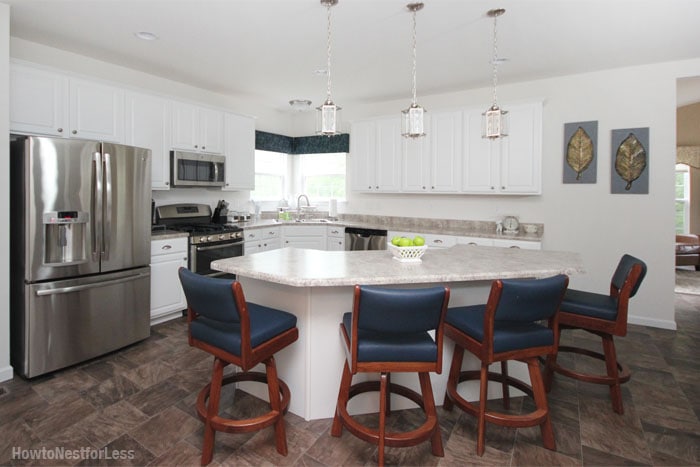 Any suggestions from you guys?
Should I try to find someone to reupholster and paint these?
Keep searching for the perfect chairs?
Or just stop worrying about the stools and paint the kitchen already?
Yeah… it's on my list. My looooong to-do list.