Thank you everyone for the kind messages and comments on yesterday's post. It's amazing how I can be gone for 5 months and come right back to this blog and all your support.
So I mentioned yesterday that Ben is currently in the hospital. Here's the story…
Late Friday night we headed to one of Ellie's tournament soccer games. Ben was in a good mood, acting completely normal. Afterwards we caught the end of my niece's game who was playing at the same soccer park. We chatted with his brother and sister-in-law for 30 minutes, then headed home and quickly passed out.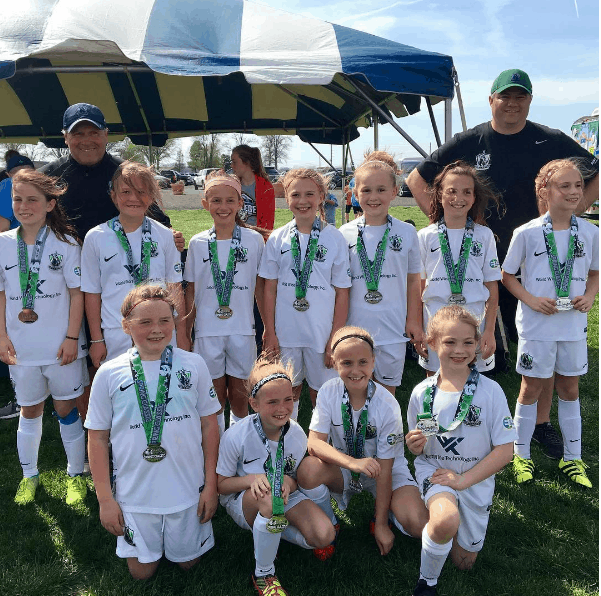 Ellie had a nightmare early in the night so ended up crawling in my bed and Ben went down the hall to the guest bedroom.
Around 1:30am I heard a huge thump down the hall. I figured Ben was getting up to use the restroom and knocked over a lamp or bumped into the nightstand or something. I turned over and went back to bed.
About 30 minutes later I heard knocking at my bedroom door. Scared the you-know-what out of me because then I started to think that crash was a robber and now he was politely knocking on my door to kill me.
I jumped out of bed, but then Ben started calling my name. I slowly opened the door and looked down… he was on all fours on the ground saying I had to call an ambulance.
Now a little back story… Ben has epilepsy. I think I've mentioned this in the past. But anyway he's had epilepsy since he was 23, having his first grand maul seizure right after we got engaged while I was driving him home from work (we worked together at the time). What's funny is that he asked me to drive that day since he wasn't feeling well, and then IT happened. I hate thinking what would have been if Ben had been behind the wheel that day, especially since we were driving down a winding two lane road with no neighborhoods around.
I'll never forget that we were chatting away, he put his hand on my knee all of a sudden, and just said "hold on a minute" mid conversation. Then BOOM, grand maul seizure. Luckily I pulled off onto a little sideroad and found a house. Some middle aged man had just gotten home and was walking from his car into the house. I rolled down my window and started screaming to call 911. The ambulances were there in a few quick minutes and we was taken to the local hospital. He stayed in ICU for about 10 days, given some prescriptions for anti-seizure meds, and assigned to a neurologist. That was 13 years ago.
After that first big seizure he had a couple spells here and there. Nothing too major. Most were grand maul seizures. Sometimes his face would turn so blue because he was holding his breath during them. Yeah, scary stuff. But the doctors would adjust his meds and he would be seizure-free for another 2-3 years sometimes between episodes. We learned to cope with them. Life just went on.
OK… back to Ben asking for an ambulance Friday night…
So immediately my brain went into seizure mode when he appeared outside the bedroom door. I helped him off the ground but he just couldn't seem to get his feet stable under him. He looked like a doe that had just been born… legs all wobbly and weak.
I helped him into our bed. He started talking about how his hands were on fire. I kept telling him to sit still, that I thought he just had a seizure. I gave him some water and used the flashlight on my phone to check his pupils. Now normally his body is extremely weak after a seizure because his entire body tightens up during the ordeal. And usually he feels a seizure coming on because he gets auras, but of course this time it was during his sleep so we had no warning sign.
After lying in our bed for a few minutes, he felt somewhat normal again and said he wanted to go back to sleep.
The next morning I let him sleep in until 9am before I checked on him. I had a quick work thing about 45 minutes from the house but when I woke him up he assured me he was fine, just wanted to sleep things off. Just complained a bit about his hands being on fire.
I got back around 11:30, checked on him again, and he was able to make his way downstairs. Still very wobbly and in pain, but again I just assumed it was just muscle pain. He had no neck pain, no back pain, no other symptoms.
When things didn't get better later on Saturday afternoon, Ben called his doctor and was told to go to the ER to get checked out. Twenty minutes after getting there Ben was being admitted to the hospital for further testing; they wanted to run an MRI and CT scan.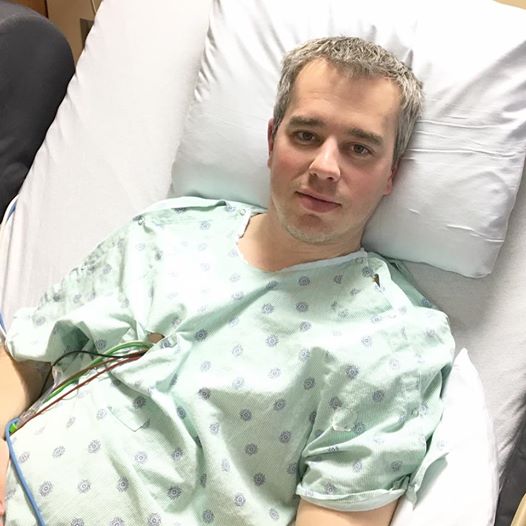 Ben spent Saturday night in the hospital with no answers. Then early Sunday morning we got the news that when Ben fell out of bed from his seizure, he injured his spinal cord. He had 2 bulging discs and would have to get surgery to remove them and replace with cadaver bones. The compression of the discs were causing nerve damage, which is why his hands were burning and he could barely use his legs. But first he would have to go to a rehabilitation hospital for two weeks to gain strength, then have the spinal surgery.
The physical therapist visited Ben a couple times to test his legs. Ben could barely make it 10 steps without either getting tired or getting too wobbly. They said just give it time, he will improve, and the two week rehabilitation hospital stay will really help.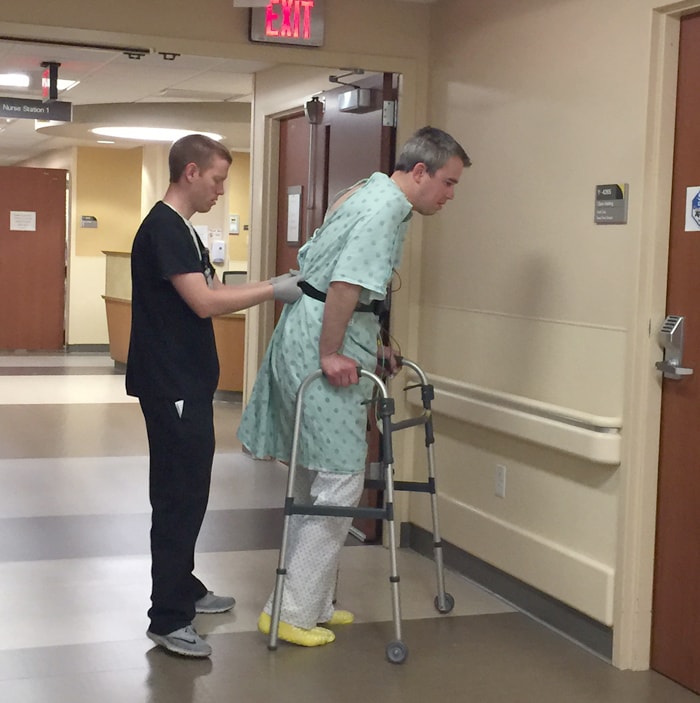 So we thought that was the plan. We met with the surgeon, talked with the rehabilitation hospital… everything was on track to begin therapy right away and then have surgery in 2-3 weeks.
But the neurologist was concerned about this seizure. He actually had another one back in January (which is a really long story as well, won't even get into that one). But like I mentioned before, normally it's years between seizures so something seemed a little off to the neurologist so she ordered an EEG.
And that's when stuff got crazy…
OK, I really meant to write a lot more of this story but I'm writing this at 10:30pm and I have to get up early to get back to the hospital. More to come, I'm sorry!
And seriously, watch a video on YouTube if you want to see the types of seizures Ben has. This one is pretty close to what he normally experiences (you only need to watch the first two minutes to get the idea!).