This is a sponsored post written by me on behalf of Schneider Electric . All opinions are 100% mine.
So I was one of those people that said I really didn't care about the "smart home" phenomenon. Actually when I was first asked to review this product I passed. But I mentioned the Wiser Air smart thermostat to Ben one night and dinner and he basically dropped his fork in his pasta and gave me a death stare.
Yeah, apparently the dude has been wanting one for a long time.
Who knew?!
So I contacted the company and said we'd give it a whirl, even though we've never installed our own thermostat before. HVAC is just something we aren't comfortable with touching. The people at Schneider Electric assured us we could do it ourselves with their simple installation and setup so they shipped us one to test out.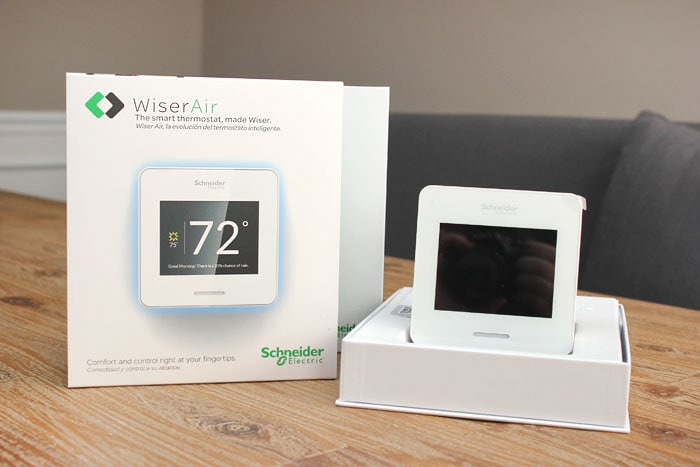 We have a dual zone HVAC, but we just decided to switch out the first floor thermostat. It sits in the hallway right outside our playroom/cat room (yes, apparently that's a thing in our house now, a cat room).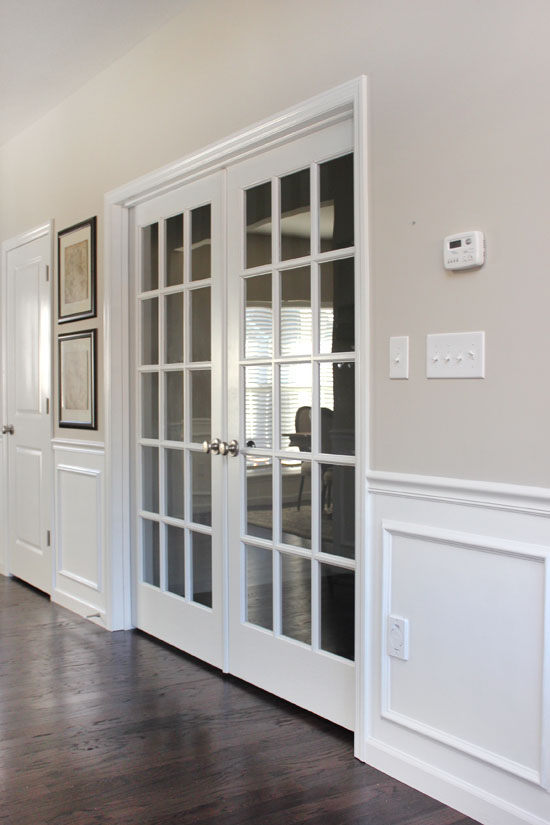 To get started Wiser Air recommends your take a photo of how your wires are hooked up. Let me just say this is SO SMART and 100% necessary for newbies like us.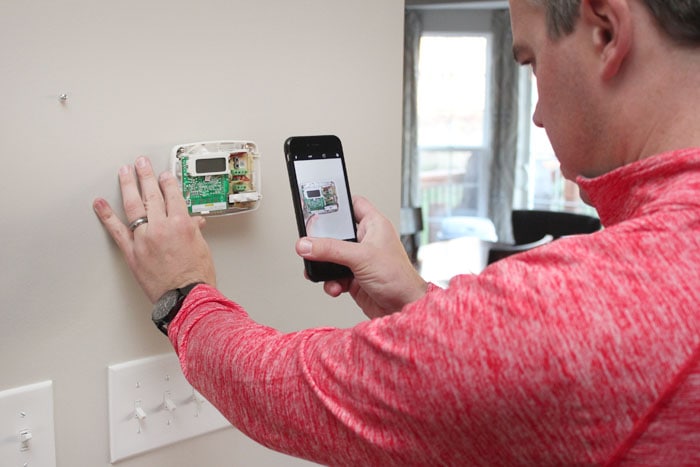 Then we swapped out the old unit for the Wiser Air thermostat, pulling the wires through the middle before we screwed the thermostat into place.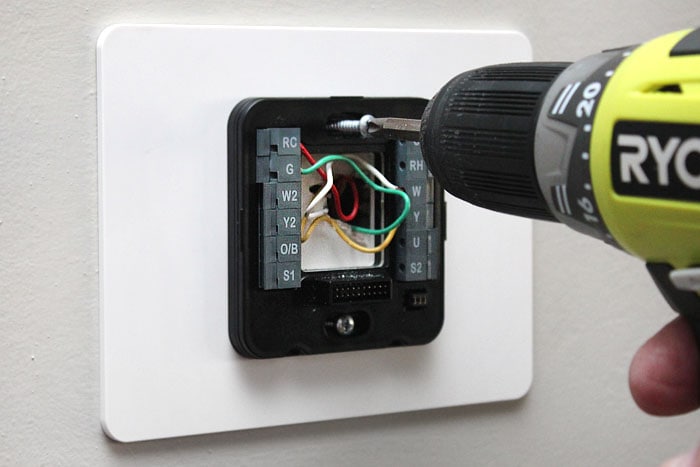 Then we hooked up the wires just like our old thermostat, matching the color wire to the correct label.
Here's where we had a little mixup though…. We had an extra blue wire that we were using before. So we read the Wiser Air booklet and it said a blue wire was a cooling wire and should be hooked up to the "C" label. We followed those instructions and still NOTHING.
So then we called their customer service line for some help, some big ol' HVAC novice help. After 2 minutes on the phone they had us back in action (apparently the blue wire wasn't hooked up in the basement to anything, doh!). Seriously, best customer service ever. They even offered to have us snap photos of everything & email it over so they could review it but thankfully it wasn't necessary. Just a two minute fix and we were on our way!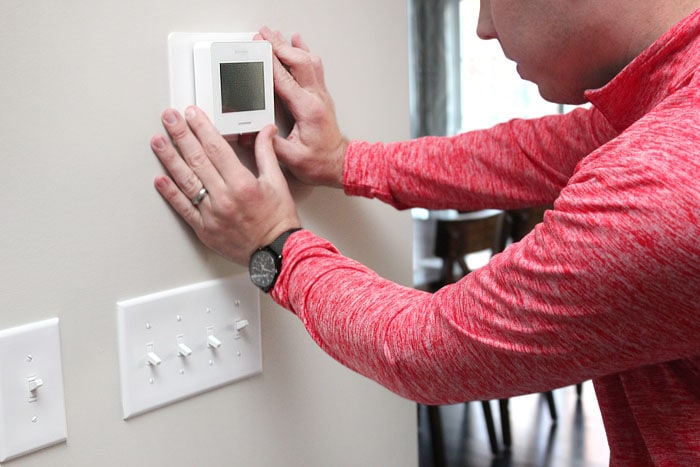 We snapped on the Wiser Air thermostat cover and
then we saw this beautiful welcome message…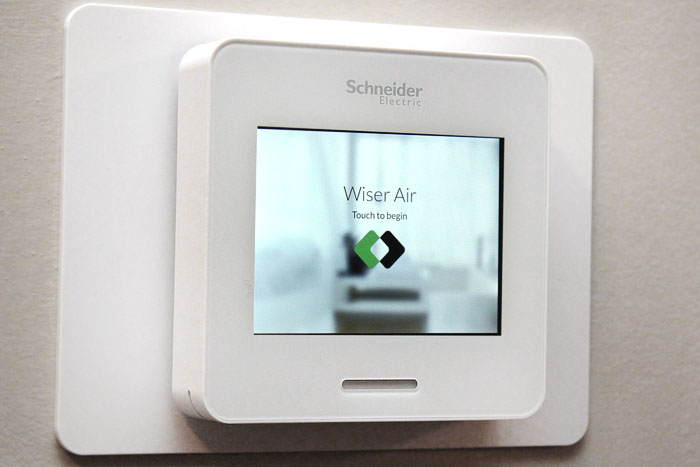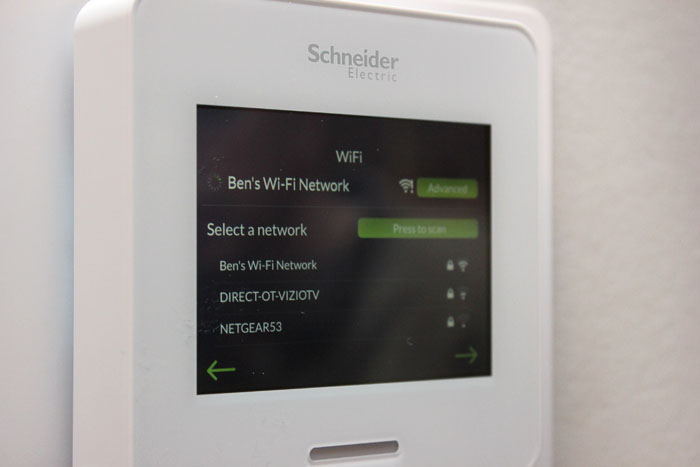 Setting it up from here was a breeze. It just hooks up to your Wi-Fi and you download an app to control it from your smart phone. Wiser Air is the only smart thermostat with a Windows app, too. Ideal for use on Surface pro or any other Windows device!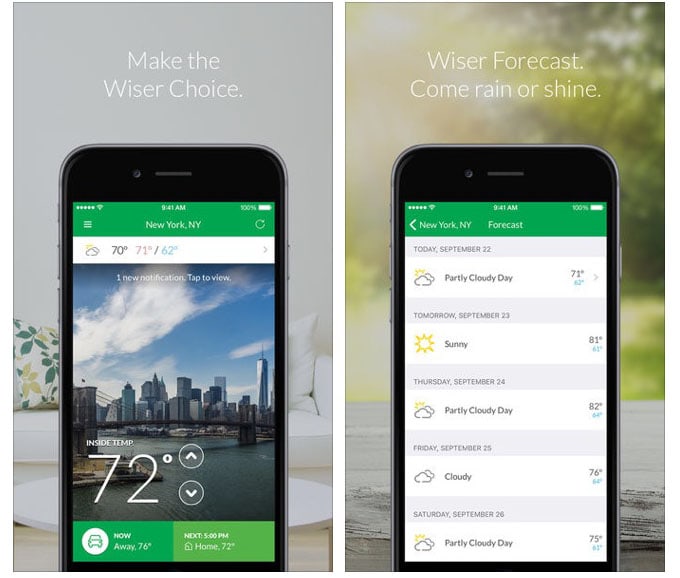 See it glowing green? That's the Wiser Pulse. It's is an ambient glow feature on the thermostat that lights up BLUE for cooling, YELLOW for heating and GREEN when Eco IQ™ is saving energy.
Eco IQ™ self-learning finds the right temperature for you. Users don't need to pick a number but just let the thermostat know if you are too hot or too cold. It optimizes comfort and savings based on user-interaction and other factors such as home thermal profile, humidity, outdoor weather, and system run times. Crazy, right?!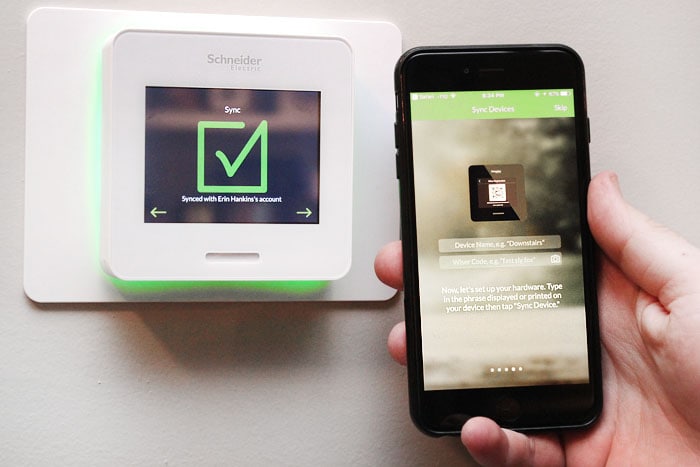 So after two weeks of this new smart thermostat in our home, I'm actually really geeked out about it. Lazy me loves being able to change the thermostat from the couch right from my iPhone, hah. And the Comfort Boost is cool, too. It's a unique feature allowing users to get instant heating or cooling without changing your carefully optimized schedule or affecting the learning algorithms.
Plus the look of it is really sleek (comes in two colors—black & white!).
The Wiser Air Wi-Fi Smart Thermostat is available for purchase on Amazon.com, HomeDepot.com, the Microsoft Store, New Egg or BestBuy.com. If you're looking for a great holiday gift for the nerd in your life, think about this!! I actually bought Ben one for our second floor (as per his request). And the best part? I'm sure I'll make my money back by saving on our heating/cooling bills this year 😉
Have you guys ever changed your own thermostat before?
Do you have a smart thermostat? Do you love it like we do?