Now that we're settling into the new place, my mind is racing with decorating and DIY ideas. I thought I would put together a list for my top priority BIG projects. Things that cost a little bit more, but will have a huge impact in our home.
SO WHAT'S ON MY LIST?
Here's my Top 5 Big Projects for the New Home…
1. PLAYROOM BUILT INS
When we built this house I kind of tweaked the floorplan so we would have a playroom on the main floor. I figured we didn't need a formal living room so we converted that space to a small dining room and closed off the dining room to make a playroom. Following me so far? Good.
My main goal for this room is storage. I always knew I wanted built ins along the back with a mix of cabinets to hide toys and lots of shelving above (Ellie is a huge bookworm). Then I wanted a space in the middle of the built ins for a TV. We even thought ahead and put French doors on this room to block out some of the noise.
Well we had planned on hiring someone to complete this task or even try to DIY it ourselves since IKEA is now in St. Louis, but I just stumbled across this wall unit from Home Decorators. It's almost 100% exactly what I imagined in my head. Oh, did I mention it would fit PERFECTLY in the room? Like within an inch of the walls. It's on sale until the end of this week for $1599 (still yikes, I know). This upgrade is on the top of my list since I really want to get the toys & games organized, but pulling the trigger on $1600 is nerve-wracking.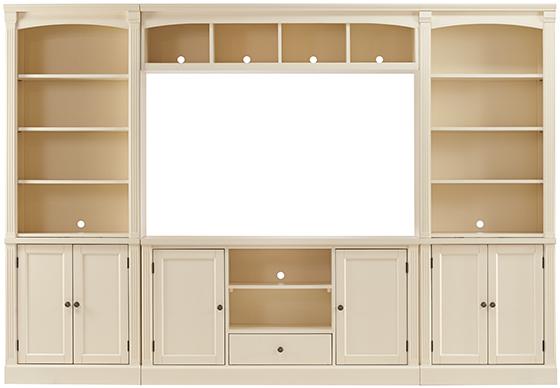 2. HARD SURFACE COUNTERTOPS
We didn't upgrade our kitchen countertops when we built this home. I figured we could always do it down the road, right? In our last home we had laminate countertops and I absolutely loved them… loved them so much we put the exact same ones in the new place.
But for this house I know I eventually want to upgrade the countertops, and I probably want to do so before we add a backsplash. Now the question is what type of hard surface countertop: Granite? Corian? Marble? Quartz? Help me pick! I haven't even started researching this so any advice would be welcomed.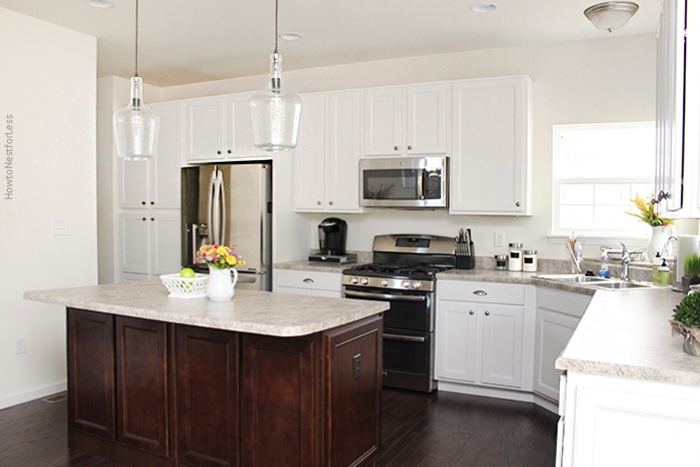 3. KITCHEN WINE CABINET
To say my family loves their wine is an understatement. I mean do you remember my parents' living room built-ins? While I'm not looking for anything even close to that size (or expense), I'd love to build a little "wine hutch" in our kitchen. We have a long blank wall in our kitchen/breakfast room area that would be perfect for this…
Nothing too fancy, just some additional cabinets, drawers, and a wine/beverage refrigerator. Since we don't have a large dining room or a formal china cabinet anywhere, this piece would also offer plenty of storage for those miscellaneous items.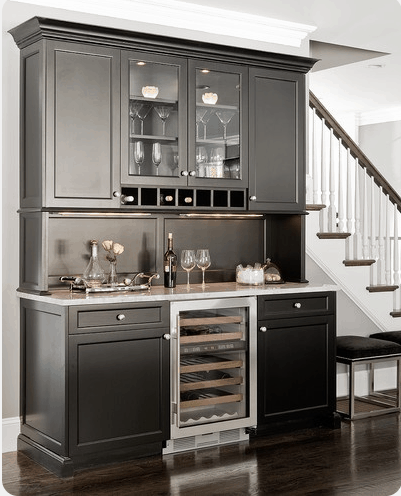 source
4. PAINT, MOLDINGS & CROWN THROUGHOUT
Yes, the finishing touches. I'm actually trying to pick out paint colors this week for our main floor. I'm looking for a warm color to make this home feel warm and cozy, not as bright as our last home. The problem is because we don't have a lot of wall breaks in our home, this color will have to cover our foyer, hallway, family room, breakfast room, kitchen, staircase and upstairs hallway. It needs to be neutral, not too light and not too dark. I'll show you guys some options next week to get your input!
Then once the house is painted I would love to add some moldings. The idea right now is picture frame moldings and chair rail throughout most of the main floor, crown molding in the dining room and bedrooms.
5. BACKYARD PATIO
This project is probably the farthest down on my list. We're more of front yard people than backyard people since Ellie loves to ride her bike and play in the cul-de-sac with her cousins, but we eventually would love to build a cool stamped concrete patio (like our old house) or even a nice covered deck (like my parents). We have a gorgeous view in the new home so why not take advantage and use that space more, right?
Shoot, I love fire pits so much maybe we should just do stairs out the back door that leads to something like this…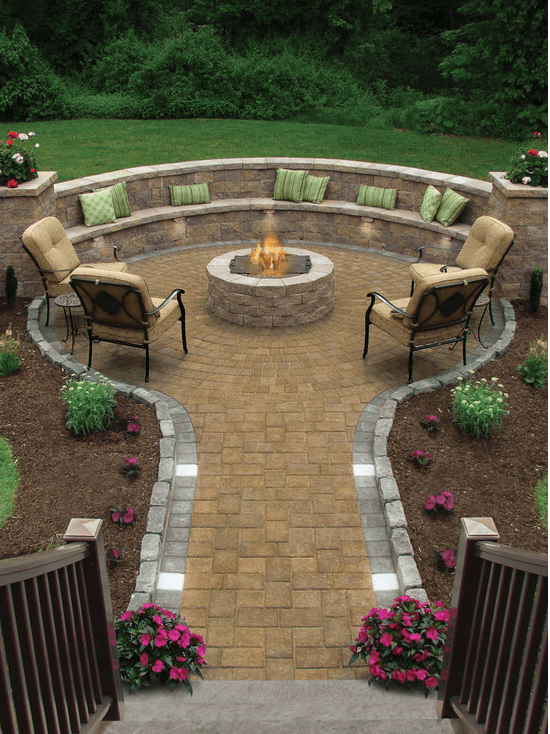 source
AND SO MUCH MORE…
I also have a bunch of little projects jumping around in my head, like a DIY platter rack in the kitchen, cubbies in the foyer, and even building a new workshop in the basement.
Now just to find the time (and money) to complete all of these ideas!