Hello everyone! You may have noticed that I didn't post anything last week. It got kind of crazy around here with extra hours at my day job, soccer practice/games for Ellie, and St. Patty's Day celebrations that I just decided to take a short break. I didn't have much going on for the house so why fill this place with fluff, right?
Well at least I got back on track over the weekend.
So when we got our family room built ins done a few months back I also had the contracting company add some chair rail and picture frame molding throughout the first floor. We did it ourselves in the last house, but this time around I just hired it out… no shame here.
Well we have one really long wall in the breakfast room/kitchen and the moldings just accentuated this large, blank space. I knew I wanted some storage along this wall. Our dining room is itty bitty and we can't fit a china cabinet or buffet in there but I still needed some place to store my dishes, servingware, etc. Ben and I talked about doing some built ins with cabinets and a wine fridge but that's just not in the budget for now. So instead I found a new buffet for about $340 from a local discount store (Weekends Only).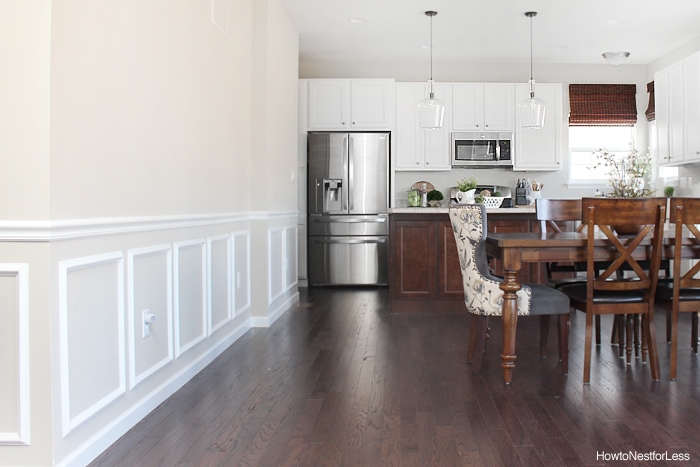 And it's amazing how perfectly it fills up the space.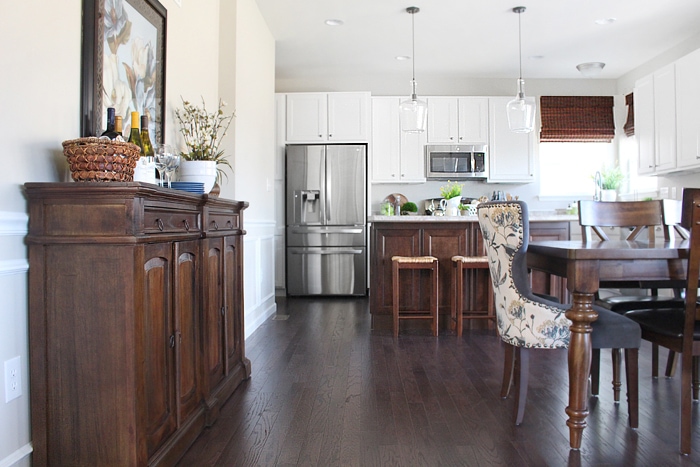 I love how this piece is slender so there's still a huge walkway between it and the breakfast room table, but there's still plenty of storage.
Above I hung a painting from our dining room in the old house. I would love to find a window pane mirror for above to reflect some light from our breakfast room sliding glass doors but for now this picture will do.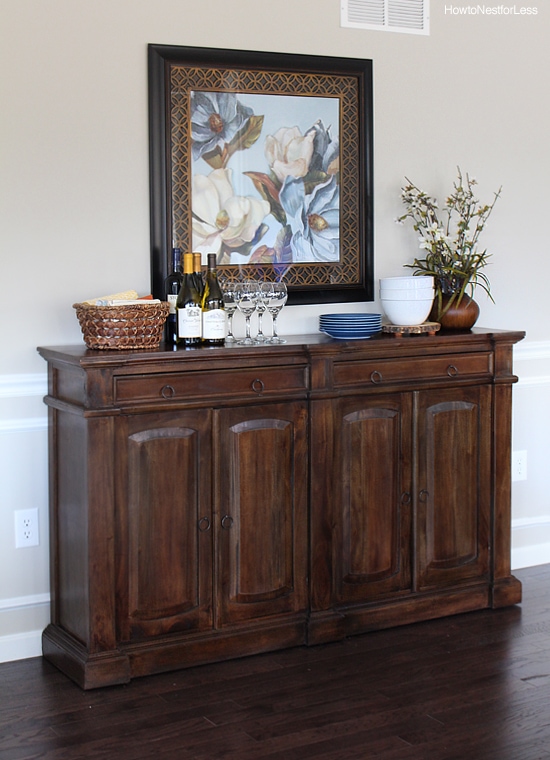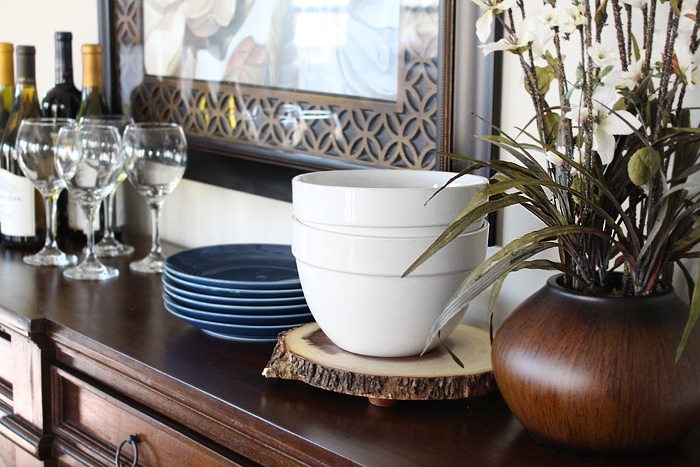 I keep some everyday dishes and vegetable bowls within reach for Ellie to set the table, and some placemats in a basket (yes, I know they don't match, but each have our favorites!).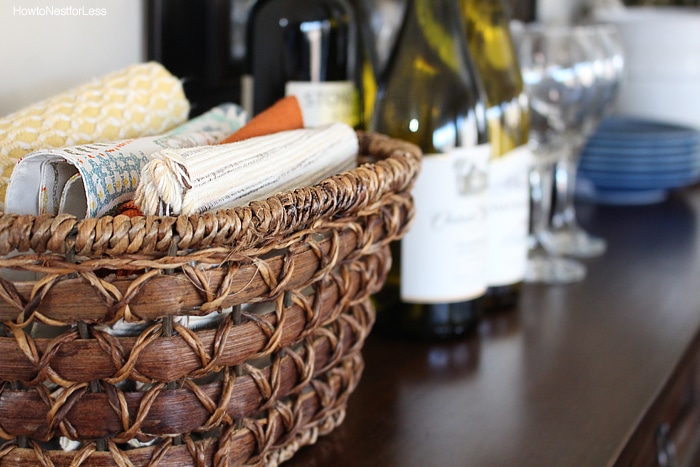 In the right buffet drawer I keep cloth napkins, etc.
In the left drawer is a hammer, staple gun, screwdriver… not even kidding.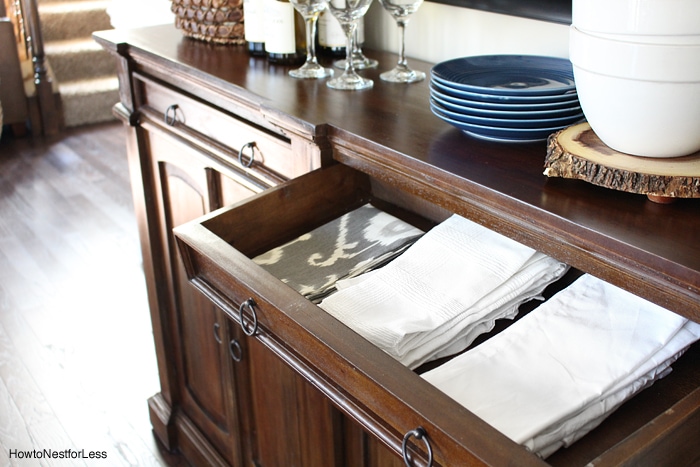 Down below are all of my extra dishes. Crazy to think I have about 3 full sets of dishes and about 5 other sets of appetizer plates. Yes, it's a healthy addiction… I think?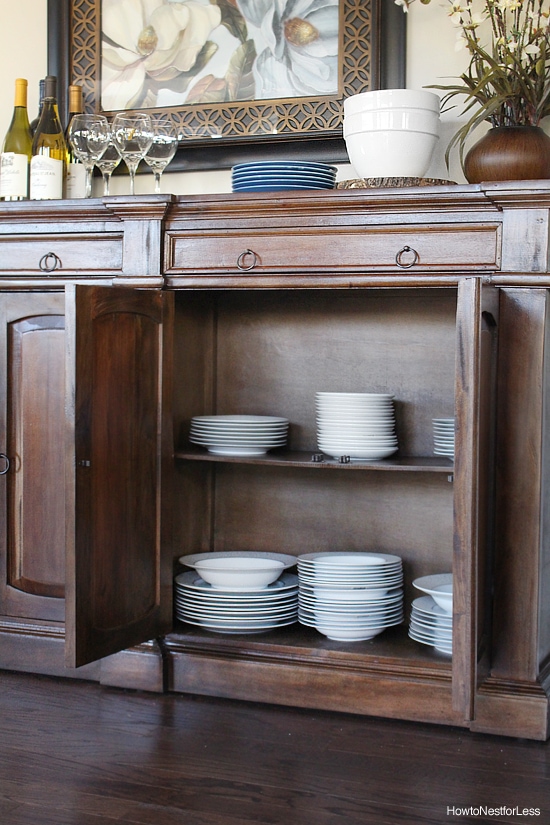 I still need to decide what to do in that blank space near the fridge. I was thinking about a platter rack or open shelving, but now I'm not quite sure. It's a heavy traffic area so I can't have anything too deep on the wall. And I don't want the kitchen to start to look cluttered either…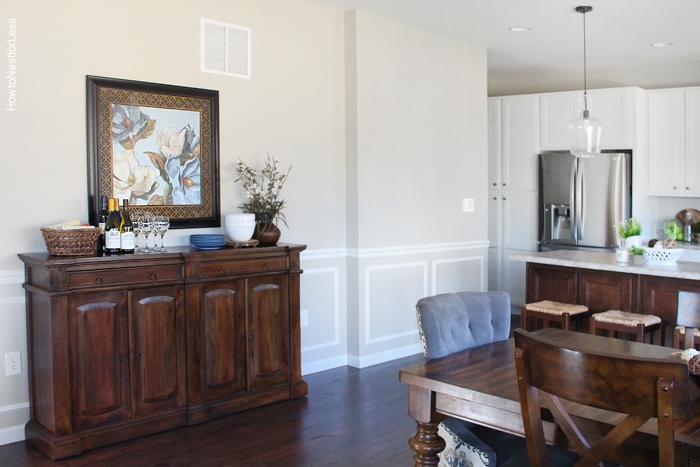 Oh well, at least for now I'm loving this view!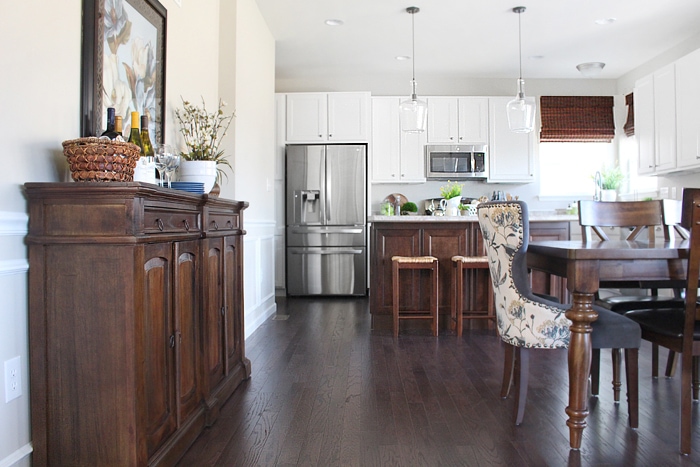 Oh, and did you notice new kitchen stools? Yeah, I'm not 100% happy with them (they are a little more yellow than pictured on Amazon) but at least I love that 3 fit easily at the island. And they were CHEAP, only $25 each.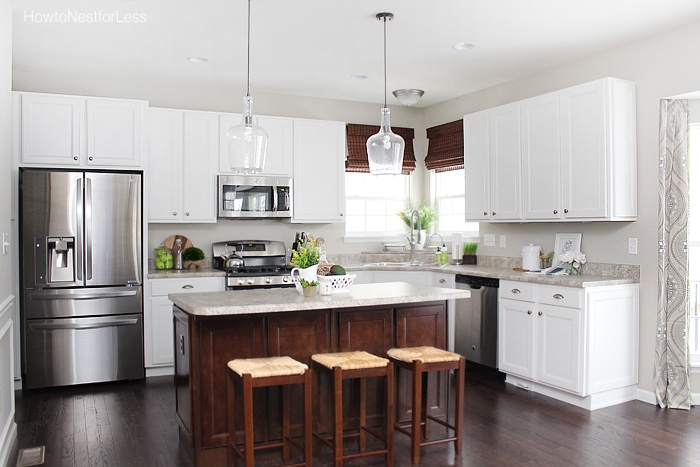 So this side of the house is filling up quickly and really feeling like home. Good thing too because you know the kitchen/breakfast room is always where people seem to gather, right? Now I need to turn my focus back to the family room to finish up that space. I've made a couple minor updates already and I'll fill you guys in soon!