This Budget Laundry Room Makeover has been a thorn in our sides for months and we're so happy to finally get this room crossed off our to do list. Let's just say the laundry room has come a long way, my friends. This is what it looked like before… cabinets and sink on the right, washer and dryer to the left.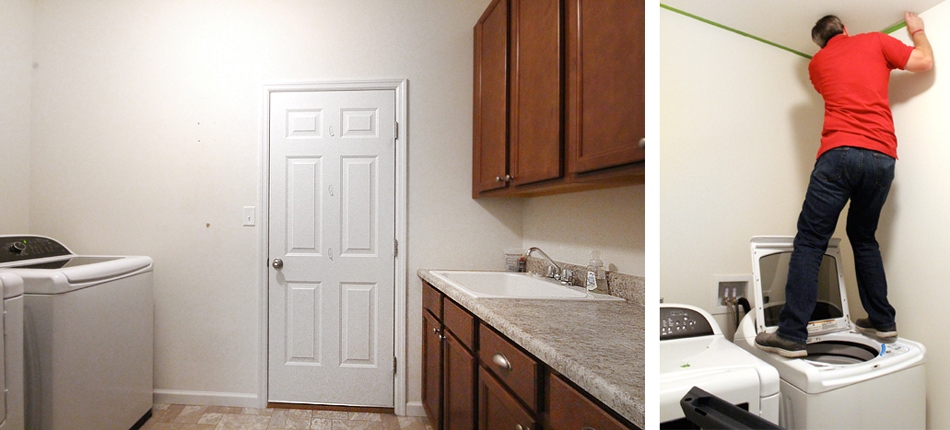 And here's what it looks like now…
Sorry, it's a small room. Hard to get a photo of everything at once 🙂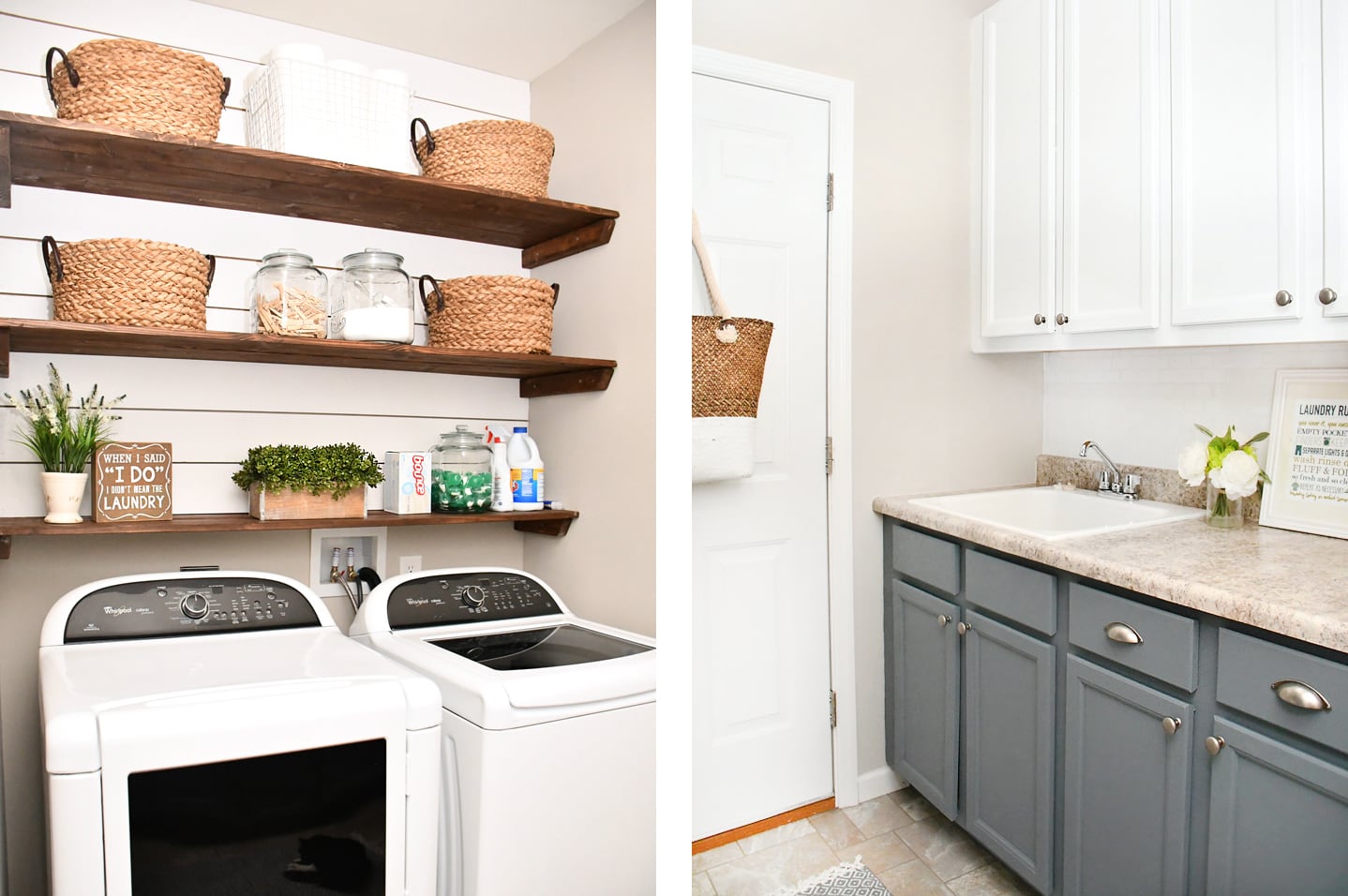 Now let us start off by saying that this was a total budget makeover for us. We spent less than $80 for all the wood for the shiplap and shelving, plus we already owned the paint for the cabinets and shiplap and the stain for the shelves. I'll break down the costs more as we go through the room…
For us the biggest change were the new DIY shelves and shiplap, all completely made from 1x4s and a couple 1x2s for support. The top two shelves are 3 planks deep and the bottom one is only 2 planks deep so we can easily open our top load washer.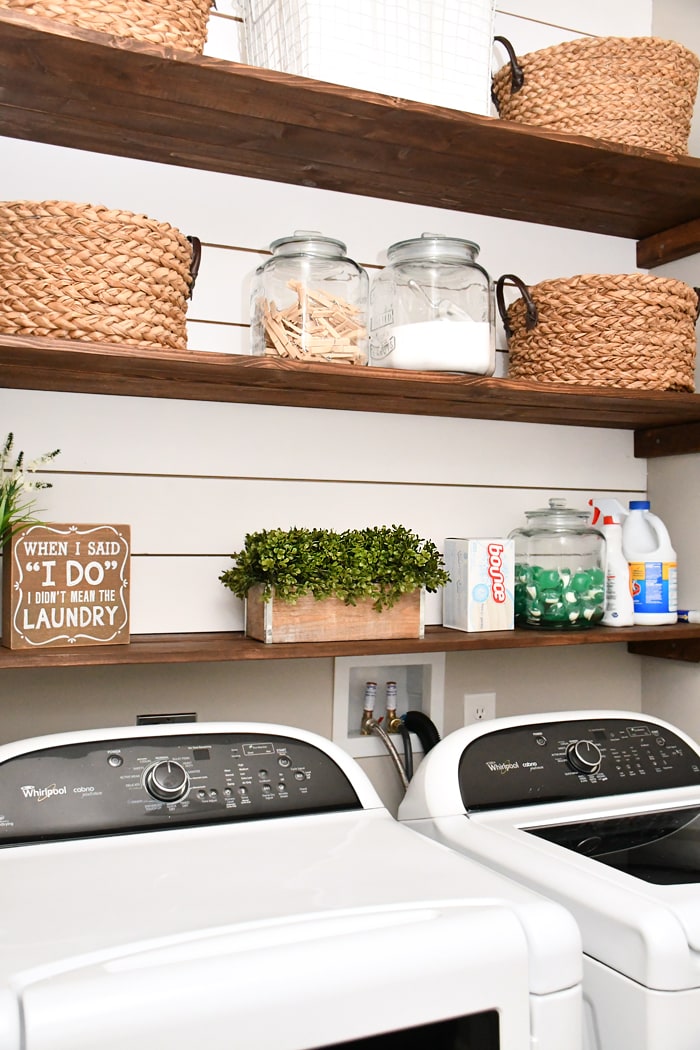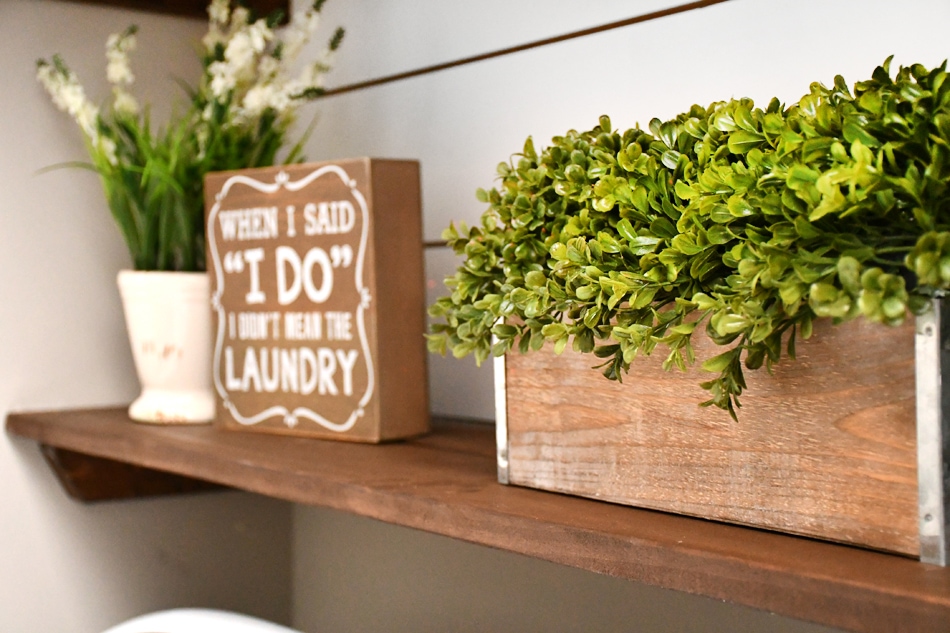 We filled the shelves with a lot of things we already had on hand, including greenery. We also snagged this adorable laundry room sign from Hobby Lobby.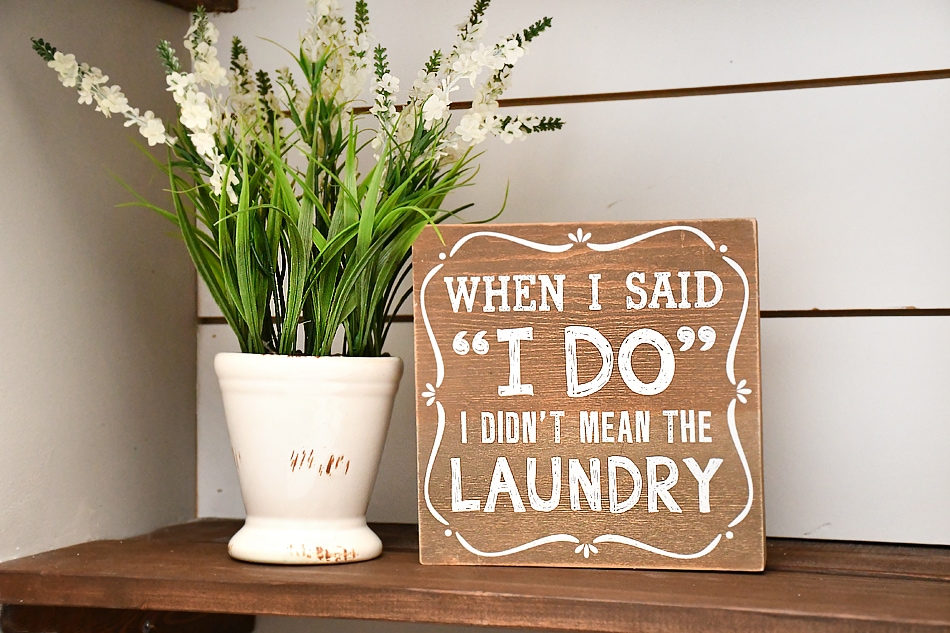 Right over the washer we have our laundry supplies, right within an arm's reach.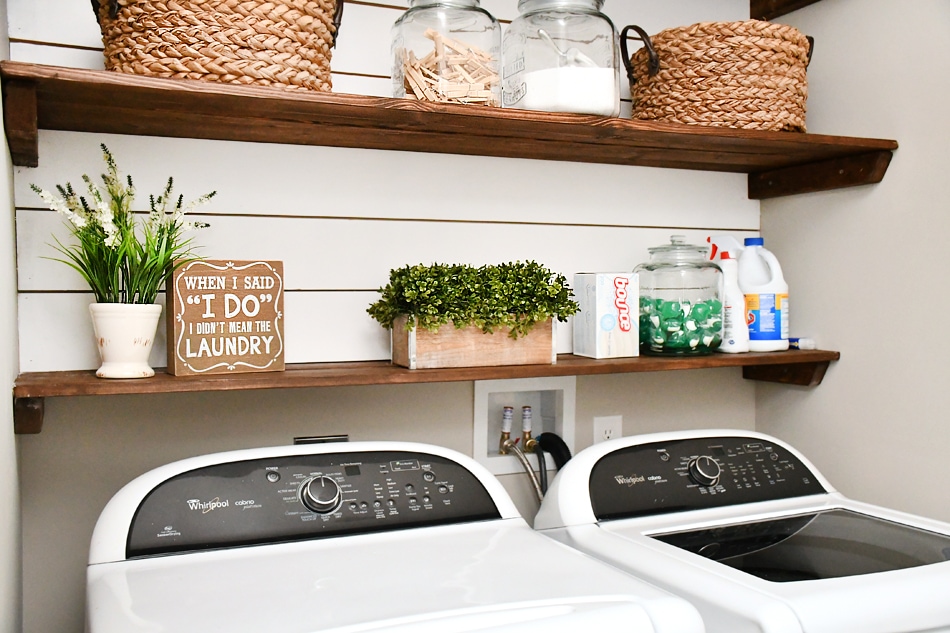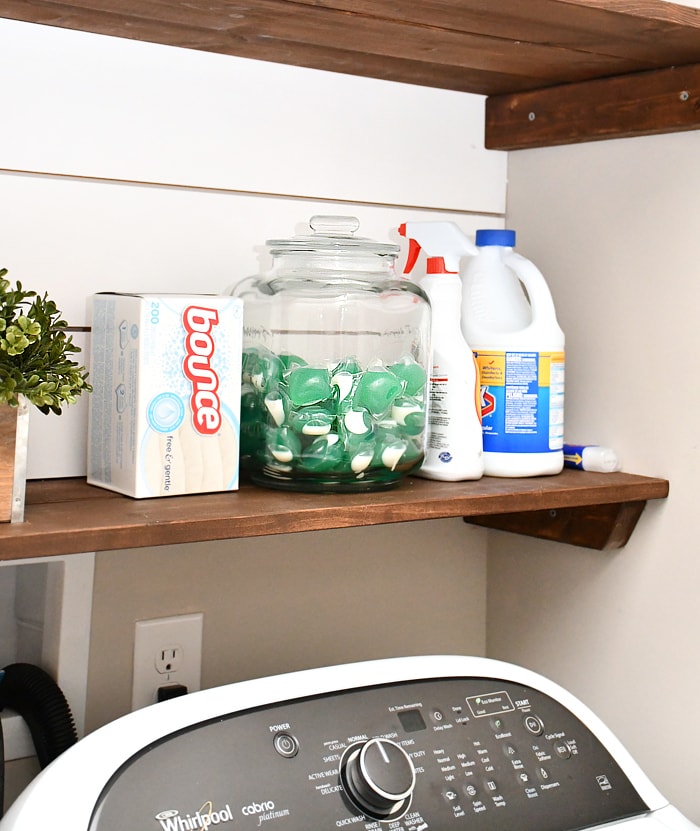 The glass jars we purchased from HomeGoods (large were $10 each, medium was $8). The 4 baskets that sit on the shelves we've had for a long time. If you look at the laundry room makeover from our very first house, they were sitting on the shelves back in 2012. They're good baskets so we might as well recycle them, right?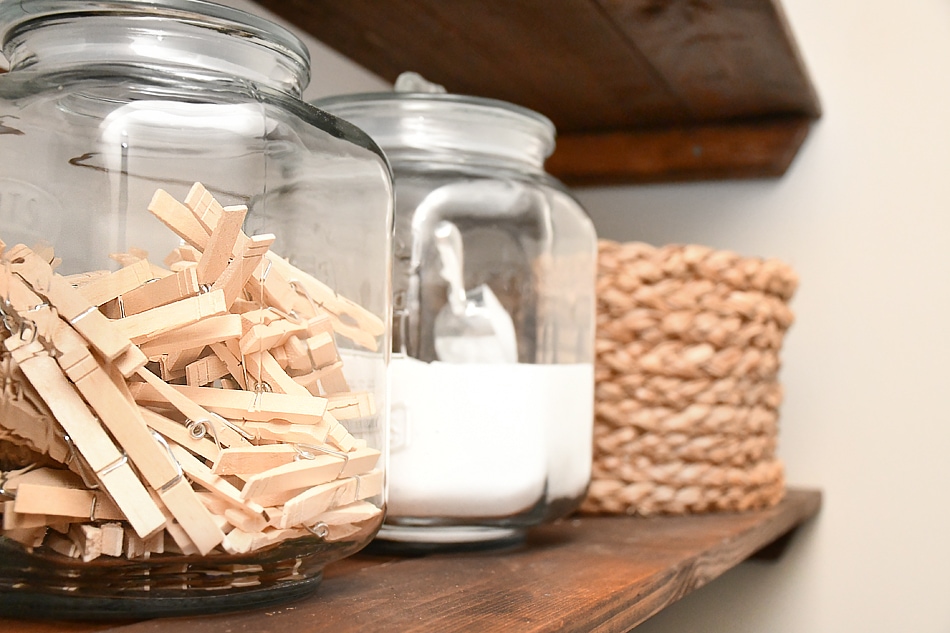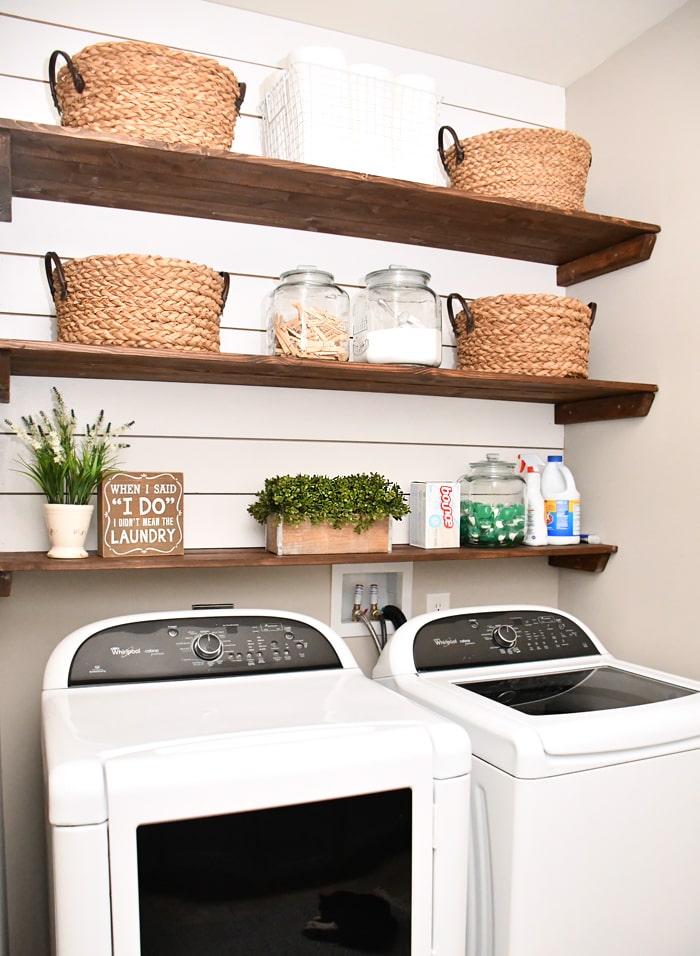 Swinging over to the right, we have the door to the garage. We put a hook on the door for our swim bag. Since we won't be needing that for much longer we'll probably add some additional hooks this winter for coats!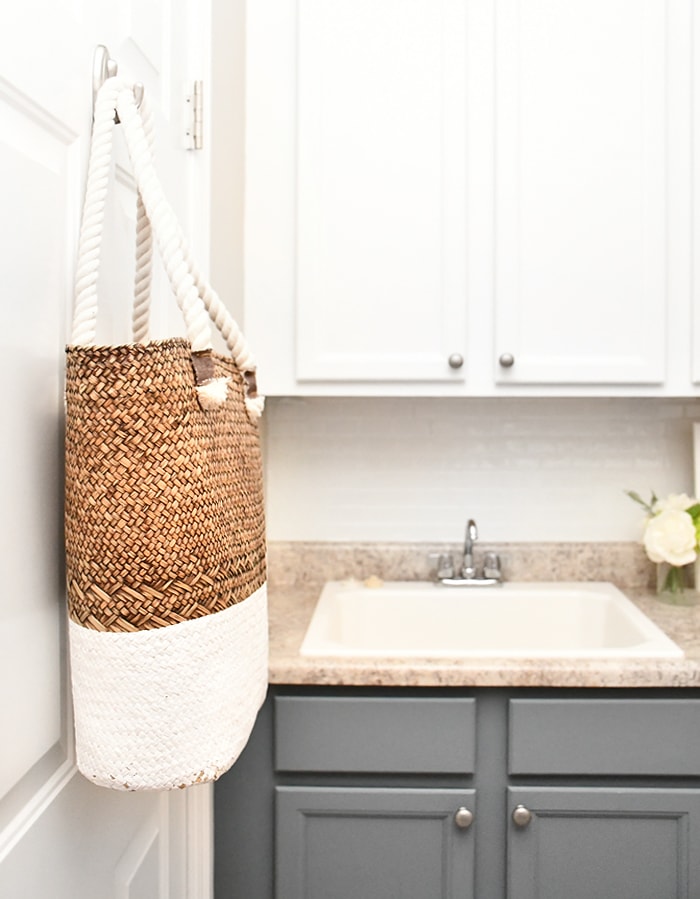 We love having a laundry room sink in our home. It's the first time we've ever had one and we use it all the time… mostly it's to clean out paint brushes and soccer cleats. The backsplash is actually leftover self-adhesive Smart Tiles from our kitchen. You can get them from Amazon here.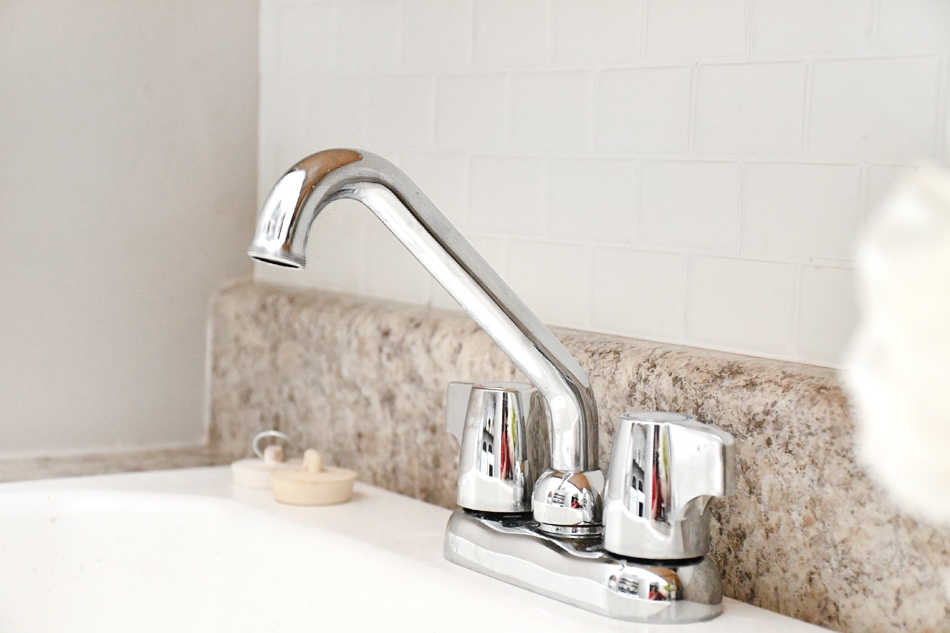 To the right of the sink we have the laundry room printable we created last fall, a little white jar, some greenery, and a key holder.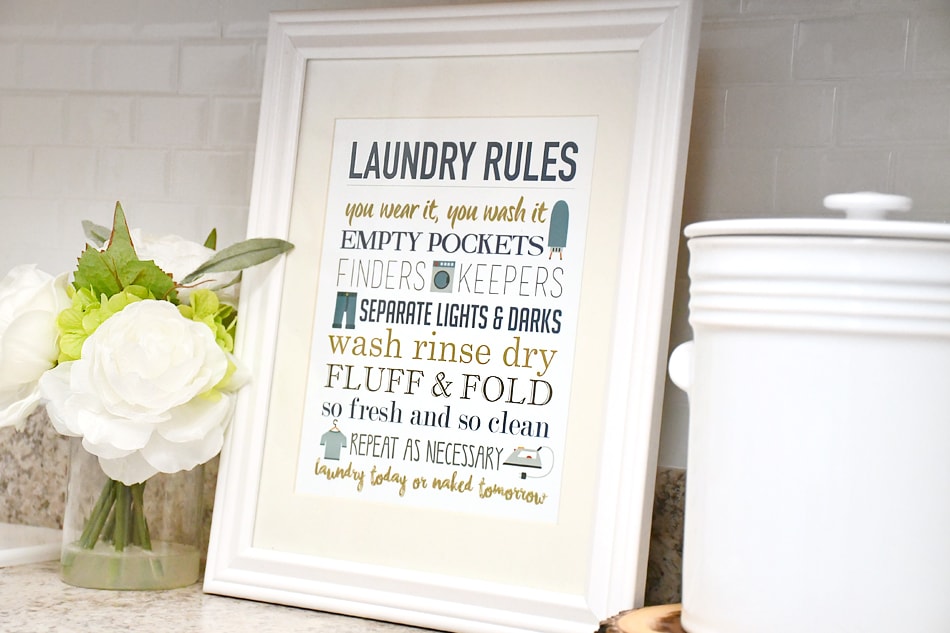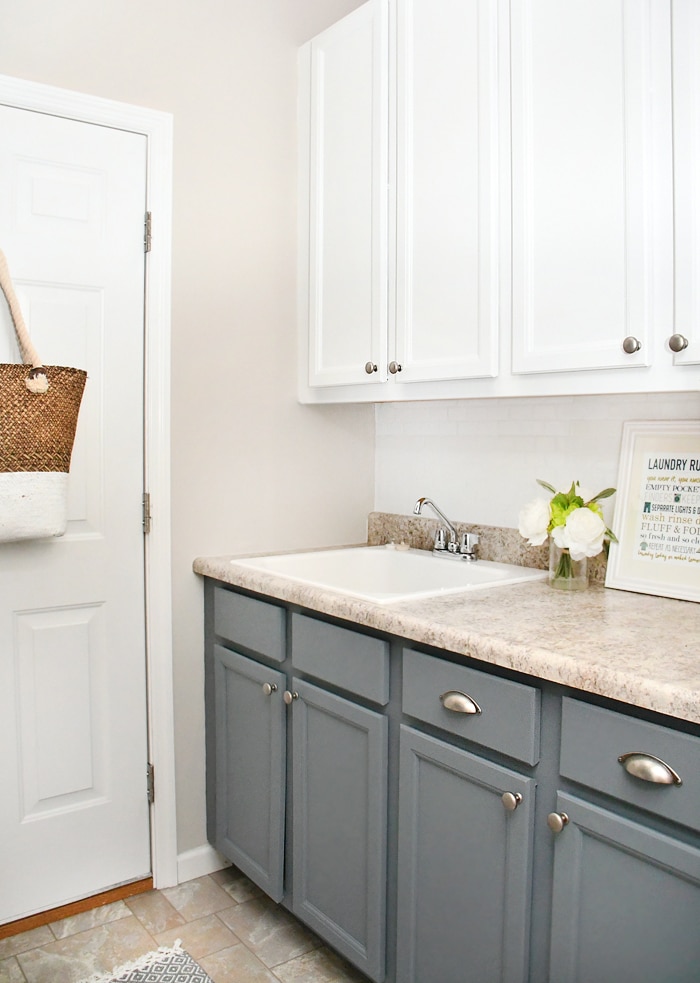 So you might remember that we painted the laundry room cabinets last Fall. Whelp, we changed our mind on the color and decided to carry the gray blue color from the rest of the house into the laundry room. The color is called Bottlenose Dolphin by Valspar. We've used it all over our home and we had some leftover paint so it was definitely a cheap makeover that made a big change in the room.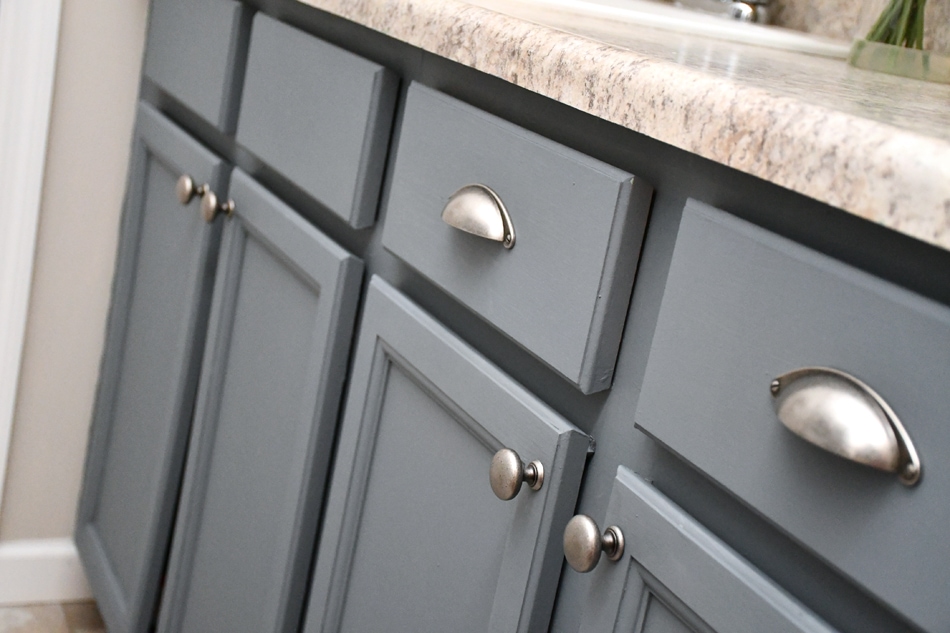 It also matches the new rug we snagged from Tuesday Morning for $25. Hint: we use Command Brand strips to keep it in place since this is a high traffic area. Also the basket next to the washing machine is our shoe bucket. We really have no other closet nearby for shoe storage and this seems to work great for our family.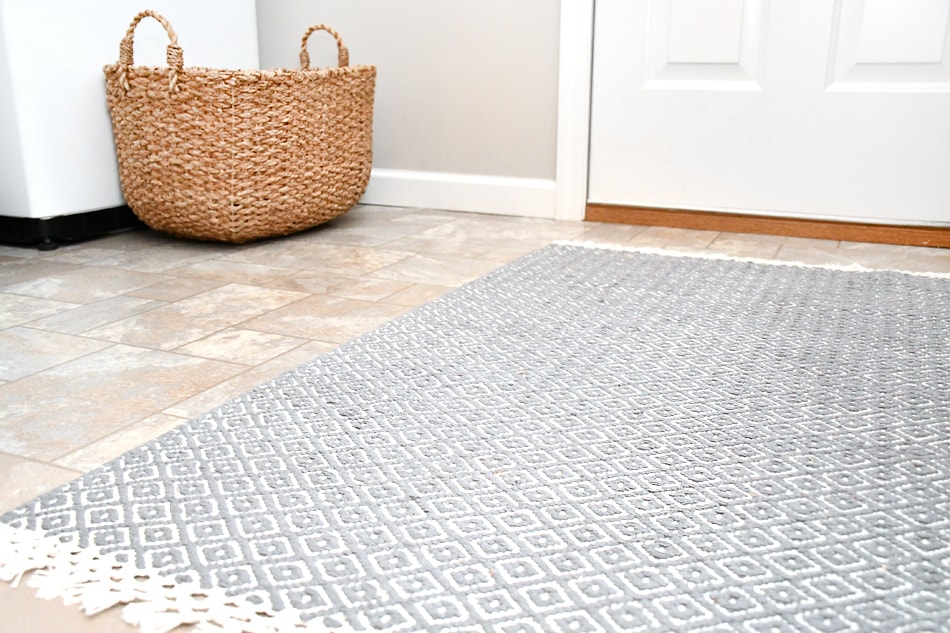 And finally if you look up in the Budget Laundry Room Makeover we have a new light fixture! This one is from Lowe's and it's $129. It has 3 bulbs and definitely provides a lot of light in this little space.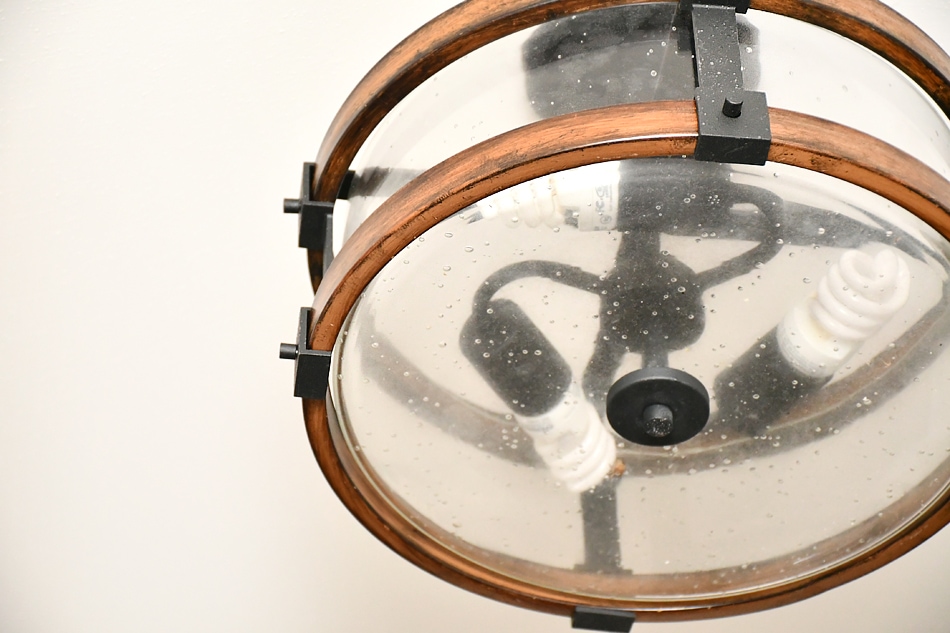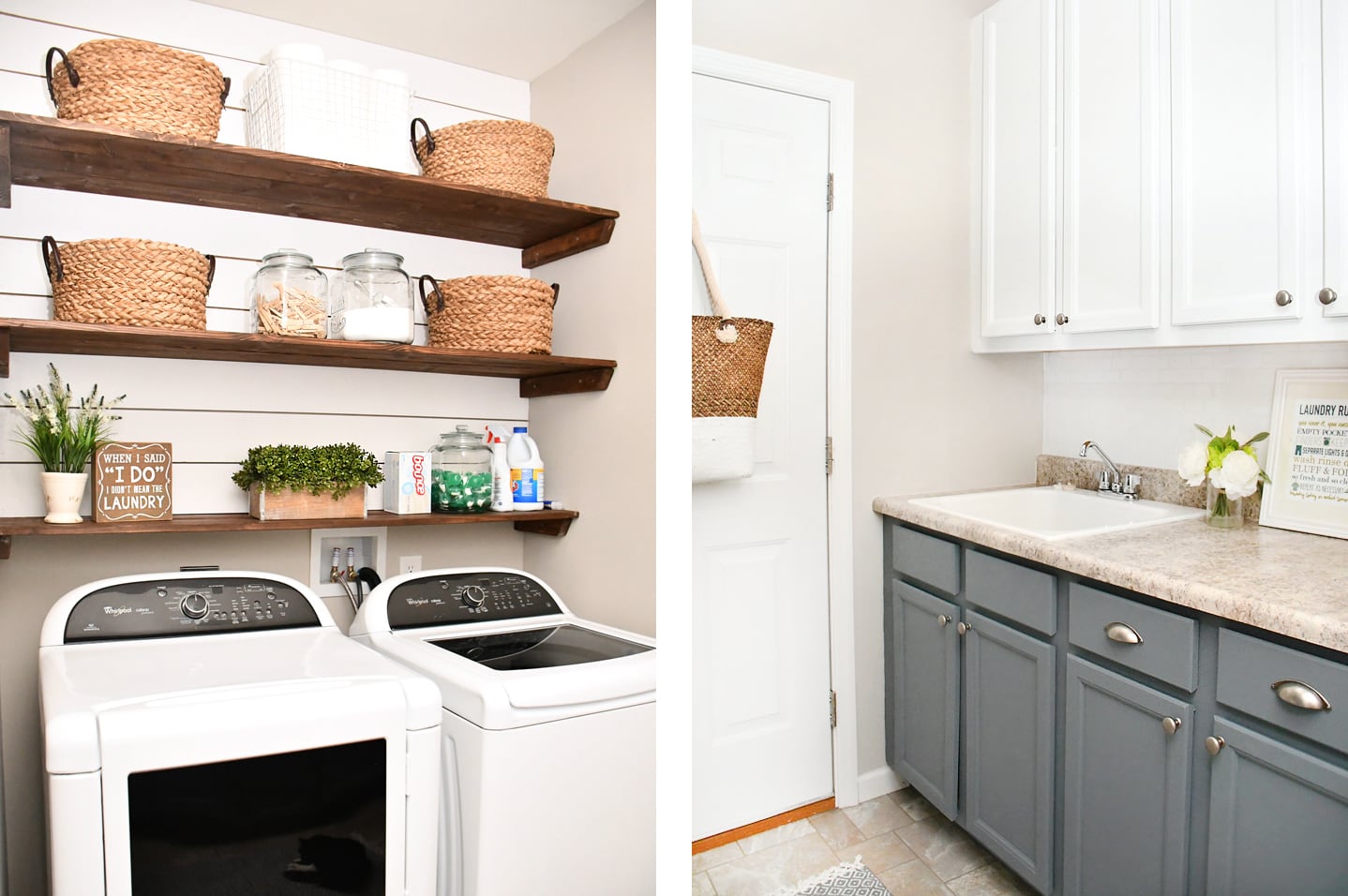 So that's it for the Budget Laundry Room Makeover!
Overall we spent under $300 for all of the new items including the wood for the shiplap & shelving.
Love recycling old stuff and using what we have on hand!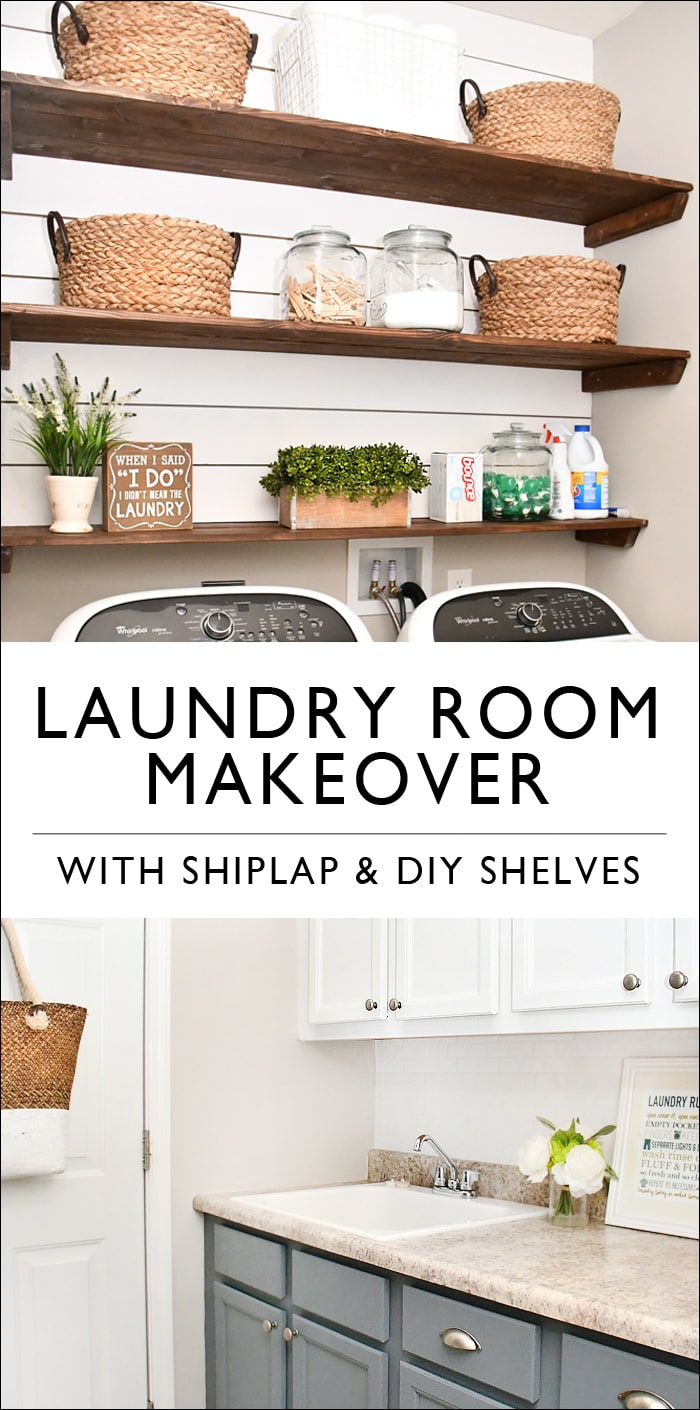 For more room makeovers, click HERE.