So a couple weeks ago I showed you our newly stamped concrete patios and DIY firepit. Well, now it's time to furnish the space except everything is so darn expensive. So when Ace Hardware challenged me to a $90 project in celebration of their 90th Anniversary, I knew exactly what I wanted to build…
A Patio Dining Table.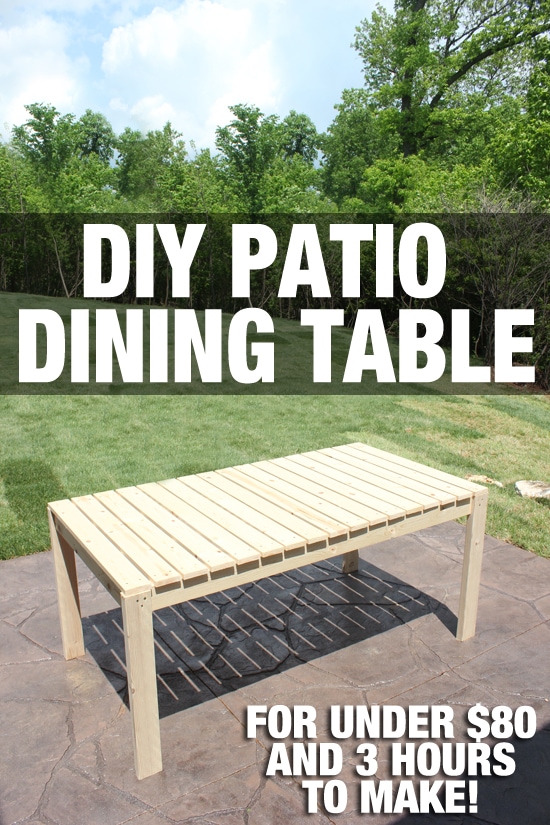 And guess what? It didn't even cost me $90. More like $80 and that included all of the screws and wood glue. I found the plans that I wanted to use on Ana White's website, including the entire cut list for the wood.
MATERIALS AND TOOLS
Shopping List:
5 – 12′ – 1×4 Boards (Cut Tabletop Boards from these)
5 – 8′ – 1×4 (Supports and Aprons)
1 – 12′ 2×4
1 1/4″ Screws
2″ Screws
2 1/2″ Screws
Wood Glue
Wood Filler
Finishing Supplies
Tools:
measuring tape
square
pencil
drill
circular saw
sander
level
CUT LIST
Cut List:
2 – 1×4 @ 32 1/2″ (End Aprons)
4 – 1×4 @ 64 1/2″ (Supports)
2 – 1×4 @ 60 1/2″ (Side Aprons)
17 – 1×4 @ 35 1/2″ (Tabletop Boards)
4- 2×4 @ 29 1/4″ (Legs)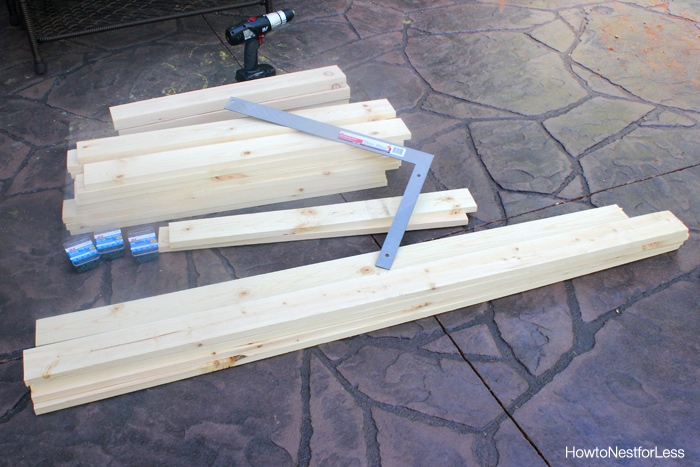 I actually ended up using (10) 6ft 1×4 boards instead of (5) 12ft boards. Easier to transport in my car and Ace Hardware had it in stock! To cut all of my wood I used my Craftsman circular saw. It's still somewhat of a new tool to me, but you might remember my table trough centerpieces or my basement workshop table.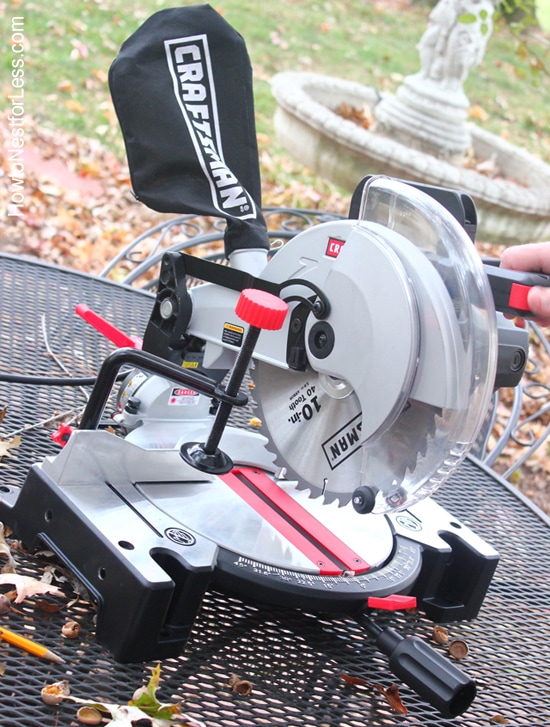 Then we just followed Ana's instructions perfectly, making sure we used our square to keep everything angled perfectly before glueing and screwing into place.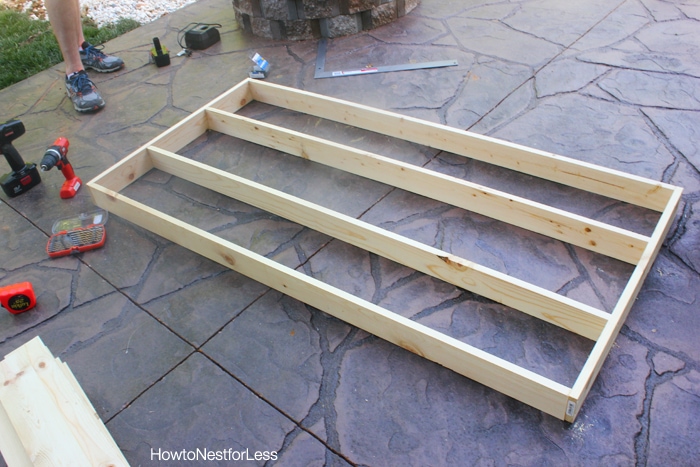 We started by building the table top form with supports down the middle. Then we glued and screwed the aprons onto the side.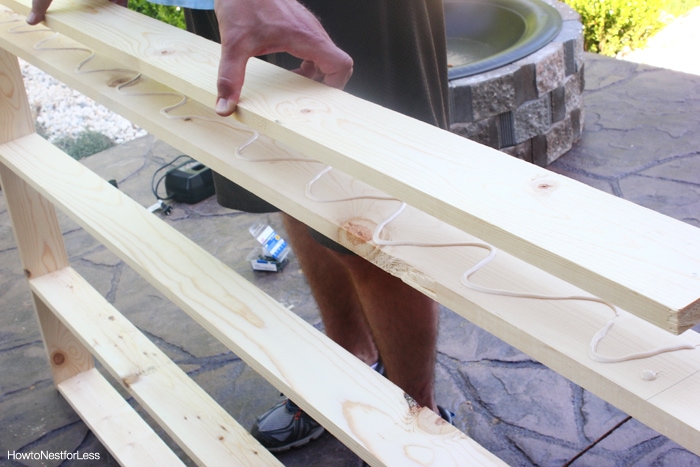 To add the tabletop boards we laid them in place on top of the supports first to evenly space them out, then screwed them into place. To make things go a little faster we had one drill designated for screwing, and one for pre-drilling holes.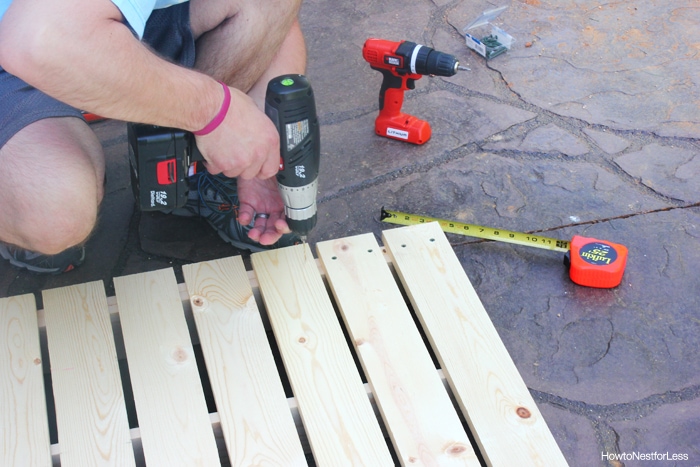 Once all of the tabletop boards were in place, it was time to add the legs.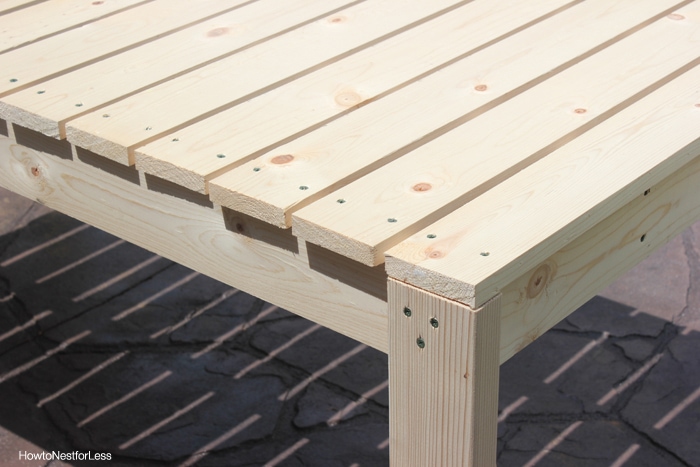 And three hours later we had ourselves a nice patio dining table.
For under $90 $80.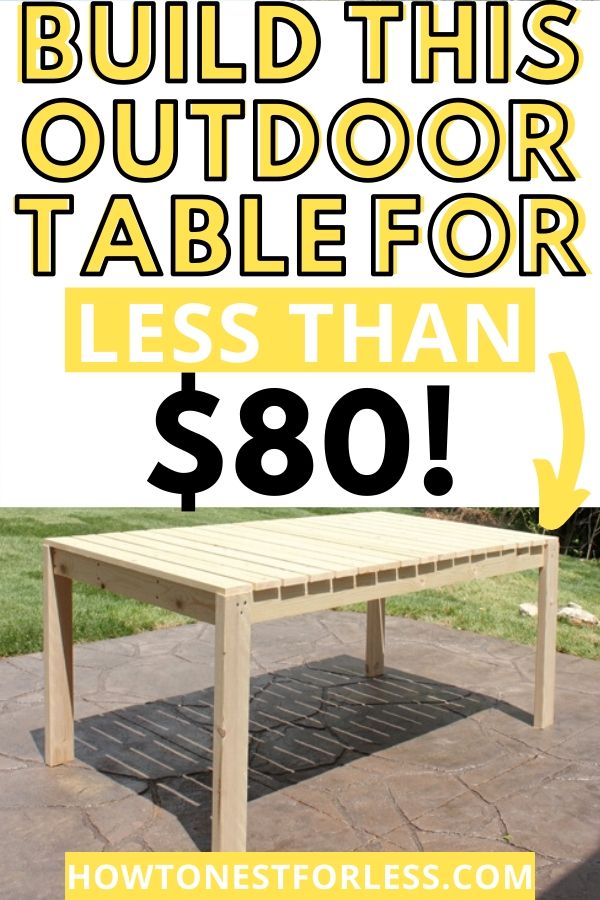 And here's the table with some temporary chairs…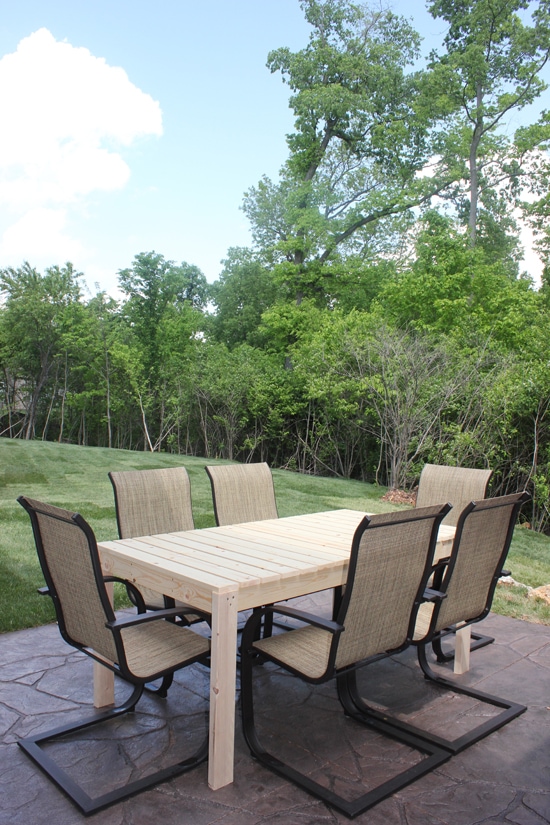 Now we aren't going to stain the table. I have cool plans for the rest of this table a different day. But if we were going to stain, I would suggest doing that before assembling. It would be kinda hard to get it perfect between those slats!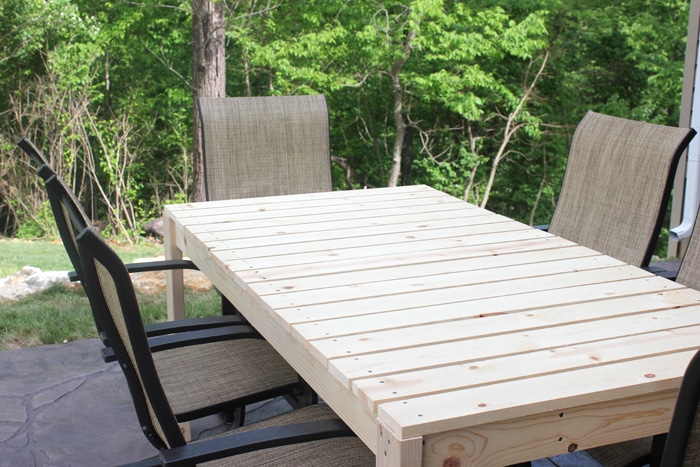 And I could have used a Kreg jig to make pocket holes and hide the screws, but hey… I'm just happy we built a table from scratch!
AND it's one sturdy table!
Not too shabby for our very first furniture build.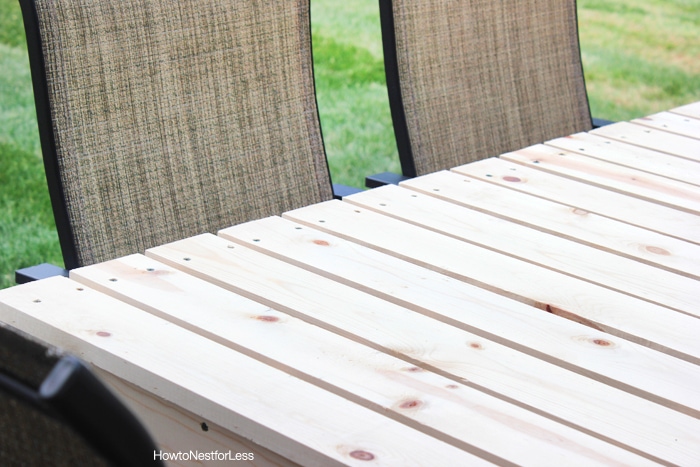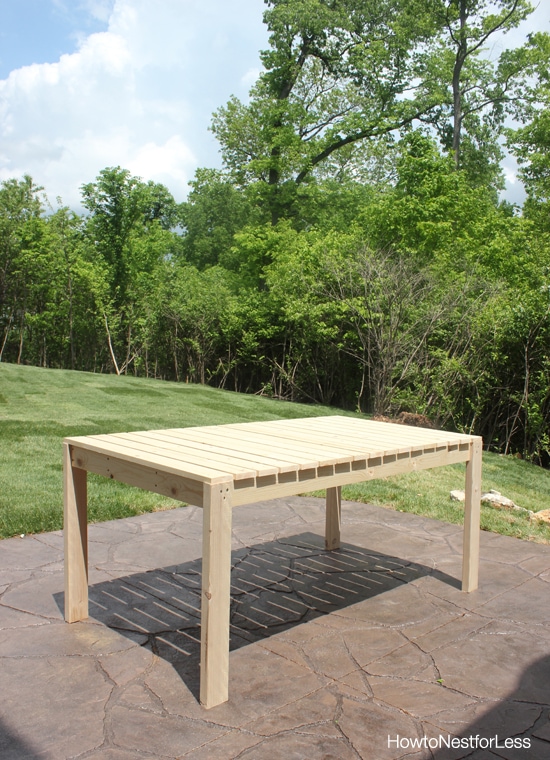 So… what could YOU do for $90?
Tomorrow I'll be giving away a $90 gift card to Ace Hardware,
so stay tuned!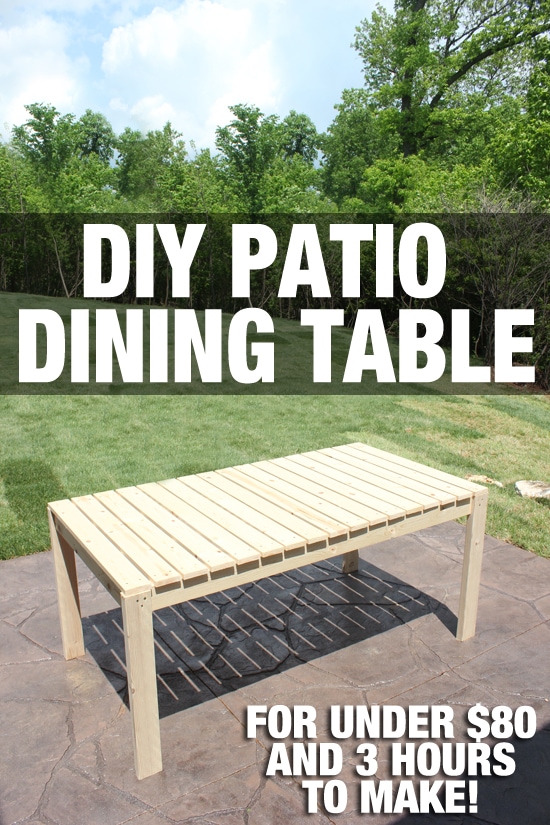 If you want to see more projects from the Ace Hardware team,
check them out HERE!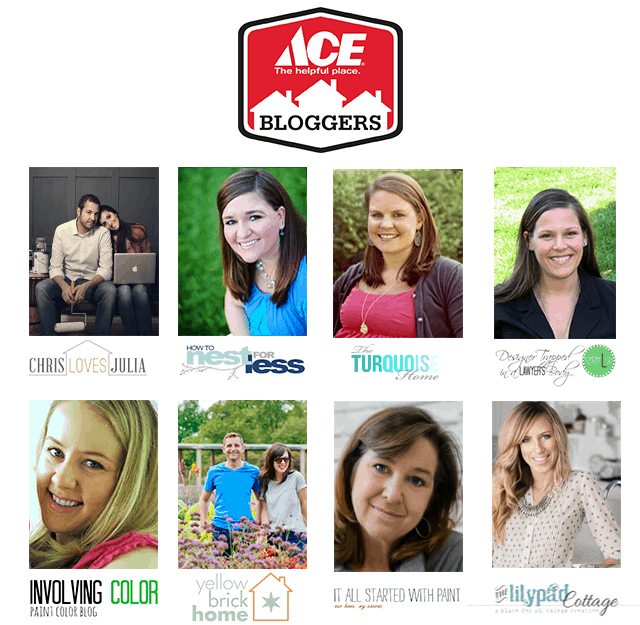 I am a member of the Ace Bloggers Panel and Ace Hardware has provided me with materials for this project. I was also compensated for my time and this blog post. All opinions are my own and do not necessarily reflect those of Ace Hardware.