Have you guys heard of clipix yet? LOVIN' this site so far. 
It's a free online organizational tool so you can "clip" what you find and save it into organized folders.
Check out this video to see all the perks of Clipix:

So how does Clipix work? You drag a bookmark called the "Clip" button to your bookmarks bar. You then click it whenever you see anything online that you want to come back to. Everything you clip will be stored in customized clipboards on clipix that you organize and control.
Let's say you're planning a jungle-themed birthday party for your 3 year old and searching non-stop online? Just go ahead and "clip" what you find for party hats, recipes, banners, and more and save them to a folder. BAM! Later you can easily find everything you liked for the birthday party, saved neatly with linked to the actual online source.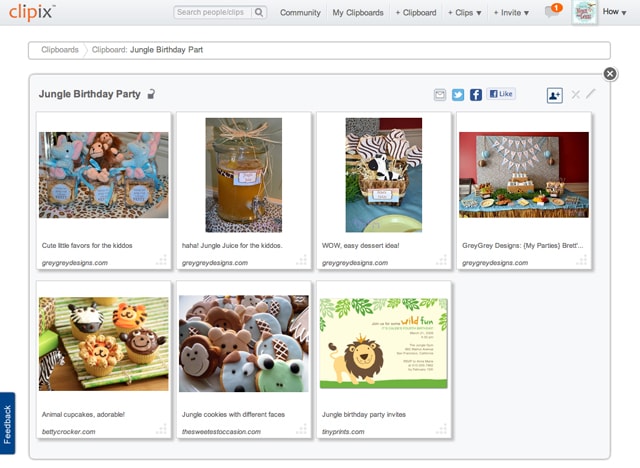 Another cool feature of Clipix: say you're planning a surprise party for your mom and you don't want her to see your Clipix board with all your party planning ideas. Clipix allows you to customize your settings so you can organize your "clips" and share only with people you want to see your clipboards. Keep private boards private! LOVE that.
And you can make clipboards for anything! Recipes, home décor ideas, gift ideas, prechool activities, books you want to read, must-have shoes, and SO MUCH MORE! Plus you can share directly to Facebook and Twitter.
I could go on and on but once you start using it you'll be addicted like me! OH, and there's even an iPhone App where you can take photos of something you see and add it to one of your folders. Yeah, trust me… addicting!
So, what would you use Clipix for?
Promoted Post