I've been stagings a lot of vignettes and tablescapes recently and thought it might be a good time to share some of my favorite tips and tricks when decorating your home. Hope you enjoy!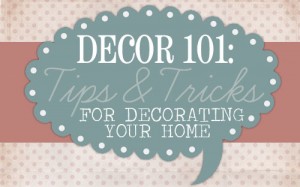 You have many different blank canvases when designing a room: your four walls, the floor and even your ceiling. Have fun and play around with wall treatments, area rugs, window coverings and textiles, as these are all great places to add patterns and interest.
For my daughter's bedroom I used lots of different patterns including a shiny silver damask wall stencil, an argyle rug, and various accent pillows. Don't be afraid to mix and match patterns if they're in the same color family or color scheme. They can actually tie a room together if used properly.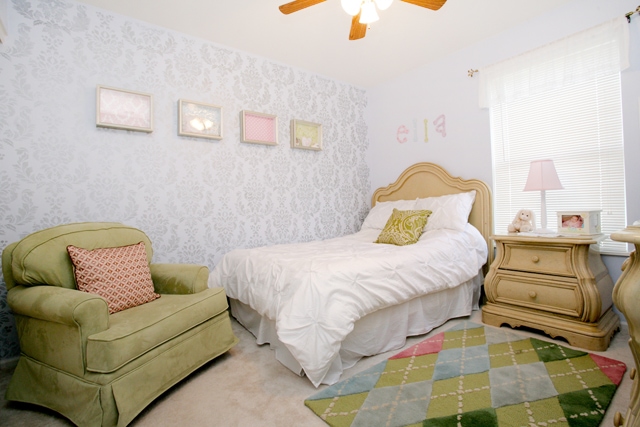 Keep in mind that you don't want to overwhelm the room and make it too busy. If you're going to use a large pattern (like my Craft Room floors), keep the walls simple.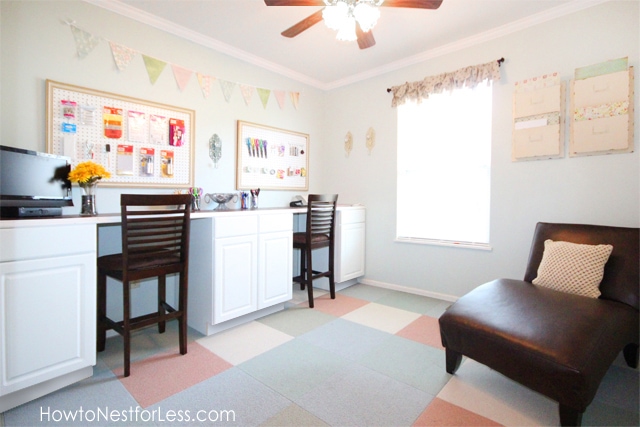 It's definitely on trend these days to mix textures. Burlap, jute, metals, ruffles… It can all work together. One great place to mix your textures is in your fabrics (as seen in the accent pillows below from my master bedroom).
Another great idea for blending textures is to use one color throughout your design. Mix and match different textures from the same color palette to produce one fantastic final look (maybe a display of various white textured ceramics, swoon!).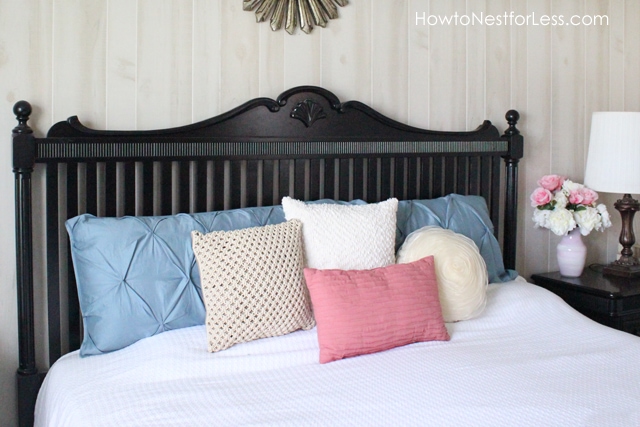 Yep, even my home is decorated with things from the Dollar Tree and Goodwill. I often just find things I like in stores or magazines and try to create them for less. These glass flower centerpieces I featured on my site yesterday and were created using items from the dollar store.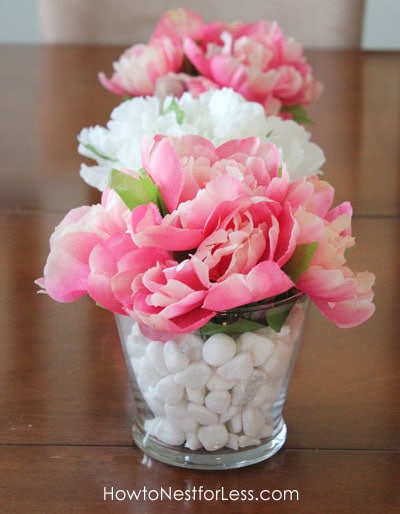 The drapes in my Craft Room? Leftover fabric scraps simply tied onto a curtain rod. Texture and pattern in one cheap décor element!
And for the record, some of my favorite home décor stores include HomeGoods, TJMaxx, Kirklands, and Hobby Lobby. I'm sorry, but even Target can be too expensive for me! We are on a strict budget and I'm just trying to "nest for less".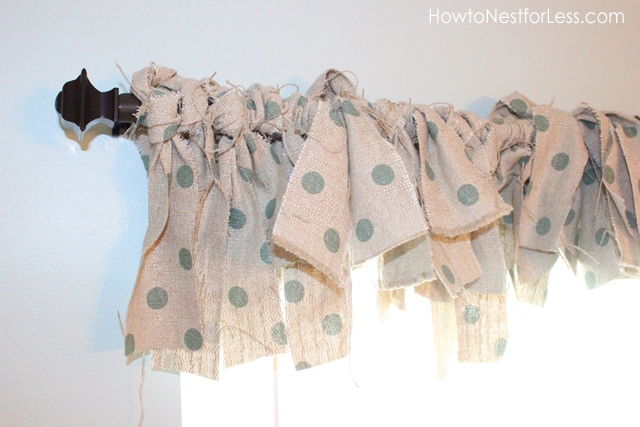 Sometimes it's an unexpected element of surprise that can make a room. Don't be afraid to add a small pop of color to bring a focus to a space. In the master bedroom below, it was a yellow mirror that really set the room off.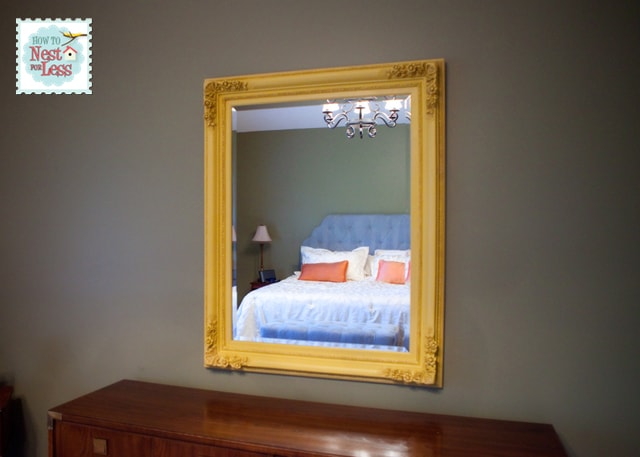 Photo by J'Lynn Photography

Like the books on my mantel? They're hardcovers from Goodwill that I purchased for 25¢ each and covered with scrapbook paper. Yep, a simple project that breathes new life into an old object. Don't be afraid to explore your creative side and try something new!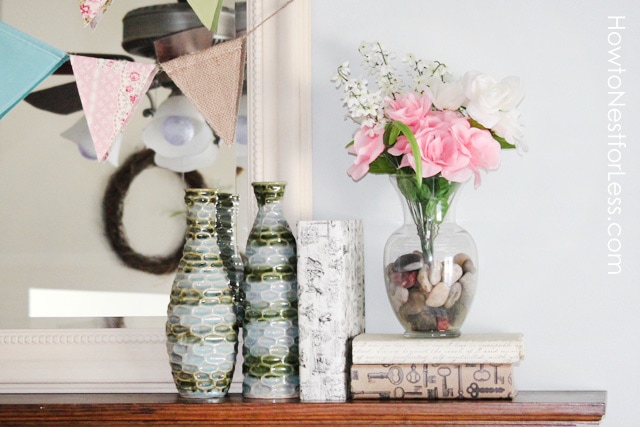 I've been trying to get better at staging my accessories to make eye-catching vignettes (or groupings of objects). A couple of quick tips:
USE COLOR TO COORDINATE.
Carry a few colors throughout the theme to get an eye-catching vignette (see photo below).
PINK: flowers on the top and bottom shelf.
BROWN: large picture frame, small picture frame, small box on bottom.
WHITE: large frame matting, flower vase, two ceramic birds.
TAN: color of table, clock, knobs for table
SEAFOAM GREEN: table drawers, dress in photo.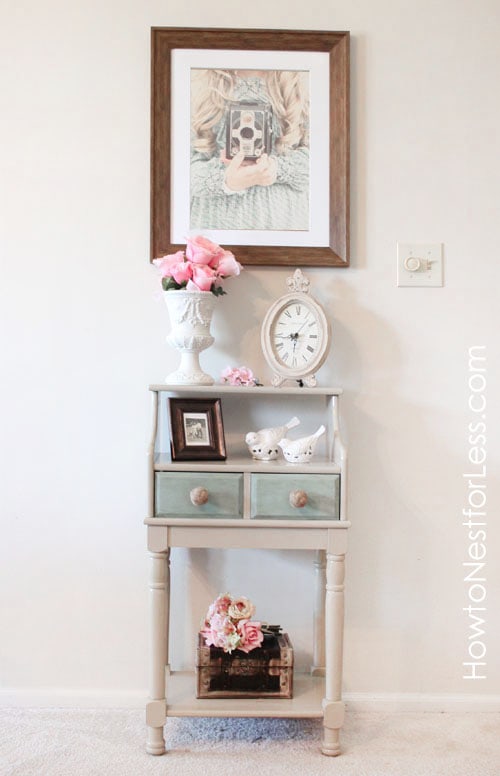 FIND AN ANCHOR OBJECT.
Find something large that can be the main focus of your vignette. Maybe a mirror or painting? Use this object to help build your space with the rest of your accessories.
USE SIMPLE OBJECTS.
Some of the best finds for your vignettes are items you already own. Flowers, vases, candles, trays, clocks, picture frames, mirrors, books.  Use a variety of shapes and textures as well.
And don't be afraid to move items around your house. Instead of trashing it, recycle or upcycle it.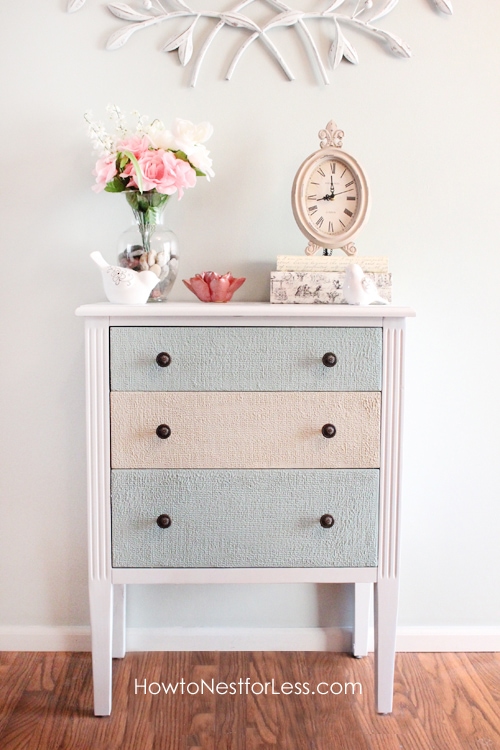 GROUP YOUR ACCESSORIES.
For some reason, items just seem to look best in vignettes when paired in odd numbers. Keep in mind the power of 3 and 5 when decorating and placing your objects.
GIVE ME AN A. GIVE ME A V.
One thing you do not want in your vignette is for every object to be the same height. To break this habit, try to form an A or a V with your objects.
An "A" vignette will have the tallest piece towards the middle with smaller objects falling to its side. A "V" vignette will have two taller objects on either side of a small centered accessory.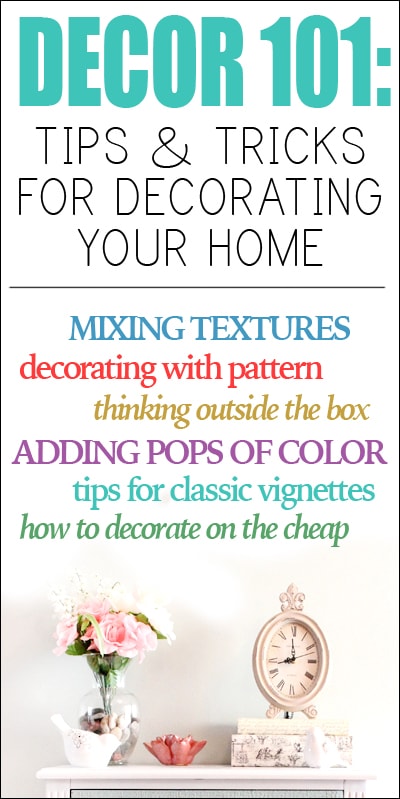 Well, that's it for today. I hope this all made some sense and was a little helpful!
So, what are some of your favorite Décor 101 tips and tricks?
PLEASE SHARE!