It's kind of hard having a blog and having your design tastes evolve in front of a bunch of people. Sometimes you feel like you need to almost explain yourself.
Case in point, my design choices from our first home compared to our second home.
Our first house was a learning experience. We were 23 and 24 when we purchased the place and built it from scratch. We didn't have much money to splurge on the things we really wanted, like upgraded kitchen cabinets. But with time and hard work, we made things work.
We painted those ugly builder grade oak cabinets a bright white and it really transformed the kitchen. In fact, painting those cabinets made me realize that I really do love a bright and clean kitchen which is why we opted for white cabinets in the new home.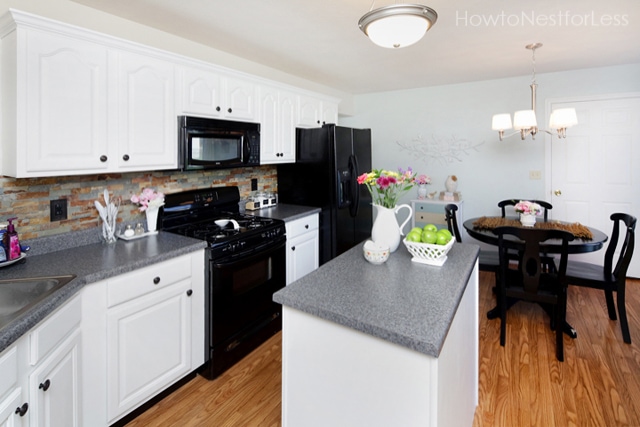 where the kitchen still has a loooong way to go…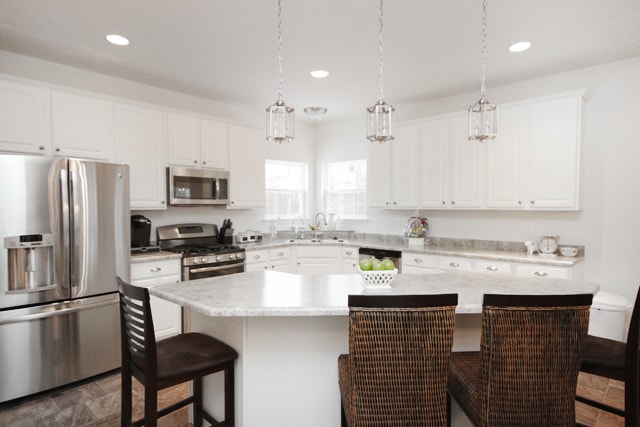 But some of my other interior design tastes really evolved. In the last home we loved brighter pastel colors in the rooms. The main color throughout the place was a light greenish blue color, Sea Salt by Sherwin Williams.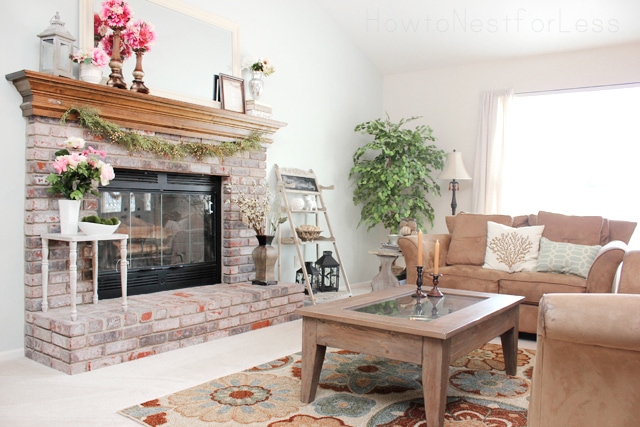 Now our rooms seems to have more of a polished taste (and I use that term lightly). Goodbye to the beachy shabby chic colors and furnishings and hello "grown up" style… umm, I don't know if that's the right term but it feels that way to me!
Our family room and sun room both have more of a darker, richer feel. Something completely out of my old comfort zone. But this is what I'm drawn towards these days. Charcoal gray, mixing metals (lots of satin nickel and gold tones), and darker wood tones throughout.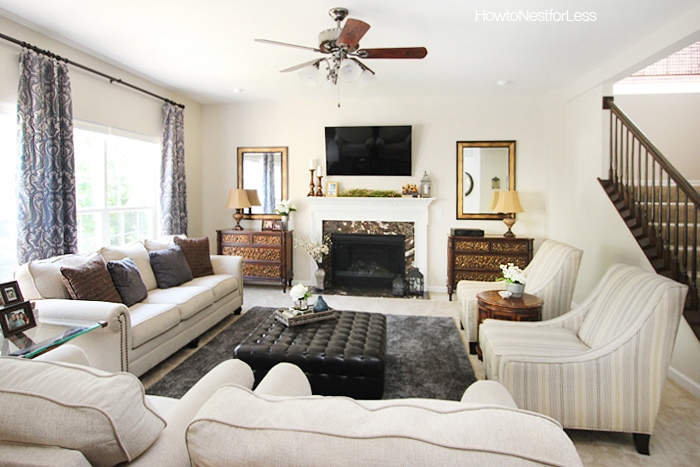 But I'm still doing everything on a budget. Lots of local discount furniture stores and thrift store shopping. I'm just taking a different approach; looking for key items and going into a store with an idea rather than trying to wing it on the spot.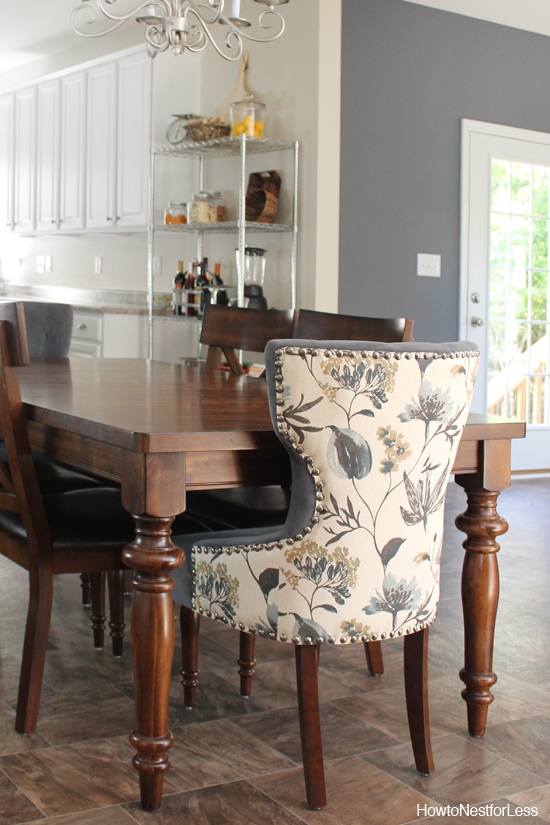 Of course I will still be painting furniture and whatever else I can get my hands on. I'm pretty excited actually to try a new color schemes in paint, moving away from Duck Egg Blue and Pure White and more towards rustic, earthy colors. But you'll see a lot more exposed, natural wood in our second home.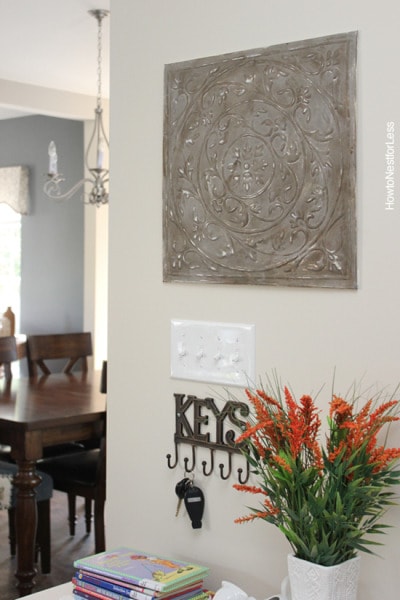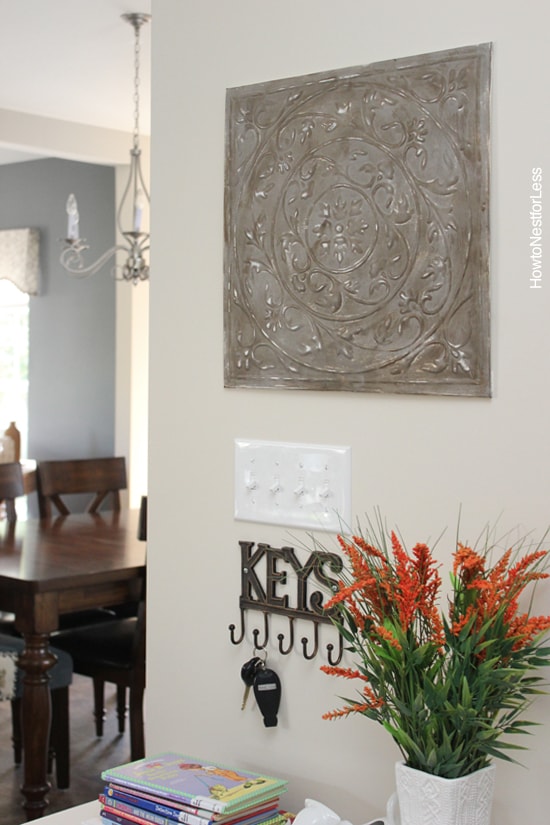 I still LOVE brighter, pastel colors I just need to figure out how to use them in the right places. My old craft room oozed shiny, flashy colors. And I promise my craft room in the new place will have the same. There's just something about creating in a fun-filled colorful, creative room.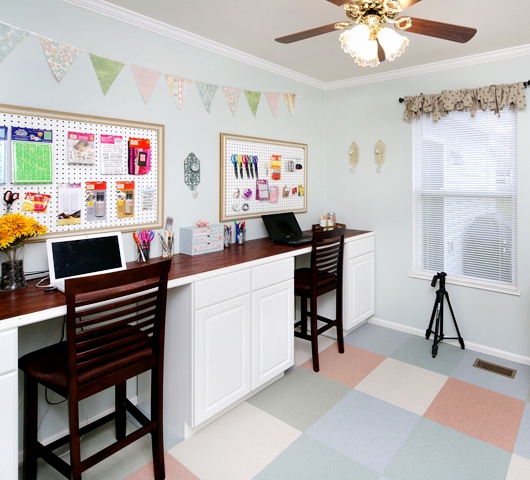 Last thing I want to quickly touch on… design fads. I honestly try to stay away from the big ones: pallet projects, chevron, white planked walls, chalkboard walls, industrial pipe shelving (if I see one more shelving project where they drill into beautiful hardwood floors I'm going to scream). Let me just say I really try to design with blinders on. It's not that I hate those fads, they're just not me. I'm just trying to march to the beat of my own drum at this point.
So yeah, sometimes it's hard to balance. I feel like I gained a lot of readership for my brighter color schemes, but I hope y'all understand that tastes evolve. Your style can change. You change. And I just hope you stick around to see where this goes.
---
I'm working on our loft over the weekend. BIG plans up there, even though it's a tiny space. Hopefully I'll have something to share by next week! OH, and I've been working on my friend's bathroom makeover. Reveal coming on next Thursday!