This is a lesson that you shouldn't drink and design.
Last Friday night my husband and I were sitting in front of the TV having a glass (or two) of wine when an idea hit me. We should sell our family room.
Wait… maybe I have to back up a bit.
Ben and I had always planned on getting bookshelves flanking the gas fireplace in the family room shortly after we closed on the new house. Well I'm happy to report that Christmas is coming early this year and we'll have them finished by mid-November.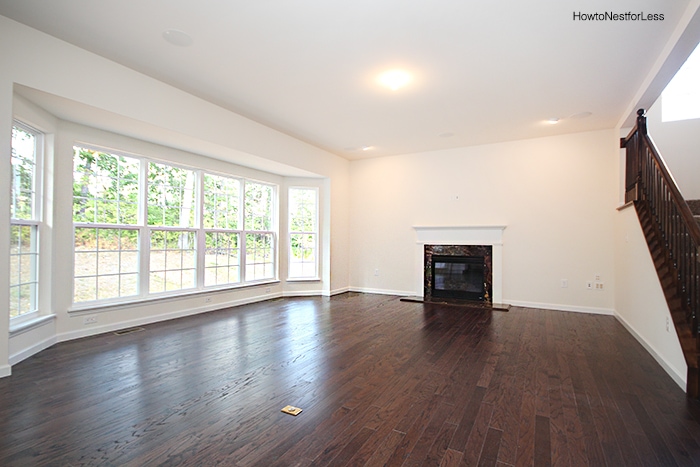 Since we're getting the built-ins I no longer need the consoles and mirrors on either side of the fireplace (see below from the old house). Plus I put aside money from our last garage sale to get new arm chairs for the family room.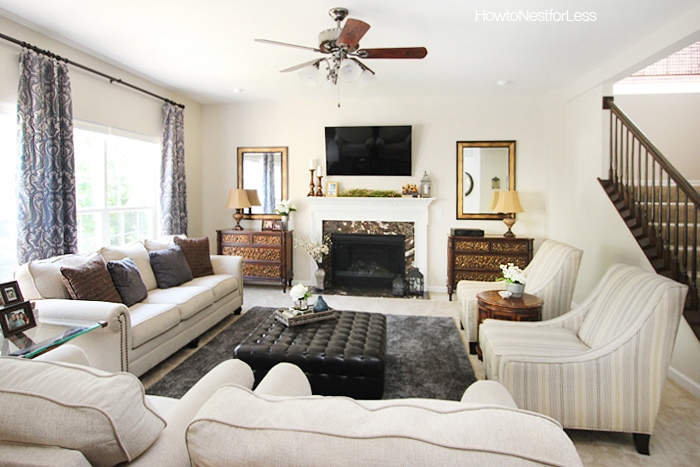 The new family room idea:
Less fancy. More inviting and comfortable.
I feel like people were always afraid to have their kids in my home. I would always tell my BFF that nothing in my home was too expensive. That anything could be easily replaced. But she would always say that my home looked like a display and I hated that. I want it to feel warm and inviting.
So back to the wine…
As I was sitting in the family room looking around, basically thinking that we're getting rid of half the furniture, I thought why not just get rid of it all and start from scratch. If I could get enough money selling the entire room as a package I could cover the costs of my new couches that weren't in my original budget.
What's really weird? Ben agreed. So late last Friday night I texted my brother and sister-in-law and asked if they wanted to "buy" my entire family room. Thought might as well start with family and friends before I moved onto Craigslist. Within no time my brother and sister-in-law said YES, we'll take it!
The next morning I woke up and started panicking. Wait… what did I just do? I LOVE that room! I love my comfy couches, my huge ottoman, my charcoal gray area rug… and I sold it ALL. And I only had a glass of wine, not even an entire bottle!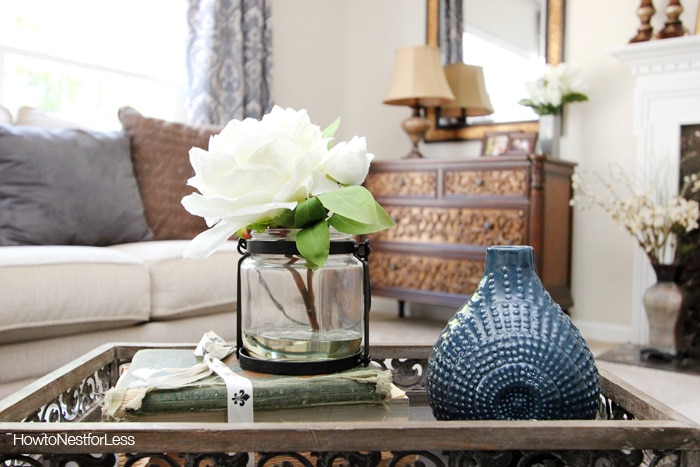 Before I could even change my mind my sister-in-law texted me and said they sold their own couches on Craigslist in record time that morning. They wanted to pick up our furniture the following Saturday, Halloween. Uh… we didn't even have new furniture picked out yet.
So after I was done texting with my sister-in-law we went on a search for new furniture. We decided we'd shop at local discount furniture stores and not spend a fortune on new stuff (mostly because I change my mind every couple of years).
I found NOTHING that first day. Panic set in.
Sunday Ben and I made the decision before we left the house that we had to find something, anything, no excuses. Just make it work, people (in my best Tim Gunn voice). And we did, thank goodness.
I ended up finding grayish-blue couches (I think I was inspired from my mom's family room). You guys know I love this color as it was throughout my last house (entry door, sun room, butler's pantry… the list goes on).
Ben jokingly told me to text a photo of the couches to my other sister. I said "oh, to see if she likes them?". He said "well yeah, because they'll probably end up in her family room in 2 years when you change your mind". Ah, Benny. You know me too well.
So we bought the sofa and love seat, plus a coffee table & end table that we liked.
My sister-in-law texted me Sunday night to make sure we found new couches. During our conversation she mentioned the gold accents on the consoles didn't really go with her house but she would try to work around them. Of course I opened my big mouth and offered to paint them for her. When will I learn?
And while it was really sad to paint these gorgeous pieces, I'm loving the update thus far. Plus I still need to add the waxes and Dust of Ages from the Amy Howard at Home chalk-based paint line. I'm obsessed with this stuff and can't wait to show you. Trust me, they will have a long way to go.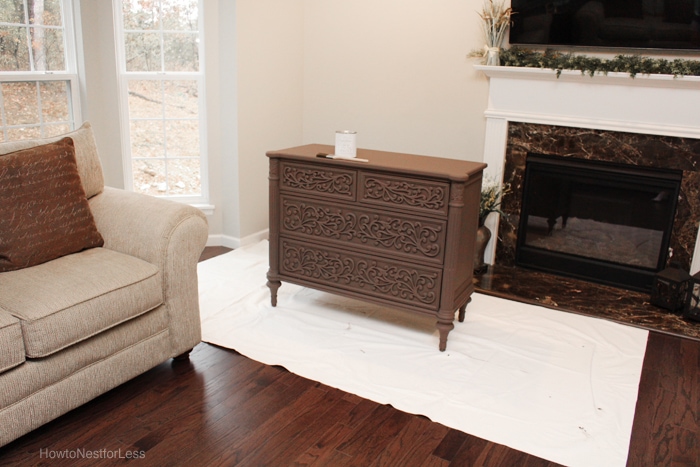 I've been painting the consoles in the middle of my family room the past 2 nights since the U-Haul is coming on Saturday morning. Yeah, THIS Saturday.
Until then keep up with me on Instagram for the latest on this crazy makeover. Our new couches are getting delivered on Friday and like I said the built-ins should be done in 2-3 weeks.
Ahh… all of this over a glass of wine. But if this all goes well I'll be popping a bottle of champagne… and then possibly selling my bedroom furniture 😉