This beautiful faux finish wallpaper in the master suite was easy to use and the results are impressive!
About three years ago I wanted to wallpaper my hall bathroom, but I was very nervous since I had never wallpapered anything in my life. I was very lucky to be wandering through the aisles at Lowe's and happened to find Paper Illusion, a wallpaper that you tear and overlap. The sales man swore there was no way we could mess it up so we decided to give it a whirl.
We picked out the shade Tuscan Red. My house has a red theme throughout, so this color fit in perfectly! It was extremely easy to use. The Paper Illusion comes in a roll large roll like normal wallpaper with a pre-treated glue back side. All we had to do was tear the wallpaper into random sized pieces, dip in water for a couple of seconds, stick it to the wall, smooth it out with a flat edge and wipe away the access glue.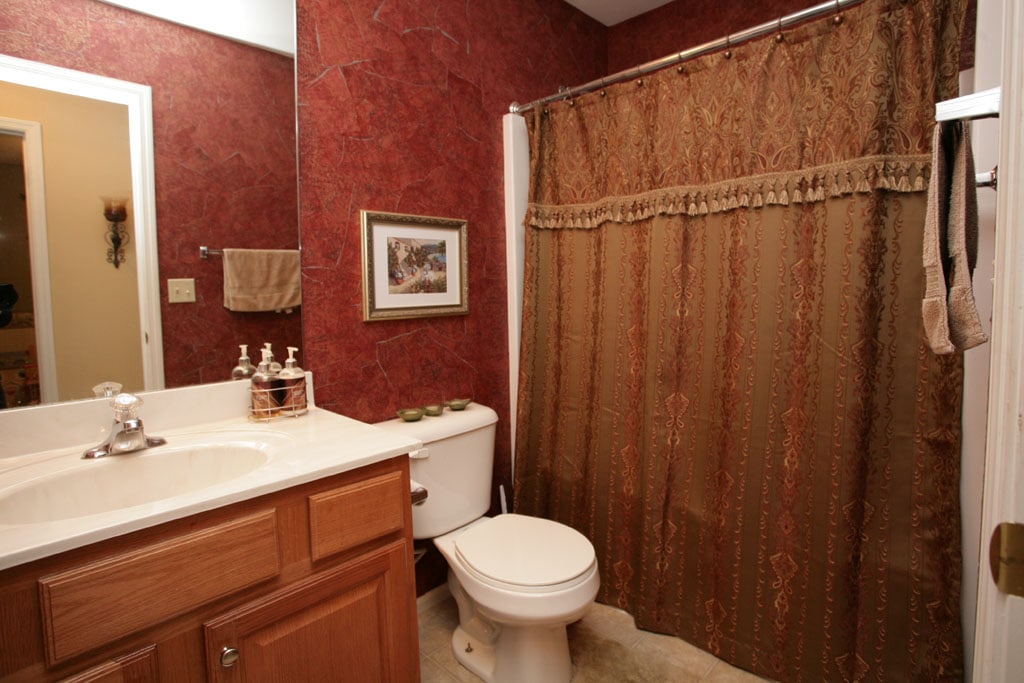 It took me about 4 hours to finish my entire hall bath. The time consuming part was tearing the wallpaper. I didn't know at the time, but it really doesn't matter what size you tear the pieces into really; it's the homeowner's preference. I ended up doing mostly 8×8" pieces with some smaller ones to fill in the gaps. I also tried to make sure that I covered all of the flat edges from the side of the paper with the torn edges (it makes a cooler effect).
The cost was $39 per roll and I needed two rolls of paper to complete the hall bath (I do have leftovers as well). I also bought a new shower curtain on clearance from JC Penney's for $19.99. I love completely changing the feeling of a room for less than $100!
So the wallpaper in the hall bath worked out so perfectly that this year I decided to re-vamp my large master bathroom and also one accent wall in my master bedroom using this product. This time we chose Marble Earth and I LOVE it…mainly because it adds texture to my bland walls, plus I can switch out my bedspread and bath accessories to anything in the future and it will match!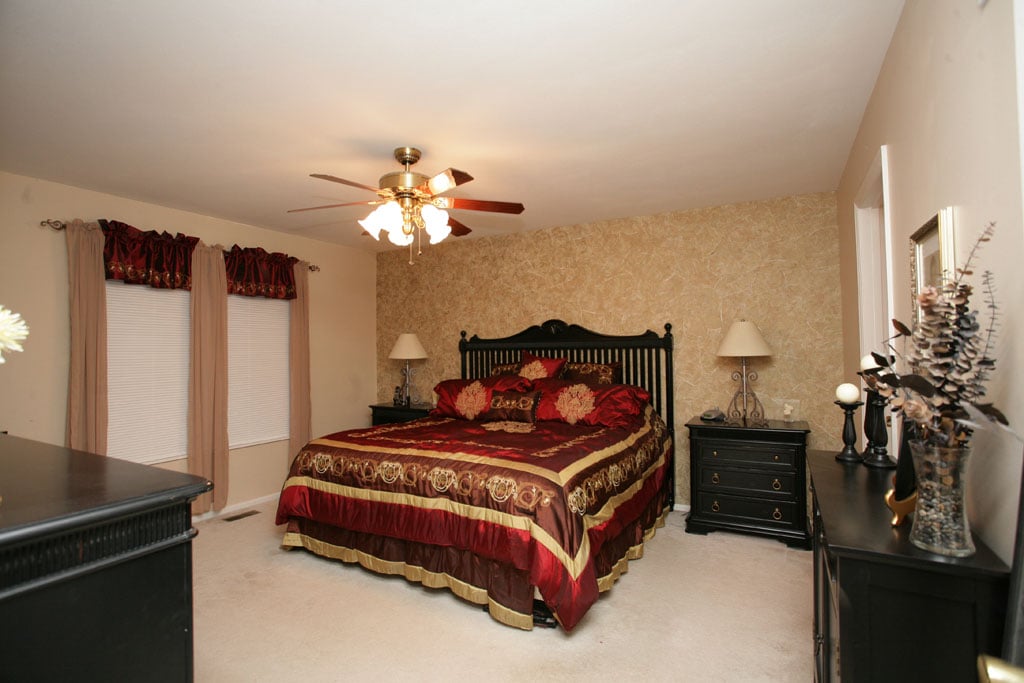 This project took a little longer to finish, split between a couple of days. Probably around 10 hours total since there was a lot of weird angles in the bathroom.While the wallpaper is no longer in stock at Lowe's, you can check out www.wallpaperillusions.com for all of their products and colors. They actually have quite an assortment, plus some nice before & after shots.
The price was $39 per roll for this round as well and I needed two rolls for the bathroom and two for my master bedroom wall (I have some leftovers too just in case). Not too bad to completely transform a bedroom and bathroom for $160!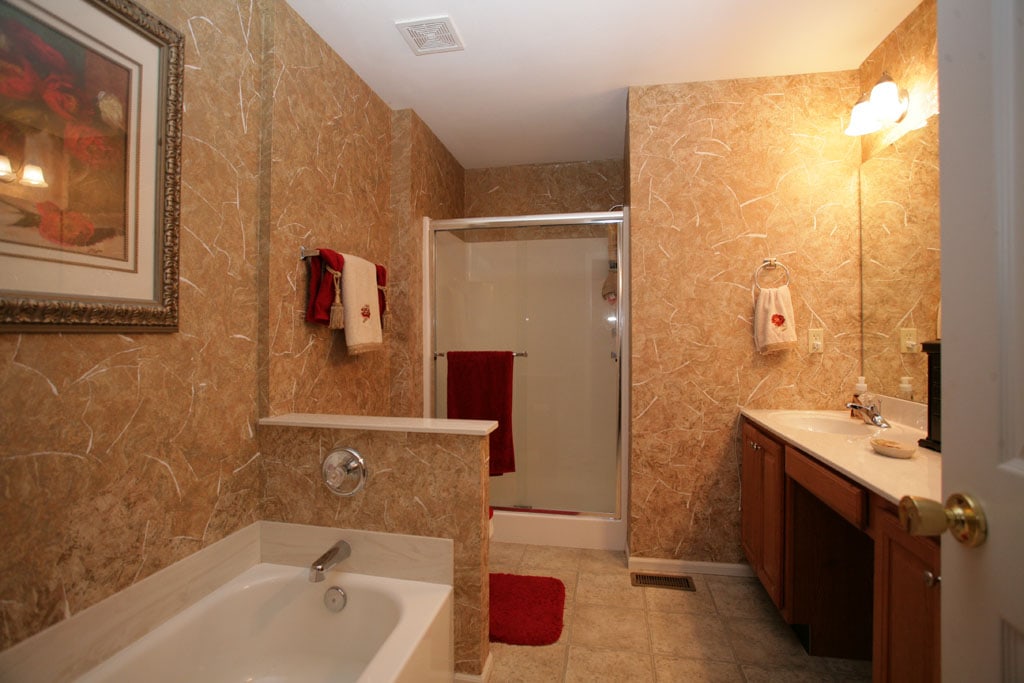 The current red accessories in my master bath are completely yack. At the time I purchased them, I wanted something red to match my bedspread, but I am just NOT digging it these days. Once I find a new comforter, I'll get some modern accessories for my fab new bathroom. Until then, these will just have to do!