I think I mentioned last week that I'm in the process of giving my Great Room a little makeover. It's been a slower process than my normal makeovers since we're strapped for cash during my hubby's new job transition. So here's a little sneak peek into the room… my fireplace mantel.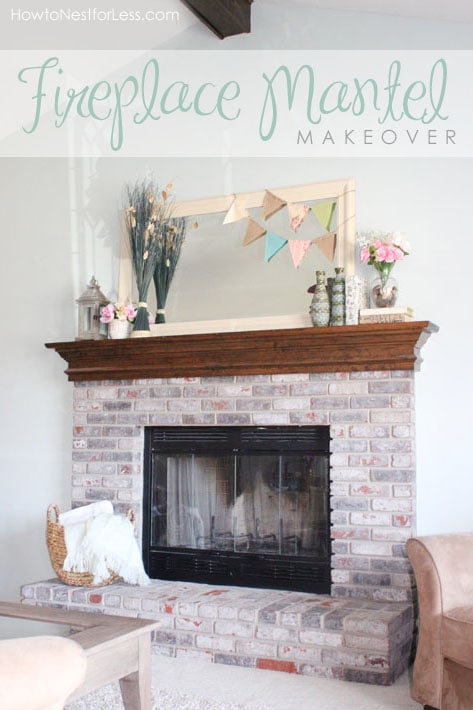 Here's a little before & after in case you don't remember… Sorry, left shot taken at night and right shot taken during the day which explains the brick color looking a little different!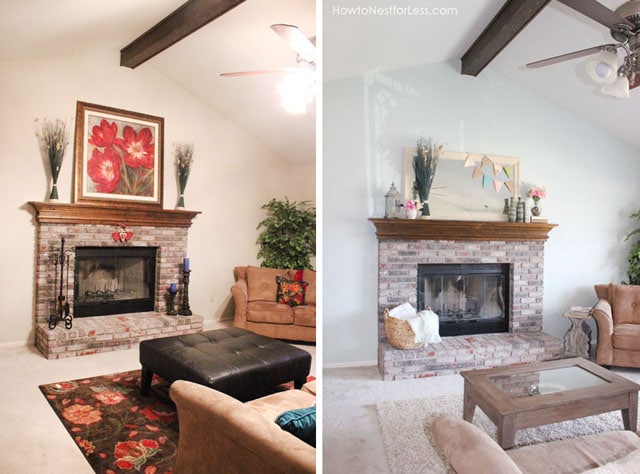 C'mon… let's take a closer look.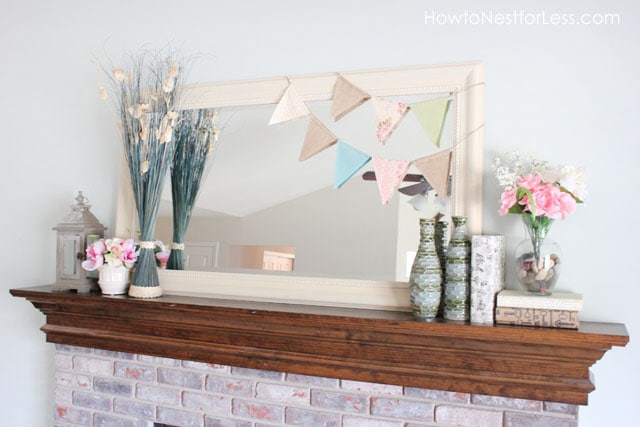 The mirror I purchased on clearance from Kirkland's last month. It's the anchor piece for my new mantel. I like the neutral color so it will be easy to decorate around for the holidays and seasons. Price? $20.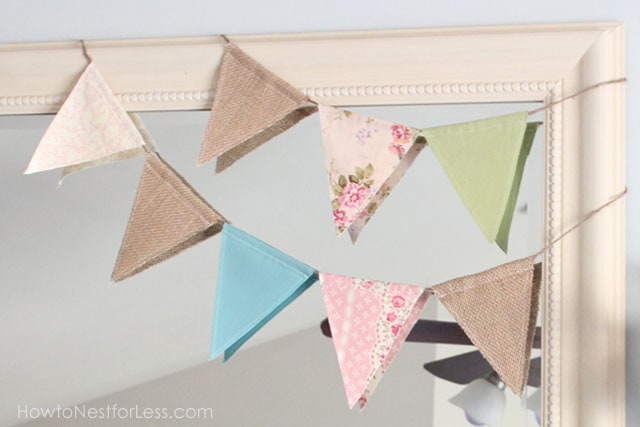 That adorable fabric bunting banner I purchased from House 129 on Etsy for $20. This shop is owned by my bloggy friend Kelly from Live.Laugh.Rowe. She's on vacation now so her shop is closed down until the end of August, BOO! Make sure you check back cause this girl has some amazing stuff.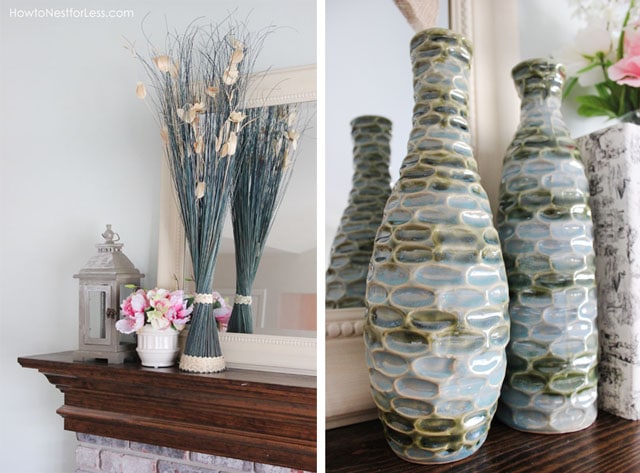 I'm adding shades of blue into the room so I made sure to have a small pop of it on either side. Love the texture on these vases, too.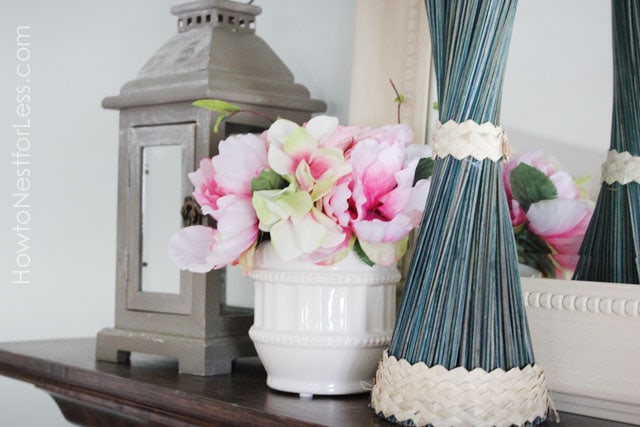 Wanna see how I got the look for less? The lantern is from Gordman's for $8. The flower arrangement is from Michael's in their clearance section (I think $3). The large straw arrangement is from HomeGoods and I've had it for about 6 months, moving it from room to room. Original price was $15.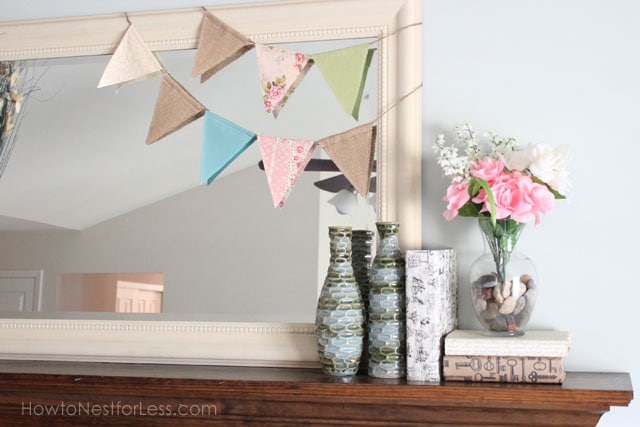 The right side is filled with ceramic vases from Gordman's ($6 each), a flower vase I created using items from the Dollar Store ($4 total, yep!), and some old books that I covered in scrapbook paper.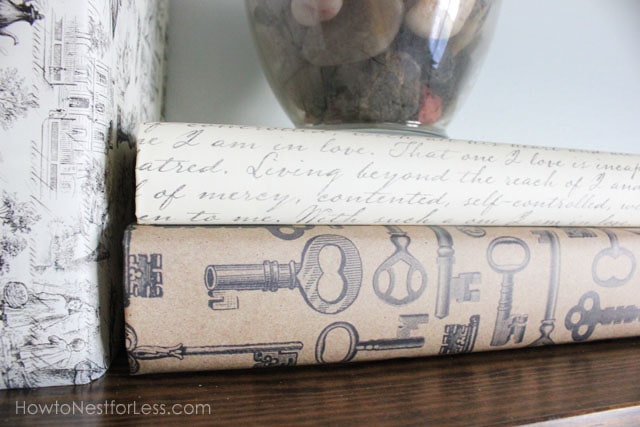 Here's a closeup of the scrapbook paper covered books. 25¢ books, 59¢ scrapbook paper… Great addition to any vignette cause you have so many options for pattern and color.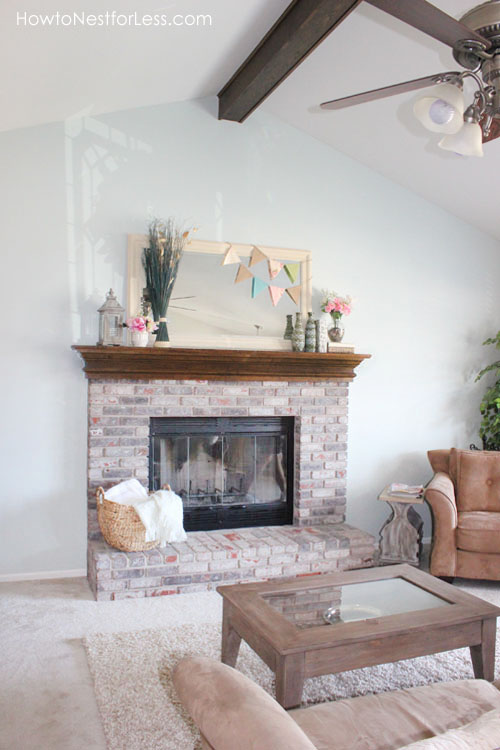 I also added a wicker basket from TJ Maxx to the hearth that I filled with some blankets ($12 for the basket). You can kinda see that I painted the walls, too. Sea Salt from Sherwin Williams. My new favorite color (as you can see here and here).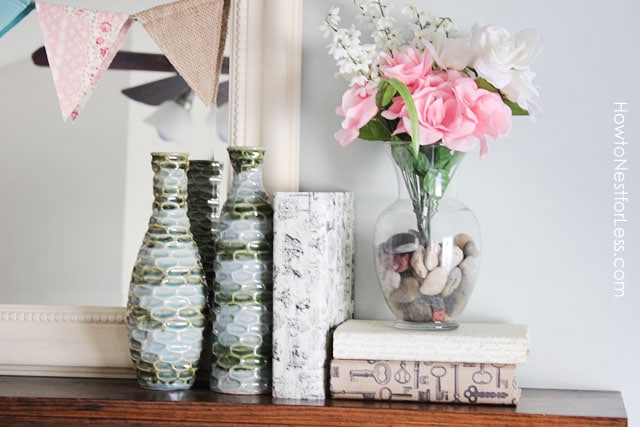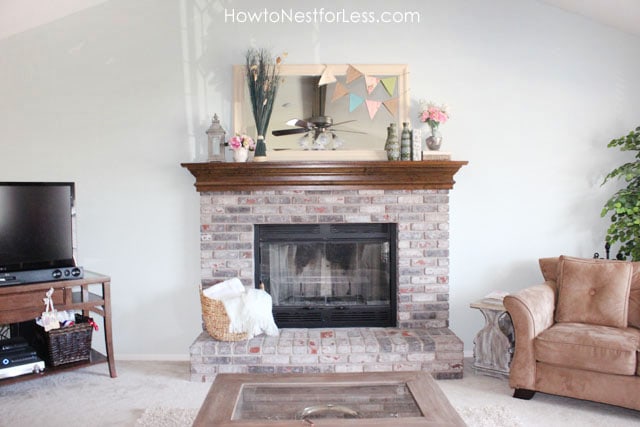 So yeah, I tried talking my hubby into painting the fireplace white, but he totally nixed that idea. We have plans to put this house on the market in the next year and we don't want to deter any potential buyers that might not have the same "hey, you can paint anything" mantra.
Oh, and there's more changes coming to that wall in the future too. Might need my hubby for that project though.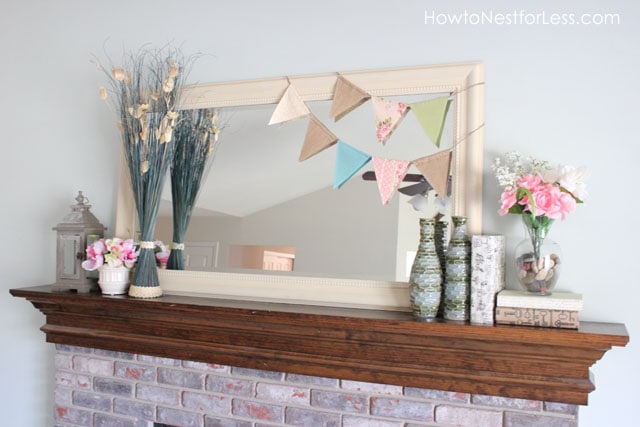 Yeah, I still have a couple of major purchases for this room that I want so badly, mostly new club chairs and a piece of art for a huge blank space I have, but at least the fireplace mantel is lookin' good… for now.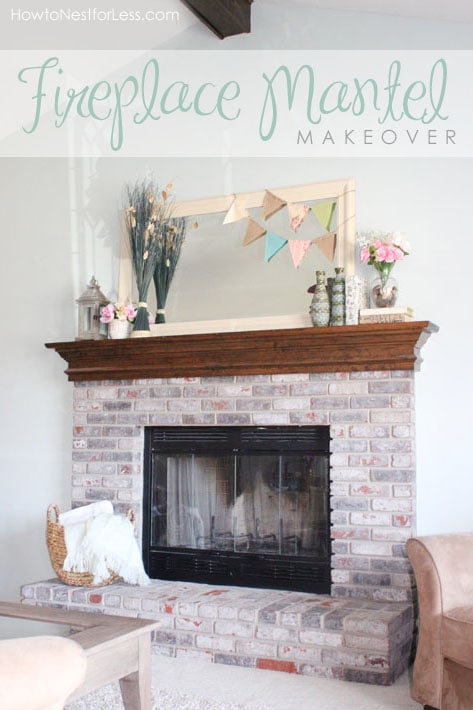 And before you know it this mantel will be decorated for Fall.
Anyone getting excited for Fall Décor? 
Linking up to Tatertots & Jello