I have put together my favorite autumn decor ideas to help you get you inspired!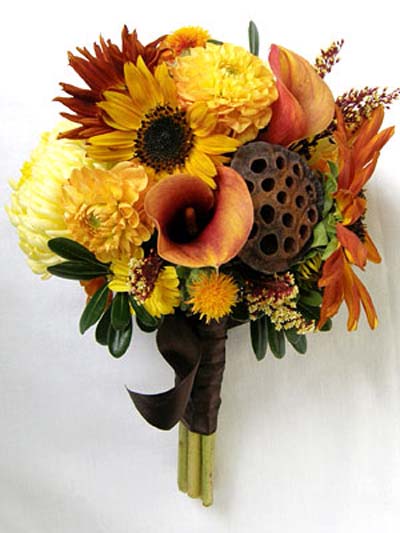 I thought I would share with you some inspirations for my upcoming Fall decor since the season is fast approaching. I'm excited to rummage through my basement to find a couple of key pieces from the past, and then fill in the gaps with some cool new art projects.
My new obsession for saving all of the creative ideas is Pinterest. If you haven't heard about it yet, you have to check it out! It's a virtual pin board to catalog and store the things you love.
First up, front doors. Talk about making an entrance…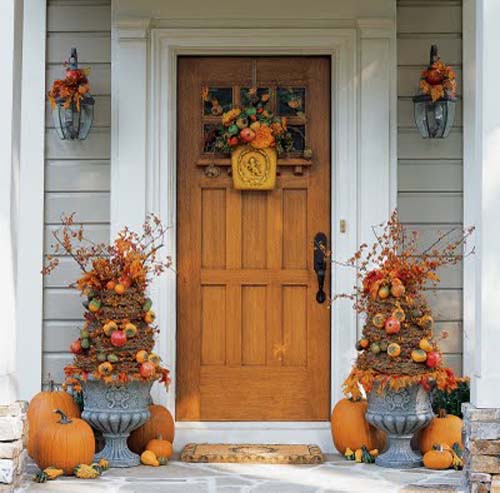 I love the fall inspired topiaries and detail on the coachlights plus I  have two large vases in my garage that would work perfect for this design scheme.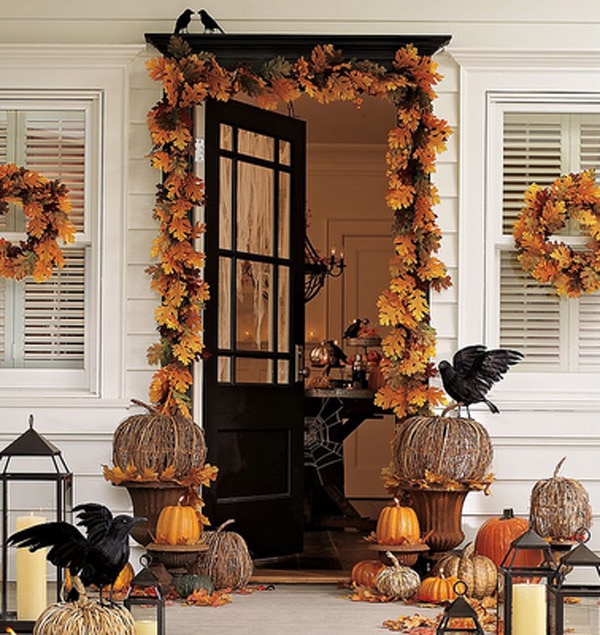 I adore the fall leaf garland around the door frame and the various styles of pumpkins.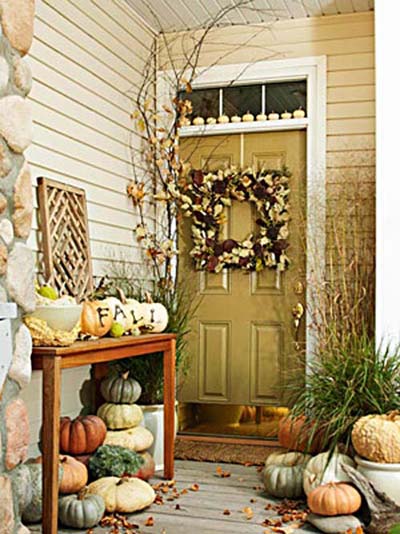 Love the square wreath on this front door and the painted pumpkins on the side table. All of the muted greens and oranges have a very neutral look and feel.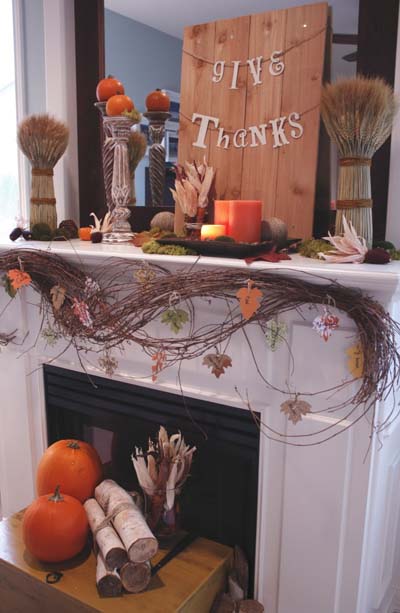 I'm also excited to decorate my fireplace mantel. Love everything about this photo, especially the  Give Thanks art board and whimsical garland.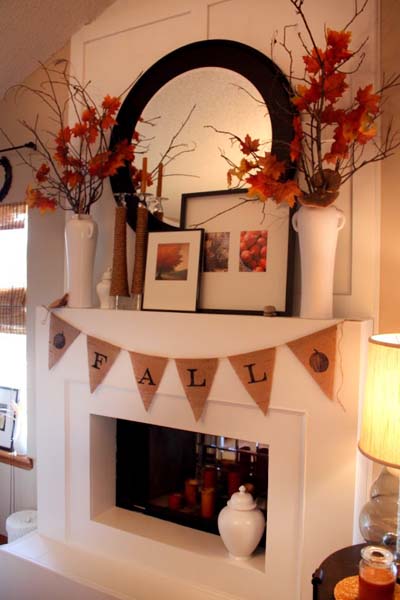 I think I need to make one of these burlap bunting flags for Fall! It might not pop as much against my gray fireplace bricks, but it's definitely worth a shot!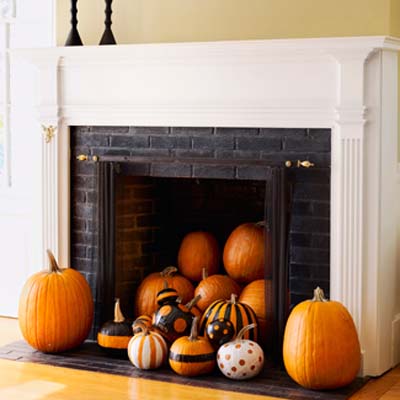 Love this idea for the fireplace! It might be a little over the top if I decorate the mantel and the actual fireplace… Hmm, might have to see!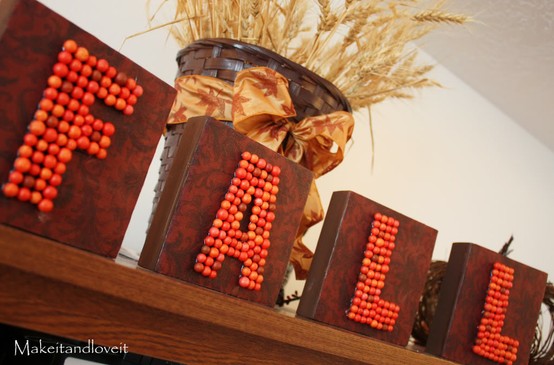 This berry artwork for the mantel would be super easy to make! And I love how it flows with the vase of hay in the background.
Last but not least, some table decor including centerpieces, flower arrangements, and table cards.
This tablescape is stunning with the gorgeous flowered centerpiece, mix of pumpkins and small candles. Simplicity at its finest!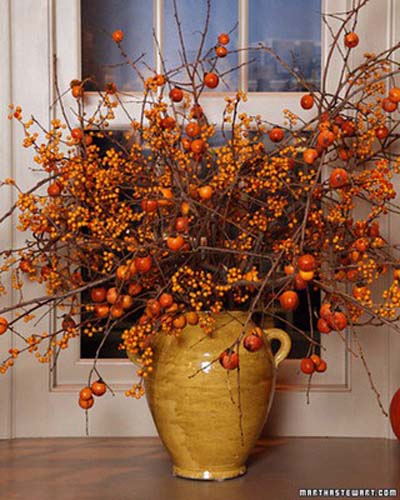 Another easy projects with some berry branches that you could find at Michael's or Hobby Lobby and a Fall vase. Plus you could have this up in your home from September through Thanksgiving!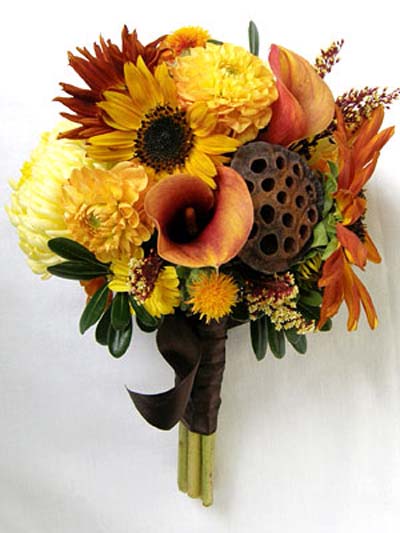 I know this is a bridesmaid bouquet, but I love the mix of reds, oranges and yellows with some touches of rich brown. It could easily be put into a decorative vase for the table.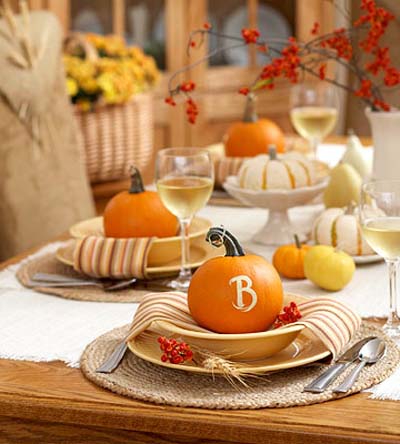 I just adore these pumpkin table cards! Wouldn't these be amazing for Thanksgiving dinner? LOVE.
OK, that's it for now from Pinterest. If you want to check out all of my boards and pins, check me out at http://pinterest.com/how2nestforless.