So when I was starting my powder room renovation and talking with some old friends about my plans to wallpaper, a couple of them retorted "Wallpaper? Really? Isn't that very 1980s?".
Well I have news for you friends… Wallpaper is BACK. Actually, it's been back for awhile. And it's not your grandmother's wallpaper with large fruit patterns for the kitchen or really ugly oversized florals with lots of mauve for your bathroom.
Wallpaper has evolved. There's so many new patterns and color schemes out there to simply transform a room. It has high impact, even if you're going for a subtle color makeover. It gives a little bit of texture to a space that paint simply can't attain.
But what about when you change your mind? If you're anything like me you get sick of a wall color after a couple years (hopefully not months like I've done before). Removing wallpaper can be extremely annoying. I remember removing wallpaper in my mom's house bit by bit. Seriously you tear off a 3 inch square section at a time. Yeah… no thanks.
But there's a rumor that most new wallpapers are easily strippable. Or in the past I've used a combination of liquid fabric softener and water in a spray bottle. It worked wonders in the last house! … plus the room smelled AMAZING afterwards.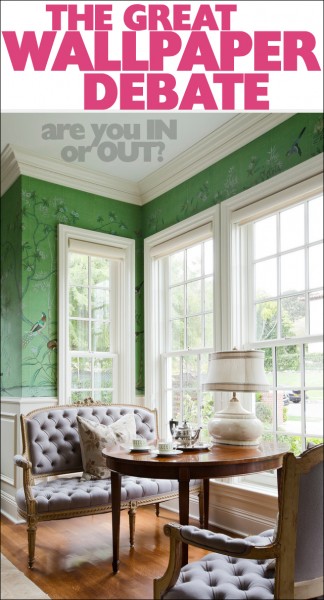 What about installation? Some wallpapers are extremely easy to install these days. No need for buying wallpaper paste in a large bucket and brushing it on every piece. A lot of wallpapers now have the adhesive built into the paper. Just simply wet, stick on the wall, and smooth out. But would I actually install it myself? Urgh, not looking forward to it (unless it's the tear method like my powder room).
So what are my favorite places to use wallpaper?
1. Bathrooms.
This is a great little space that can afford to go a little out of the ordinary. Add a fun pattern just outside of a bedroom to compliment a color scheme. Plus wallpaper is extremely easy to wipe down, great for around light switches with dirty little hands.
2. Accent Walls.
I love to see wallpaper behind the bed in the master bedroom, acting as an accent wall or focal point. This is where you can set the tone for the entire room. Just see the coral wall below? Swoon worthy.
3. Dining Room.
This is a great place to add either a subtle pattern like the photo below or a simple grasscloth, or to add a bold pattern (amazing when mixed with a chair rail and picture frame molding).
4. Small Offset Rooms, like a Pantry or Master Closet.
This is again a great place to add a fun pop of color or pattern in an unexpected place. I love opening up a pantry door off the kitchen or a small closet and seeing a fun and fabulous surprise. Uh… did you see the closet from Kelly at A View Along the Way? GORGEOUS!
5. Foyer.
Nothing like first impressions when you enter someone's home and see a beautifully wallpapered foyer. It can really set the tone for the rest of the home and add a bit of texture to a normally bland wall. Pair it with the right lighting and an accent piece and you have a bit of glam in your entryway.
So, are you a fan of wallpaper?
Would you try to install it yourself or hire out?
What rooms do you have wallpaper in now?