As I mentioned before, my sister and her family built their new home just three houses down from us. She asked for a Fall wreath for her housewarming gift, but I wanted to also get her something a little more smart and useful…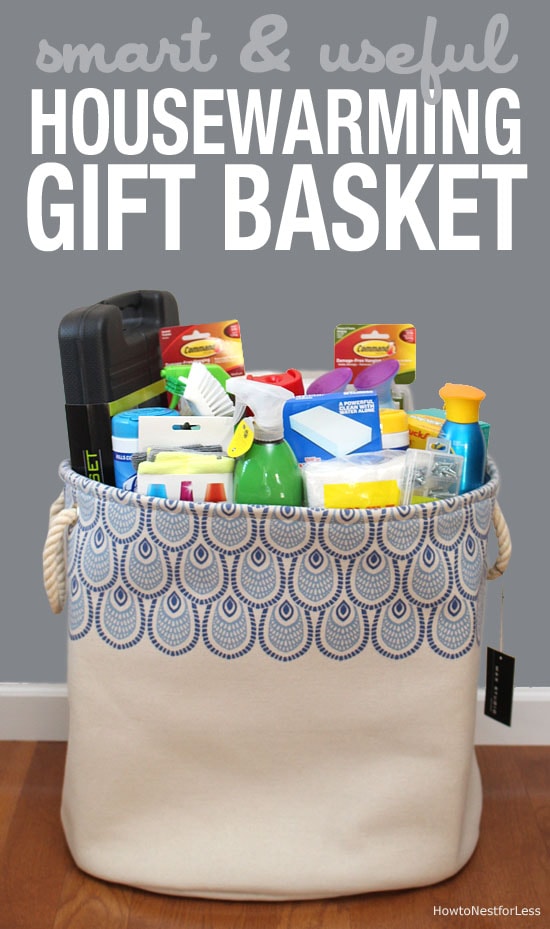 Since this is my sister's first home, I knew some things that she would need right off the bat, items that she would totally forget to buy beforehand like cleaning supplies.
First items on my list?
Dish soap
Trash bags
Disinfecting wipes
Microfiber cloths (HUGE fan!)
Dishwasher detergent
Dish brush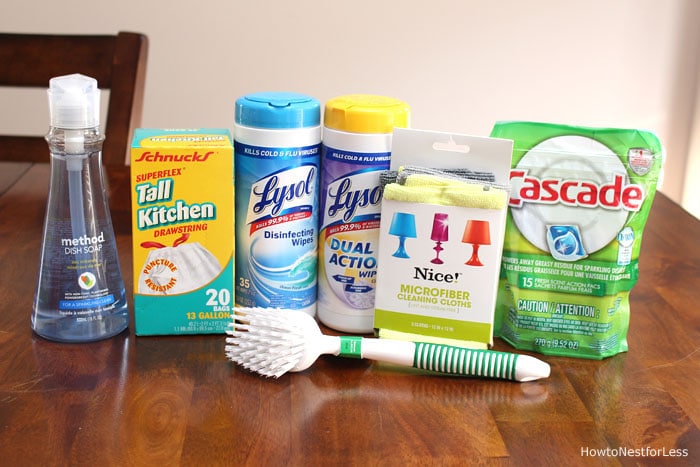 Next I thought outside the kitchen:
Febreeze air freshener
Magic erasers
Bathroom cleaner
Anti bacterial multi surface cleaner
Carpet cleaner
Pledge multi surface cleaner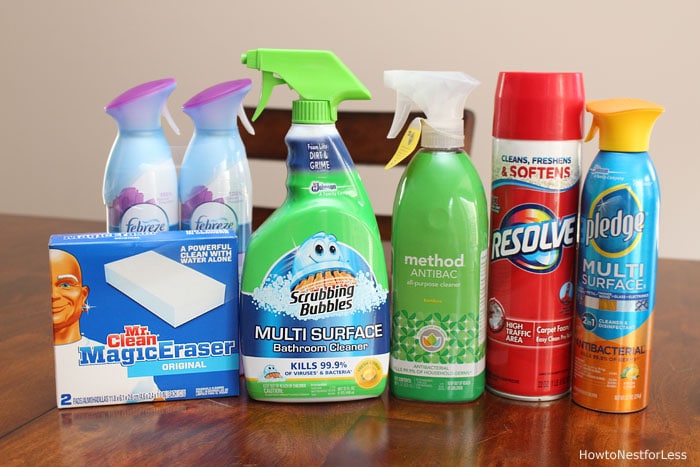 And every new homeowner needs to have:
Tool set (I don't want her borrowing my stuff all the time!)
Screw assortment
Command Brand products
First aid kit (she's a mom of 2 boys under 2 so this was a no brainer!)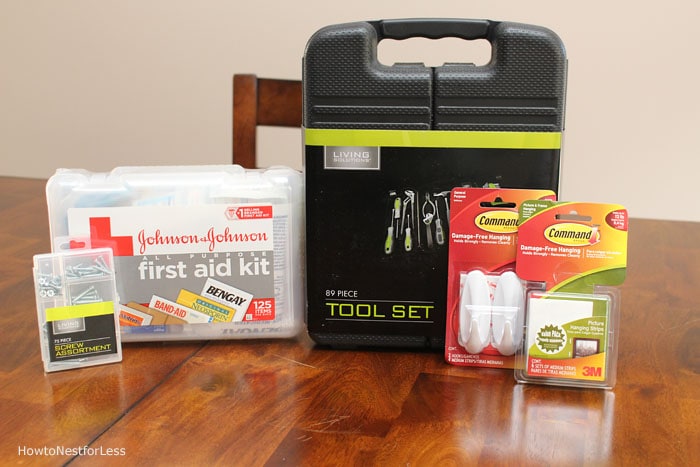 And because you need to eat while unpacking and might not get to the kitchen stuff right away, always remember to gift these simple items:
Paper plates
Napkins
Paper towels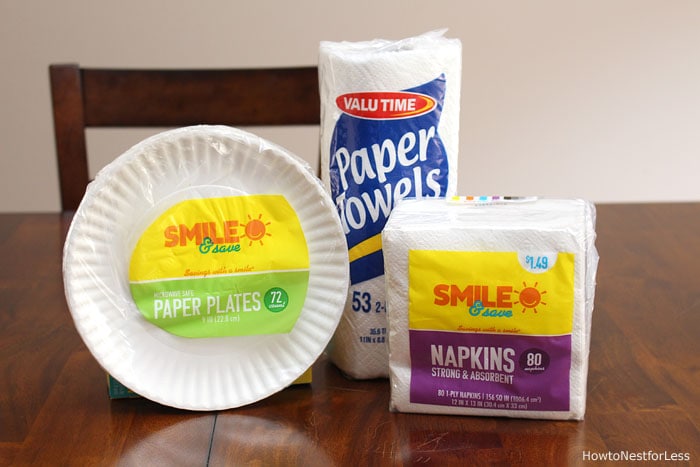 I was thinking of a large trash can or just a big basket to hold all of these housewarming gift items, but then I realized that my sister could use a large bin to hold toys on the main floor. Luckily I knew she trusts my taste in home décor.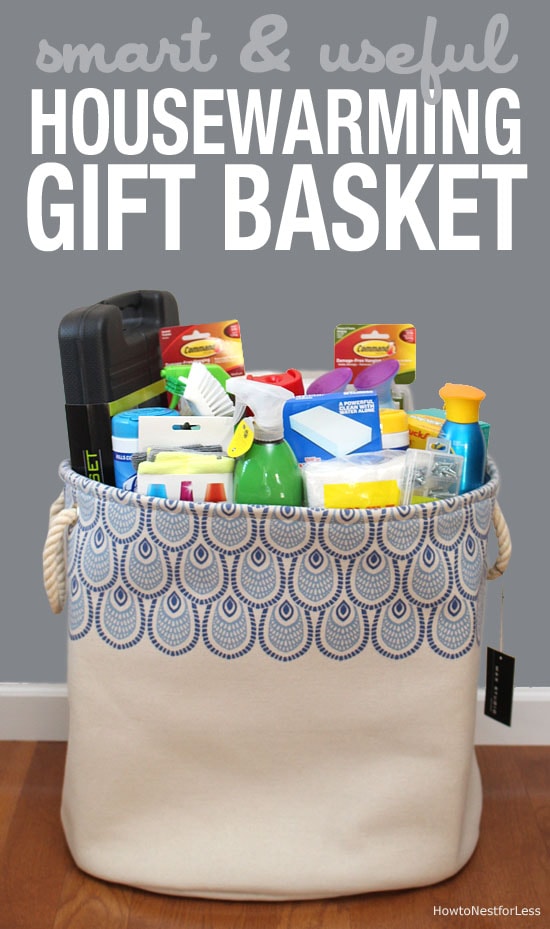 To raise the items up high in the basket (you know, for awesome presentation purposes), I just put an empty diaper box in the bottom of the basket. Funny though… while "opening" this gift basket my sister actually thought we bought her kids diapers as well. Uh no, that stuff is expensive!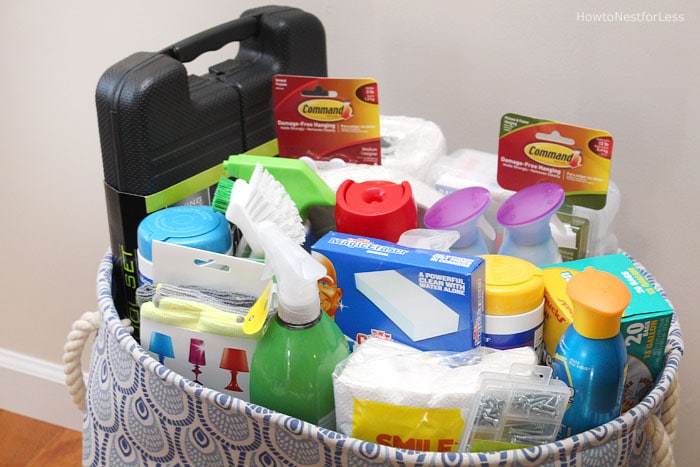 All in all this huge gift basket cost me $100, but I split the cost with one of my brothers so it was pretty affordable. I scored the tool kit and screws on clearance from Walgreens and the basket was a steal from HomeGoods. My advice? Shop around for some deals if you have the time! Or just lighten the load.
But think to yourself…
What would I need to survive the first few days after a move?