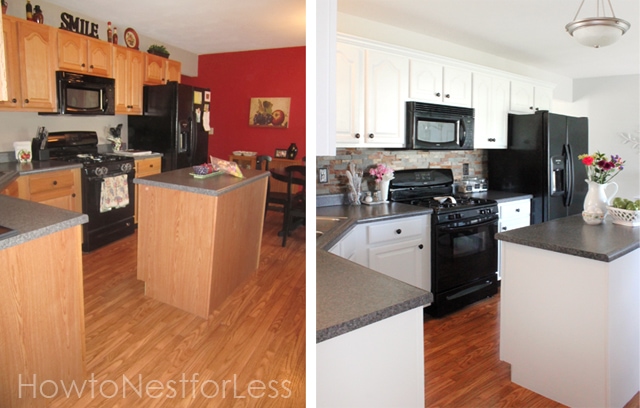 Yesterday I unveiled to you my Painted Kitchen Cabinets. Yep, all I have to say is what a difference a coat of paint can make!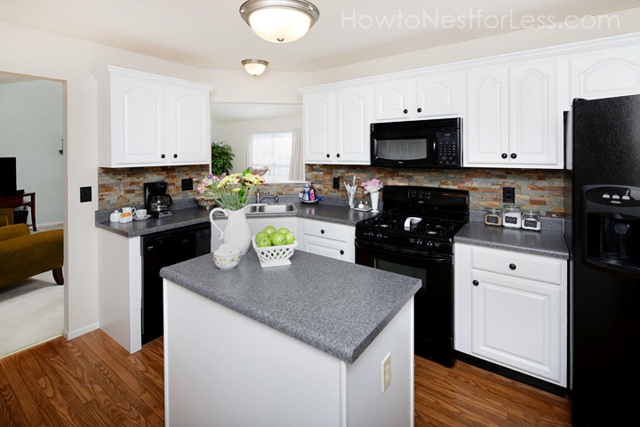 Today I thought I'd give you the step-by-step instructions for my process. It truly is an easy task to paint your cabinets, just a bit time consuming. Now I'm sure there's a bazillion different ways to paint your cabinets, but here's the process I used…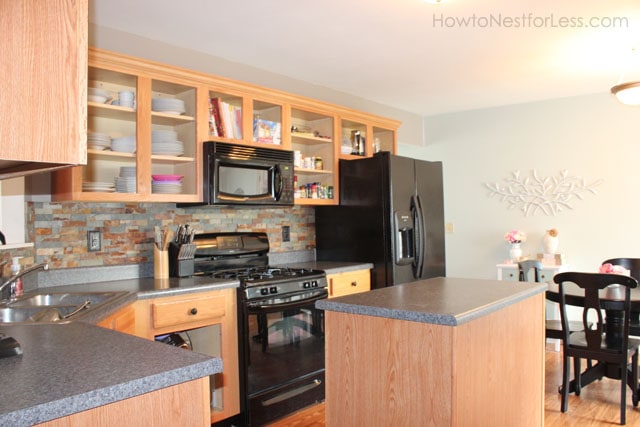 1. First thing you're going to do is take down all of the cabinet doors and drawers using your drill.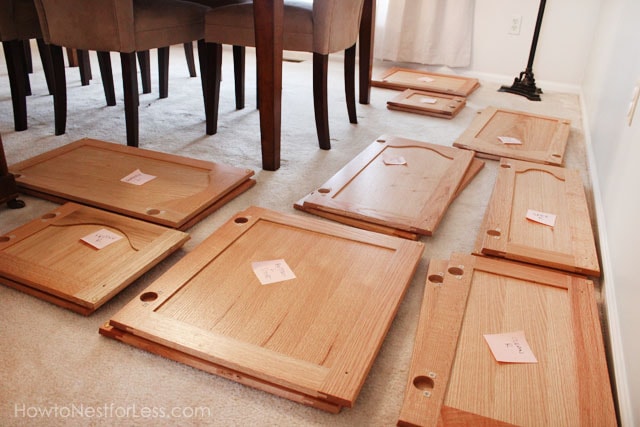 2. Start labeling which door or drawer belongs to each cabinet base. I used sticky notes to keep track. A lot of cabinet doors and drawer faces were similar sizes and it can get very confusing if you don't have them labeled correctly. Trust me.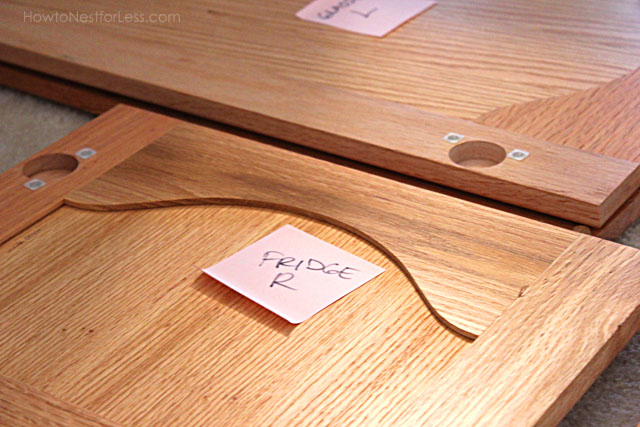 3. Remove all cabinet hardware. Put all screws, hinges and knobs/pulls in separate ziplock bags and label those bags to coincide with the sticky note labels on the drawers and doors.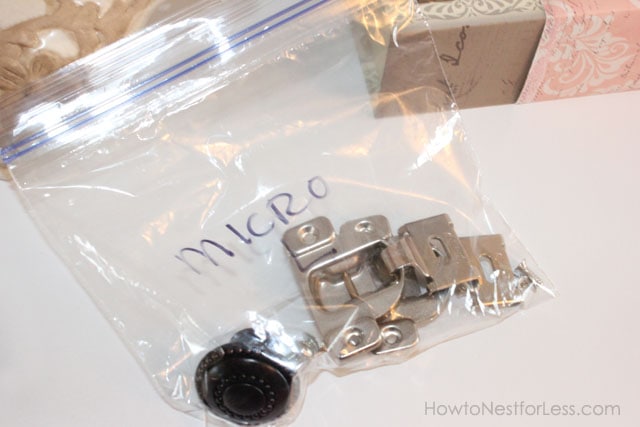 4. Now it's time to start preparing your surface. I used Krud Kutter to degrease all of my cabinet doors, drawers and bases. I scrubbed these puppies like crazy to remove any dirt and grime from the surface.
Even though my cabinets did have a gloss on them, I did not use a deglosser. Instead I used sandpaper like a mad woman. And let me note here that sandpaper will become your very best friend during this process. If you hate sanding things, this might not be the project for you. Just sayin'.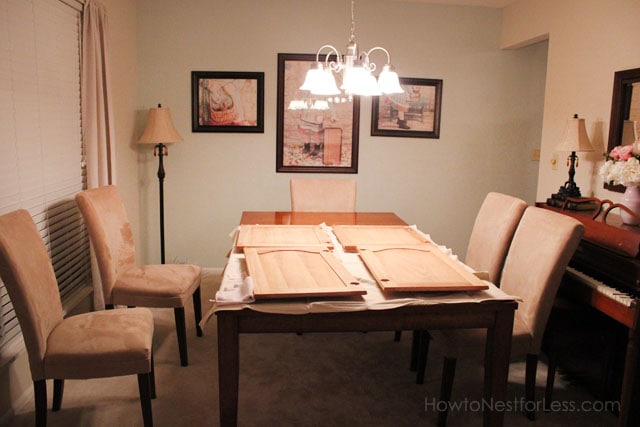 5. Once you have everything sanded down, make sure you clean up all of the dust with a tack cloth. A little hand vac also comes in handy to get into the grooves of the cabinet doors if you have any bevels.
6. Now it's time to start priming. Make sure you prop up your cabinets a couple of inches before you start painting so you can easily get the sides covered (I used random projects from around my house like scrap pieces of wood and old baking cooling racks. Make sure you paint on flat surfaces so you don't get drip marks.
For my primer I chose Zinsser cover stain with the brown label ( and I used less than 1 gallon for the entire project).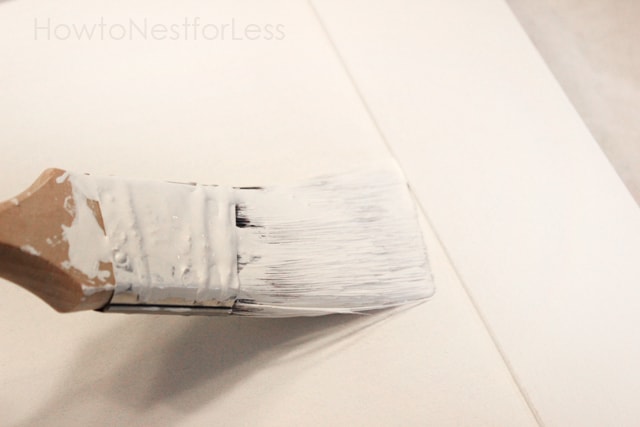 7. For around the beveled edges I used a paint brush to really get the paint into the crevices. I used a 1.5 inch brush. Don't lay on the paint too thick, and work the brush back and forth so you don't get build up and drip marks.
8. For the larger areas I used a 4 inch trim and cabinet foam roller. This really gave the super smooth finish. I also tried to go over the edges as best as possible to cover where I used the paint brush.
Now when you're using a primer, it will not 100% cover the entire surface of your cabinets with the first coat. It can look kinda splotchy. That's ok… it's still going to turn out just fine. BUT here's where the work really comes in…
I coated each cabinet door with TWO COATS of PRIMER, and sanded between each coat.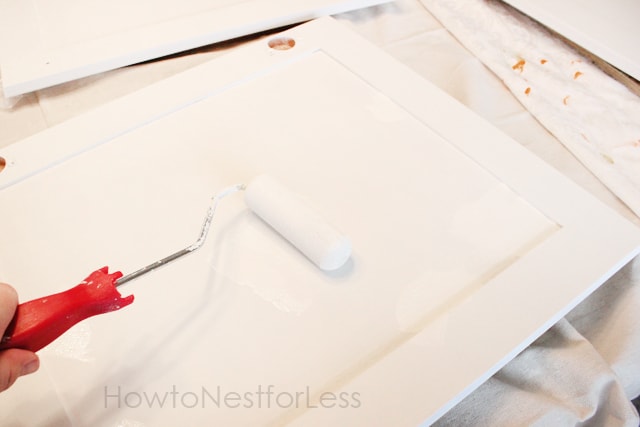 9. After the second coat of primer was dry and sanded, then I added TWO COATS of Sherwin Williams Pure White satin paint (sanding in between each coat as well).
So again, if you hate to sand, this is probably not the project for you. Cause that was only the back side of the cabinets. Now you have to flip them over and paint the fronts.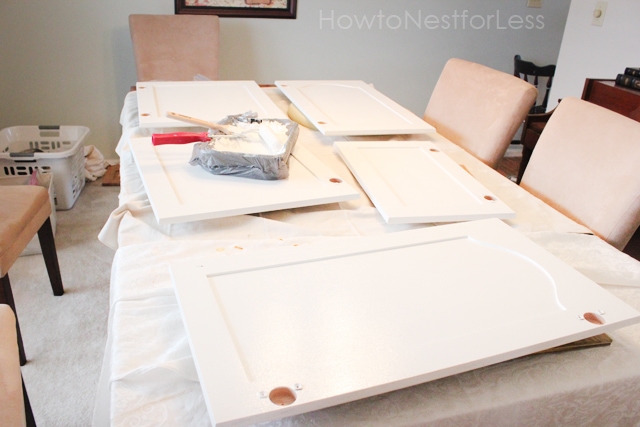 10. OK, once all of your cabinet doors and drawers are painted on both sides, it's time to begin on the bases in your kitchen. Use painter's tape to protect all of your countertops, walls, flooring, etc. And then it's the same painting process as above…
Degrease
Sand
Prime
Sand
Prime
Sand
Paint
Sand
Paint
Sand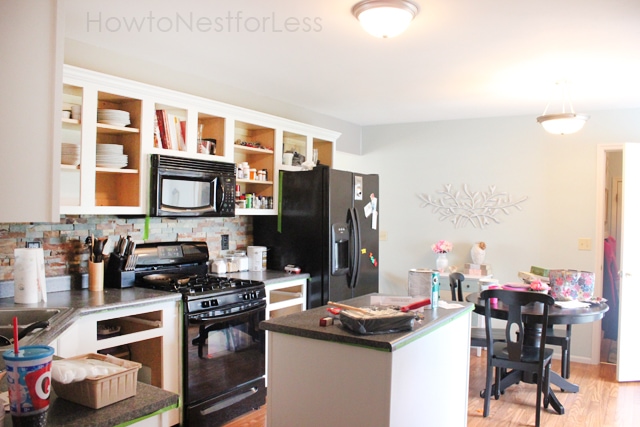 11. (optional but recommended) Add a coat of polyurethane to your kitchen cabinets. There are many options, such as rub on poly, brush on, wax, etc. Be careful if you choose a brush-on oil poly as it can tend to yellow over time. I would suggest a water-based poly instead, like Minwax Polycrylic.
12. Remove all the painter's tape and it's time to reassemble the kitchen cabinets and hardware. Make any necessary touch ups as well (we had one paint drip mark on the side of the kitchen island; just sand out like crazy and repaint).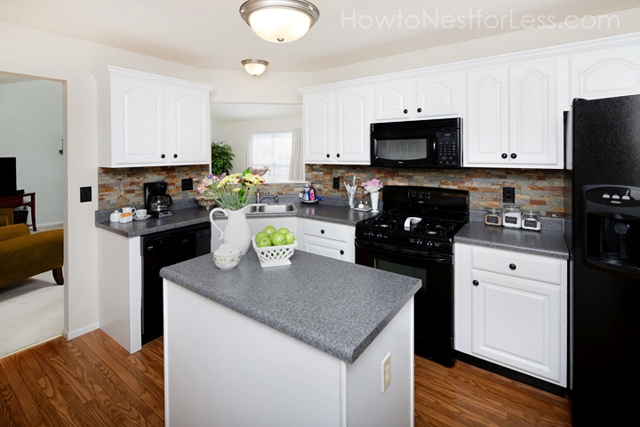 And here's some answers to questions I've already gotten:
No, you can't see brush strokes
Yes, you can see a little of the wood grain in the cabinets still, but it looks fabulous
I used Sherwin Williams ProClassic semi-gloss paint in Pure White (and it's an acrylic interior paint and made for cabinets)
I painted the insides of the cabinet doors, but did not paint all of the shelves or the insides of the bases
This project probably took me about 40 hours total if I added up all my time
I didn't use a paint sprayer because I have never used one before and was chicken. Simple as that.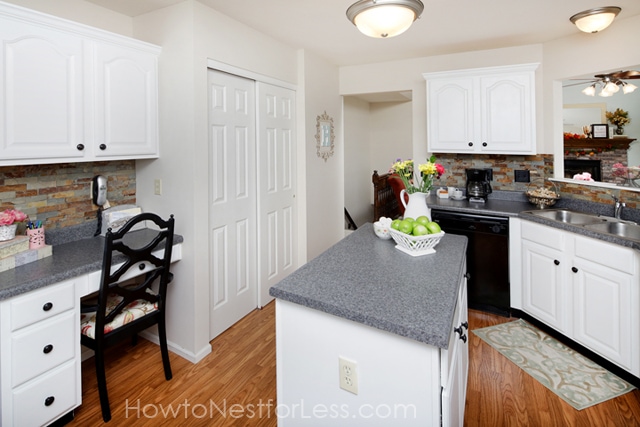 Here are the final costs of my Kitchen Cabinet Makeover:

1 gallon of Sherwin Williams ProClassic acrylic cabinet paint in Pure White – $40 (purchased during sale)
1 gallon of Zinsser cover stain primer – $23
Paint brushes, rollers and sandpaper – about $30

THAT'S A TOTAL OF $93!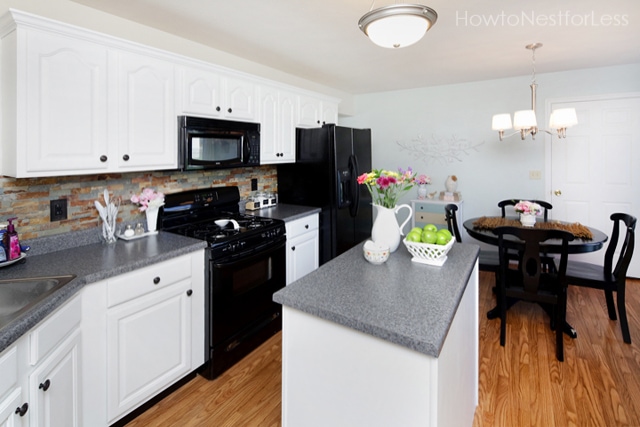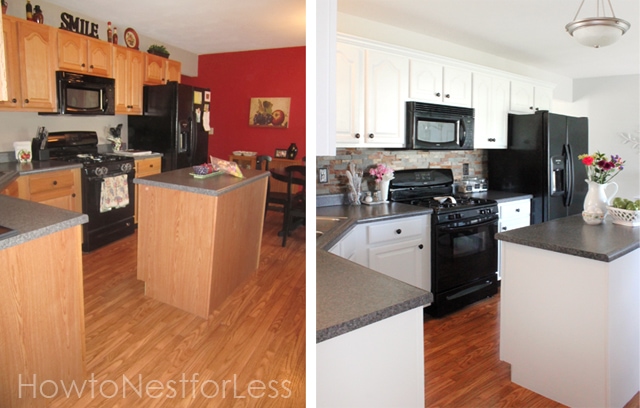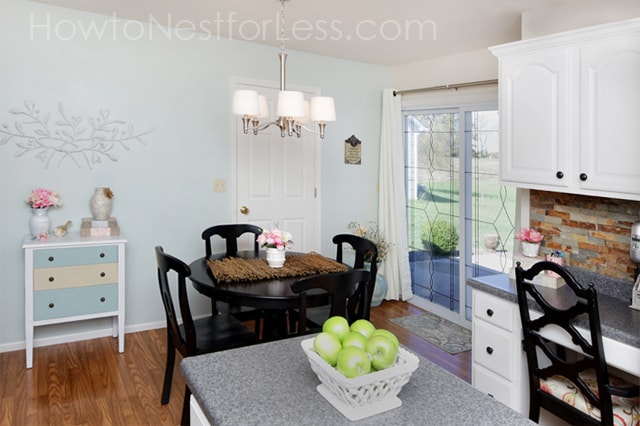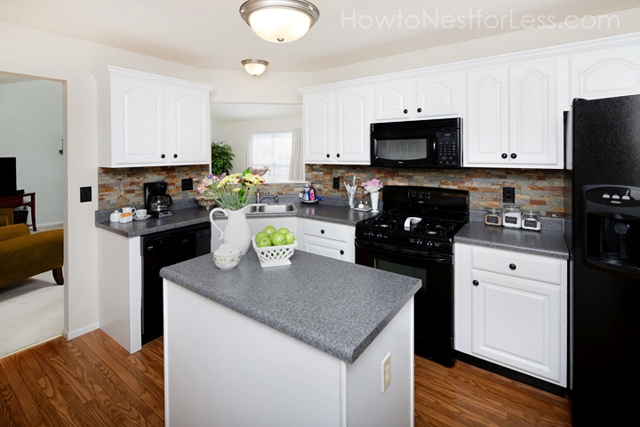 Please feel free to ask me any questions and I'll try to answer them to the best of my ability!
---
ALSO SEE THESE POSTS:
KITCHEN CABINET REVEAL
TIPS & TRICKS FOR PAINTING YOUR CABINETS
MOM'S KITCHEN CABINET MAKEOVER