It's that time of the year where I spend the weekends with three of my favorite things: family, football, and food.
This year I've decided to try a couple new recipes each week and the first one came from my neighbor's mom, Kathy. Her Kickin' Spinach Cheese Bites recipe is actually in the Pillsbury Bake-Off® Contest this year and is going to Las Vegas to compete! C'mon, let's check out this award-winning recipe…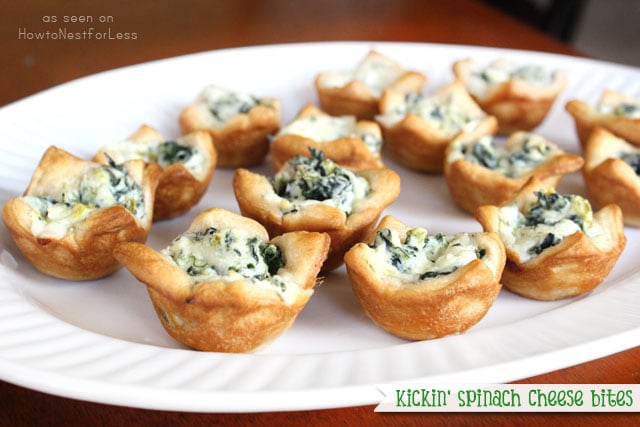 Ingredients:
1 box (9 oz) Green Giant® frozen chopped spinach
1 package (8 oz) cream cheese, softened
1/4 cup ricotta cheese
6 oz provolone cheese, shredded (1 1/2 cups)
1/4 cup finely chopped pickled jalapeño slices, drained (from 11.5-oz jar)
2 cans Pillsbury® Crescent Recipe Creations® refrigerated seamless dough sheet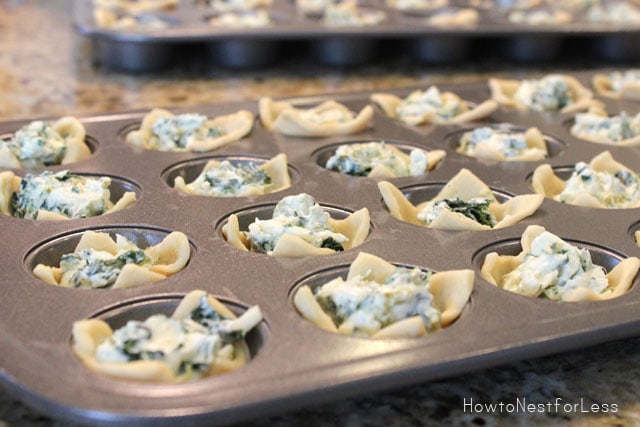 Directions:
1.Heat oven to 375°F. Lightly spray 48 nonstick mini muffin cups with Crisco® Original No-Stick Cooking Spray. Microwave frozen spinach as directed on box. Squeeze dry with paper towels.
2. In medium bowl, beat cream cheese and ricotta cheese with electric mixer on medium speed until well blended. Stir in spinach, shredded cheese and jalapeños until well blended.
3. Unroll 1 dough sheet; press into 12×8-inch rectangle. Cut dough sheet into 24 squares. Press 1 square in bottom and up side of each mini muffin cup. Spoon 1 rounded teaspoon spinach mixture into each cup. Repeat with remaining dough sheet and filling.
4. Bake 8 to 12 minutes or until edges of dough are golden brown. Immediately remove from pan to serving platter. Cool 5 minutes. Serve warm.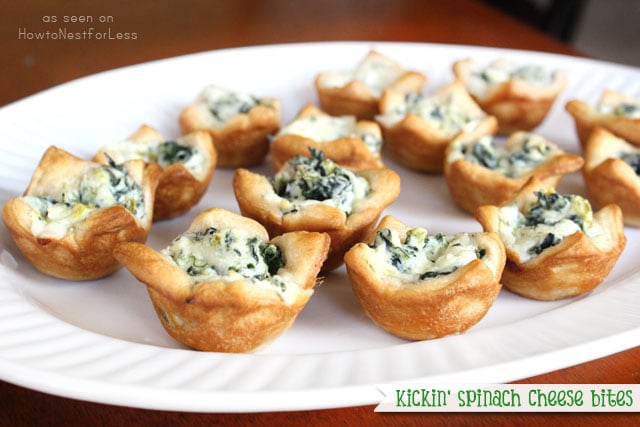 These Kickin' Spinach Cheese Bites are absolutely perfect for football season, especially since they have a little kick to 'em! (haha, see what I did there?)
And good luck to Kathy with her original recipe in the Pillsbury Bake-Off® Contest. She's traveling to Las Vegas the beginning of October for a chance to win the $1,000,00 grand prize! If you have a chance, please go over and vote or leave a comment. GO KATHY!