Well, I'm finally ready to start my kitchen makeover! I don't have the money to completely gut it out, so I'm just planning on some minor (yet major) changes.
First here's some before pics…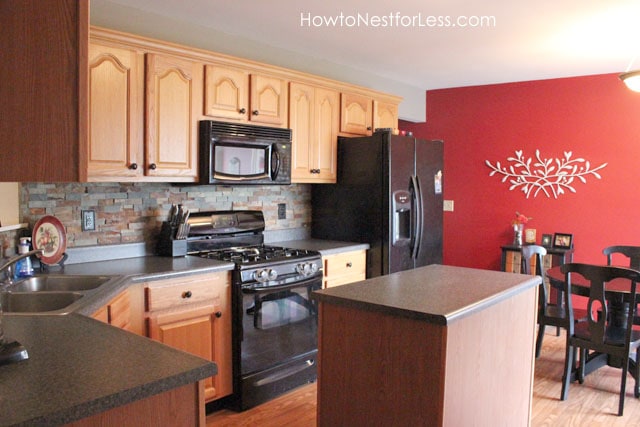 We've had that red accent wall since the day we moved into our new home over 6 years ago. I've loved it for the past 6 years, but now I'm ready for a change. We have no windows in our kitchen and only a sliding glass door so I really want to make this kitchen lighter and brighter!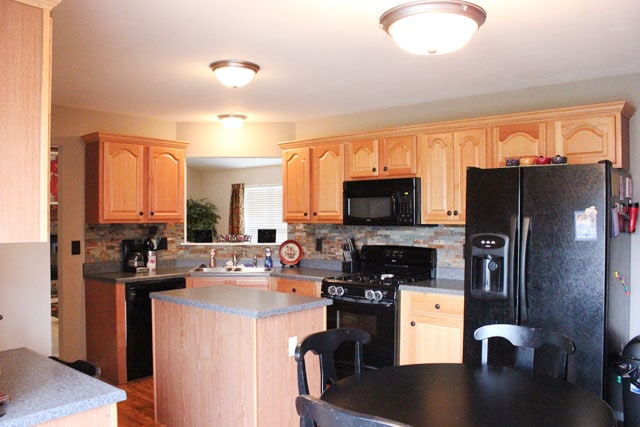 Here's the view of our kitchen from the sliding glass door. It's not a very big space, but it's perfect for our family of 3. Last year we added the stone backsplash and cabinet crown molding.
So what's my plan?
Paint the kitchen cabinets white
Use Rustoleum Countertop Transformations or Giani Grani to lighten the countertops
Trim out and paint the center island
Paint the red accent wall (thinking Sea Salt by Sherwin-Williams)
I don't have the money to get new appliances so they will be staying black. I need the black appliances and white cabinets to work together… which I have to admit I'm kinda nervous about! So, since Photoshop is my best friend in the entire world, I mocked up this kitchen makeover to see how it might look!
So, what do you think?

Here's a view from the other side of the kitchen…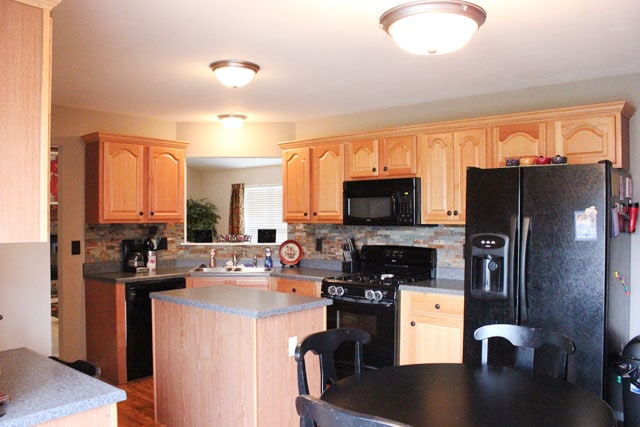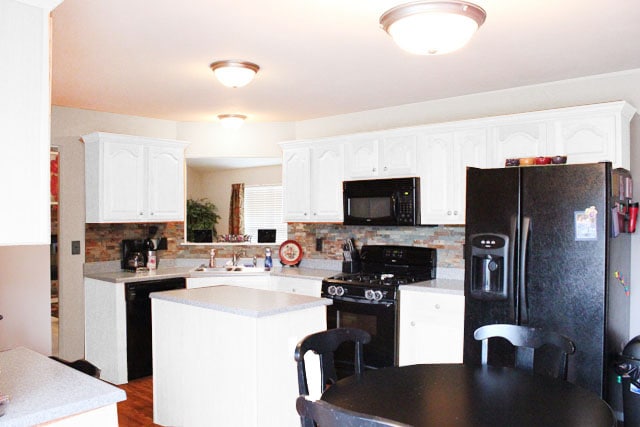 The little knick knacks and stuff will be gone, but at least here's an idea of what I'm going for. I'll have to keep the backsplash for now (my hubby would kill me if I asked him to rip it down) but I might paint it down the road. For now, I think it really doesn't look too bad…

I also plan to switch out the lighting in the near future, too. So, what do you think of my plan? Any suggestions??
.
I'd like to start this project when I get back from the
Haven Conference
at the end of June. Let's hope everything goes as planned. Now that I'm seeing these pics, I really want to get started!