When people visit our home, they're often surprised that I haven't touched our master bedroom. Like not one bit. OK, it's a little better since you last saw it… we've at least put the bed together. But besides that we haven't touched the space.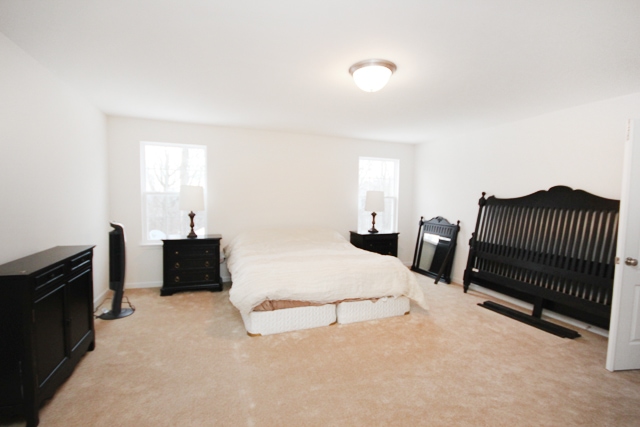 I've been having trouble coming up with a design plan. It's been overwhelming to say the least. I have absolutely nothing; I'm starting at ground zero. The only thing I have right now is my all black furniture with gold knobs and it's staying for now.
So I often get discouraged while shopping for bedding. Nothing in my local stores really catch my eye, and online shopping isn't an option for me. I have to touch, see, and feel bedding before I buy.
Well while I was in Pottery Barn over the weekend thinking I couldn't afford a single thing in the place, I feel in love with the Ainsley Paisley Duvet Cover in gray. The king size was on sale for $104. Uh yeah. Done deal.
So then came the mood board late Sunday night inspired from the bedding.
Here's what I've come up with so far…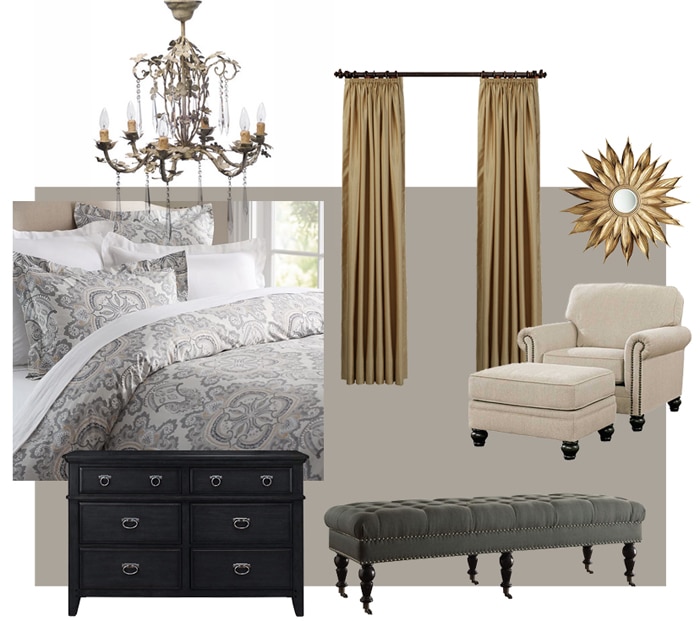 The bedding actually has grays mixed with a hint of blue and gold. It's weird, I seem to have this color scheme throughout a lot of my home. Gray tones mixed with gold. My family room especially reminds me of this space.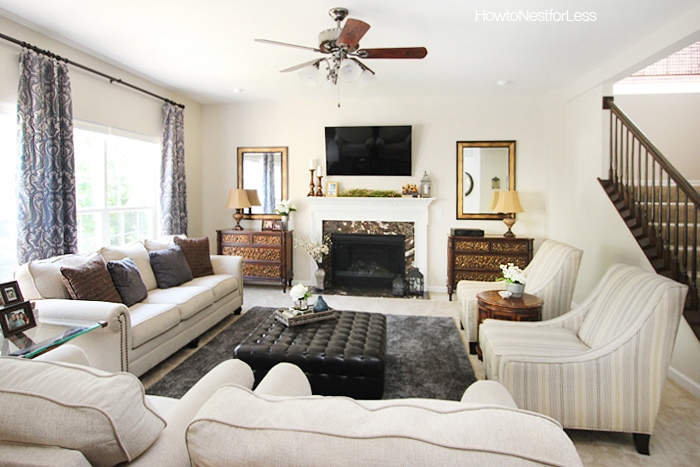 The big difference in the new master bedroom will be the darker walls. I'm thinking of Functional Gray by Sherwin Williams.

My first step is to paint the room over Christmas break.
Nothing like a little holiday paint party, right?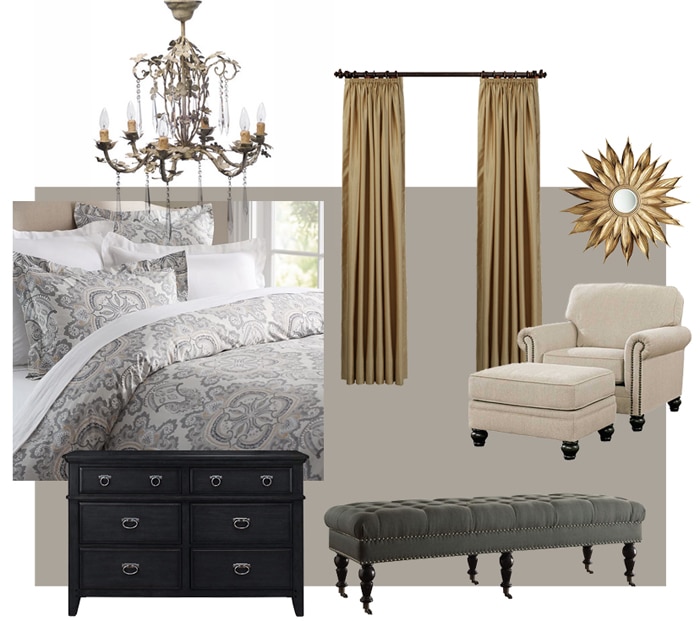 Chandlier: Joss and Main $198
Boot bench: Wayfair $166
Ainsley Paisley Duvet Cover in gray: Pottery Barn $104 on sale
Ainsley Paisley king-sized shams: $71 for two on sale
Curtains: still need to find similar gold ones
Starburst mirror: I saw a similar one at HomeGoods
The linen chair is actually from my family room. We purchased new couches recently for that room and will hopefully move this chair into our master bedroom, then move the couch and other chair into our living room.
Hopefully in January I'll have big reveal once I get the other pieces in place.
Stay tuned!