When I purchase a new piece of furniture I often try to imagine using it another way in our home: double duty furniture I say. I mean I switch things around so often I might buy a sofa table for our family room that will soon end up in our entryway instead.
Case in point, my white dresser (I chose this one from Sauder). I first bought it to go in our guest bedroom, but later decided to use Ben's childhood dresser in that space. So what to do with this new piece? It now holds all of my supplies in my craft room, nicely organized and hidden away behind closed drawers.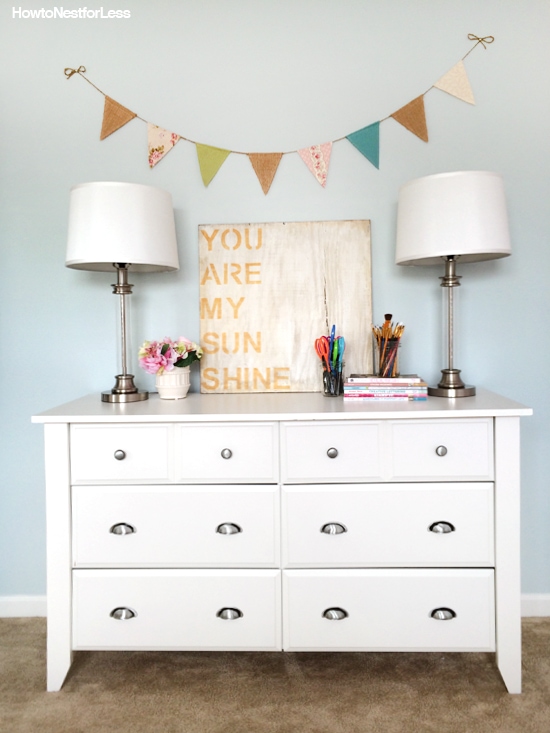 But then I got to thinking about how you can style a piece of furniture and take on a completely different look and feel. Change paint. Change accessories. Lots of options.
So here's a couple different ways I can "upcycle" my white Sauder dresser…
---
— THE POSH LOOK —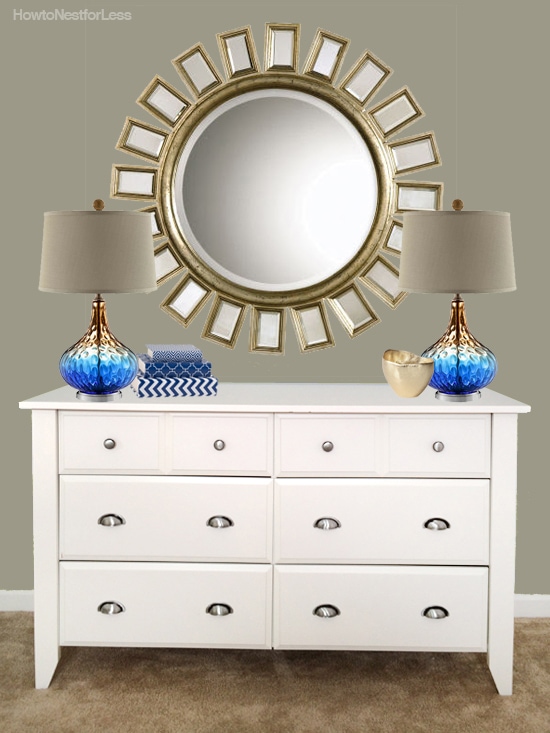 This dresser can immediately get a facelift against a beautiful greige painted wall, a sunburst mirror, and two glamorous glass lamps. Great if you're looking for an upscale look on a smaller budget! Maybe a master bedroom?
---
— THE ROMANTIC LOOK —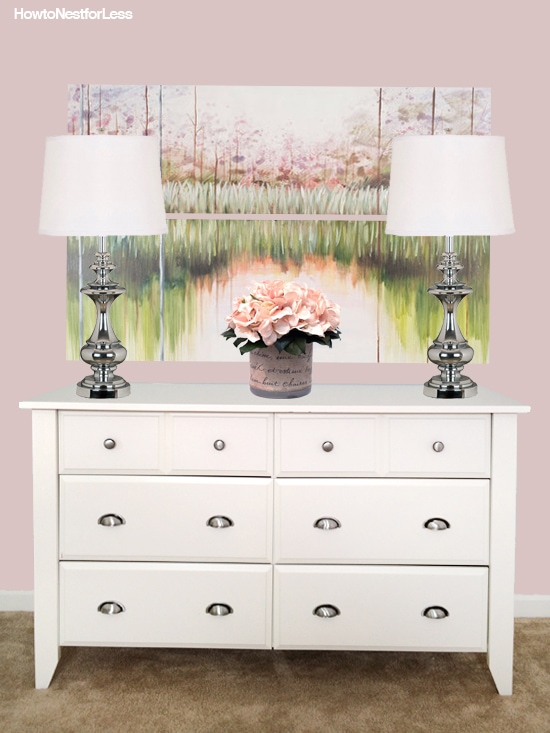 How adorable would this look in your teenage daughter's bedroom against a pink wall with a beautiful painting above? Finish off the look with stylish lamps and a matching flower arrangement.
---
— THE NAUTICAL LOOK —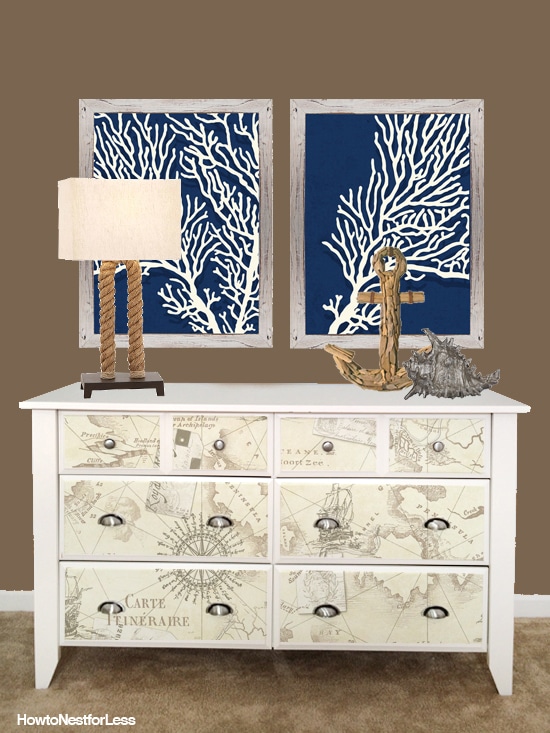 I'm thinking it's about time the boys got a turn. Give this dresser a masculine feel with rustic touches like a rope lamp, darker wall prints, and maybe even mod podge a map onto the drawer fronts?
---
— THE ECLECTIC LOOK —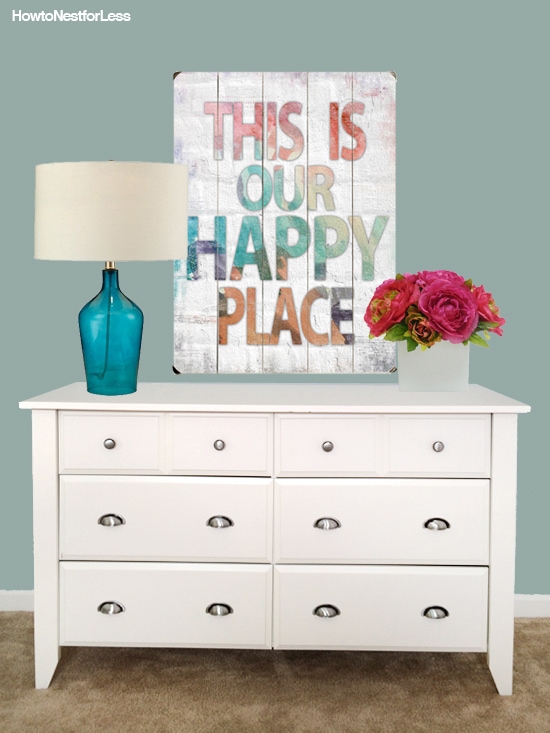 Because this dresser is white, it's easy to add huge pops of color without getting overwhelmed. I like to find a piece of art to hang above then pull colors from it for additional accessories, like a lamp and flower arrangement. If you're going bold though, don't go overboard with the knick knacks.
---
— THE ELEGANT LOOK —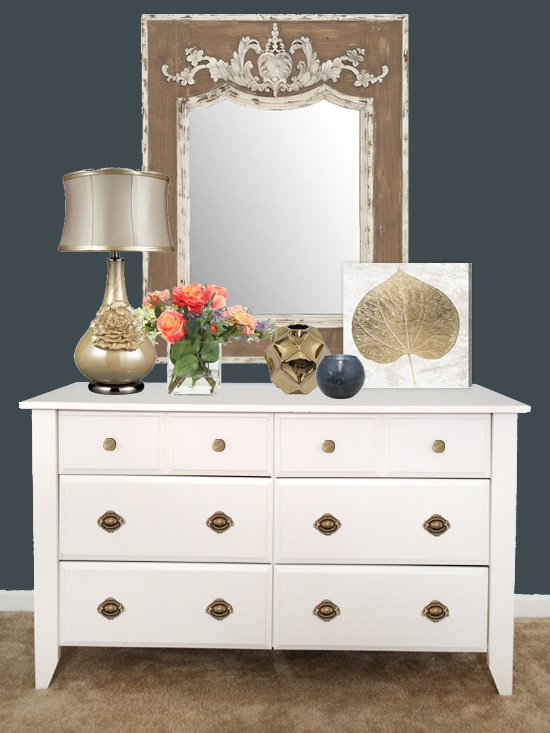 Even affordable pieces of furniture can get an upscale makeover with the right accessories. An elegant paint color, a statement mirror, and maybe even new hardware to match. Love the possibilities!
---
So there you have it.
One piece of furniture. Six styles.
Which is YOUR favorite?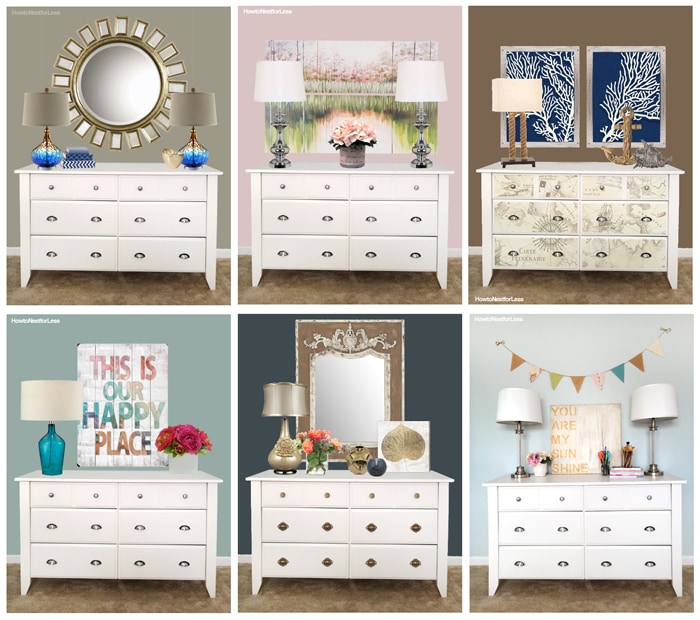 This is a sponsored conversation written by me on behalf of Sauder. The opinions and text are all mine.