One of the best things about being a pro at Photoshop is creating mood boards for my room makeovers. It's so easy to pair furniture together to see what works and what doesn't.
Well since my closing date is 6 weeks and counting it's time to start thinking about furniture in our new home. And since I'm pretty much known to have things planned out meticulously, of course I have my furniture all scoped out (and even some purchased in advance). Let's take a look…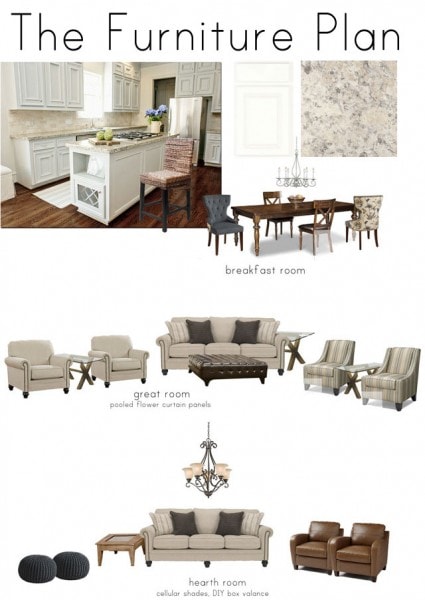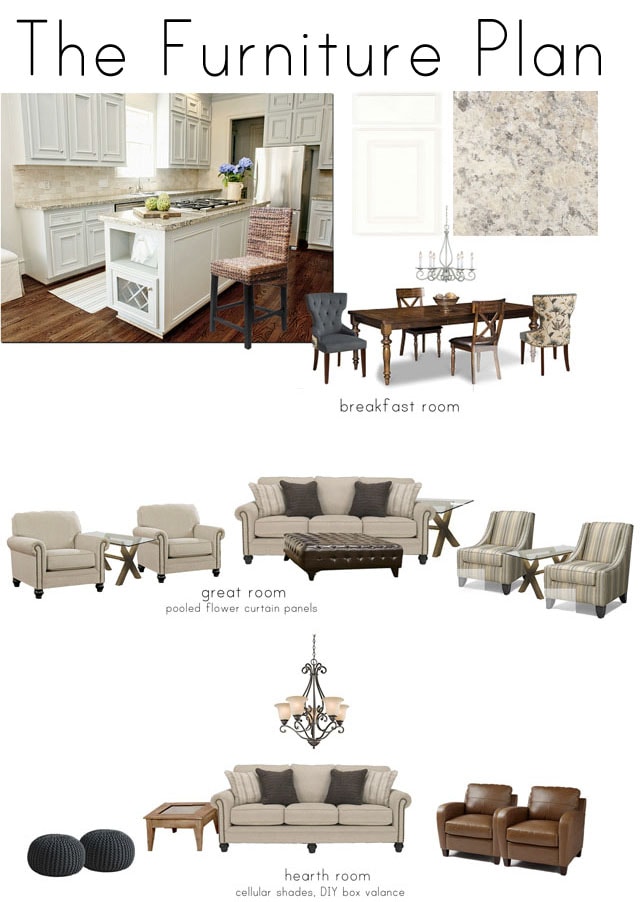 We're going to have white cabinets and lighter countertops in the kitchen mixed with dark flooring. Since our dining room is kinda small, I want our kitchen/breakfast room to be the spot to entertain.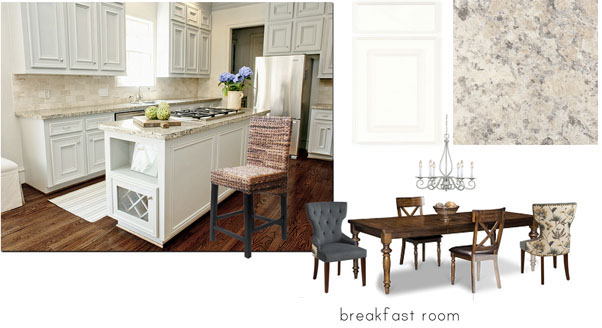 I found this 5 piece dining set from Value City Furniture (on sale for $560 and the table extends to 96 inches). Then I purchased two end chairs from World Market. A little bit of a splurge on those…
But don't you just love the back of these chairs? I seriously wish I could find this fabric so I could make some drapes in an adjoining room.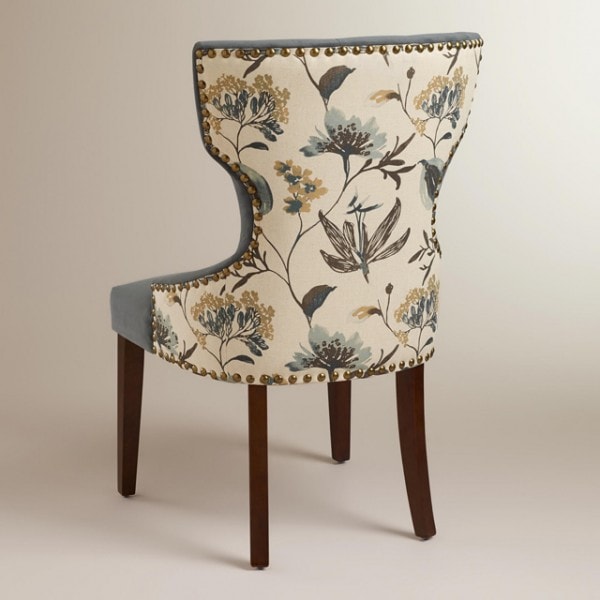 One of the first things I fell in love with about the new home is the kitchen island. We extended the countertop so we can fit 5 chairs around it. Now the only problem is finding the perfect chairs…
What I really need are counter height stools, not bar stools. And I would LOVE rattan chairs as well. Left is from Pier 1 Imports, but of course they're sold out and might not have them again until next Summer (as per their customer service). Middle is from Pottery Barn, but yikes, expensive. Right is from Target. Best priced, but definitely my third choice out of the three.
So if you find any other rattan chairs that are reasonably priced, please let me know!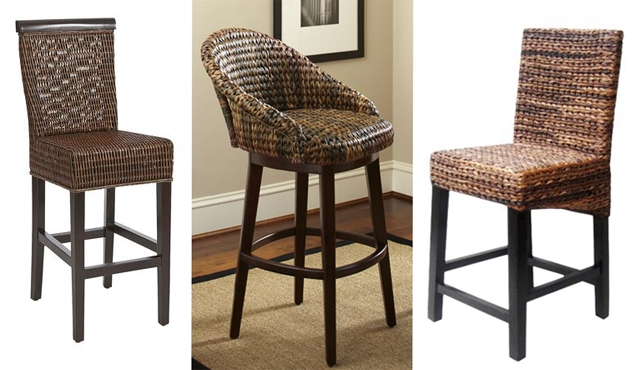 Our breakfast room flows into the great room and I decided to go pretty neutral in here. Light linen couches with nailhead trim (you can find them here), dark wood accents, and some striped upholstered chairs I found on clearance from a local store for less than $175 each. Seriously great find there and they are so comfy! We'll see how the four chair layout works….

I  do love that the striped chairs have a bit of the charcoal/navy blue that will compliment the breakfast room end chairs. And the leather ottoman I just found on Joss and Main this past week for almost 50% off. Woot!
I'm going to use some old end tables from our last home, and I do still need to find a couple media consoles to flank the fireplace. Other than that though, the staple pieces are in place.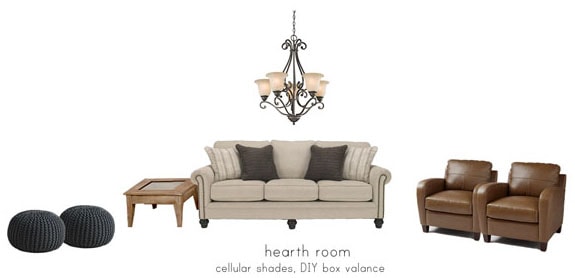 The hearth room/sun room is adjacent to the breakfast room so I wanted to keep the color scheme in here as well. You can't go wrong with neutrals and add pops of color for holidays, changing seasons, etc.
I decided to purchase the exact same linen couch as in the great room. My thought is if I don't like the four chair look in the great room, I can always swap some furniture around. Nice to have a back up plan, right?
The chandelier in my layout we originally purchased for our dining room, but I'm thinking of swapping it out since I just scored an amazing crystal chandelier from Costco for $100 (did you see it on Instagram?)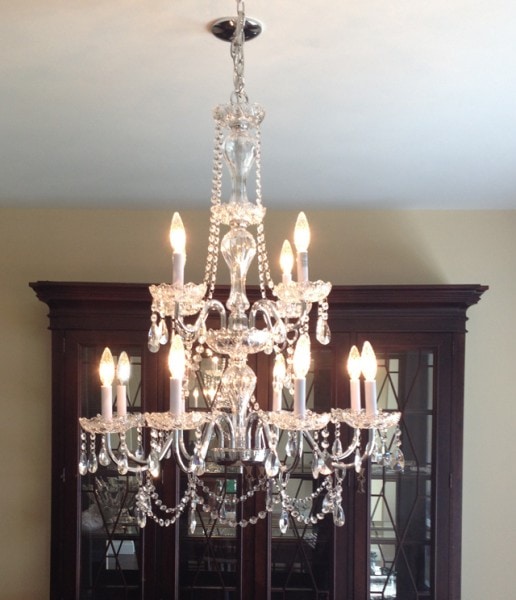 The leather chairs and poufs are from World Market, as are the end tables that I purchased last year on clearance.
I think for this room I'll also create some DIY box valances. We won't really need blinds since we back to woods, but I want to add a little bit of pattern to the room and I think draperies are the perfect place.
Don't you just love this layered look?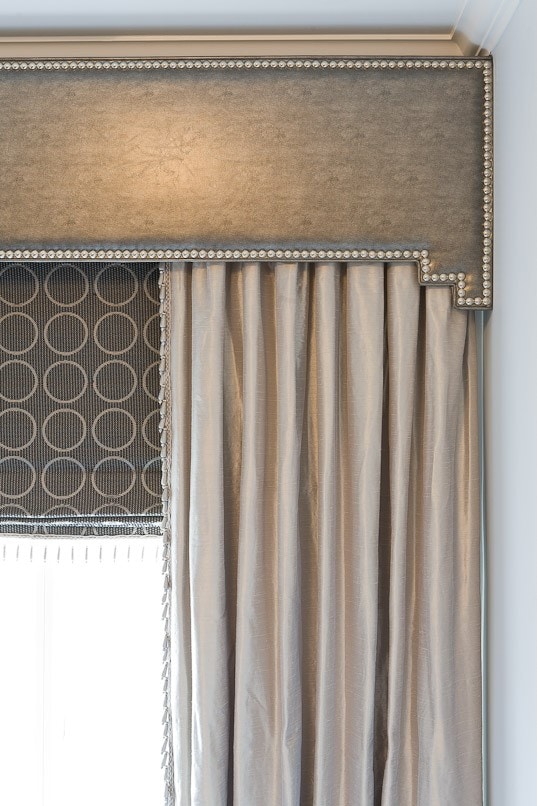 Yep, building the box valances is going to be one of the first projects for the new home. With roman shades and curtain panels… simply swoonworthy, am I right?