Looking to add some color to your kitchen? Think about adding a single color of kitchen appliances and utensils, like all pink appliances! I'm loving subtle shades of pinks and blush. Decorate your kitchen with a soothing color that goes with everything! Check out all the pink appliances and pink kitchen accessories below!
We have scored for the best pink kitchen accessories and pink appliances!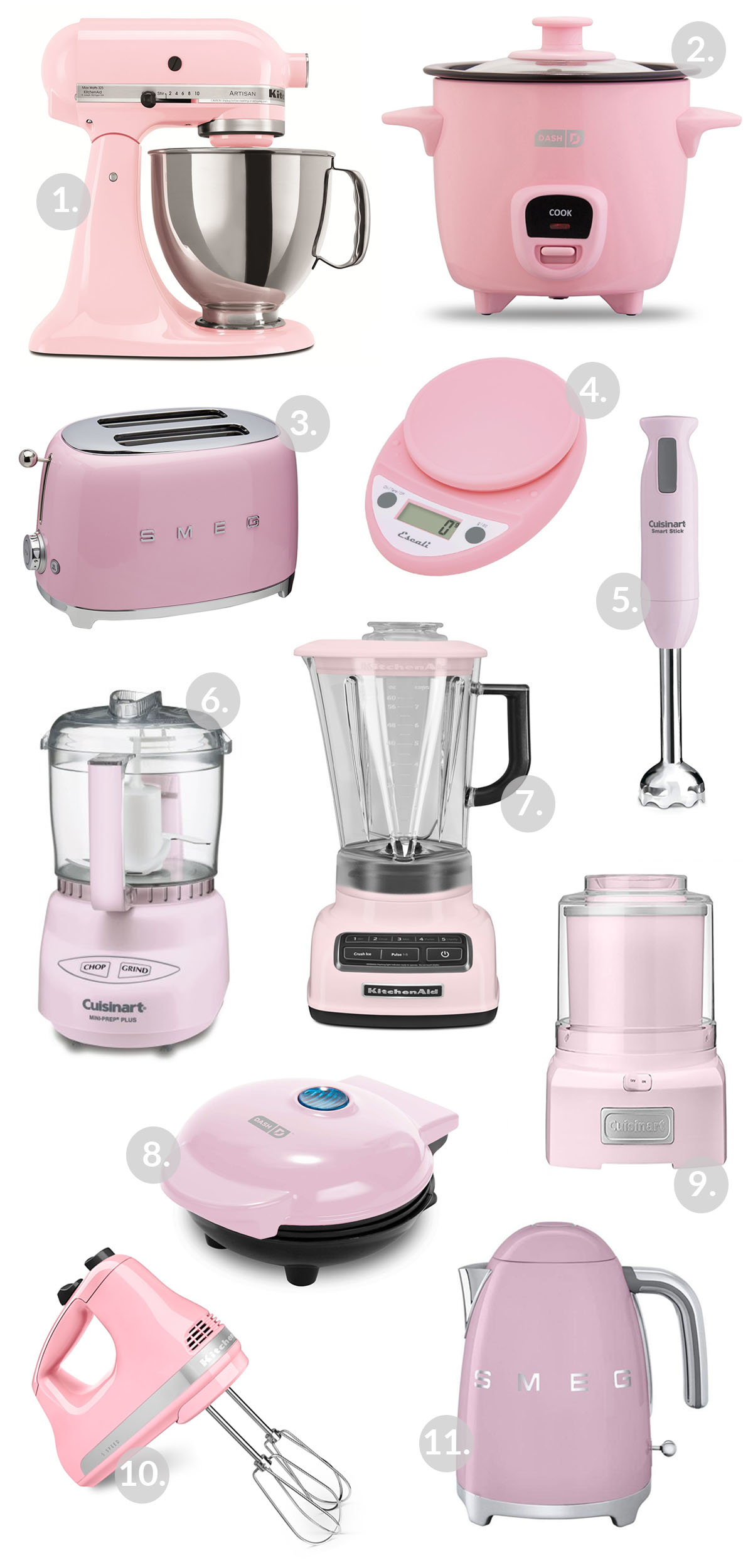 This post contains affiliate links.
Pink Kitchen Appliances
This retro pink kitchen appliance is a must have! My FAVORITE kitchen appliance is my KitchenAid mixer. This pink appliance allows you to show your style and is extremely functional in be the center of your culinary master pieces!
How adorable is this pink rice cooker! It has auto shut off function when rice is finished cooking and makes meal time easy! Love the removable pot for easy clean up.
3. Pink Toaster
Love this retro pink kitchen appliance! Add fun retro style to your mornings with Smeg 2-slice toaster. It has 3 pre-set programs that's perfect for reheating items, or defrosting a frozen waffle for fast morning breakfast.
Incredible price point for this pink appliance! It is less than $25 and a great kitchen scale for the baker or when you are trying to portion control.
5. Cuisinart Immersion Blender
Cuisinart makes awesome kitchen appliances and this immersion hand blender is no exception. Make a perfect sauce or tomato soup with ease! My favorite part, its' dishwasher safe!
Buy this pink kitchen appliance immediately! It is a steal at less than $35 and is perfect for chopping nuts, candies and so much more for quick and easy desserts and meals. And it just makes cooking fun when you have a cute appliance helping you out!
Another perfect Cuisinart appliance that can make a perfect home-made salsa in no time! This pink kitchen appliance is easy to clean and dishwasher-safe for the win!
8. Waffle Iron
Your kids will love mini waffles from this Dash mini maker pink appliance! It is super budget friendly and can make much more than waffles. Try making paninis or fun pizzas!
If you have ever used this Cuisinart Frozen Yogurt and Ice Cream maker you will never use anything else to make sweet treats again! The bowl is frozen and eliminates the need for ice! Makes ice cream in around 20 minutes and stores easily.
10. Hand Mixer
How adorable is this pink kitchen appliance? Small, easy to store and a perfect gift for yourself or someone else! It has 5 speeds and will mix from a stir to whipping up your next whipped topping! Beaters eject easy for quick cleaning.
11. Electric Kettle
I've got all kinds of nostalgia for this pink retro electric kettle! It reminds me of a classic style and time. I would love this for a tea, party or for myself!

Pink Kitchen Gadgets
Adorable large buffalo check dish towels that will lighten up your kitchen decor and are super functional. These would also make a great gift!
2. Mason Jar Ceramic Salt and Pepper
Decorative classic decor are fun and functional. This pink kitchen accessory is all sorts of cute! Plus the bonus is they are microwave and dishwasher safe!
3. Mason Jar Ceramic Utensil holder
Cute mason jar inspired pink kitchen accessory holder fits as a countertop decor in retro, rustic or farmhouse style kitchen. Keep utensils on the counter for easy use when you use this utensil holder.
4. Colander
Best colander and bowl set for ease use for straining, washing and cleaning! And in this fun shade of pink who could resist! Under $10 for budget friendly kitchen accessory!
5. Bread Box
Stainless Steel metal pink bread box is big and sturdy, but also functional for keeping bread fresh! It's less than $20 and would be absolutely stunning on your counter for vintage fun home decor.
6. Oven Mitts
Super high performing pink oven mitts are easy to wash and store. Cook and bake in style with adorable pink kitchen accessory. These are so cute display them in your kitchen for a pop of color and ease of use!
This is a three piece set and will be all you need for cooking! They are made from silicone wiring so it will not scratch your dishes when you are using them. How much more enjoyable will cooking be with these cute pink whisk?
8. Cake Stands
SO much love for these pink cake stands! I'm already thinking of what I could bake to put on these cuties! Cake stands are really multi-use items. Use to display baked goods, or use around the kitchen and house for home decor.
9. Dish Towels
Have you cleaned with microfiber towels? It's life changing! Seriously try these pink microfiber towels that clean dishes so easily and has extra absorption and leaves no lint behind.
10. Mason Jar Ceramic Measuring Cups
Measuring cups are a kitchen staple, but these step it up a notch and are so cute you should leave them out on the counter! They stack and are easy to store.
Love these budget friendly measuring cups and spoons are made from nylon and have rose gold copper handles. The set is less than $15 and are adorable.
12. Cutting Board
Look no more than this pink kitchen cutting board! It is antimicrobial and will not retain any bacteria! It is dishwasher-safe and is so ease to clean up.
13. Pie Pan
I can imagine serving a delicious pie in this pink pie pan! It has a high gloss and lots of charm!
Have you ever cooked with Le Creuset pots? They are glorious. Easily can cook from stove to oven and keeps temperatures perfect. My favorite thing about this is it has a lifetime warranty! What could you cook in this pink dutch oven?
15. Mixing Bowls
This trio of bowls can go from mixing to serving. I love the vintage glass. It reminds me of my grandmother's kitchen!
16. I've got a knife Oven Mitt
You can't help but love this retro print oven mitt! Would you give this for a gift or keep the fun for yourself?
17. Bundt Pan
Blush pink bundt pan is timeless cooking style. Step up your baking with the heavy cast aluminum bakeware.
18. Mason Jar Ceramic Cookie Jar
Sneak a cookie or two from this vintage fun Mason Jar Stoneware cookie jar. Adds a pop of color and function for your kitchen counter.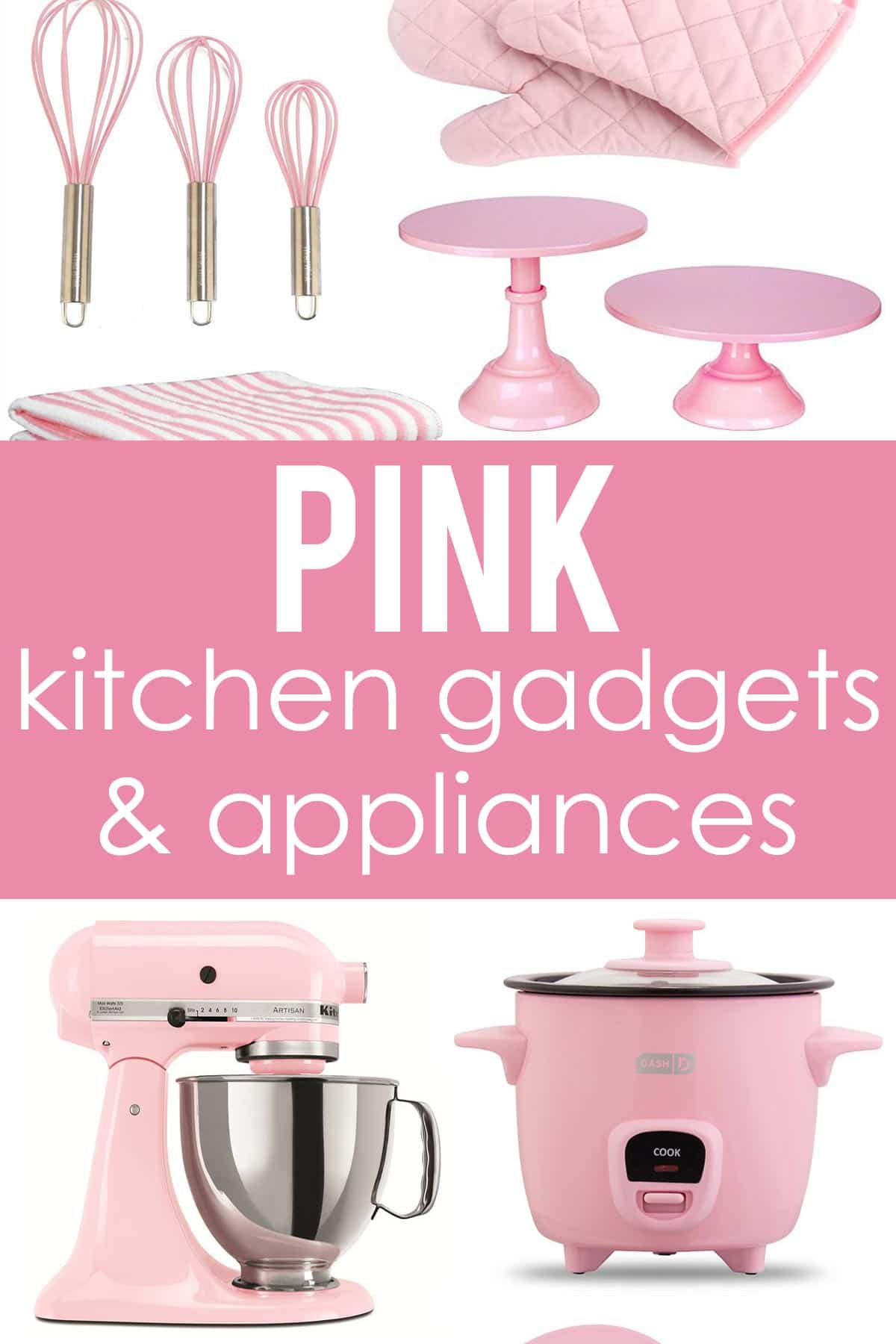 With so many great pink appliance and accessory finds what are you going to choose?