OK, this is a long winded post. And I'm apologizing ahead of time for it. But I really had a lot to say on the subject and wanted you guys to get my real, 100% honest opinion. And with the master bedroom reveal this week, I thought a quick talk on our mattress was quite fitting. So here we go…
Ben and I have been actively shopping for mattresses for about the past year online and in local stores. And if you remember my post about getting out of $20,000 credit card debt, we don't buy anything until we save the cash first. And some mattresses can be expensive so it took us quite awhile to save.
Well last November I was approached by Spindle Mattress to do a product review. I really didn't want to review a mattress. In fact I'm kind of stepping away from product reviews in 2015 unless it's a perfect fit for my blog, but Ben talked me into this. We figured there was nothing to lose since our mattress was 10 years old and in bad shape. Plus we could always get rid of the mattress down the road if we hated it, right?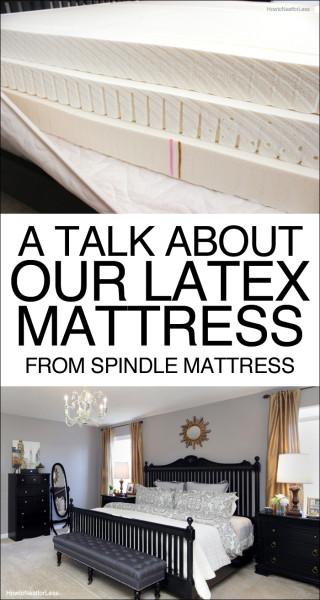 THE RESEARCH
During our research this past year we had actually looked at Spindle Mattress online, but I was a little weary about trying a new company I wasn't very familiar with. The online reviews were fantastic though. All fears of purchasing a mattress online without testing it out in a store first totally went out the window.
So our last mattress was a luxurious pillow top that cost an arm and a leg. It was actually my college graduation present from my parents (yay for responsible gifts). After about 3 years of sleeping on the mattress, it already had huge divots from where we slept at night. I'm short and chubby, but these were insanely serious divots. Let's just say, I hate pillowtops now. So with our old mattress hitting the 10 year mark and looking like the Grand Canyon, we decided it was time for a change and took a chance on Spindle.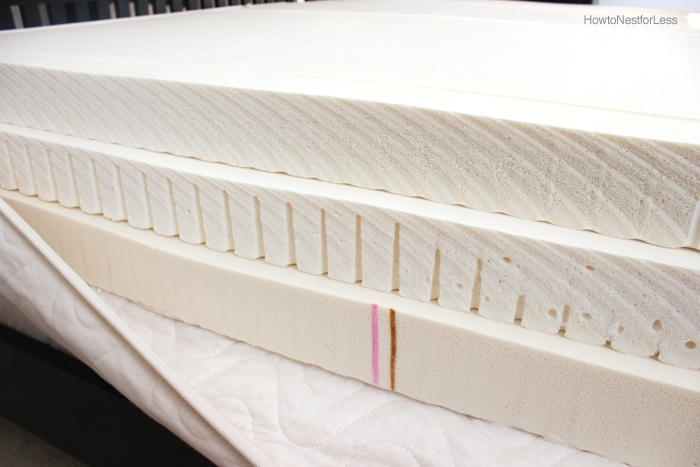 THE LATEX MATTRESS
In doing my research on Spindle Mattress, I found out that they offer natural, organic, and latex mattresses. Huge bonus for us. No springs, just pure latex foam. No more worrying about allergies either.
The latex gets inserted into an organic cotton case topped with wool padding so it feels like a normal mattress. Simple and natural. Love that.
I have to admit that being able to see inside our mattress with the 3 layers of latex is actually a WONDERFUL feeling. I was always grossed out about our 10 year old mattress and wouldn't sit on the bed if it didn't have sheets on it. I would just think about the stuff that collected in there over the past decade. Now I can unzip the cover at any time and peek inside. Definitely a good feeling for any OCD freak like me.
THE CUSTOMER SERVICE
One of the things I liked most about ordering through Spindle Mattress was the customer service. It's a 4-generation family business that really knows everything there is to know about mattresses. They helped me every step along the way, including advice on what would probably be the best 'fit' for our bodies and sleep style (soft, medium, firm).
They also reassured us with the 365 days of comfort adjustment guarantee where you can swap out a layer of your latex if needed. You basically just unzip your mattress cover and change out the layer of latex foam. Super easy, and nice to know that this was an option in the back of our minds (plus the fact that it only costs $150 and that includes shipping).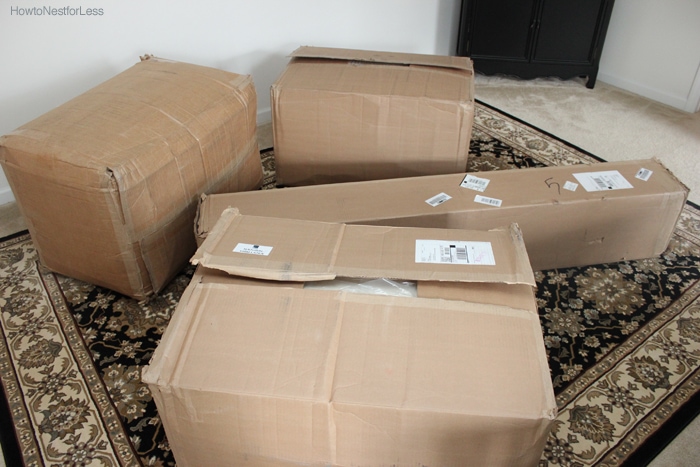 THE ASSEMBLY
So a week or so later we received our latex mattress unassembled. Yeah, it was a little scary when it arrived in four huge boxes on the front porch! But we got to work assembling the layers inside the mattress cover. It really only took about 20 minutes to put it all together. You just have to be sure to follow the instructions for your layer order and work gently with the latex. It was actually kinda fun wiggling it around trying to get everything to line up. Yeah, at times I definitely had my doubts that it would fit inside the cover, but it all worked out and zipped up just fine!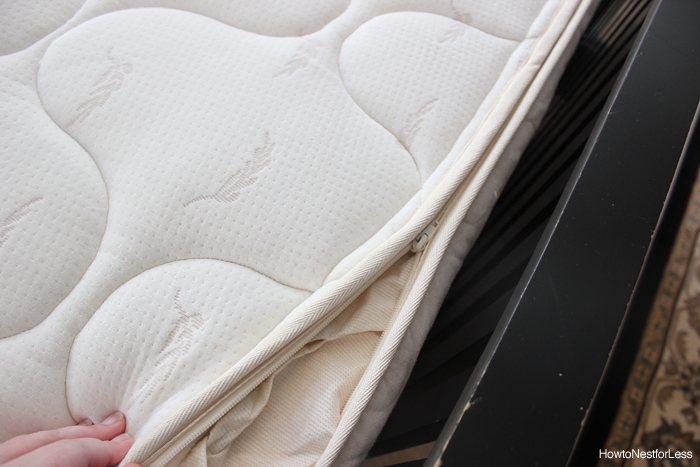 THE COMFORT
We had the mattress now for about 2 months and we absolutely love it. I truly mean it, we're over the moon for this mattress. Ben only second guessed it the first couple of nights, right out of the box. But by the end of the weeks he was sleeping like a baby. Seriously, no complaints since then. I'm a crazy sleeper too. Completely restless. Ben says it looks like I do 180 degree flips in the air about every hour. Luckily now he can't feel my movements as much either.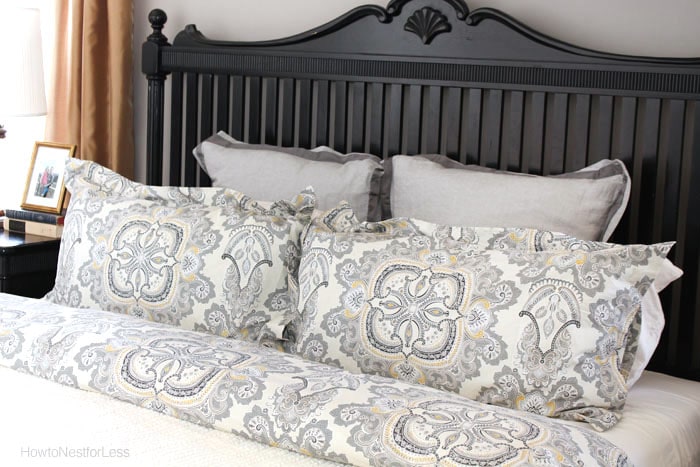 Also I laid in Ellie's bed the other night when she was sick and could feel her bed springs underneath me. Yeah, guess I never noticed that before, but now I sure can. Another bonus of latex foam.
I was worried about getting divots in the latex mattress as well, but so far just normal settling. Spindle Mattress even offers a warranty that covers indentations greater than 1″.
The biggest bonus about shopping with Spindle Mattress? There's no middle man to drive up the cost. That means HUGE savings so you can get the best deal possible. Plus they're preparing for a large marketplace rollout to online retailers like Amazon, Houzz and Wayfair. Stay tuned!
Check out this video too for more information. VERY HELPFUL!!
OK. Lots of info there!
Let me know if you guys have any questions.
I'll give my 100% honest answer!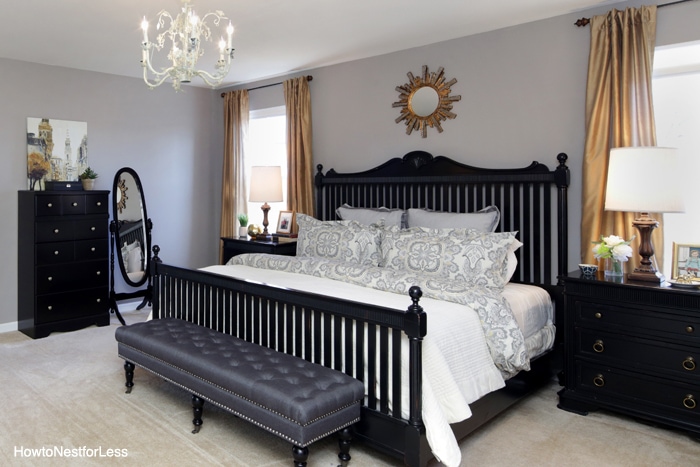 And if you missed my master bedroom makeover,
CHECK IT OUT HERE!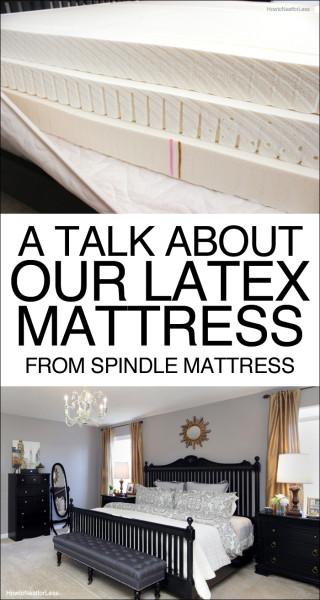 The mattress was provided by Spindle Mattress. All opinions are 100% mine.