So now that I've painted the cabinets in our old home and my parents' kitchen, I kind of feel like a pro now. Ok… not really. But I've learned some tips along the way that I thought might help you when you muster up the courage to transform your own kitchen with a coat of paint. And here we go…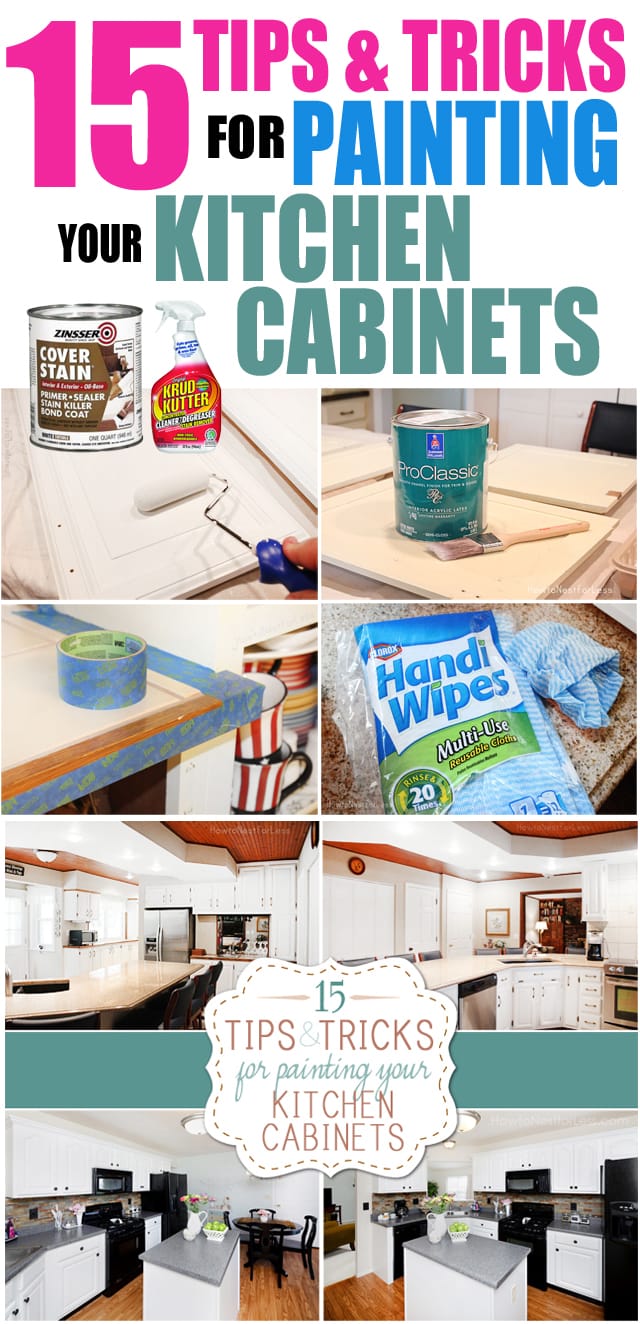 1. REMOVE ALL DOORS FROM THE BASE AND WALL CABINETS.
Working on a flat surface will save you from getting the dreaded drip marks.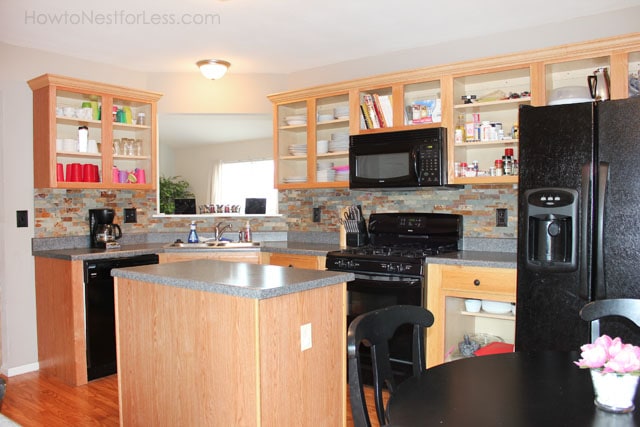 2. ORGANIZE YOUR HARDWARE.
Place hardware from each cabinet door (including the hinges) in a separate plastic bag and mark on them with a permanent marker. Then place a sticky note next to the coordinating cabinet door. This way you will know what  screws, hinges and knobs/pulls go with each door and they will perfectly align when you screw them back on.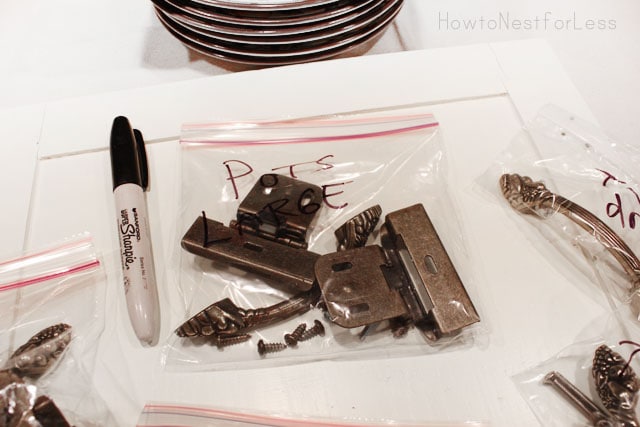 3. CAREFULLY CLEAN YOUR SURFACE.
Trust me on this: prep work is key. When I painted my kitchen cabinets from builder grade oak to white, I first used a degreaser to clean each cabinet door (front, back, and sides) plus the base of the cabinets. You need a perfectly clean surface for the paint to adhere.
You might also want to sand the surface of your cabinets with light sandpaper to give them a little grit. This will also help the paint smoothly adhere to your surface. Just make sure you properly clean up all of the dust before you begin painting.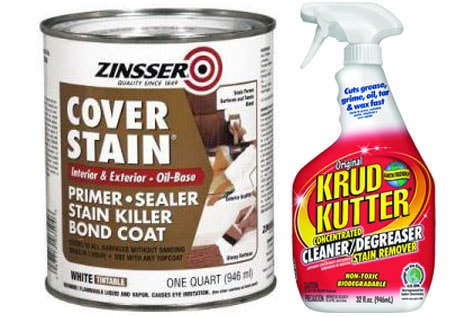 4. PRIMER IS YOUR FRIEND.
When I painted my cabinets, I gave each door and base TWO COATS of primer, plus I sanded between each coat. Again, prep is key to long-lasting cabinets.
Now your first coat of primer will not entirely cover the cabinets. In fact, it might look like you white-washed them instead. Do not worry. Your second coat will make them look a lot better! Your cabinets might not even be 100% covered until you add your first coat of paint.
Just remember that primer will help the paint adhere better, give more durability to your cabinets, and give added protection in the long run.
5. TAPE IT UP.
Urgh, this is another prep step that takes a lot of time and gets a little tedious, but it is necessary!
You don't want to be touching up your wall color or scraping little bits of paint off your floor and countertops when you're done with your cabinets. Take the time to carefully tape up everything before you start painting.
Also make sure you really press the edge of the tape down so you don't get any bleeding of the paint.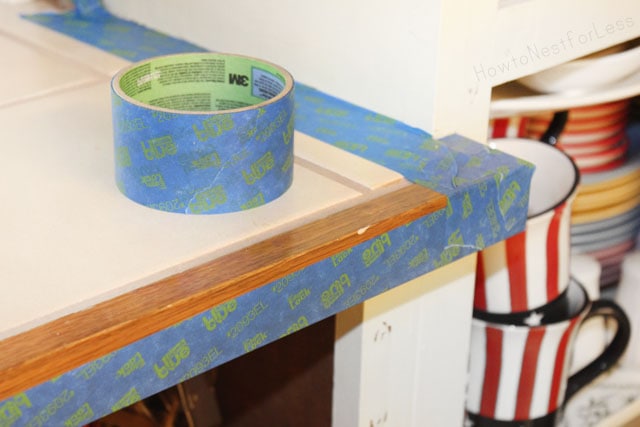 6. HAVE A GOOD WORK SPACE.
Both times I painted kitchen cabinets it was too humid outside to paint so I had to find indoor options. When I painted my cabinets, I used my dining room table. At my mom's house, I used her granite peninsula. To protect the surfaces, I first put down a plastic drop cloth. On top of that I put a canvas drop cloth.
Why both? The canvas is a nice surface that won't budge much since the drop cloth is quite thick and durable. BUT paint can easily seep through the textile.
The plastic drop clothes are great for stopping paint, but they can easily tear and get moved around. Yeah, any little gust of wind while opening a front door can fly a little corner into the air if not properly taped down. So, I've learned to use the plastic and canvas together and LOVE it. Yeah, it might be an extra $3 in the long run, but oh-so worth it.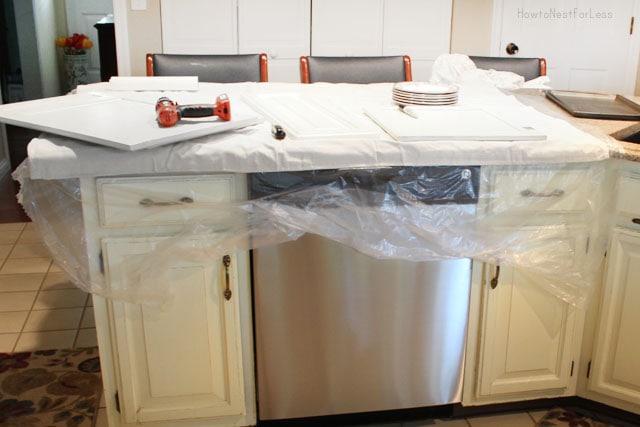 7. HAVE LOTS OF NATURAL LIGHTING.
Speaking of good work space, make sure you have proper lighting. I love being near windows so you can have some natural light flowing in. This will help you see any runs, drip marks, or areas that you may have missed.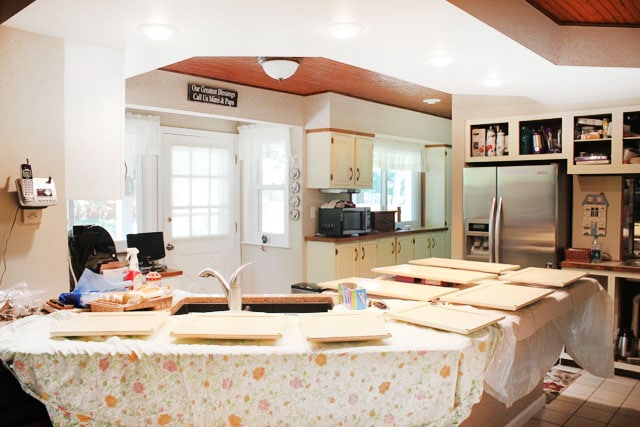 8. BRUSHES AND ROLLERS.
When I paint kitchen cabinets, I use both a 1.5 inch angled brush (preferable Purdy) and a cabinet/trim roller.
I first use the brush to paint around the inside beveled edges. Don't lay on the paint too thick, and work the brush back and forth so you don't get build up and drip marks.
Once I had the niches and bevels painted I switched to a 4 inch trim and cabinet foam roller. I first painted the inside of the brush strokes, then worked my way around the sides and edges. This really helped give me a smooth finish with no brush strokes.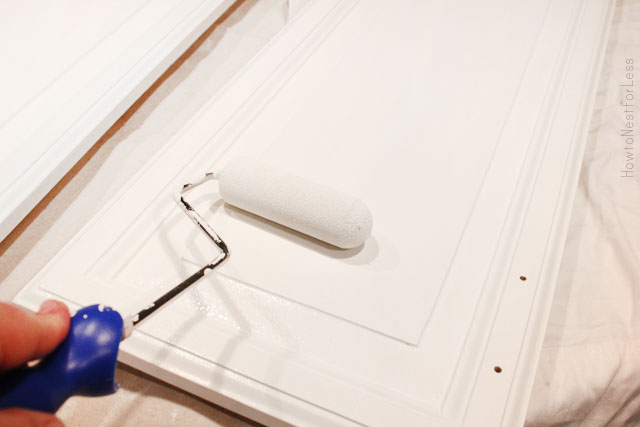 9. ELEVATE YOUR CABINET DOORS WHEN PAINTING.
To easily paint the edges of your cabinets, elevate them a couple of inches off your work space (I use cookie sheets and stacked plates).
10. HANDI-WIPES ARE LIFE SAVERS.
So let's say that you drip a little paint on the floor or you accidentally paint the ceiling, or just need to clean all of the dirt and grime off the cabinet doors… well, Clorox HandiWipes will save your life.
I bought a 36 pack of these puppies for $6 and they are awesome. Just keep a wet one by your side for those quick clean ups. You can rinse them out or pitch when they get too gross.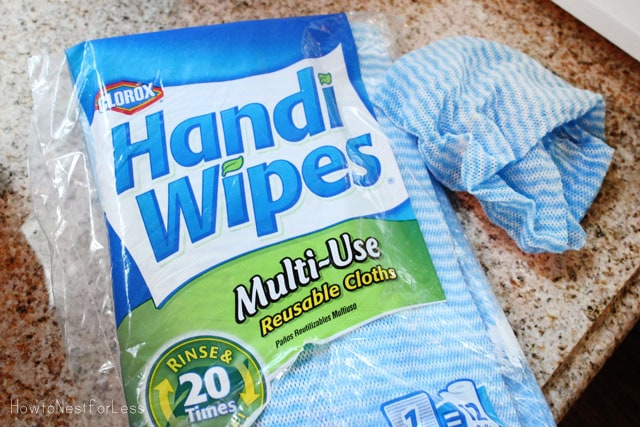 11. LATEX vs. OIL PAINTS.
This is only a personal preference here, but I'm a huge fan of latex paints on kitchen cabinets. They don't yellow over time, have quick drying times for your second or third coats, and it's easy to clean your brushes after each day (just a little water and dish soap).
Plus the ProClassic Interior Latex finish I used from Sherwin Williams is simply amazing.
– Excellent adhesion and a uniform finish make ProClassic® an ideal choice for doors and trim – as well as cabinets and furniture.
– Provides excellent flow, leveling and sag resistance – and leaves no brush or roller marks.
– A unique wet and dry hide allows you to apply fewer coats – saving valuable time and money.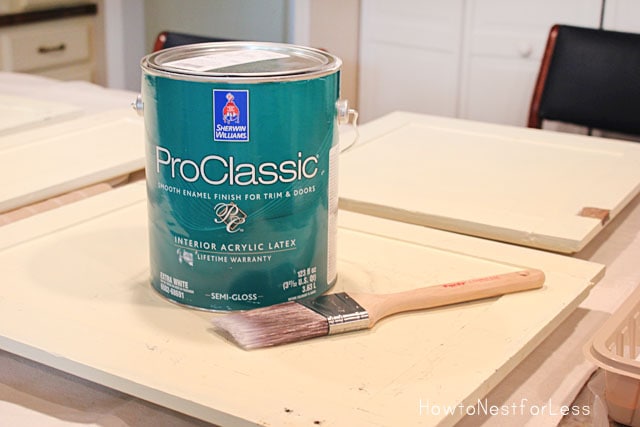 12. REUSE YOUR PAINT TRAYS.
I only bought one paint tray, but easily reused it the entire 5 days that I spent painting my mom's cabinets. How? I simply used a small piece of foil as the liner and pitched it at the end of every day.
When I painted my own kitchen cabinets I used plastic bags. Both work great and are a cheap solution to those pricey paint tray liners.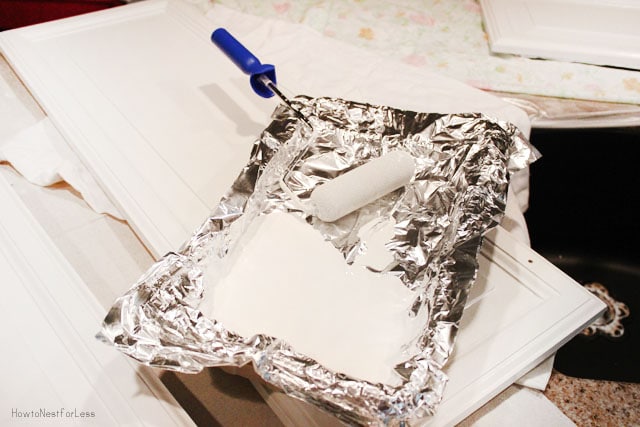 13. REFRIGERATE YOUR PAINT BRUSHES.
Did you know you can refrigerate your paint brush overnight so you don't have to clean it out? Yep! Just stick it in a ziplock bag and you're good to go the next day.
14. GET THAT SUPER SMOOTH FINISH.
I know you're going to hate me for this, but you have to sand your cabinets after every coat! And by this I mean…
Degrease, SAND
Prime, SAND
Prime, SAND
Paint, SAND
Paint
Yep, that's right. If you're going from wood to painted cabinets you will need to sand your cabinets 4 times. This takes forever! BUT your cabinets will be silky smooth. You don't have to sand them so hard to where you're distressing the edges, but just light enough to get some of the grit out of the finish. Yes, it's a mess. Yes, it's annoying. Yes, they will turn out beautifully if you do this!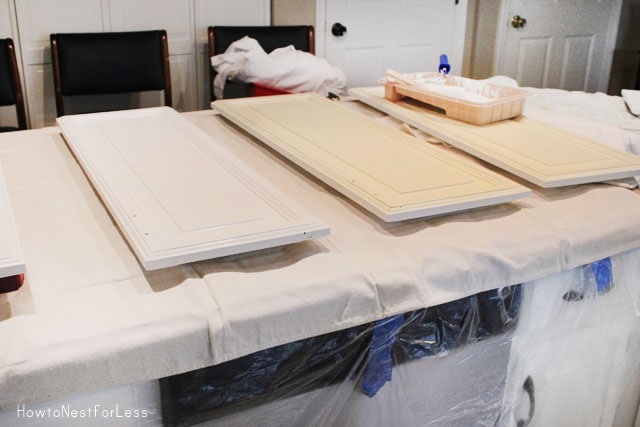 15. BUDGET YOUR TIME.
Yes, it will take a LONG TIME to paint your cabinets. I think I did mine over a 30 day period (in phases of course).
I completed my mom's kitchen in 5 days, about a total of 48 hours! YES, you read that right. 48 hours. Three 12 hours days, and two 6 hour days. Yes, my feet hurt afterwards and I may have needed an adult beverage at the end of each day, but the outcome is worth EVERY MINUTE! Just remember that.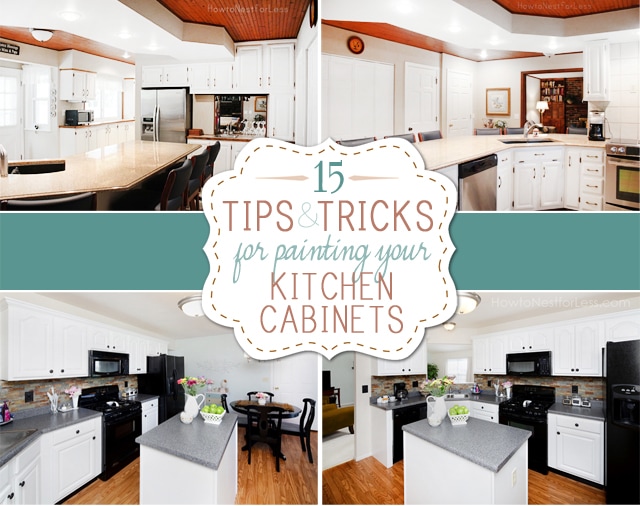 GOOD LUCK TO YOU!
Linking up here:
Serenity Now, The DIY Showoff, Between Naps on the Porch, Carolyn's Homework, Sugar Bee Crafts, Uncommon Slice of Surburbia, Shabby Chic Cottage, Beyond the Picket Fence, House of Hepworths, The 36th Avenue, Today's Creative Blog, Not Just a Housewife, Monday Funday