Last week I found a recipe for Honey BBQ Turkey Meatloaf on Pinterest from Tracey's Culinary Adventures. While I like the idea of the recipe, I decided to use my Grandma's meatloaf recipe (it has more "hidden" veggies) and incorporated Tracey's tip for the special sauce. And it was DELICIOUS!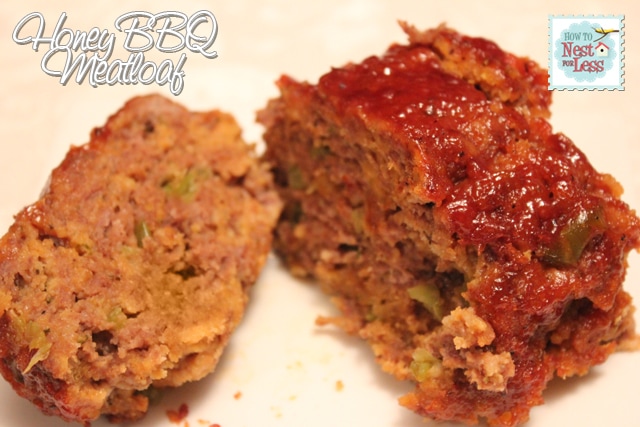 Pin It
Ingredients:
1 lb ground beef
1 cup bread crumbs (or oatmeal)
2 tbsp garlic powder
2 tbsp of BBQ sauce
1 egg
Diced celery
Diced green pepper
2 dashes of Worcheshire sauce
Salt and pepper
Sauce topping:
3/4 cup of BBQ sauce
2 tbsp honey
Directions:
Mix all ingredients together for the main meatloaf (I use my hands to mush it all up). Shape into rounded loaf and place in covered roasting pan. Mix BBQ and honey in separate bowl for the special sauce topping and pour over meatloaf.
Bake in covered dish at 350 degrees for 1 hour.
Like I mentioned, I like this version of my Grandma's meatloaf with some celery and green peppers mixed in. My 4 year old daughter didn't even notice… BONUS!
Hope you enjoy!