Make sure you follow me on Instagram and Pinterest for a sneak peek into my recent projects!
I feel like I've been on a bit of a painting kick recently with the completion of 2 bedrooms in the past month along with a couple pieces of furniture. So today I decided to share with you guys some of my favorite painting tools, items that I always keep in stock and within an arm's reach!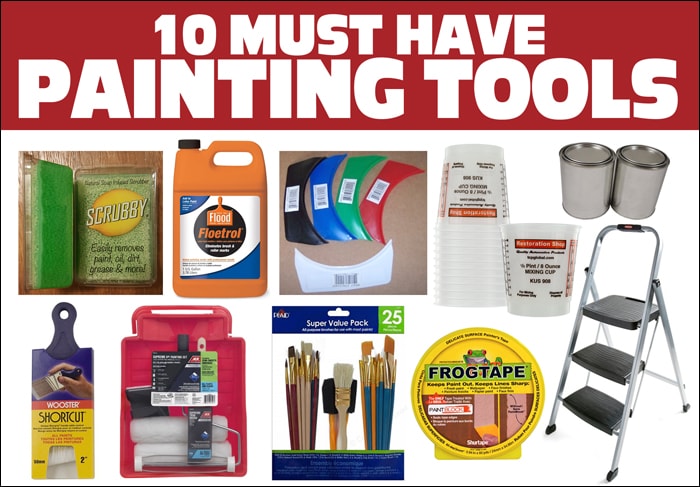 1. Short Cut Paint Brush
This is by far my favorite type of paint brush. I always use this for cutting in a room around the baseboards, corners and ceilings. It gives me so much more control than a normal paint brush when hitting those tiny spots. I know a lot of people like edger tools but I always seem to get paint on the little wheels and it leads to paint everywhere. Trust me, once you practice with this short cut paint brush and get comfortable with cutting in, you won't even need painter's tape!
2. Plastic Paint Mixing Cups
When I start painting a room, I always cut in first (the ceiling line, corners, and along baseboards and trim). Since I don't like to lug around a large painting tray, I just pour a small amount of paint into a small plastic mixing cup. You can get these for less than $1 each so you don't feel bad when throwing them away once your job is complete!
3. Ace Hardware 6pc Painting Kit
This is by far my favorite painting kit when I'm painting a small room (like a bedroom, dining room, or living room). The roller is sturdy and I can usually get one roller cover to last the entire paint job. Also the angled paint brush in this kit is my absolute favorite paint brush to use when painting furniture (you can spot one in almost every painting post). They clean really well and the bristles keep their shape.
4. Floetrol
If you're not familiar with Floetrol, it's a latex paint conditioner and it's basically the best thing ever. It will reduce the amount of brush and roller marks in your paint job. Great to use when painting furniture with latex paints, too!
5. Frog Tape Delicate Surface
As mentioned I normally don't tape off a room when I'm painting, but I do use painter's tape a lot for other things. I often use it when painting stripes like in my nephew's nursery or my old craft room. I'll also use it when painting furniture and I want to protect the insides of drawers, etc. I always find the delicate surface to be the best for protecting the paint I've already applied, especially if it hasn't fully cured.
6. Small Paint Cans
In my last house I had about 10 different gallon paint cans in the bottom of our pantry and of course all of them only have about 2 inches of paint in the bottom of the can. So this time around I've been trying to transfer my house paints into smaller quart or pint cans, then label them with the paint color information and the room I used it in. I also like to glob a color of the paint color on the lid so I can easily see it when going through my cans. These smaller cans also make it easy to store and easy to stir when I'm ready to use them again.
7. Stretcher Spout Paint Pourer
It always used to be when I was pouring out paint from the gallon can I would make the biggest mess, especially when the can was completely full. Paint would get inside that little nook where the lid fits in, dry and crust over, then it would impossible to get the lid back on cleanly. Well luckily I found these stretcher spout paint pourers. They're under $1 each and easily wash clean, even after the paint has dried!
8. Small Craft Brushes
One of my favorite little secrets when painting a room… You know those weird little nooks and crannies, like in a corner near a door frame where you have about 1 inch you need to paint? If you try using a normal brush you'll get paint all over your door frame. Yeah you could tape it off, but instead I like to grab a small craft brush to get those little spaces. Then I can also use it to touch up any small uneven spaces around my baseboards or ceiling.
9. Scrubby Soap Brush Cleaner
I first found this little gem from one of my favorite local paint/antique stores, Red Posie. This little soap has a scrubber that fills one entire side of the bar. It will clean dirt, oil and paint from your hands, plus clean paint from your brushes while conditioning them. This is why I can keep my Ace paint brushes for so long! They're all natural too. Love these!
10. Step Ladder
Of course every painter needs a good ladder but I usually prefer just to use a step ladder instead of lugging around our big 8ft one. Most of the rooms in our house are just 8ft or 9ft ceilings so I can easily reach the tops on just the small step ladder. This Rubbermaid one is my favorite, very sturdy and folds easily (fits nicely in our coat closet).
---
So, those are my Top 10 Painting Tools.
WHAT'S ON YOUR LIST?

(leave a comment below)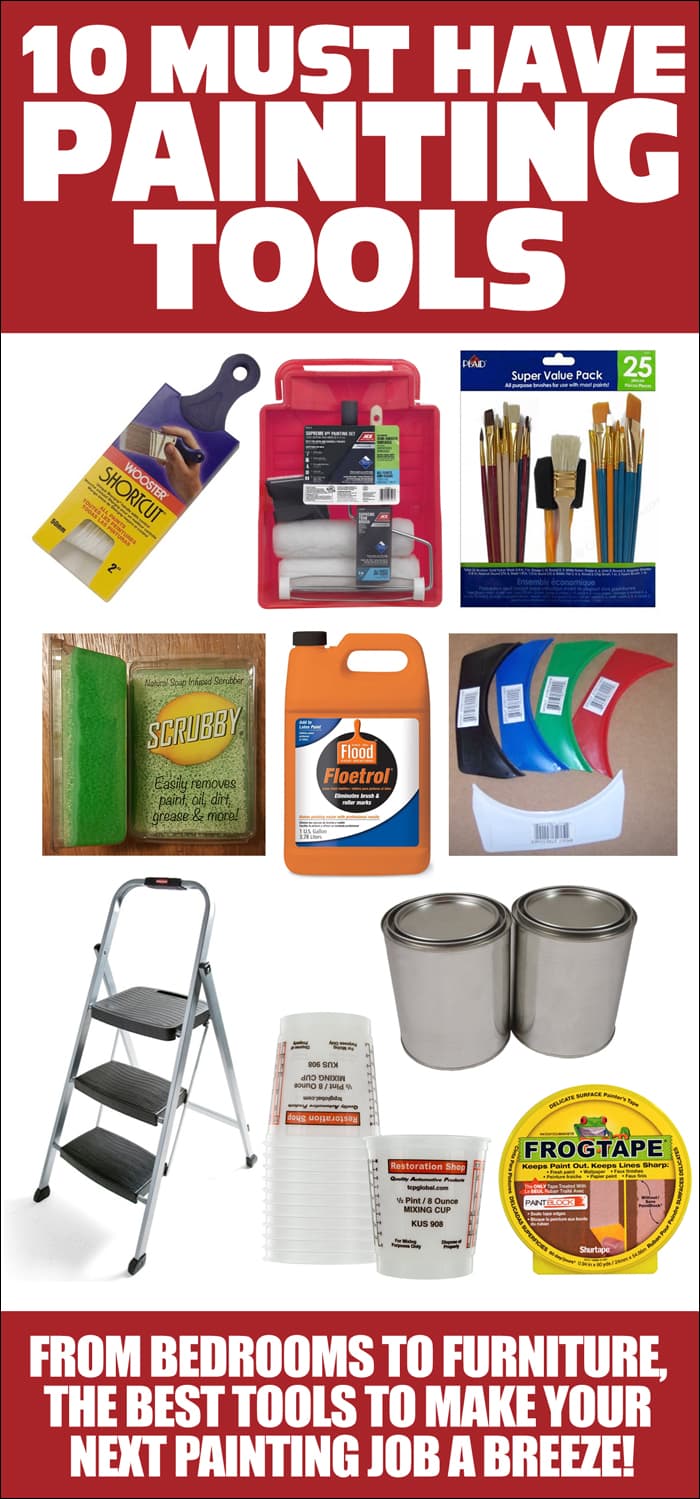 *this post contains affiliate links