These DIY cloud bookshelf ledges are easier to make than you think!
My favorite project from my nephew's bedroom are his new new DIY cloud bookshelf ledges. We basically took the same idea from the bookshelf ledges in Ellie's bedroom, just put a fun twist on it! We built all 3 of our small bookshelves for under $30!
This was an easy DIY project too, taking us less than 2 hours to build and paint!
SUPPLIES:
(1) 8ft 1×4 board
(1) 3/4in 4×8 piece of MDF
2 inch screws
tape measurer
sander
drill
white paint
wood filler
ceiling hooks (optional)
Don't let the supply list scare you. The DIY Cloud Bookshelf Ledges are actually quite easy to build.
First thing you want to do is decide how long you want your cloud bookshelf ledges to be. We opted for 2ft wide shelves and we needed 3 of them total. So we used our compound miter saw to cut the 1×4 board into (3) 2ft boards. Then we sanded the edges.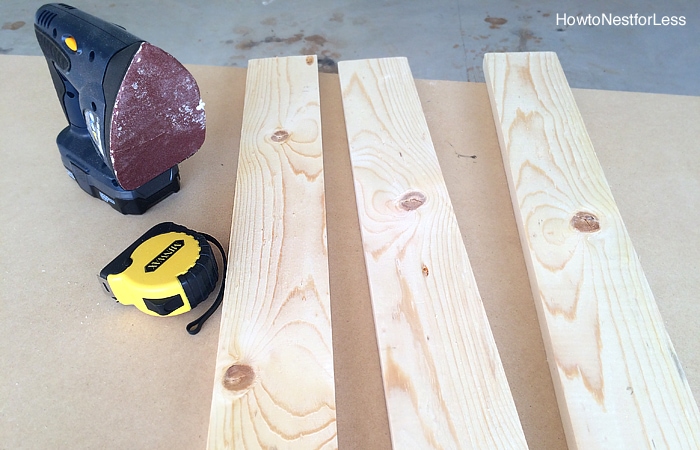 Next we traced out the large cloud shapes on the MDF board (by the way, the 4×8 board is WAY more than you'll need for this project, expect lots of leftovers). OK, so we didn't have a template for the cloud, I just kind of winged it. Google "cloud clip art" to get some ideas for shapes.
I decided to make the clouds a little smaller than the 1×4 boards we cut so the bottom length of the cloud is 22 inches total. Mark your MDF and draw your large clouds from those lines. Hint: I only drew one large cloud, cut it with my jigsaw, then used it to trace the other large clouds.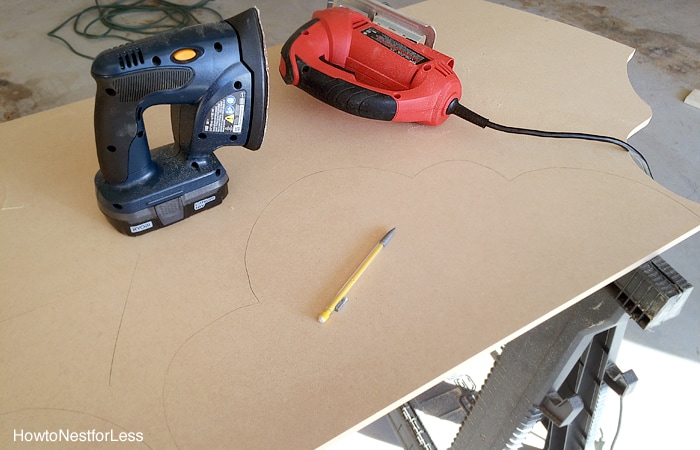 Once you have all 3 large clouds cut with your jigsaw you'll want to cut your 3 smaller clouds (I drew these clouds at 16 inches wide each). Don't worry if your shape looks a little rough after cutting, use your power sander to smooth out the edges.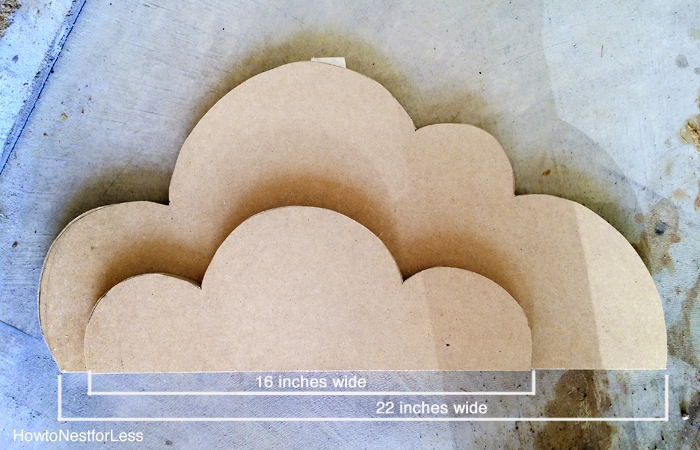 Once you have everything cut it's time to put the shelves together. Lay the 1×4 down on a flat surface. Place the large cloud behind it, flat side down flush with the 1×4 board. Use your 2 inch screws to attach the cloud to the board (we used 4 screws in each).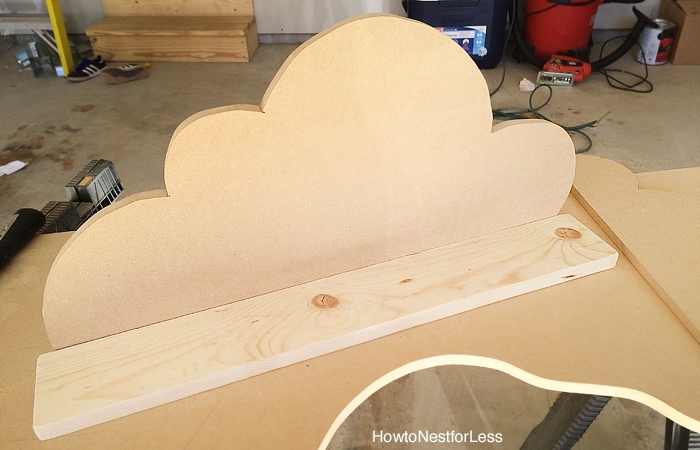 Then line up your small cloud to the front of the 1×4 board and attach with your nail gun.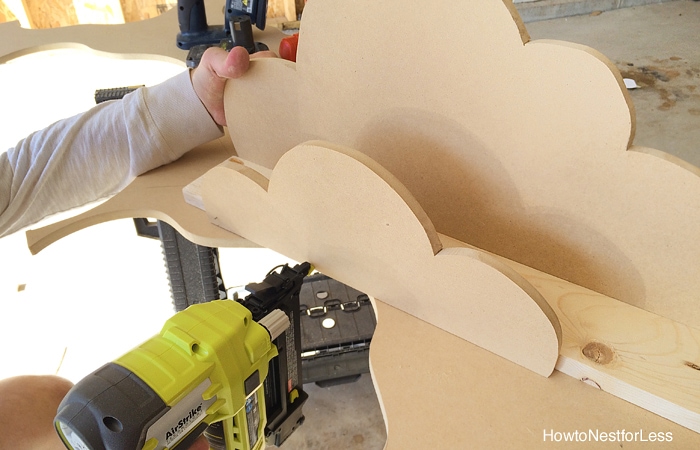 Since we built 3 bookshelf ledges and used the same large and small clouds as templates for all 3, on one of the bookshelf ledges we just flipped the clouds so they faced in the other direction. You can see below the two right bookshelves are the same and the one on the left is the opposite.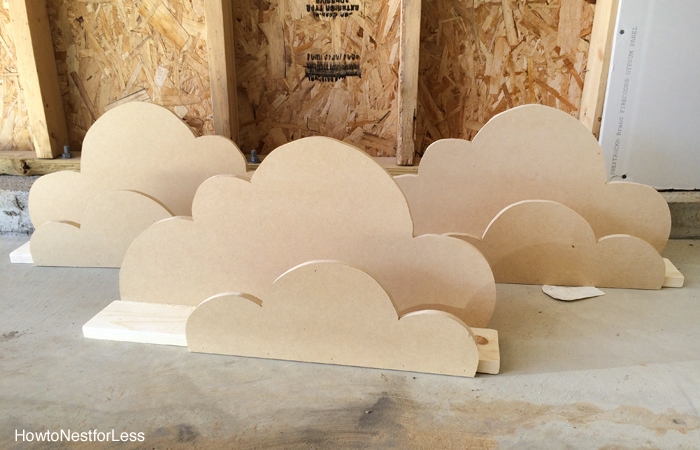 Paint the DIY Cloud Bookshelf Ledges white and let dry. To hang, use a stud finder to find your stud. Then drill a part of the large cloud directly into the stud and countersink your screws. Use a little wood filler to fill the gap and touch up with white paint.
Pretty cool, right?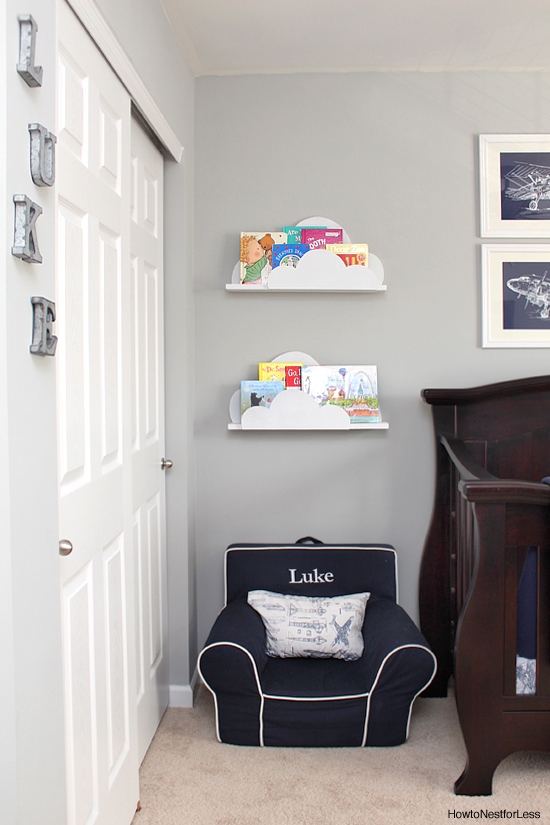 Such a great idea for a bookshelf!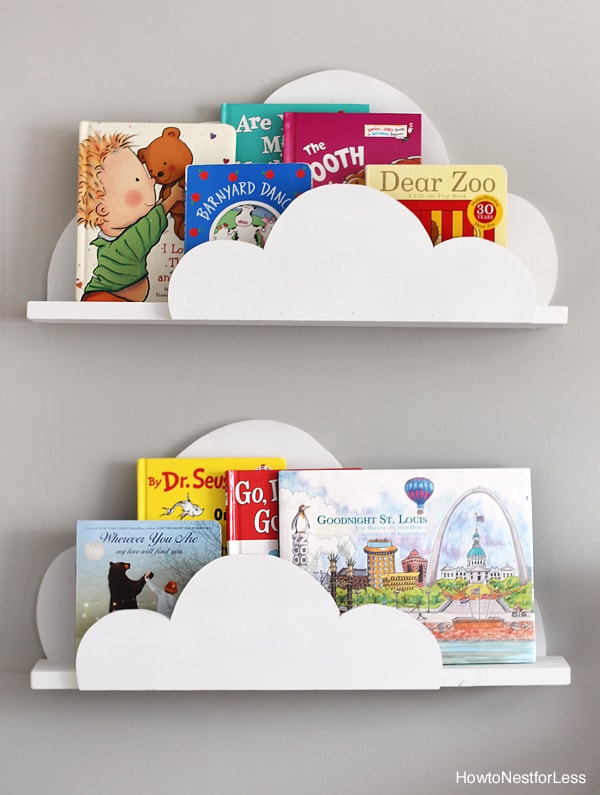 For one of the shelves we decided to put some white hooks on the bottom so my nephew could hang some clothes from the ledges.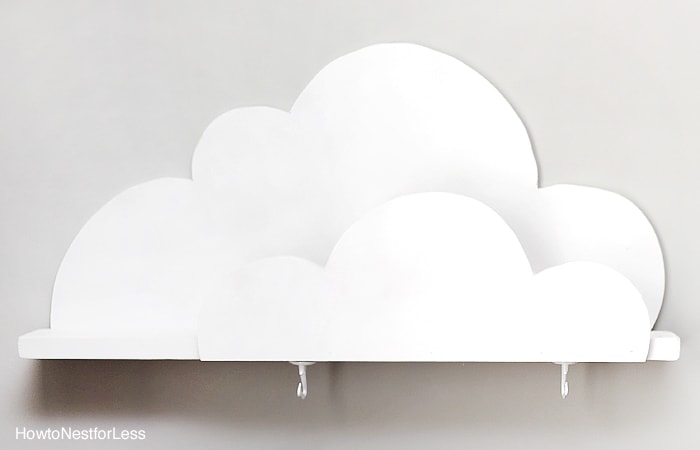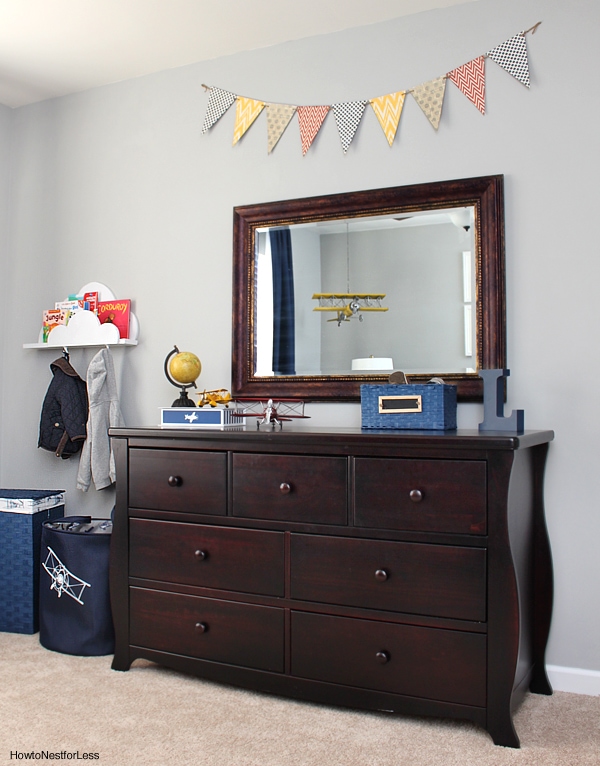 If you think about it, the shapes for these DIY Cloud Bookshelf Ledges are endless.
If you have the basic idea you can create anything!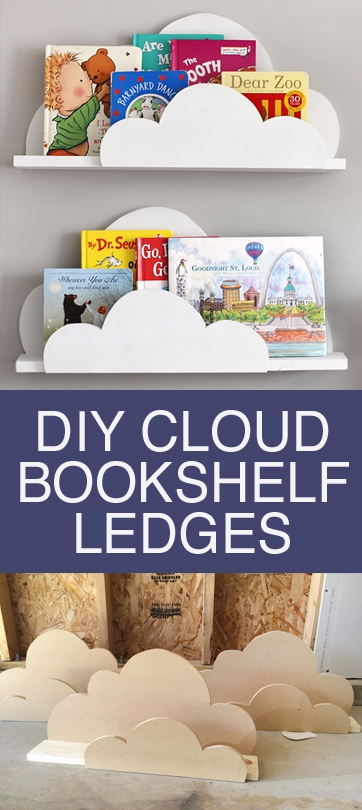 For more DIY Build Projects, CLICK HERE.