Sorry for cutting the story short yesterday… especially right at the good part, right?
So to remind you where we left off, by Monday morning we had met with the surgeon, talked with the rehabilitation hospital… everything was on track to begin therapy right away and then have surgery in 2-3 weeks.
But the neurologist was concerned about this seizure (the one that caused all of this mess and made him fall out of bed). He actually had another seizure back in January (which is a really long story as well, won't even get into that one). But like I mentioned before, normally it's years between seizures so something seemed a little off to the neurologist so she ordered an EEG.
A young man came into the room on Monday afternoon to perform the EEG. Ellie played hooky that day so she was excited to watch this stuff in action. The technician hooked Ben's head up to a bunch of electrodes. These little patches would measure the electrical activity or brain waves in Ben during the test. Basically the point of the test was to try and cause another seizure then get some data.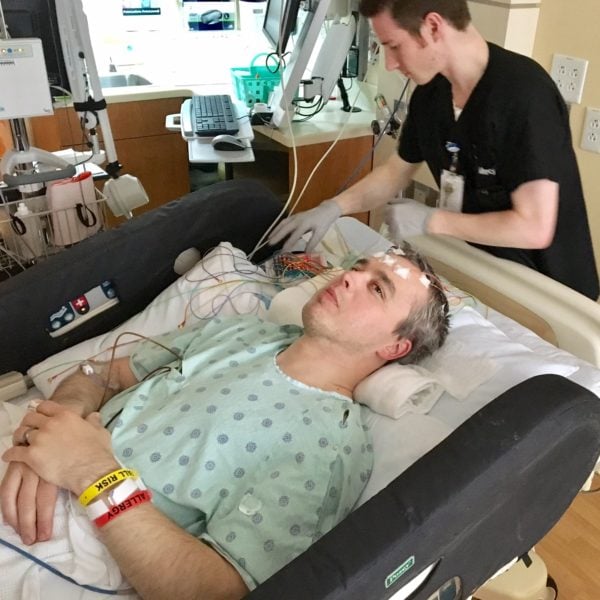 Ben has had this particular test a couple times in the past. It's never worked. They've never been able to "make" him have a seizure on command.
This time the technician only performed two little tests.
I asked if Ellie and I should leave the room, but the technician said we could stay. No big deal.
For the first stimuli Ben had to breathe huge breaths in and out over and over again for three straight minutes. That might not sound like very long, but holy cow… it seemed like forever. After two minutes you could tell it was getting to Ben. Heck, at this point I would have given up, stopped, and bawled like a baby. It seemed like torture to me! But Ben was powering through it.
At the two minute mark he grabbed a pillow near his side and started clenching it. Then with about 30 seconds left he started rocking back and forth with the pillow.
Finally the time was up and Ben made it through the first stimuli. He was panting afterwards a bit so the technician told him to take a minute and catch his breath. His oxygen alarms starting going off and a nurse ran in to see what was happening. She rushed to get him a nasal oxygen tube to help him breathe better.
A minute later it was time to start the next test: the flashing lights. Ben has never had any issue with light sensitivity before, especially during EEGs. The light just flashed on for a couple seconds, then off. He had to close his eyes, open them again. Rinse and repeat.
Eh, nothing there. Seemed perfectly fine.
Then the technician told him to go to sleep. I thought he meant "hey I'll leave the room, take a nice little nap, I'll be back later". Nope. He stayed right there and waited for Ben to fall asleep.
There's no way I would be able to fall asleep on command, but Ben was lights out in 2 minutes flat.
After letting him sleep for only about 5 minutes, the technician called his name.
"Ben."
Then a little louder.
"Ben, wake up."
Then he shouted.
"BEN, OPEN YOUR EYES."
Ben all of a sudden opened his eyes wide, looked around, and went straight into a seizure. It wasn't a grand mal one like he usually has. His eyes fluttered, his jaw was chattering, and his head was bobbling around.
The technician (who couldn't have been more than 25 it seemed) popped up out of his chair and immediately got on his phone trying to reach his boss. I was thinking to myself "bet this kid never thought that stupid test would actually work!".
During this time the tech was on the phone, Ben started to come around. He was trying to rip off all of his wires and was talking about blue test tubes… I dunno. Weird stuff.
The technician then started asking him questions. It took Ben a minute to realize he was even in a hospital.
Ben then asked what happened and the technician said "we tried to give you a seizure and it worked". Ben's reply, "well that was mean, why would you do that?!" LOL.
Ellie started giggling uncontrollably from across the room.
After that the technician told Ben that he would have to continue the EEG overnight. They glued all of the electrodes to his head and then wrapped it up like a turban to keep all of the wires in place.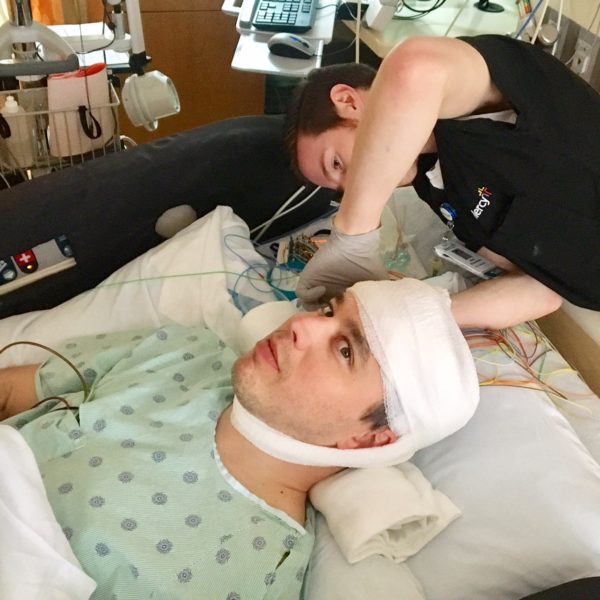 Jump to the next morning, Tuesday.
We asked the first nurse that came in about his overnight EEG and if they had any answers yet. She said from the initial readings that they didn't find much, but the neurologist would be looking at it more closely as protocol. We went about our day, still stuck in the TCU (trauma care unit).
A couple hours later the neurologist came in.
She said that during the night it seemed that Ben had around 14-15 mini seizures or seizure type activity. All seemed to be in the left side of the brain.
The neurologist also thinks that when Ben is having strong auras (which he has often), they're actually seizures…. just not the grand mal seizures that we're used to seeing.
So the neurologist decided to keep him in the hospital awhile longer (not heading to the rehabilitation hospital as planned) and Ben would move to the neurology floor for additional testing. They want to find the source of the seizures or at least get them under control before he goes under anesthesia for surgery.
That's the other thing… we found out Tuesday afternoon that Ben would now need an additional surgery before he leaves the hospital (it was a crazy day, I'll just say that).
So that catches us up to Tuesday afternoon, but so much has changed (even since then).
My main concern right now is the seizures. That's what caused the fall in the first place and the spinal cord injury. I really want to find an answer fast, or at least get the seizures under control. My biggest worry is that he'll fall again before his surgery and injure his spinal cord beyond repair.
Ben is doing really great though as of now. He's getting stronger each day in his hands and legs. He also makes the nurses laugh non-stop. They all say Ben is their favorite patient because he's so quick-witted (even on pain meds) and doesn't complain too much or push the call button too often. I have to admit he's cranky sometimes and often forgets to say please and thank you, but luckily that's just to me and not the nurses.
I've only threatened twice to smother him with a pillow ;)
Thanks again for all the prayers and love. I'll try to post Part 3 soon!