Happy Monday everyone! Did you guys have a nice weekend? We enjoyed some time in the heat at Ellie's soccer games but luckily evened it out by relaxing poolside with some friends. We also fit in dinner with Ben's side of the family including my new niece and nephew twins… can we collectively say "awww!"? Yeah, they're pretty stinking cute!
So over the weekend I also found some time to go through some more of my grandma's handwritten recipes and found a bunch of scribbled notes with her favorite kitchen tips and tricks. Thought I would share some of them with you today along with some of my other favorites I've found over the years. ENJOY!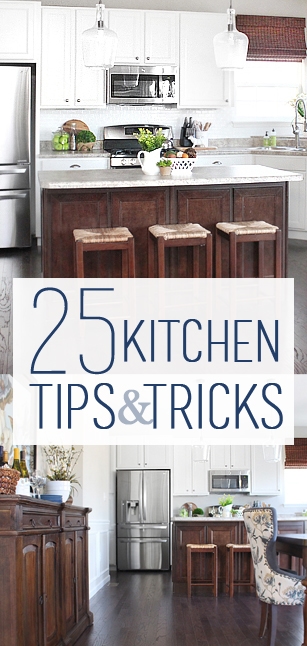 A slice of fresh bread fastened with toothpicks to the cut edge of a cake will keep the cake from drying out.
A muffin tin is a handy holder for carrying hot potatoes.
Keep the leftover little bits of vegetables in a freezer bag so you can use them to make homemade vegetable soup.
Keep your broken pieces of potato chips left in the bottom of the bag. Store in a tightly covered container and store in the freezer to use as topping on casseroles or to coat chicken breasts.
When lemons get dry and hard, place them in a hot oven for a few minutes. It will refreshen them.
If your cupcake or muffin recipe does not fill all of the cups in your pan, fill the empty cups with a bit of water. The muffins or cupcakes will bake more evenly.
Cutting boards can be sanitized with a mixture of 1 teaspoon bleach and 1 quart of water. Allow the mixture to sit on the cutting board for a few minutes before rinsing. Let it air dry or clean with paper towels.
For a quick cupcake frosting idea, place some chocolate chips on top of each cupcake right after you remove them from the oven. After the chips soften, spread over the top of each cupcake.
Cooked foods and uncooked foods that require refrigeration should only be left at room temperature for up to 2 hours (and only 1 hour if it's a hot day and you're serving outdoors). Always put your dish over ice if possible to keep cool.
If you put sugar cubes in your cheese containers, your cheese will stay mold free.
When baking bread, test for doneness 10-15 minutes before the end of recommended baking time. The bread is done if a toothpick is inserted near the center and it comes out clean.
Clean a microwave faster and easier by nuking 2 cups water in a microwave safe bowl or cup for 2 minutes then wiping down the insides with a clean cloth. Add a lemon slice for a fresh scent.
That green ring that forms around the yolk of a hard-cooked egg is caused by cooking the eggs for too long at too high a temperature and not chilling the eggs fast enough.
To store quick breads like banana nut or pumpkin, wrap the cooled bread in foil or plastic wrap and leave at room temperature. Sometimes breads will even taste better the next day!
To keep your water from boiling over the pot, place a wooden spoon across the top of the pot.
Perfectly dice your avocados for guacamole or tacos by using a potato masher.
Use metal cookie cutters to create fun shapes for your kids while making eggs for breakfast. Just make sure to handle with tongs so you don't burn your hands on the hot metal!
Need to cut grapes or cherry tomatoes? Place between two plates or plastic lids and slide your knife in between to cut the grapes or tomatoes in half.
Run your knife under hot water to cut perfect cake slices.
Frozen grapes will keep your wine chilled without watering it down.
Chop big pieces of lettuce quickly and easily by zipping through them with a pizza cutter right in the salad bowl.
If your grill has gunk on it and you can't find the grill brush, crinkle up a big sheet of foil then rub it along the grates to clean.
Store spices in a cool, dark place, not above your stove. Humidity, light and heat will cause herbs and spices to lose their flavor.
Wolfgang Puck suggests when making mashed potatoes, after you drain the potatoes, return them to the hot pan, cover tightly and let steam for 5 minutes. This allows the potatoes to dry out so they'll mash to a beautiful texture and soak up the butter and cream more easily.
Grate a cold stick of butter when you need to easily mix it with flour, baking mixes or when you need to top casseroles!

---
So, what's YOUR FAVORITE kitchen tip or trick?
Leave a comment below!